Join the MNB Community.
Get a Wake Up Call each morning...
Email:
Explore the MNB Archives
Monday, April 23, 2018
by Kevin Coupe

There was a provocative piece in the New York Times over the weekend pointing out how, during last week's Boston Marathon - in which runners were beset with "horizontal rain and freezing temperatures" - there also was a lesson in fortitude.

"Finishing rates varied significantly by gender," the story says. "For men, the dropout rate was up almost 80 percent from 2017; for women, it was up only about 12 percent. Overall, 5 percent of men dropped out, versus just 3.8 percent of women. The trend was true at the elite level, too."

What this provided, was "an example of women's ability to persevere in exceptionally miserable circumstances. In good weather, men typically drop out of this race at lower rates than women do, but this year, women fared better."

How come?

"One theory is that women handle cold weather better because their bodies naturally have more fat," the Times story says. "In general, it's true that the essential body fat level - one you can't medically dip beneath - hovers around 3 percent for men and 12 percent for women (when it comes to racing, breasts aren't exactly performance-enhancing, but they're still usually part of the deal). And the insulating subcutaneous fat layer under the skin is twice as thick in women as in men."

However, it also might be connected "to the perception, or tolerance, of pain," the story says. "Here's a potential, if contentious, factor: Childbirth is by most accounts excruciating, and because women's athletic and fertility peaks are close or overlap, a lot of the female marathoners who race Boston have also given birth."

And, there's another possibility: "The people who run Boston are a self-selecting group. Women are often discouraged from being athletic and competitive, so the female runners who made it to Boston had already overcome more social obstacles than men. They may simply be tougher, and this was a year when toughness worked."

Of course, toughness is not limited to women. But the Eye-Opening observation, I think, is that this year, it may have mattered more than ever, and the women in the race had it in greater supply than the men. This could be seen as yet another reason that in a competitive business environment, companies should more and more turn to women not just for their leadership skills and ability to see problems differently than men, but also because they're just plain tougher than we are.

Which doesn't really surprise me at all.

Two stories last week provided a comparison between two behemoths, Walmart and Amazon.

In the latter case, we found out that Jeff Bezos had total compensation last year of $1.68 million. He didn't take a stock bonus - but let's not cry for him, since his ownership stake in Amazon makes him the richest person on the planet, ever. His actual salary was $81,840 and he had $1.6 million in personal security costs that Amazon paid for.

Under a new federal requirement that public companies report the gap between what the CEO earns and the median pay for a rank-and-file employee - a requirement of which I fervently approve - Amazon also reported that median annual compensation in the company is $28,446. This includes part time employees, distribution center workers and those who work outside the US - and it works out, for a full-time employee working 52 weeks a year, to about $14 an hour.

Here's the bottom line: Bezos ' annual compensation last year was 59 times that of the median Amazon worker.

That doesn't sound all that great.

However, over at Walmart,

it was reported that CEO Doug McMillon got total compensation of $22.8 million - $15.7 million in stock awards, tied to the company's share price, a salary of $1.3 million and incentive pay of $4.7 million.

Median pay at Walmart was $19,177 - which means that McMillon brings in 1,118-times what the median Walmart worker does.

Now, in an op-ed piece for CNBC, Matthew Shay, CEO of the National Retail Federation (NRF), argues that this comparison is a misleading and bogus metric: "Does anyone really think comparing the paychecks of part-time teenagers in their first jobs to compensation of CEOs yields any useful insight about the management effectiveness or investment quality of retail companies? Or that it will generate effective policy ideas on how to put more Americans on a path to success?"

He also posits that the disclosure rule, while "purported to be a tool for shareholders," actually is "a partisan tool aimed at stoking resentments in typical class warfare style."

KC's View: I understand why he feels that way - his organization is positioned as representing the needs and priorities of the people who own and run companies, not those of the people who work on the front lines.

I would feel differently if somehow the government got into the business of dictating how wide the gap could be, putting limits on CEO pay. That would be nonsense, and while some might suggest that some politicians might favor such a rule, it would be a non-starter at the legislative level.

In this case, it is just a way for me, as someone who could be interested in investing in one retailer or another - which I'm not - can take this metric into account if I want to. If I don't want to, that's fine.

For me, it is valuable because I hold the opinion that companies and corporate leaders ought to be more focused on front-line employees. Too many CEOs simultaneously try to drive down labor costs while negotiating bigger salaries for themselves, while ignoring the fact that sometimes a deficit in store-level personnel can have a negative impact on sales, profits and customer service. And they also rail against minimum wage increases and/or the notion of a living wage. Of course, they're incentivized to think this way, which I think is a shame.

I'm tired of senior execs who aren't getting the job done going to court and arguing that they should get incentive bonuses for hanging around and digging the company out of the hole they helped create. (Yes, I'm looking at you, Toys R Us.)

I'm not arguing that senior execs shouldn't make the big bucks. I don't know what pay equity means in any sort of absolute sense. And I'm not even sure what a "proper" spread between CEO pay and median salary should be - I think it depends on the business and the company. To paint with a broad brush is to ignore both reality and nuance.

But … I also think that while a rising tide is supposed to raise all boats, some boats are more fragile than others, some have leaks, and some of the folks in yachts not only don't give a damn, but are being paid not to give a damn. In customer-facing businesses that depend on front line people who are engaged and focused and dedicated - which is what I think such companies need to have if they are going to be successful in a hardscrabble competitive environment - I think this can be a dangerous approach.

The New York Times reflects on some of the details that emerged last week in Amazon founder/CEO Jeff Bezos' annual letter to shareholders. Some excerpts:

• "It underscored just how unfathomably big Amazon is. Amazon has 560,000 employees, and the company added 130,000 jobs in 2017 alone. For context, that means that Amazon added more than a Facebook's worth of employees during every quarter last year."

• "Mr. Bezos spent a lot of time talking about his standards — specifically, high ones. 'I believe high standards are domain specific,' he wrote, 'and that you have to learn high standards separately in every arena of interest.' He continued: 'You can consider yourself a person of high standards in general and still have debilitating blind spots'."

And, the Times opined:

"Amazon's economic dominance — made clear by the staggering facts and figures in Mr. Bezos' letter — makes the billions of dollars in tax breaks and incentives that have been offered to Amazon by job-hungry cities look even more ridiculous. If there's one company that doesn't need your city's largess, it's Amazon."

Meanwhile, the Washington Post has a story about a subject largely ignored in Bezos' shareholder letter last week - where Amazon's second headquarters, dubbed HQ2, might be located.

The Post writes that "although the company's search materials don't make it explicit, Amazon has quietly made rights for and acceptance of gay and transgender people part of its criteria in choosing a second headquarters, according to two people familiar with the matter who spoke on the condition of anonymity to talk freely.

"As Amazon executives recently toured finalist locations to help select what they've dubbed HQ2, they asked public officials about what sort of 'compatible cultural and community environment' — the wording from the company's search parameters — each city offers, adding to speculation about whether Amazon will choose a liberal stronghold."

In Dallas, that meant local officials brought the pastor of a predominantly gay megachurch in on the pitch, stressing how inclusive and welcoming his church is. But in North Carolina and Atlanta, concerns were expressed about pieces of legislation - like a bill that would restrict same-sex adoption - that may reflect a reluctance to invest so much money in those locations.

However, the Post writes, "by raising a social issue during its search, Amazon also risks alienating conservative political leaders, including President Trump, who has recently criticized the company's taxes and its contract with the U.S. Postal Service, which delivers many of its packages."

The Post notes that "Amazon's second headquarters project is the biggest economic development prize — by a long shot — that many industry veterans say they have ever seen. The company says that over the years in Seattle, it has invested $3.7 billion and paid more than $25 billion in salaries. For HQ2, the company estimates it will hire as many as 50,000 people, make $5 billion in capital investments and fill 8 million square feet of office space, which would be larger than the Pentagon."

KC's View: First of all, I completely agree with the idea that a company with the resources of Amazon ought not be getting the kind of financial incentives that some communities appear to be offering. I'm completely consistent about this - I've said the same thing about Walmart in this space over the years.

If communities really want to support small businesses, maybe they ought to be offering them some sort of tax relief and/or incentives.

As for the HQ2 speculation, I've been saying here all along that I think Amazon will choose either a blue state or a blue community inside a red state for its second headquarters. It needs to be in a place that is seen as welcoming to its highly diverse workforce, with fewer perception issues … and I've thought all along that this means Boston, or maybe Austin … with a possibility that somewhere near Washington, DC, could also be victorious.

The Centers for Disease Control and Prevention (CDC) is telling consumers to avoid all romaine lettuce from southwest Arizona after an E. coli outbreak linked to the vegetable "spread to at least 16 states and sickened at least 60 people, including eight inmates at an Alaska prison," according to a story in the Washington Post.

The CDC, the Post reports, said "that new information about the illnesses in Alaska led them to expand a warning beyond chopped romaine to include any type of romaine lettuce, including whole heads and hearts of romaine.

"Although the exact source hasn't been identified, federal health officials have said information indicates that the contaminated lettuce was grown in the Yuma, Ariz., area. But consumers anywhere in the United States who have store-bought romaine at home, including in salads and salad mixes, should throw it away immediately if they don't know its specific source, officials said — even if some had already been eaten with no ill effects … No common grower, supplier, distributor or brand has yet been identified, and product labels often do not identify growing regions, officials noted."

KC's View: It seems to me that if supermarkets are selling romaine, they'd better be absolutely sure of its provenance … and better go above and beyond to explain its sourcing to consumers. Total transparency is called for here, as well as extra caution.

If you have any doubts, or worry about your ability to effectively communicate with your shoppers, just get rid of your romaine until the outbreak is cleared up. Better safe than sorry.

Corporate Drumbeat
THE SKY ISN'T FALLING. NOT FOR THOSE WITH THE RIGHT PRIORITIES.

E-commerce. Mergers & Acquisitions. New Competitors. Low Unemployment. Cultural Uncertainties.

They all add up to High Anxiety. And it is only going to get worse.

But that doesn't mean the sky is falling. There's no reason for mass hysteria.

It does mean that success will come to companies and leaders with the right priorities - who understand the importance of innovation, relevance and disruption, and who understand that the right people make all the difference between success and failure.

At Samuel J., our value never has been greater, because we understand the connection between great talent and innovative businesses.

And yet, our essential value proposition hasn't changed over the years. We are uniquely positioned - because of our superb network and key business insights - to put together people and organizations in a way that builds expertise, cultivates leadership, and turns business challenges into business opportunities.

At Samuel J, we know how to do it in a timely fashion and exceeds our clients' high expectations. And we have the track record to prove it.

Click here to find out more. Because at Samuel J. Associates, we know how to find the upside even in the most competitive, challenging situations.
Provocative piece in the Seattle Times over the weekend about the potential impact of climate change on the food supply - and the businesses that depend on it.

"In coming decades, climate scientists say, the Northwest will continue to experience warmer air and water temperatures, drier summers, lower snowpack, more extreme precipitation events and increased flooding." While, as the Times writes, famers in the Pacific Northwest are used to climate variability, "now they face new challenges from human-caused climate change. What does this mean for our state's food and wine production?"

The Times offers profiles of four people and companies that are doing their best to build resilience into their business models, and you can read it here.

Buffalo Business First reports that "as part of its ongoing bankruptcy proceedings, Tops Markets LLC would like to close a few of what it considers underperforming stores … Tops is asking the federal court to approve a plan that will allow the closing of a still-to-be determined number of supermarkets, including some in Western New York and elsewhere in its footprint."

The story notes that "in previous filings made shortly after Tops' Chapter 11 reorganization, company officials conceded that as many as one of every eight of its supermarkets - approximately 21 stores - are not profitable … High rents and competition were mentioned as leading factors into some of the locations' weaker performance numbers."

KC's View: May have to close some stores?

Yikes. Sounds pretty self-evident to me.

I agree with MNB fave Burt Flickinger, of retail consultancy Strategic Resource Corp., who is quoted in the story as saying that "a smaller Tops has a better chance of survival." But I also think that they need to start thinking disruptively - if they think that all it takes to survive is to be smaller with less debt, then inevitably the company will run into more problems down the road. This is a chance for survival, but the company has to make some fundamental strategic and positioning decisions, and not just focus on finances and tactics.

• The Coloradan reports that Target "will begin same-day home delivery in Fort Collins on May 3 through Shipt, the membership-based online marketplace it purchased in December … The company says it plans to hire 800 Shipt shoppers in Fort Collins, Boulder, Colorado Springs and Denver metro area and will roll out the program nationwide by the end of the year."

Shipt costs $99 a year, the story says, or "$49 if you sign up before the service launches May 3 - and provides free, unlimited delivery on orders over $35."


• CNBC reports that Morgan Stanley is predicting that Amazon "will become the top player of the U.S. apparel industry in 2018, having gained 1.5 percent of market share last year. The gains will largely be driven by millennials moving dollars away from bricks and mortar, the firm said in a new report."

Furthermore, "Morgan Stanley is predicting department stores will only comprise about 8 percent of the total U.S. apparel market in 2022, compared with 24 percent in 2006."

The big losers in the apparel industry in 2017, the report says, were "Sears Holdings, Macy's, Ascena Retail Group, L Brands, Ralph Lauren and Chico's."

• The Cincinnati Business Courier reports that Kroger has completed the $2.15 billion sale of its convenience store business to UK-based EG Group.

After taxes, the story says, the sale will net $1.7 billion,, the majority of which will be used for a stock buyback program. The balance will be invested in the company's workforce.


• The Los Angeles Times reports that "A Toronto investment firm run by billionaire Prem Watsa has reached a $237-million deal to acquire the 82 Toys R Us stores that the bankrupt retailer operates in Canada." This leaves Isaac Larian, manufacturer of the Bratz doll line, saying that he is "abandoning efforts to buy the Canadian stores of Toys R Us and instead plans to sweeten his rejected bid for more than 200 U.S. outlets of the bankrupt retailer."

Larian's opening bid for the US stores for $675 million was rejected as inadequate.

Rick Antle, president/CEO and co-founder of farming business Tanimura & Antle, died last week at age 61 after a brief battle with cancer.

Coverage of Antle's passing has pointed out that he made enormous contributions to both the industry and his Northern California community of Salinas, especially in how he cared for his workers; in addition to $17-million farmworker housing complex in the Salinas Valley, he also recently launched an Employee Stock Ownership Plan designed to make his employees part-owners of the company.

Industry Drumbeat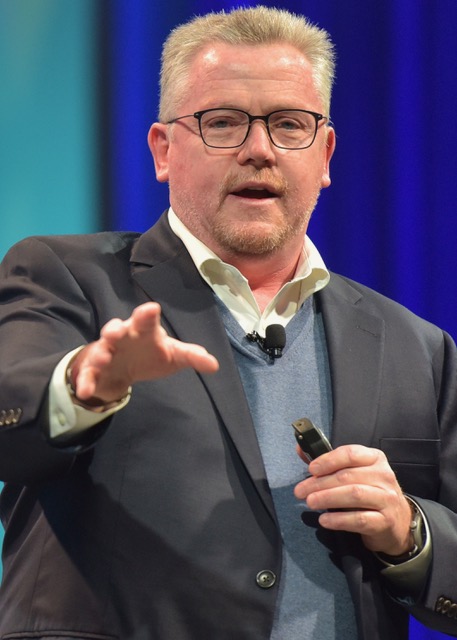 "WHERE WE'RE GOING, WE DON'T NEED ROADS!" -Dr. Emmett Brown, "Back To The Future"

What you do need is someone with the enthusiasm, imagination and experience to prepare you and your meeting attendees for the future.

In this interactive and provocative presentation, MorningNewsBeat "Content Guy" Kevin Coupe takes audiences for a fast-paced trip into the future of retailing and shoppers, spinning a narrative about relevance, technology and competitive choices that makes clear - in typically energetic and irreverent fashion - what businesses have to do in order to survive and thrive in this highly disruptive climate.

But this isn't just about the future. Kevin uses the news of the day to illustrate and amplify his points, putting real-world stories into context and offering actionable lessons that can be adopted and converted into strategies and tactics by business leaders who want to innovate and flourish.

"Kevin spoke to my top 30 team members during our National Sales Meeting this year. He used his humor and self-effacing approach to humanize his commentary on the supermarket market industry and the challenges they are facing. I asked him to talk about "What's the Future?" (WTF) and he drove home the importance of listening to new ideas and being a student of the business. At the end of the day, my team had over 20 direct "action items", which came from Kevin's presentation. He was the perfect final presenter to our three day meeting. He took us home!"
- Karen Caplan, CEO & President, Frieda's Specialty Produce


Want to make your next event unique, engaging, illuminating and entertaining? Contact Kevin at kc@morningnewsbeat.com , or call him now at 203-253-0291.




The flood of email that I got on Friday in response to my OffBeat essay about the passing of our dog, Buffett, was enormously appreciated. It is clear that there are a lot of dog lovers in the MNB community … thanks for sharing your stories, memories and condolences, all of which made us feel the heartbreak just a little bit less. Or at least know that some of the ache eventually will subside.

I've been thinking about a line from one of Robert B. Parker's mystery novels, in which he wrote that if there is a heaven, it will be a place "where, when you get there, all the dogs you ever loved run to greet you."

Which strikes me as fine a definition as I can imagine.

Tom Murphy, an industry veteran who, with companies like Kroger and FedEx, and later as a consultant to major retailers, has helped companies develop IT and logistics strategies, as well as enabling them to engineer disruptive cultures and become change agents, joins Tom Furphy and Kevin Coupe for a two-part Innovation Conversation Podcast.

Part One looks at the difference between stopgap tactics and long-term strategies - and how to make tough choices in demanding times, while Part Two focuses on the retailers best positioned to compete with Amazon, the places where Amazon is most vulnerable, and what the biggest impediments are to innovation by traditional retailers.

This two-part podcast can be played below, or can be accessed and subscribed to on both iTunes and GooglePlay, as can previous episodes of The Innovation Conversation Podcast.

This Innovation Conversation Podcast is sponsored by ReposiTrak, and brought to you by GMDC.

PWS 52