Join the MNB Community.
Get a Wake Up Call each morning...
Email:
Explore the MNB Archives
Friday, November 15, 2019
by Kevin Coupe

The Washington Post has a story about how tough it is to keep your job if you are a retail CEO these days.

Here's how the Post frames the story:

"The retail industry, already reeling from high-profile bankruptcies and thousands of store closures in recent years, is facing a new challenge — churn at the top.

"Gap chief executive Art Peck abruptly stepped down this week after six straight quarters of declining sales for its flagship brand and a steep drop-off in the retailer's stock price. Nike, Under Armour and Bed Bath & Beyond announced similar shake-ups recently, extending the run of C-level departures that have touched more than a dozen major retailers this year, including Best Buy, eBay, Calvin Klein and Overstock.

"The turmoil comes as traditional retailers struggle to keep pace with online competitors. Corporate boards, experts say, are less willing to wait for large-scale turnarounds. That could become even more pronounced, they said, if the economy sours."

Some context:

"A record 172 CEOs left their jobs across all sectors in October, a 15 percent increase from the year-ago period, according to global outplacement firm Challenger, Gray & Christmas.
CEO turnover at publicly traded retailers rose to 23 percent in 2017, the last year for which sector-specific numbers are available, vs. 16 percent the year before, according to a study of Standard & Poor's 500 companies by the Conference Board. By comparison, the industry's historical average is 10.5 percent."

In some ways, this shouldn't be surprising. Running a big retail business is harder than ever, especially at a public company where one is responsible to shareholders and has to be sensitive to the investor class. But at the same time, more than ever retailers have to be focused on values as well as value … have to work on a broader, omnichannel canvas that is more complex than ever … have to think about issues like work-life balance and employee fulfillment at a time of low unemployment … think about things like diversity and sexual harassment …. need to focus on the front lines more than ever before … and have to do all this while dealing with behemoths like Amazon and Walmart.

Not easy. Not simple. And certainly not for people who find any comfort in the business practices of yesterday.

High churn levels at the top of the retail business? Not surprising, but still an Eye-Opener.
Walmart announced yesterday that its Q3 e-commerce sales in the US were up 41 percent, signifying continued success in its omnichannel-centric battle against Amazon.

At the same time, Walmart said that its US same-store sales were up rose 3.2 percent.

"Our strength is being driven by food, which is good, but we need even more progress on Walmart.com with general merchandise," said CEO Doug McMillon. "We're mixing the business out better to achieve better margin rates, but there is more work to do."

The Wall Street Journal reports that "International sales were $29 billion, or about 23% of the quarter's total sales. Gains abroad were led by China and Mexico, and include Flipkart, the Indian e-commerce company that Walmart purchased a year ago.

"Net income was $3.29 billion in the quarter ended Oct. 31, compared with $1.71 billion in the year-earlier period when Walmart booked a large loss on its investment in Chinese e-commerce site JD.com. Total revenue was $128 billion, up from $124.9 billion."

The Journal also notes that "Walmart has been pushing online grocery delivery as it competes with Amazon.com Inc. to be the most convenient shopping option for Americans. In the U.S., it now has more than 3,000 locations where customers can drive up to collect groceries and more than 1,400 locations that offer home delivery from stores … Walmart is pushing a new grocery membership that offers unlimited delivery for a fee, in an apparent challenge to Amazon's Prime membership program, which offers fast delivery and other perks like video streaming for a fee.

"Walmart's Delivery Unlimited program is now available from 1,400 stores, the company said Thursday. Earlier this month, Walmart also started offering a service that delivers groceries into customer's refrigerators in three cities for $19.95 a month."

KC's View: No question that Walmart has figured out how to compete effectively with Amazon, but I still think it is important to keep in mind that Walmart and Amazon have very different visions and missions.

Amazon is building an ecosystem in as broad a way as it can. Walmart is a retailer. I'm not saying that either way is right or wrong … just that they are different.

Amazon has made Walmart better. Walmart has made Amazon better. Which in some ways ought to make everybody else nervous.

USA Today this morning reports that Dollar Tree has been warned by the US Food and Drug Administration (FDA) that that it is carrying potentially unsafe drugs and cosmetics, outlining what it called "multiple violations of current good manufacturing practices at contract manufacturers used to produce Dollar Tree's Assured Brand OTC drugs," as well as other products sold in the stores.

According to the story, "In the Nov. 6 letter to Dollar Tree CEO Gary Philbin, the FDA identifies Chinese manufacturers that failed to test products and cited an example where 'rodent feces (were) found throughout the manufacturing facility.'

"According to the FDA, Dollar Tree received prior warning letters between 2016 and 2019, including notification of letters sent to the manufacturers who were placed on 'import alert, which are used to prevent potentially violative products from being imported into the U.S. market'."

Dollar Tree has agreed to meet with the FDA, and in a statement, Randy Guiler, Dollar Tree's vice president of investor relations, said "that the items referenced by the FDA were 'topical, not ingestible products'."

KC's View: I'm sure that it comes as an enormous comfort to Dollar Tree's customers that they are only rubbing rodent feces on their skin, as opposed to swallowing it. That makes everything so much better.

Give me a break. That is the dumbest response to a letter like the FDA's that I can imagine. To me, especially because these problems seems systemic, the only legitimate response is to take this crap off the shelves and address these problems aggressively and specifically.

"Topical, not ingestible," Jeez.
The Washington Post reports that while "Amazon executives have publicly lamented the scourge of counterfeits, saying they have spent hundreds of millions of dollars and hired thousands of workers to police its massive market of third-party firms that use the e-commerce site to sell their goods," the fact is that "Amazon's system is failing to stanch the flow of dubious goods even with obvious examples of knockoffs.

"The continued abundance of counterfeit goods on the site is the result of Amazon's decisions to prioritize a broad selection of products and cheaper prices over the deployment of aggressive technologies and policies that could further stem the problem, according to former executives and outside consultants."

You can read the entire, fascinating story here.

KC's View: Here's thing.

The story quotes Amazon's vice president of public policy, Brian Huseman, as saying that "the company spent $400 million in personnel costs last year to fight fraud and abuse, employing more than 5,000 workers."

And the Post quotes an Amazon spokesperson, Cecilia Fan, as saying that "Amazon goes 'well beyond our legal obligations' to snuff out fakes on the site."

I call B.S.

Not about the financial and personnel investments. I'm sure that's all true. But the "beyond our legal obligations" comment strikes me as sort of disingenuous and disconnected … and even more so because it constantly talks about its adherence to the principles of "customer obsession rather than competitor focus, passion for invention, commitment to operational excellence, and long-term thinking."

On two counts - customer obsession and long-term thinking - Amazon may be dropping the ball in this case. If you are obsessed with me as a customer, then you have to make sure I am getting real products, not counterfeits. Not doing so - and this is, after all, a company that handles cloud computing for the CIA, so it knows a little something about security - erodes customer trust, which hurts the company long-term.

Industry Drumbeat
…with brief, occasional, italicized and sometimes gratuitous commentary…

• The Daily Herald reports that Amazon has opened its first "Amazon 4-Star" store in the Chicago area, in the Oakbrook Center mall, selling only products that have been rated four stars or more on the website. It is the seventh such store opened in the US.

Some context from the story: "The store will not carry food, and there was no clothing there Wednesday. Not all items will have the Prime discount.

"But there were books, kitchen gadgets, toys and, of course, Amazon products such as Kindles, Firesticks and Echo smart-home devices.

"The store joins six others around the nation. It does not accept cash for payments.

"It's in the former Sears building, in the corner where the one-time self-proclaimed World's Largest Store company sold misses' clothing. Sears, an original tenant of the 57-year-old mall, closed its store in April."

That's what I call context.


• Viva Las Vegas! Amazon announced yesterday that it is opening a new 30,000 square foot corporate office in Las Vegas, where it will create 125 new jobs.

It is part of broader growth for the company in Las Vegas: "The company has created more than 3,500 full-time jobs in Nevada and invested over $2.5 billion in the state since 2011, including infrastructure and compensation."

Corporate Drumbeat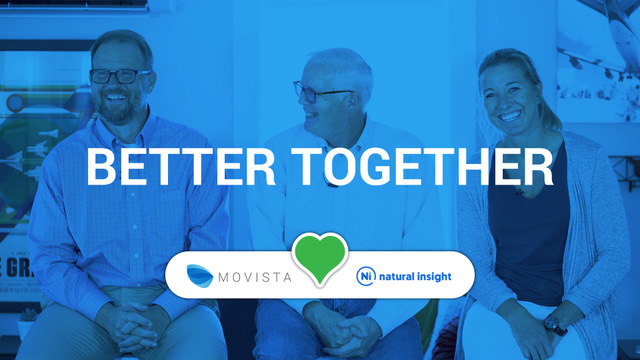 Movista Inc., provider of the leading advanced, mobile-first retail execution and workforce management platform, has announced the acquisition of Natural Insight, a retail technology provider and its largest competitor.

It is a deal for which the reasoning and implications are explained in a new podcast that features Stan Zylowski, co-founder/CEO of Movista … April Seggebruch, co-founder/COO of Movista … and Stefan Midford, president/CEO of Natural Insight and newly appointed chief customer officer at Movista. This isn't just a deep dive into the deal, but an in-depth discussion - moderated by MNB "Content Guy" Kevin Coupe - of the competitive constructs that continue to put enormous pressure on retailers to provide superior in-store experiences in order to remain competitive. And you can listen to it by clicking the image at left, or by clicking here.

The rationale behind the deal is simple: The continued rise of e-commerce giants has placed brick-and-mortar retailers under tremendous pressure to provide superior in-store experiences in order to remain competitive. This includes ensuring that shelves are fully stocked and displays are uniform across multiple locations. As retailers navigate a market experiencing seismic shifts that many market watchers say threaten the very existence of the brick-and-mortar experience, the costs tied to underperformance are steep. Movista and Natural Insight have facilitated the successful completion of more than 63 million work assignments around the world by more than 100,000 workers combined.

"In today's rapidly evolving retail environment, customer experience is critical. Physical stores have to look great, and products have to be where expected," says Stan Zylowski, co-founder and CEO of Movista. "Our technologies ensure the shopper finds what they want, when they want, where they want. Together, we will lead the way to a more mobile, agile and collaborative retail environment that delivers tangible, measurable returns for our customers."

To find out more, click here.
…with brief, occasional, italicized and sometimes gratuitous commentary…

• Business Insider reports that "Sears is laying off hundreds of corporate employees less than a week after announcing a new round of store closures … The total number of laid-off employees is fewer than 300, according to a source with direct knowledge of the staffing changes." The layoffs will affect Sears' headquarters in Hoffman Estates, Illinois, as well as offices in San Francisco.

Happy freakin' Holidays.

I feel bad for these employees, but they had to know that this was coming eventually, no matter what management was telling them. Reminds me of when I worked for a magazine that seemed consistently in trouble … we always knew when there would be layoffs when the publisher told us that we'd turned the corner, that things were going to get better, and that there would be no more layoffs. He might as well have come into the room and said, "Start updating and cranking out your résumés," because that's exactly what we all did.


• From Morning Consult: "Despite earlier estimates, U.S. consumers are looking more likely to  open their wallets this holiday season, according to a special edition of Morning Consult's Economic Intelligence report on U.S. consumer confidence … For the most part, U.S. consumers are planning to spend about the same on holiday shopping as they did last year. Just under half (49 percent) of respondents said they plan to spend the same, while 29 percent said they plan to spend less and 14 percent said they plan to spend more.

"Those who said they plan to spend less cited a desire to save money (49 percent) and pay down debt (38 percent) as top reasons. Five percent said they would spend less money because they were worried about the economy, and 12 percent blamed expected loss of income or job."

• Smart & Final announced that Sean Mahony, group vice president of store operations, has been promoted to the role of senior vice president of store operations.

At the same time, Matt Reeve, the company's group vice president of sales and merchandising, has been named senior vice president of sales and merchandising.

Content Guy's Note: Stories in this section are, in my estimation, important and relevant to business. However, they are relegated to this slot because some MNB readers have made clear that they prefer a politics-free MNB; I can't do that because sometimes the news calls out for coverage and commentary, but at least I can make it easy for folks to skip it if they so desire. And, as always, brief, occasional and sometimes gratuitous commentary is italicized…

• The Washington Post reports that Amazon will challenge the Trump administration's decision to award a Pentagon cloud computing contract that could be worth as much as $10 billion to Microsoft over the coming decade.

The reason: The contract - for something called the Joint Enterprise Defense Infrastructure Cloud (known, somehow perfectly, as JEDI) - originally was seen as likely to go to Amazon, which had performed similar services for the Central Intelligence Agency (CIA). Amazon's challenge is based on the fact that President Trump has consistently disparaged the company, at least in part because its founder, Jeff Bezos, also owns the Washington Post, which has been aggressive in its coverage of the administration.

Amazon is accusing the Trump administration of putting its finger on the scale for political reasons, as opposed to awarding it based on merit. The White House has said this is not the case.

The challenge is in a lawsuit filed in the U.S. Court of Federal Claims.

If this is going to court, that means there will be depositions and discovery and, no doubt, a series of appeals of whatever decisions come down. The Post notes, for the recored, that "Federal acquisition laws prohibit politicians, including the president, from influencing contract awards."
In Thursday Night Football action, the Cleveland Browns defeated the Pittsburgh Steelers 21-7.

Past Retail Tomorrow podcasts have focused on how technology can have an impact on business models and people's lives. In this edition, however, we drill down to talk about how technology affected one life … and, in fact, makes living a best life possible.

Our guest: Heidi Dohse, senior program manager in Google's Cloud - Health and Life Sciences division. Dohse's personal and professional story makes for a compelling narrative that is at once provocative and inspiring.

Hosted by Kevin Coupe, MorningNewsBeat's "Content Guy."

You can listen to the podcast here, or on iTunes and GooglePlay.

This edition of the Retail Tomorrow podcast is brought to you by GMDC, the Global Market Development Center.
Industry Drumbeat
A NEW PRESENTATION BY KEVIN COUPE

Steve Jobs once said, "Better to be a pirate than join the navy." In today's cutthroat retail environment, that attitude needs to be at the core of every business's strategic, tactical and operational approach - challenging the status quo, doing the unexpected, creating customer-centric business initiatives and then disrupting them internally … appealing to people's hearts and heads and aspirations … acting with piratical verve and always moving forward. In this brand new, lighthearted, illuminating and uniquely pertinent presentation, filled with examples and anecdotes and lessons, MorningNewsBeat's Kevin Coupe brings a passion for storytelling and a unique perspective on business that will entertain and energize audiences.''

Here's what Lori Stillman, Executive Vice President - Analytics, Insights and Intelligence, Advantage Solutions, has to say about a recent appearance:

"Kevin joined us as a moderator and facilitator for a two-day client executive event we hosted. His role in the success of the event went far beyond his time presenting and sharing his great wisdom and content. From the moment our planning process began and we selected Kevin as a key part of our program, he dove in and worked with our team to review session topics, ideate on programming and help ensure our overall event delivered on the goals we had established. His quick wit, deep industry knowledge and ability to synthesize conversations into key take-aways enabled us to hit a home run!"

And, from Joe Jurich, CTO of DUMAC Business Systems:

"Kevin recently participated in and spoke at our Annual User Conference.  Our group consisted of independent retailers, wholesalers, and software vendors – a pretty broad group to challenge in a single talk.  While his energy, humor, and movie analogies kept the audience engaged, his ability to challenge them to think differently about how they go to market is what really captured them!  Based on dinner conversations afterward, he appeared to have left everyone thinking of at least one new approach to their strategy!"

To book Kevin for your upcoming event, click here , or call him at 203-253-0291.
Amazon and Netflix, both caught up in the streaming wars that seem to have invaded all of our internet-connected devices - the Disney+ streaming app apparently was downloaded 10 million times on day one of its existence, so the game is afoot - have brought out two new seasons of series that to varying degrees reflect the strengths and weaknesses of the form.

First up, from, Amazon Prime, was "Modern Love," an eight-episode anthology series based on a popular series of New York Times columns. Each of the episodes features a different cast and premise, but each one also is based on a column about actual people in New York City.

There's one about a woman's relationship with the doorman of her building (platonic, but important) … one about a journalist's interview with the creator of a dating app who is having romantic issues … one about a woman with bi-polar disorder who has trouble making sustained connections to people … one about a middle aged couple's marital problems … one about a gay couple trying to adopt a baby … one about an elderly couple that finds love …. and so on.

The problem with "Modern Love" is that it can be uneven, which can be frustrating - though the good news is that they're all about 30 minutes long, so it isn't a long frustration. In the one about the bi-polar woman, for example, I found the script to be a little light, but the performance by Anne Hathaway was incredibly strong, and kept me involved. The middle-aged couple episode was sort of paint-by-the-numbers - not nearly as good as "State of the Union," the Sundance TV series consisting of ten 10-minute episodes, with Rosamund Pike and Chris O'Dowd, each one about the 10 minutes they spend together in a pub before going to marriage counseling - but Tina Fey and John Slattery made it recognizably touching. And in the one about the elderly couple, the great Jane Alexander takes a slip of a script and turns it into a tour de force.

I recommend "Modern Love," mostly because it looks and feels like the kind of short stories that might appear in The New Yorker … if you like that sort of thing, you'll enjoy "Modern Love." Amazon has renewed it for a second season, and I'm looking forward to seeing if they can deepen and enrich the premise.

Which is exactly what happened on "The Kominsky Method," on Netflix, which has just returned for its second season of eight half-hour episodes. (There seems to be a trend toward shorter runs and shorter episodes. I like it.)

The first season of "The Kominsky Method" introduced us to Sandy Kominsky (Michael Douglas), an aging, divorced and somewhat randy acting coach whose best years are behind him, and Norman Newlander (Alan Arkin), his agent, who has just lost his wife of 50 years to cancer. Essentially, "The Kominsky Method" was about two aging Jewish men who kvetch a lot, but the dialogue was sparkling and it was interesting to see a sitcom king, Chuck Lorre, work in a new, one-camera format. (All of his other shows, from "The Big Bang Theory" to "Mom," have been multi-camera sitcoms.)

"The Kominsky Method" had a little of the vibe of "Curb Your Enthusiasm" going for it, and there were some very funny aging jokes. I wasn't sure that anyone under the age of 50 would enjoy it, but I did, and I said so.

The second season, however, is something else again - just as funny, if not more so, but far more interesting as it explores the frailties of the two protagonists, taking us in unexpected directions. At the same time, it introduces some new characters who get a lot of screen time - Jane Seymour as a woman from Norman's past (both the actress and the character are wonderful), and Paul Reiser as a man Sandy's age who starts dating his daughter. Reiser is almost unrecognizable, but almost steals the show … he's funny as all get out, but also touching and vulnerable. The second season of "Kominsky" also fleshes out some of the supporting characters from season one, and there are two standout cameos that you should watch for - Bob Odenkirk as a doctor (he makes the most of his three minute scene) and, go figure, the great Kathleen Turner (who starred with Douglas in Romancing The Stone, Jewel of the Nile, and War of the Roses) in a brief but very funny bit as Sandy's ex-wife.

They could've played it safe with "The Kominsky Method," but they didn't - they decided to reach for something richer and deeper and ultimately better. Make no mistake - it is still a comedy, and very funny. But it also is more than that, and is more memorable for the effort. I very much hope there is a season three.



I'm not sure what made me do it. Maybe it was my enduring affection for private eye books and movies. But the other night I was thumbing around and found Twilight on Amazon.

No, not the teen vampire Twilight. This was the 1998 noir thriller written and directed by Robert Benton, and starring Paul Newman, Gene Hackman, Susan Sarandon and James Garner. (If you don't love that cast, there's no helping you.)

Newman plays a former cop turned private eye, now retired, who gets involved in a case at his friend Hackman's request; Hackman plays a cancer-stricken movie star who is married to Sarandon, with whom Newman is not-so-secretly in love. And Garner is the former cop turned fixer who knows way more about everybody than anyone should be comfortable with. There is, of course, a little bit of sex, and lot of murder, and plenty of Raymond Chandler-esque ironic gumshoe talk.

Twilight isn't a great movie. Benton, best known for writing and directing Kramer vs. Kramer and co-writing Bonnie and Clyde, actually did it better two decades earlier with The Late Show, which starred Art Carney as an aging detective named Ira Wells, and co-starred Lily Tomlin.

But Twilight did make me think what Newman could've done with a film adaptation of "Only To Sleep," the Phillip Marlowe novel recently written by Lawrence Osborn (which I reviewed here a few weeks ago). Or what Garner could've done with the role of an aging Marlowe taking one last case. Or, for that matter, Hackman - who is still with us, though he has retired from acting.

Garner actually played Marlowe in a 1969 not-great movie called Marlowe. And one of Hackman's best roles was as a private eye named Harry Moseby in the terrific 1975 film Night Moves.

What can I tell you? This is my thing. And it was sort of fun to become reacquainted with Twilight, if only because it is about my favorite genre and has lovely performances by four old pros who made everything they were in better.



Finally…

Last year, I wrote enthusiastically here about "Flunk. Start.: Reclaiming My Decade Lost in Scientology," by Sands Hall, a novelist, actress, musician and university writing professor who also happens to be one of my oldest friends. (Old only in the sense that we've known each other since 1977. She's young in practically every other way.) I found the book to be both granular and expansive in its approach - it wasn't just a memoir about her time in Scientology, but also a nuanced exploration of the notion of belief and, by extension, unbelief, and about yearning for connection.

That's what Scientology does - it exploits the hearts and minds and bodies of people who are in need of some sort of connection. When Sands signed on many years ago, it was with eyes wide open about its reputation, and yet she felt compelled by some inner need not being satisfied in other ways.

Last year, when reviewing the book, I wrote:

"As a reader, one can see the signs more clearly than Hall could at the time. I kept wanting to knock her out of the way of what struck me as the speeding train of Scientology, which, if it had its way, would remake everything that she was. And not just remake her. Scientology would've obliterated everything she was and taken everything she had.There are times when "Flunk. Start." reads like a thriller, full of shadows and threats and characters who may be duplicitous or honest and hard to take at face value.

"In the end, though, what marks 'Flunk. Start' as an unusual approach to the subject is the consistent and deep compassion of the writing. Hall is hardest on herself, writing about personal tragedies and misjudgments, which is probably what any clear-eyed memoirist should be."

I mention this all now because her book has finally come out in a paperback edition, available on Tuesday on Amazon, though with a slightly revised title: "Reclaiming My Decade Lost in Scientology: A Memoir." (I suppose the publisher thought that the "Flunk. Start" reference, which has to do with a Scientology ritual, made the book less accessible.) The book also is available in a Kindle edition, and Sands has recorded it as an audio CD as well.

I'll say again what I said last year: I don't think my knowing the story's author made the book more compelling a read than it would've been if I did not know her. There were moments of recognition, and times when I thought I should've been a better, more available friend. But for anyone who reads it, I believe that as a memoir and a thoughtful exploration of faith and belief, "Reclaiming My Decade Lost in Scientology" has enormous objective power, and I'm happy to once again heartily recommend it.



That's it for this week. Have a great weekend.

Back Monday.

Slàinte!
PWS 59