Regarding Amazon One contactless technology, one MNB reader wrote:
Technology is progress and can not be stopped. But sometimes it goes too far. By using the term of the times "contactless" as a reason to promote their new way of cutting labor costs. More people out of work.
I would rather see them not have to pay people $15/hr and hire more employees. That to me, is more frictionless and more enjoyable. You can talk with an actual person while checking out. Plus it provides greater tax dollars and job growth opportunities for more people.
A shame that I continually see more jobs being lost to tech. with no other options becoming available for the younger or non-skilled worker.
There is a lesson in this, which may sound hard-hearted but is true: Nobody can afford to be non-skilled in a 21st century economy.
Got the following email from an MNB reader about the growth of grocerants and what I like to call restaurmarkets:
100% agree and love to see this. Just like HEB's setup, these food hall type setups are going to be popular. A massive amount of consumers have become more engaged with the food they're preparing at home due to the pandemic. I think this is a slam dunk for the consumer and everyone in the supply chain going back to the grower (this is from a produce person's point of view btw).
The food culture in Lafayette, Louisiana, came up the other day, and prompted this email from MNB reader Mike Freese:
I had never been to Lafayette, Louisiana but oddly enough, stayed there one night last week on the way to a vacation in Texas. In looking at Yelp for a place to eat the Olde Tyme Grocery came up came up #2 of all restaurants in Lafayette. It's actually a grocery/restaurant which has been around since 1982. At any rate, can't tell you how good the shrimp Poor Boy (that's how they spell it on their web site) was.
Mike also sent a picture, which instantly made me hungry.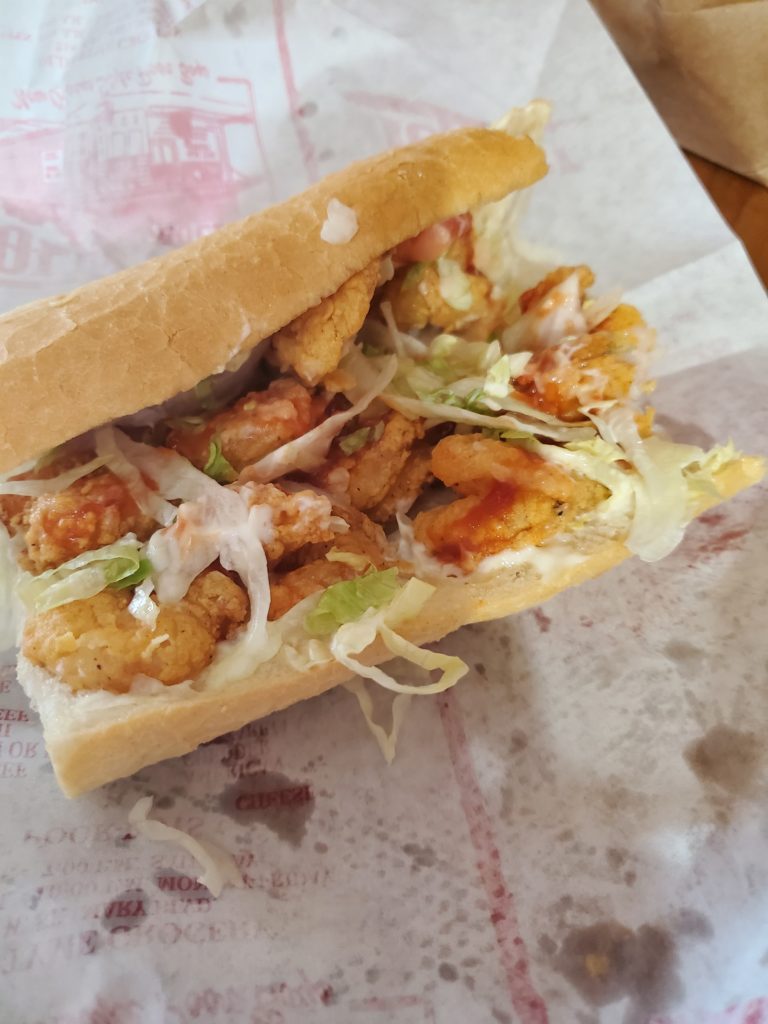 This email touched on another subject:
I enjoy reading the Your Views segment of MNB. You post the positive and negative commentary. In a world where we have a tendency to complain more than compliment, I wanted to pay compliments to Home Depot which hasn't always been best at customer service.
Recently I purchased a TV stand on their website. It was shipped to me free of charge in 8 days. When it arrived one of the shelves was broken. I went on to Home Depot's web page and was able to chat online with customer support. A replacement piece was ordered with the manufacturer immediately. Unfortunately the manufacturer sent an email to me a day later saying they were "researching my issue" and when I asked why I received no response. After a week I went back to the Home Depot site to see if their online support could help with my issue. They arranged for the item to be picked up at my house and ordered a new TV stand at a reduced price for my inconvenience. Great service and this was done within 15 minutes.
This stuff matters.
Thanks to all of you who wrote in about the "Good Morning" video that my daughter uses in her classroom and that I shared last week. (Apologies to those of you who still can't get the tune out of their heads.)
Here's a typical email, from MNB reader Maurine King:
What an awesome way to start the weekend even though there is an area of disturbance (bad weather) that may make its way into the Gulf of Mexico. I live in Louisiana and seven hurricanes in one season is more than enough! I didn't want to miss the opportunity to ask you to please thank your daughter for sharing the Good Morning Song!! She did very well!! I'm sharing with others as well!!
For those of you who missed it….