by Kevin Coupe
Once again, I want to bring your attention to the regular email newsletter, "Around The Store With Stew," that I've felt does an excellent job of communicating effectively and frankly with customers at Stew Leonard's stores in Connecticut, New York and New Jersey.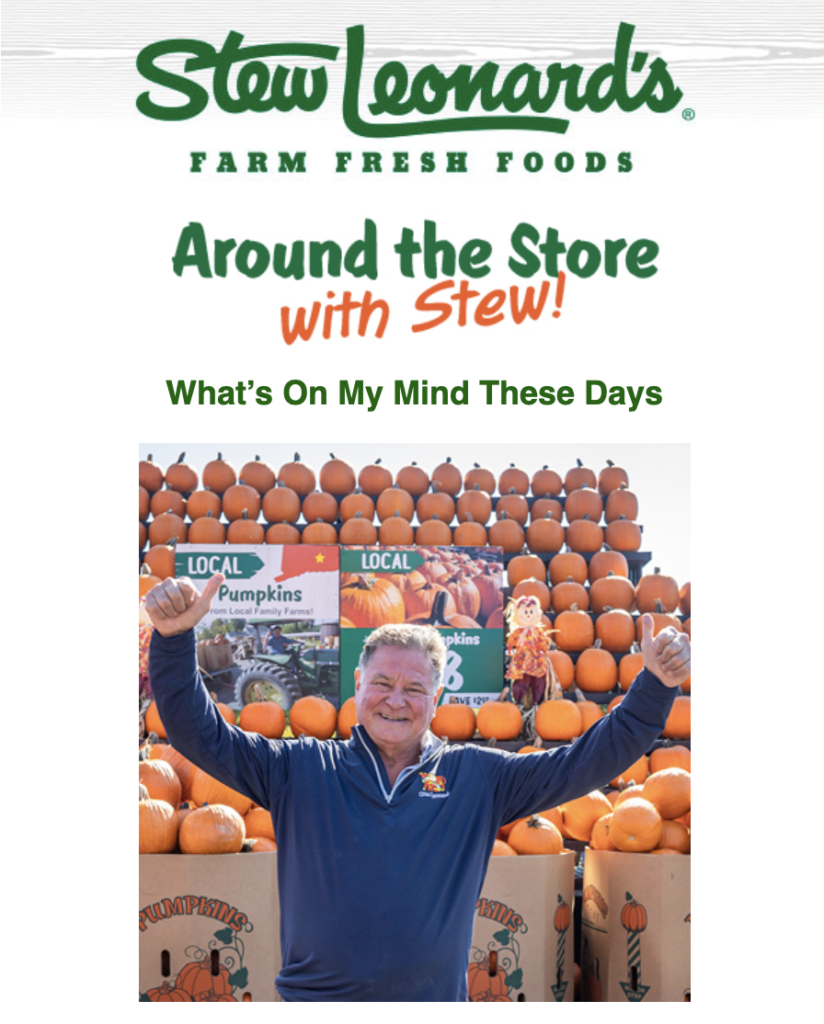 What grabbed my attention this weekend when the email showed up in my in box was the way he talks about prices - specifically, the price of pumpkins, but the lessons can be applied to most of the store's departments:
The pumpkins (we'll sell 250,000) are the best I've seen in years … Look for a hard pumpkin and, try to get a nice stem. Had to raise the price $2 this year but, we're getting the "cream of the crop." Our pumpkin farmer said his cardboard (for the bins) has gone up from $9 last year to over $20 this year. He also has to pay his farmer workers $16 an hour, up 30% from last year. Throw fuel for his tractors on top of that. Most customers are buying three (3/$24) and adding the crazy shaped gourds to decorate their houses. Add some corn stalks and you'll become a Martha Stewart!
In other words, Stew Leonard's didn't just raise prices, but explained why … which i think is a really smart thing to do.
Stew also admits to a setback in the bakery department:
It was good while it lasted but we got a "cease and desist" from Warner Bros. about using the "Ted Lasso" name on our shortbread cookies. I binge watched the Apple TV+ series and even put up a personal endorsement in our stores. We had the sign, the shortbread cookies, and I thought we had one big happy family. Well, not according to copyright law. No more "Ted Lasso" name. We're just going to call them "OUR SECRET SHORTBREAD COOKIES." I'm still going to endorse the show. Over 500 million people can't be wrong. Also, they've won 7 Emmys! To show how excited I am about the show, look at my Halloween picture last year.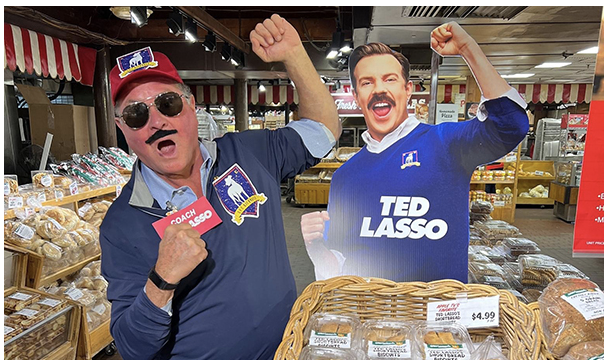 That's an unusual level of transparency, I think … though Stew also manages to make a sales pitch for the shortbread cookies. Which happen to be really good.
The Eye Opening lesson, I think, is the importance of effective, honest communication - in the end, customers will respond, and will respect retailers for being upfront with them.