Join the MNB Community.
Get a Wake Up Call each morning...
Email:
Explore the MNB Archives

From The MNB Archives
Tuesday, January 23, 2018
by Michael Sansolo

It's strange how eras intersect, with important moments sliding by quietly, even unnoticed - even a moment of a monumental shift in American history.

There's a passage I love in the book "1861" by Adam Goodheart, that takes place far out on the western frontier. A lightning fast rider for the Pony Express comes upon a strange sight: two men with a mule cart hauling trees with neither leaves nor branches that they were planting in the ground every few hundred feet.

The rider, a master of his craft and time, probably gave no thought to those men and couldn't realize that they were actually placing poles that were essential to building the infrastructure of the transcontinental telegraph line. Nor could he know that their plodding work would soon consign the Pony Express to legend. In fact, the Pony Express ceased service two days after the telegraph line reached Salt Lake City. As Goodheart's book explains, in that brief moment of passing, the two eras briefly intersected likely without anyone really understanding the importance of what they were seeing.

The book goes on to explain the enormous importance of that moment. How the telegraph connection suddenly allowed near instant communication from New York to San Francisco uniting the Union just as the Civil War was tearing it apart, and provided the Union forces an immense advantage in communication and economic growth.

This powerful image from Goodheart's book came back to me on Sunday as Kevin described his visit to the now open-for-business Amazon Go store. After all, it's just one store in Seattle and how important could that be?

I'd argue it's enormously important. Suddenly a dreamed-about technology is a reality. Suddenly the number one complaint consumers have about the shopping experience is no more. The days of the dreaded checkout line might actually be over.

We cannot overstate the importance of this. The dream of eliminating checkouts was the driving force behind RFID technology in the 1990s and enthralled the top minds in the industry. And now it is possible and all without those costly chips.

Amazon Go represents so much more than one store. Now that it works - and Kevin bears witness to that - it completely alters the meaning of convenience. It challenges all retailers to consider how to find new ways of delighting and interacting with customers now that shoppers can realistically expect an entirely new level of store experience.

Clearly we are living history and have no way of knowing the ramifications of the change all around us. But Amazon Go is now open to the general public, which means a new era has just begun.

Obviously no one needs one more thing to worry about these days and you can properly argue that you operate nowhere near Seattle and won't confront this challenge any time soon. But don't doubt it, the game was just changed and you need to recognize that and think about how to make the experience of shopping in your store better than ever - from the front door to the front end.

Change is happening at full gallop.

Michael Sansolo can be reached via email at msansolo@morningnewsbeat.com . His book, "THE BIG PICTURE: Essential Business Lessons From The Movies," co-authored with Kevin Coupe, is available on Amazon by clicking here. And, his book "Business Rules!" is available from Amazon by clicking here.

KC's View:
I was reminded by Michael's column of a commercial that IBM produced more than a dozen years ago, talking about a no-checkout store would be made possible by RFID. The commercial can be seen at left, and seems almost quaint in comparison to what Amazon has achieved.

That's something to keep in mind, by the way. More than a dozen years ago, people and companies were talking about stores without checkouts.

Amazon did it.

by Kevin Coupe

During my advance visit to Amazon Go last week, I not only had a chance to interview Gianna Puerini, vice president of Amazon Go (who you can see with me, below), but also take some pictures of the new no-checkout format, which I want to share with you.

It is worth pointing out that all these pictures show a generally empty store; it wasn't open to the public yet, and there were just a few employees in evidence.

That was then. Yesterday, when the store opened to the public, there reportedly were lines stretching around the block at various times. A friend of mine was on line at one point and estimated that 50 people were ahead of him, though he also said that it was moving quickly because people were getting in and out fast because there are no checkouts.

Exactly.

There won't always be lines of this length. Things will settle down a bit. But I guarantee you that everybody who shops Amazon Go will never stand on line again without thinking about the experience.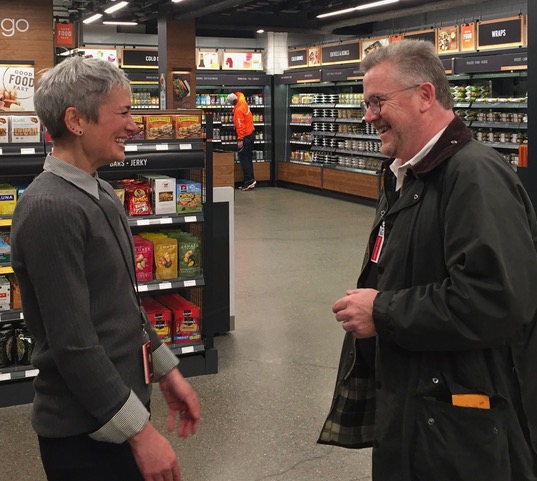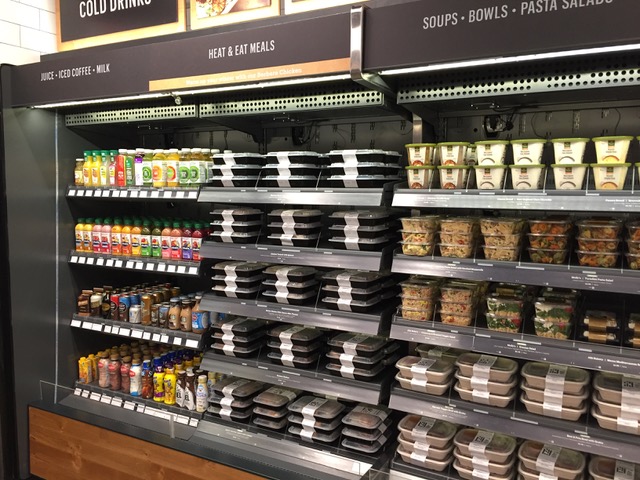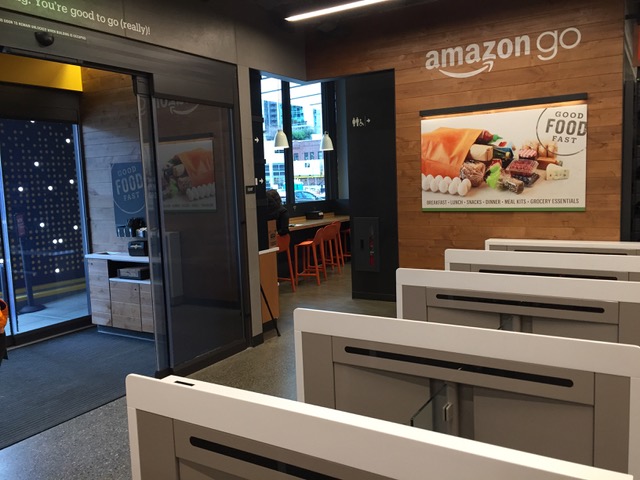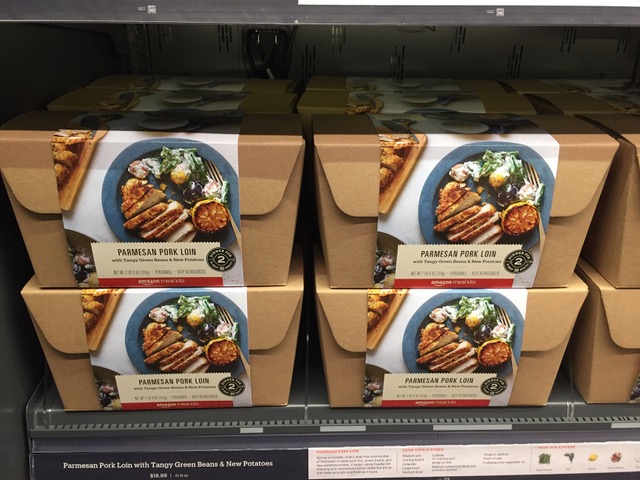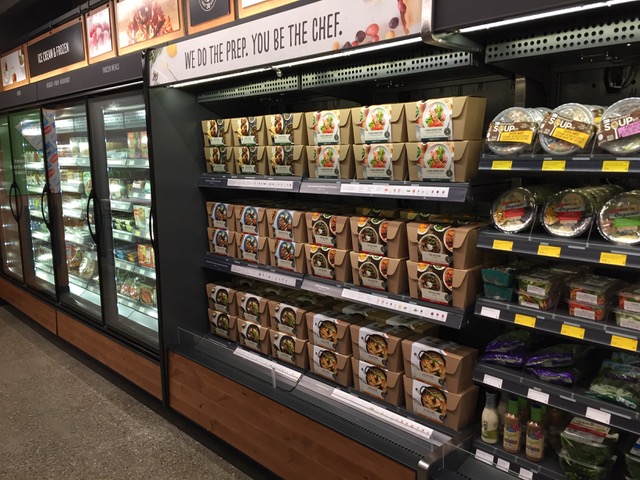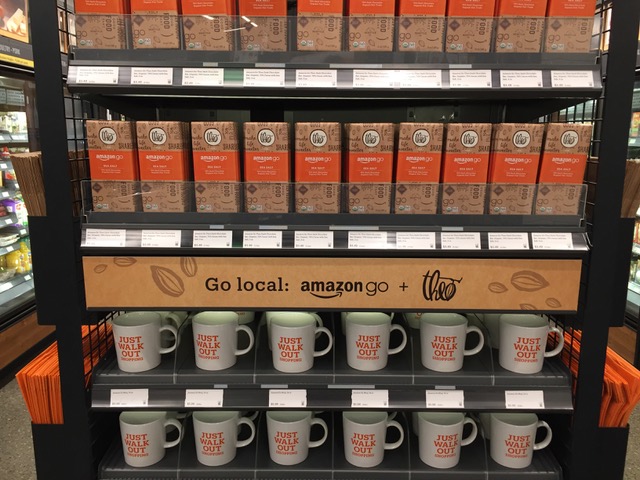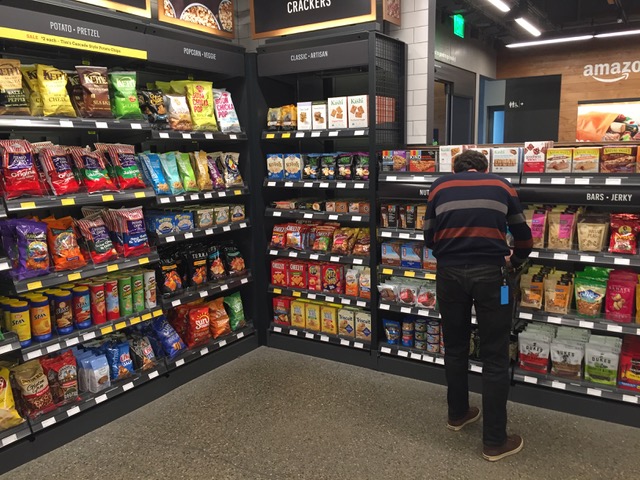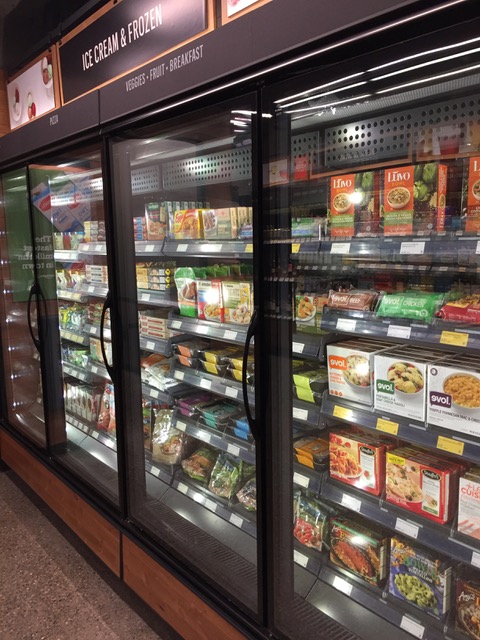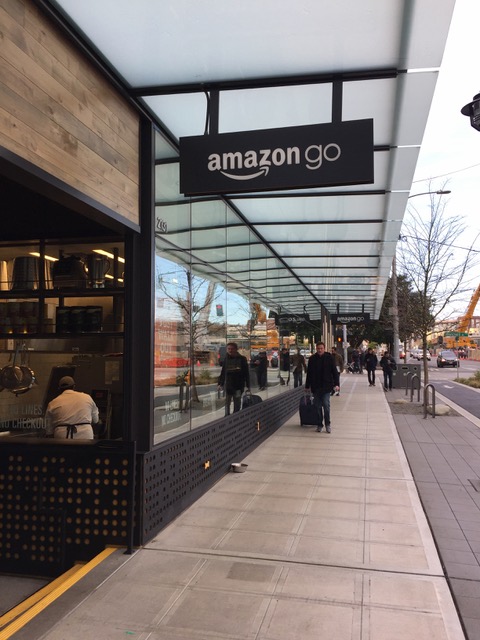 Acosta is out with the 14th annual edition of its "The Why? Behind The Buy" report, which this time around looks at these shopping and spending habits of various generations.

Some excerpts:

• Gen Z, or "emerging influencers," breaks out into two groups - the broader demographic grouping (age 12-21) and the group that shops (ages 18-21). "Not being in the working world yet, Gen Z shoppers reported spending the least on groceries each month, averaging $269 … Gen Z has never experienced life without the internet and 42 percent of Gen Z shoppers indicated they use a digital grocery list." Gen Z shoppers, the report says, make "4.5 routine grocery trips a month."

• Millennials, or "selective spenders," are aged 22-36, "spend an average of $298 monthly on groceries … This generation is not yet brand loyal — 48 percent agreed they don't care which brand they buy, and will switch when they find a better deal … Sixty percent of Millennial shoppers use mobile apps for grocery coupons or discounts, significantly higher than any other generation … Forty-six percent of Millennial shoppers have children under 18 in their household. Millennial parents spend an average of over $100 more per month on groceries than Millennials without children."

• Gen X, aged 37-52, "reported spending the most each month on groceries, averaging $380 … Many Gen X shoppers have embraced digital grocery tools — 70 percent reported redeeming a digital or mobile grocery coupon within the past month … Two-thirds of Gen X shoppers indicated they enjoys preparing new dishes and 60 percent agreed they often check out new items in a grocery store."

• Boomers, aged 53-71, while downsizing, "still spend an average of $314 each month on groceries … Boomer shoppers are brand loyal, and are buying 82 percent of the same brands that they bought in the prior year … These shoppers are also loyal to their grocery stores — 93 percent of Boomers reported shopping most often at the same grocery retailer as last year."

• And then, there are the "Silents," aged 72+, who report "spending an average of $287 monthly on groceries, which also reflects the highest household grocery spending per person across all of the generations … This generation also spends the least amount of their total monthly food budget on eating out … Silent shoppers focus on value and are big redeemers of coupons, as nine in 10 reported redeeming a paper coupon for a grocery item within the past month."

KC's View: It is tremendously difficult for retailers to appeal to all these groups in all ways, but history suggests that this largely is what many try to do. But, by trying to be all things to all people, they end up not having a defined and specific identity and value proposition. This leaves them increasingly vulnerable to retailers - both online and bricks-and-mortar - that are better at communicating their values and value.

More than ever, it is critical for retailers to focus on what makes them different, not what they have in common with the competition.

CNBC reports that Panera has challenged the US Food and Drug Administration (FDA) to define what an egg is.

According to the story, Panera says that because there is no FDA guidance about what an egg is, "Brands can say they offer an egg sandwich, but sell an egg product that contains multiple additives." Panera wants the FDA to rule on this because, it maintains, a number of its competitors "sell egg patties that contain more than five ingredients."

CNBC writes: "Over the last four months, Panera has slowly swapped out the eggs that it uses in its breakfast sandwiches. Previously, the company hard-fried its eggs in a circular template on the grill to firmly cook the egg and shape it to better fit within the sandwich. Now, it's cracking extra large pasteurized eggs right on the flattop, cooking them over-easy and serving them on a brioche bun nice and runny."

And now that it has made this shift, Panera wants to challenge companies that have not.

KC's View: I think this reflects a basic truth among a rowing percentage of the population - people want to know more about their food, and want their food to be actual food. Retailers committed to this will make a point of it … and should.

• Variety reports that Walmart has decided to advertise on the Oscars again this year, and in a move that reflects an understanding of where the culture is at the moment, will do so by running 60-second short films - each directed by a woman: Melissa McCarthy, Nancy Meyers and Dee Rees. Each film, the story says, "starts with the depiction of the chain's blue shipping box, and then continues with the director's interpretation of where it goes to, how it arrives and what's inside."

KC's View: Good for Walmart. It is important not to have blinders on about the broader cultural conversation.

• Reuters reports that Canadian food retailer Sobeys has decided to expand its e-commerce platform via Ocado, the British pure-play online retailer: "Under the Sobeys deal, the two companies will develop a customer fulfillment centre in Toronto and will also consider developing more centres in dense urban areas."

The story notes that Ocado "has been to trying to sell its proprietary technology to international supermarkets in recent years, with new deals seen as key to the company's valuation."


• Variety reports that Netflix continues to grow via its disruptive streaming technology - it gained 8.3 million new streaming subscribers during the fourth quarter, a million more than it had predicted. Netflix said that the new subscriptions broke down to 1.98 million in the US and 6.36 million overseas.

The story notes that "the boost in total subscribers came even as Netflix began instituting broad price increases in Q4, including in the U.S. Starting last fall, American customers on the standard two-stream plan started to see their fees increase from $9.99 to $10.99 per month."

Corporate Drumbeat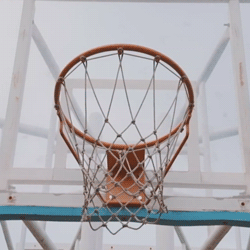 "Talent wins games, but teamwork and intelligence wins championships." -Michael Jordan

At Samuel J., we don't believe in the so-called "retail apocalypse."

"Retail self-destruction," maybe. But that only happens when companies and leaders don't adapt their stores to new competitive realities, don't create compelling customer experiences, and don't bring together exceptional talent and build extraordinary teams that can thrive and succeed even in the toughest of times.

Is this easy? Of course not. But it is achievable … especially when you have Samuel J. Associates on your team.

At Samuel J., our value never has been greater, because we understand the connection between great talent and innovative businesses. We are uniquely positioned to put together people and organizations in a way that builds expertise, cultivates leadership, and turns business challenges into business opportunities.At Samuel J, we know how to do it in a timely fashion and exceeds our clients' high expectations. And we have the winning record to prove it.

Click here to find out more.

At Samuel J. Associates, we help you find the right talent and build the right team.
...with brief, occasional, italicized and sometimes gratuitous commentary…

• Reuters reports that UK retailer Tesco announced yesterday that "it will cut a net 800 jobs from its UK business in its latest move to simplify operations and achieve targeted cost savings.

"The supermarket group, the UK's largest private sector employer with a staff of over 310,000, said the role of 'people manager' and 'compliance manager' will be removed from large UK stores and fulfillment centers, as will the role of 'customer experience manager' from 226 stores.

"These changes will affect 1,700 Tesco workers who will be offered alternative roles within the business where possible."


• Albertsons announced yesterday the addition of the "Top 5 by 2022" Sushi Commitment to its Responsible Seafood Program.

The company said that as part of its broader seafood sustainability efforts, Albertsons "is making a public commitment that guarantees its sushi will be sourced sustainably and responsibly. The Sushi Commitment is focused on ensuring the Top 5 wild and farmed-raised seafood species used for sushi will meet the company's strict Responsible Seafood Policy by year-end 2022 … The 'Top 5 by 2022' Sushi Commitment was developed as part of an ongoing partnership with FishWise, a non-profit sustainable seafood consultancy."

• The state of Montana and its Democratic governor are going to war with the Federal Communications Commission (FCC) over net neutrality.

Some background: As previously reported on MNB and elsewhere, the Trump-era FCC is deregulating the telecom and cable industries, reversing net neutrality rules imposed by the Obama administration. Net neutrality is essentially defined as a policy requiting all internet providers to treat all websites equally, regardless of size. The FCC is rolling back that requirement, saying that those rules reflected the "heavy hand" of government excess that only served to inhibit innovation and research at telecom and cable companies. Those who object to this move argue that it will mean that companies with deep pockets will be able to get faster access to consumers, which is not in the public interest.

The lines between the two sides of the issue has been fairly specific, with companies like Amazon and Google favoring net neutrality, and companies like Comcast, Verizon, AT&T and Time Warner lobbying for deregulation. On the retail side, John Ross, the president/CEO of IGA, has opposed the FCC, saying that "killing net neutrality will give (big telecoms and cable companies) license to charge new internet gateway premiums that accelerate their margins and discriminate against smaller players on the Internet." He has argued that big brands and entrepreneurs - like IGA independent retailers - should "have the same access to the web, regardless of the scope of their products and services."

Now, the New York Times reports that Gov. Steve Bullock has signed an executive order saying that "that any internet service provider with a state government contract cannot block or charge more for faster delivery of websites, two core aspects of net neutrality, to any customer in the state. Many major landline and mobile broadband providers, including Charter, CenturyLink, AT&T and Verizon, hold government contracts in the state."

Bullock says that "the executive order was the fastest and surest way to bring back net neutrality rules and to head off any decisions by internet service providers to begin throttling or charging websites more to reach consumers."

According to the Times, "The idea is similar to bills in New York and Rhode Island that are also trying to use government contracts to regulate the practices of internet service providers. Those efforts are proceeding slowly, along with multiple lawsuits filed last week by more than 20 state attorneys general and public interest groups.

"Broadband providers say they will have difficulty following different state laws related to net neutrality. Various trade groups said they were watching Montana's action and other state bills and were considering lawsuits."

It is anticipated that lawsuits will be filed against any states imposing their own net neutrality rules in opposition to the federal regulations, as providers argue that a patchwork of state regulations will force them to cut back on research and development; the case against net neutrality has been that these regulations tamped down on research investments.

KC's View: There is an irony to the notion that Amazon and IGA are on the same side of this issue, especially in view of my visit to the Amazon Go store; it seems to me that IGA stores are particularly vulnerable to the strategic moves that Amazon is making both online and in brick-and-mortar.

But I'm with Amazon and IGA on this. And I think most retailers should be concerned about cable companies and providers being able to control internet speed. Frankly, I'm not sure I know anyone who likes or trusts any cable company. At best, we all tolerate them.

This year's Academy Award nominations have been announced, and here are the major categories and nominees:

Best Film
Call Me By Your Name
Darkest Hour
Dunkirk
Get Out
Lady Bird
Phantom Thread
The Post
The Shape of Water
Three Billboards Outside Ebbing, Missouri


Best Actress
Sally Hawkins, The Shape of Water
Frances McDormand, Three Billboards Outside Ebbing, Missouri
Magot Robbie, I, Tonya
Saoirse Ronan, Lady Bird
Meryl Streep, The Post


Best Actor
Timothée Chalamet, Call Me By Your Name
Daniel Day Lewis,Phantom Thread
Daniel Kaluuya, Get Out
Gary Oldman, Darkest Hour
Denzel Washington, "Roman J. Israel, Esq.


Best Supporting Actress
Mary J Blige, Mudbound
Allison Janney, I, Tonya
Lesley Manville, Phantom Thread
Laurie Metcalf, Lady Bird
Octavia Spencer, The Shape of Water


Best Supporting Actor
Willem Dafoe, The Florida Project
Woody Harrelson, Three Billboards Outside Ebbing, Missouri
Richard Jenkins, The Shape Of Water
Christopher Plummer, All The Money In The World
Sam Rockwell, Three Billboards Outside Ebbing, Missouri


Best Director
Dunkirk, Christopher Nolan
Get Out, Jordan Peele
Ladybird, Greta Gerwig
Phantom Thread, Paul Thomas Anderson
The Shape of Water, Guillermo del Toro


Best Original Screenplay
The Big Sick
Get Out
Lady Bird
The Shape of Water
Three Billboards Outside Ebbing, Missouri


Best Adapted Screenplay
Call Me By Your Name
The Disaster Artist
Logan
Molly's Game
Mudbound


The Academy Awards will be presented on Sunday, March 4.
Industry Drumbeat
In this fast-paced, interactive and provocative presentation, MNB's Kevin Coupe challenges audiences to see Main Street through a constantly evolving technological, demographic, competitive and cultural prism.  These issues all combine to create an environment in which traditional thinking, fundamental execution, and just-good-enough strategies and tactics likely will pave a path to irrelevance;  Coupe lays out a road map for the future that focuses on differential advantages and disruptive mindsets, using real-world examples that can be adopted and executed by enterprising and innovative leaders.

"Kevin inspired our management team with his insights about the food industry and his enthusiasm. We've had the best come in to address our group, and Kevin Coupe was rated right up there.  He had our team on the edge of their chairs!" - Stew Leonard, Jr., CEO, Stew Leonard's

Constantly updated to reflect the news stories covered and commented upon daily by MorningNewsBeat, and seasoned with an irreverent sense of humor and disdain for sacred cows honed by Coupe's 30+ years of writing and reporting about the best in the business, "Good Is Not Good When Better Is Expected" will get your meeting attendees not just thinking, but asking the serious questions about business and consumers that serious times demand.

Want to make your next event unique, engaging, illuminating and entertaining?  Start here: KevinCoupe.com. Or call Kevin at 203-662-0100.
Industry Drumbeat
Just a reminder ... Jackson Jeyanayagam, CMO of Boxed, joins Tom Furphy and Kevin Coupe to talk about his company's competitive posture, unique value proposition, and focus on family-friendly values, as well as his experience as head of digital marketing at Chipotle during its food safety crisis. Plus, Tom and Kevin discuss Amazon's integration of Whole Foods, and much more, in this inaugural edition of The Innovation Conversation Podcast.

This podcast can be played below, or can be accessed and subscribed to on both iTunes and GooglePlay.


This Innovation Conversation Podcast is sponsored by ReposiTrak, and brought to you by GMDC.
Corporate Drumbeat
"Content Guy" Kevin Coupe sits down with Barry Clogan (pictured at left) - a veteran of the e-commerce wars with his share of battle scars - the 2018 National Retail Federation Big Show, to talk about how the fast evolving e-commerce segment is creating a growing chasm between retailers that "get it" and those who don't. The focus is on customer acquisition, and the importance of focusing on total customer value as opposed to sales and transactions, and the conclusion is that retailers are running out of time to make the critical moves to keep them relevant and successful.

Content Guy's Note: In the interest of full disclosure, I should note here that Barry currently is president of Retail Solutions at MyWebGrocer, but also spent five years at Tesco, where he led its online grocery rollout across eight countries. I thought his perspective would be valuable, and worth sharing with the MNB community. It was only later that MyWebGrocer stepped in and asked to sponsor it … which didn't particularly matter in terms of content, because at no point in the interview did we talk about MyWebGrocer. This is not a commercial, or even an infomercial … but I wanted to be completely transparent about it. So, enjoy…

PWS 52