Join the MNB Community.
Get a Wake Up Call each morning...
Email:
Explore the MNB Archives
From The MNB Archives
Tuesday, October 23, 2018
by Michael Sansolo

There's good reason why topics like e-commerce and omnichannel retailing get so much attention these days and frankly that's not likely to change soon. But we need constantly remind ourselves that business success comes down to understanding and meeting customers' needs and satisfying them in new and different ways.

And as customers change, those needs, wants and desires change with them. That's a simple, yet powerful reason to read with some fear a recent article from the Washington Post laying out many of the shopping quirks of the millennial generation and how they relate specifically to supermarkets.

Trust me on this: you won't like it!

The writer, who actually covers food for the Post, makes a painful confession. She hardly ever cooks but not because she hates cooking. Rather, she hates grocery shopping so much she'll do anything to avoid it, which, as she explains, results in her eating hundreds of restaurant meals each year. As the author admits, she is fortunate that she has the means and choices to live this lifestyle, but the hatred she voices for supermarkets is powerful.

Worse yet, her comments are seconded by many of those responding to the article and the piece itself was sent to me by a millennial who wrote simply: "This is how I feel."

Yikes.

What causes her toi feel such hatred? First, she considers grocery shopping a painful chore, a complaint that resonates through many generations. The simple truth is that people love shopping for certain items (clothing or sporting goods for instance) but see food shopping as a boring, painful chore.

Some of her complaints span the generations. As she writes about the store experience: "My reasons (for disliking it) are as varied as your supermarket's tomato sauce selection: The lack of clocks and maze-like layout lead me to believe whoever designed the store is tricking me. Putting the milk all the way in the back? Nice try. Why make the trek when the coffee shop on my street keeps it right by the door? (In reporting for this story, I've learned that grocery stores keep dairy in the back so they can more easily keep it cold off the delivery trucks, but I'm still annoyed.)"

That last complaint hits of a comment the Content Guy makes regularly. Are the stores laid out for efficiency or the shopper? Clearly, the answer is frequently wrong.

And then we get to a classic millennial issue, the feeling that this chore is something they never quite imagined themselves doing. It may be infuriating, but it's real and has to be dealt with by retailers.

"Furthermore," she writes, "stepping foot in a supermarket stokes nearly all of my anxieties: The number of options is crippling for someone who has a hard time making decisions; my internal Peter Pan is appalled that I'm doing something so adult; and as a commitment-phobe, that little bag of baby carrots seems huge when I consider that I'll be stuck with them until I eat them all (or, more likely, let them rot)."

If you are looking for a silver lining in this, the author admits to disdaining farmers' markets and shopping services for many assorted reasons. And her litany of complaints would make any marketer wonder if there is a way to possibly delight a shopper like this.

The reality is that there have always been shoppers who dread the task and stores have always fought back with ways to make it increasingly pleasant or interesting. It's not a battle that can be constantly won, but it must be engaged. Like it or not (and most won't like it) these shoppers are out there, and in large numbers.

They matter.

Just in case you needed something else to worry about…


Michael Sansolo can be reached via email at msansolo@morningnewsbeat.com . His book, "THE BIG PICTURE: Essential Business Lessons From The Movies," co-authored with Kevin Coupe, is available on Amazon by clicking here. And, his book "Business Rules!" is available from Amazon by clicking here.
by Kevin Coupe

The Washington Post has a story about how "new data about the country's collapsing fertility rates has emerged," while "concern has deepened over what's causing the changes, whether it constitutes a crisis that will fundamentally change the demographic trajectory of the country — and what should be done about it."

The story notes that "fertility and birthrates are among the most closely monitored indicators of a country's economic health. When too high, a surging youth population might be unable to find work and become susceptible to unrest. When too low, economies can rapidly contract, and a small working-age population has to support a large retired population. The United States is somewhat more buffered because of its relatively high levels of immigration, but if the decline in fertility continues, demographers say, the country may face an extreme population imbalance in the future."

The Post writes about how there are a variety of possible causes for the drop in fertility rates. It could be culture; people just don't see getting married and having children with the same enthusiasm anymore. It could be the economic; some blame "less-than-generous parental leave and pay policies." It could be scientific; "recent medical journal publications have indicated that exposure to pollutants might be harming reproductive health, including the motility and quantity of sperm, which could delay childbearing and overall fertility."

But the reality seems to be that whatever the reason, it seems unlikely that the childbearing trends of the past will continue into the future, which means that businesses that have depended on such things for their prosperity make have to do some serious rethinking.

They may have to conceive of another approach.

It is what is called an Eye-Opener.
Amazon announced that it is opening its first Amazon Go checkout-free store in San Francisco today, a 2,300 square foot unit at the corner of California and Battery, in the middle of the city's Financial District and just blocks from the Embarcadero. Yet another Amazon Go is scheduled to be opened this winter in San Francisco, a 1,750 square foot store at the corner of Post and Kearney, about a half-mile southwest of the first location.

Amazon has not confirmed, but Recode is reporting, that an Amazon Go store is planned for New York City, to be opened next year inside Brookfield Place, formerly known as the World Financial Center, in Manhattan's Battery Park City neighborhood, across from the World Trade Center.

The company has confirmed that it has another Go store planned for Chicago - it will be its fourth in the Windy City - a 2,000 square foot store at 111 E. Wacker Drive, which will be ab out a mile from the closest Amazon Go unit there.

There also are three Amazon Go stores open in Seattle.

There has been speculation that Amazon could open as many as 3,000 Amazon Go locations by 2021.

KC's View: One of the things most interesting to me is how Amazon is clumping these stores together, clearly looking to build some sort of density in specific metropolitan areas. It isn't hard to imagine that each of these cities - and others - will start to see more Amazon Go stores opened, especially because I'll be Amazon is able to drive some pretty good deals with landlords.

I have no idea if 3,000 stores is a stated goal. But anything is possible, and just half that would be a game-changer.

Bloomberg has a story about how online brands - think Bonobos, Warby Parker, Casper beds, hair color brand Madison Reed. and clothing brand Everlane - that made their bones in the digital environment now are looking to bricks-and-mortar stores as being important, even critical, to their long-term sustainability.

Not coincidentally, these companies are moving in this direction as Amazon expands its fleet of checkout free Amazon Go stores, tests the Amazon 4 Star concept, and continues to grow its fleet of Amazon Books and Whole Foods stores.

"If physical outposts were initially exercises in branding and publicity, they're now core to long-term growth," Bloomberg writes. "Retail startups are even starting to include a store opening plan in pitches to venture firms. Many cite the success of a pop-up location to show that they can leverage their online customers and stand out from their online-only competitors."

Some of the factors propelling the trend cited in the story:

• "Online advertising is no longer the growth accelerant it was."

• "Retail landlords understand that these upstarts typically require less space than traditional retailers because many of them don't carry inventory."

• "Landlords aren't demanding the long-term commitments once considered standard and are instead offering leases as short as a year with extension options. That flexibility extends to temporary locations, too, with spaces dedicated to rotating pop-ups so the tenants can easily test concepts. To further reduce risk, they're offering to help pay for store remodeling and taking a small percentage of sales instead of monthly rent."

• "Some shopping centers are becoming venture capitalists, investing in promising retail startups that could become future tenants."

Bloomberg writes that "in embracing the offline world, the digital natives have absorbed many of the lessons honed by retailers for the past century: that people like to feel the fabric, try on glasses, get face-to-face shopping tips. The question is whether Bonobos, Warby Parker and the rest have also learned the painful lessons - how over-expanding can cannibalize existing stores - that laid low so many specialty retailers in recent years."

KC's View: One of the thins that I think these digital brands bring to the bricks-and-mortar experience is a sense that they can create same-old, same-old stores … they have to develop differentiated environments that people actually want to visit and patronize.

If they are successful at this, they'll be even greater threats to traditional and often mediocre bricks-and-mortar stores who are weighed down by their legacies, unable to let imagination and innovation take flight.

CNN tells the story of Rich Morgan, a former resident of Battle Creek, Michigan, who moved with his wife Julie to Indianapolis a quarter-century ago. But despite the fact they moved, they never lost a craving for Steve's Pizza, where they'd go for dinner every payday.

This year, they decided to return to Battle Creek for Rich's birthday, just to enjoy some more Steve's Pizza.

But instead, CNN reports, "they ended up in the ER, where Rich Morgan was told his cancer had worsened and that he had weeks -- maybe days -- to live. He was placed in hospice care."

Last week, Dalton Shaffer - the 18-year-old grandson of Steve, original owner of the pizzeria, and the current manager - heard about Rich's situation from Julie's dad, who hoped that Dalton would send Rich a text message to make him feel better. But Shaffer went one step further. He asked what kind of pizza Rich and Julie liked - it ended up being mushroom and pepperoni - and then he made them and got on the road and drove the 3.5 hours to Indianapolis. Where he delivered the pizzas. And then got back on the road to drive back to Battle Creek, because he had to work the next morning.

Rich Morgan died on Saturday after a two-year battle with cancer.

KC's View: That's not just what great customer service is. It's also what amazing people do.

Business Insider reports that Walmart is bucking conventional wisdom and is not hiring "a ton" of seasonal employees for the end-of-year holiday shopping season.

According to the story, "For the third year in a row, the retail giant plans to handle the holiday rush by offering its 1.5 million US-based employees extra hours in order to handle the holiday rush. This strategy sets Walmart apart from retailers, like Amazon and Kohl's, that bring in temporary workers during the busier times of the year."

The reason? The company says that it has made such a significant investment in existing employees that it doesn't need to, and it would prefer to just offer more hours to people already on the payroll.

KC's View: One thing that existing employees can do that seasonal employees can't is be better brand ambassadors for the company … and I'm sure that's one of the things on which Walmart is counting.

• The Wall Street Journal reports that Amazon "is accelerating efforts to make Alexa more useful, from enhancing its conversational chops to offering outside developers financial incentives to make better Alexa-compatible voice applications, which Amazon calls skills."

The goal is to give consumers the ability to do more than "turn on the lights, play music or time the pasta," and the method is to expand the ability of Alexa developers "to charge users for purchases within skills, such as premium content from a media service, or hints or special powers in a game."

Amazon starts out with a distinct advantage. The Journal writes that "Amazon has sold an estimated 47 million-plus devices in the Echo family since its launch in late 2014, giving it a roughly 51% share of the smart-speaker market."

But, Amazon knows that the competition only is going to get tougher, as it battles competitors - including Alphabet Inc.'s Google and Apple - "for voice-assistant supremacy."
• CNBC reports that Walmart is "expanding two-day shipping and in-store returns to many items sold by third parties on its website next month, just ahead of the busy holiday shopping season. The move comes as Amazon and Target, two top retail rivals, have been improving their own shipping perks to convince shoppers to pick them over the competition."

The story goes on to predict that "when it gets down to the last minute, shoppers who procrastinate later this year will be flocking to the retailers that can get items to them fastest before Christmas."

Corporate Drumbeat
"It's a bad time to be in the business of selling groceries, and the headlines are as bleak as you'd expect: "The Retail Apocalypse Is Coming for Grocery Stores" ... "Grocery Retail 'Bloodbath' Is Here" ... Conversely, it is a great time — arguably the best time ever — to buy groceries."
- New York Magazine/Grub Street


At Samuel J.Associates, we have a response to this assessment:

Bull.

We think it is a great time to be selling groceries, whether you are a retailer or a supplier. That's because a more educated and demanding consumer, no matter the demographic, will reward businesses that are innovative, disruptive, and in touch with what people need, even if they don't know they need it.

And, we know this: Those businesses require, and are fueled by, great people.

People who don't just get the job done, but who set the tone in an organization, establish cultural and business priorities, who build teams, and who are able to not just adapt to competitive realities, but see the future and thrive in it.

And yes, ignore dire warnings about a "retail apocalypse" and see opportunities.

At Samuel J. Associates, we have a winning record of connecting great talent and innovative businesses ... as well as innovative talent with great businesses. We exceed your expectations so that you can do the same thing for your customers.

No bull.

Click here to find out more.

• The National Retail Federation (NRF) is projecting that end-of-year holiday spending this year, propelled by "strong momentum and customers wanting to spend" because of low unemployment and consumer confidence, will hit $1.1 trillion.

In Minnesota, the Star Tribune reports that retailers that include Best Buy and Target - especially those that "have figured out the balance of in-store and online sales and the complexity of distribution channels to compete with Amazon" - feel that they are well positioned for the moment.

There also is generally felt that Sears' bankruptcy raises the bar for what competitive retailers are going to be able to achieve this year.


• USA Today reports on how "millions of pounds of ready-to-eat salads and premade food items including entrees, burritos, wraps and pizzas at several big name retailers such as Harris Teeter, Kroger, Whole Foods, 7-Eleven, Trader Joe's and Walmart have been recalled due to the potential risk of listeria and salmonella contamination.

"The recalls stem from those issued by a dozen food manufacturers including Bakkavor Foods, Envolve Foods and Ruiz Food Products. The food makers notified the U.S. Department of Agriculture about products they shipped that could include ingredients such as corn, diced onions and other vegetables possibly tainted with bacteria – all provided from a single company, McCain Foods, the USDA says."


• The Los Angeles Times reports that "a Northern California judge on Monday upheld a jury's verdict that found Monsanto's weed killer caused a groundskeeper's cancer, but she slashed the amount of money to be paid to $78 million from $289 million.

"In denying Monsanto's request for a new trial, San Francisco Superior Court Judge Suzanne Bolanos cut the jury's punitive damage award from to $39 million from $250 million. The judge had earlier said she had strong doubts about the jury's entire punitive damage award."

Neither side has yet indicated that they will appeal the decision, though they also haven't said they won't.


• The Star Tribune reports that "United Natural Foods Inc. closed its $2.9 billion purchase of Supervalu Inc. on Monday, with Supervalu shares disappearing from the New York Stock Exchange as the first sign of the completed takeover.

"In coming months, United Natural aims to sell Supervalu's grocery store chains, including Cub Foods, and narrow its business to wholesale distribution similar to its own."

• Publix Super Markets announced that Kevin Murphy, the company's senior vice president of retail operations, has been promoted to president of the company.

At the same time, Publix said that , Laurie Douglas, the company's senior vice president and chief information officer, will add the role of chief digital officer to her portfolio.

Publix also said that Bob Bechtel, president of its Miami division is being promoted to the role of vice president of customer experience.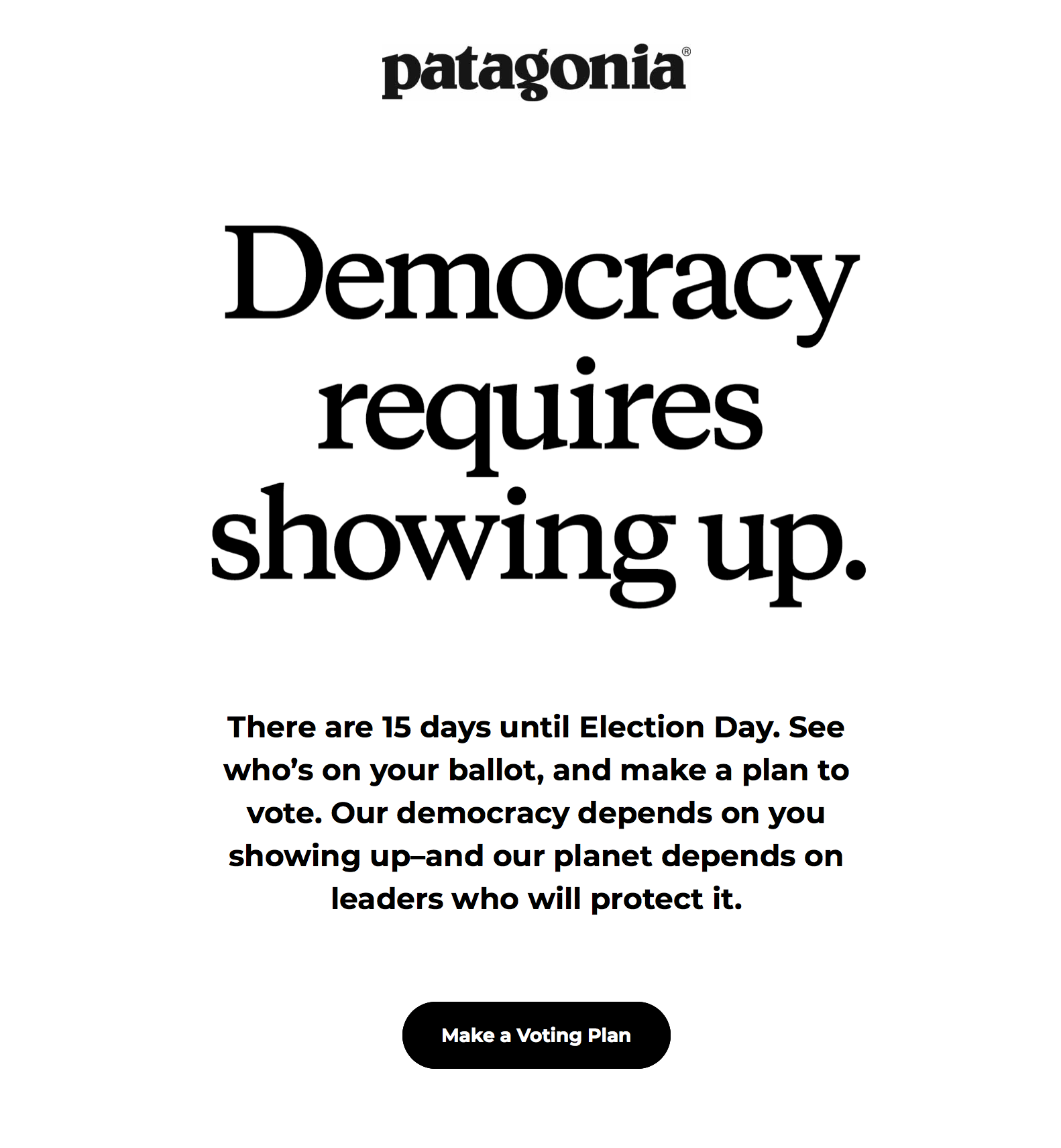 Content Guy's Note: Stories in this section are, in my estimation, important and relevant to business. However, they are relegated to this slot because some MNB readers have made clear that they prefer a politics-free MNB; I can't do that because sometimes the news calls out for coverage and commentary, but at least I can make it easy for folks to skip it if they so desire.

Yesterday in this space, we wrote about how Patagonia, for the first time in its history, has decided to endorse two candidates for the US Senate - incumbent Sen. Jon Tester (D-Montana) and challenger Jacky Rosen, the Democratic member of the House of Representatives who is running for in Nevada. And, we noted that this is completely in character and context - Patagonia has been public about its opposition to the Trump administration's environmental policies, and even sued the White House at one point.

Apparently it is not just campaign endorsements in which Patagonia is investing its equity. I've also received an email from the company - I am a regular customer - that you can see at left.

While it does not specifically advocate for any particular political party, the email is very simple and direct - it urges customers to a) vote, and b) remember that democracy depends on voters showing up and "our planet depends on leaders who protect it."

Interestingly, the Washington Post reports on how employers "are taking an increasingly active role in trying to get their workers to the polls on Election Day."

According to the story, "Many employers have held get-out-the-vote drives or encouraged workers to vote in past elections, and some companies have even made Election Day a corporate holiday. But in a year when interest in the midterm elections has reached a fever pitch, nonprofits that are focused on voter turnout say they're seeing a noticeable uptick in the enthusiasm and creative approaches that many employers are using this year to get more workers to the polls — whether by closing stores or offices, making paid time off or flexible work arrangements available, or by trying to remove obstacles to voting, such as securing transportation for workers or discouraging meetings for the day."

Among the companies taking a variety of approaches include Tyson Foods, Levi Strauss, Walmart, Gap, and Farmers Insurance.

Patagonia is going one step further - actually closing its stores on Election Day so that employees have plenty of time to vote.


KC's View: Someone sent me a picture of a t-shirt the other day that seems appropriate to this conversation. The back had the following inscription:

The mayor In Jaws 2 is the same person who is the mayor in Jaws. That's why midterm elections are important.

The politics conversation just made me think about that.

In a discussion yesterday about employee compensation and the minimum wage, I expressed my enthusiasm for employee ownership programs that give workers skin in the game.

MNB reader Randy Evins responded:

Hy-Vee, Winco, Publix, and to a certain increasing degree HEB are all fantastic examples of ESOP success. It's an engaging idea (pun intended) but each of these companies has the luxury of not dealing with restrictions imposed by union contracts. A meat manager at HEB is compensated based on evaluations and performance, not on contract rules negotiated by some board on each side.

The real issue is defining a living wage, a wage that a person can life their life on, and in some areas of the country, (like California and Washington state) $15 bucks an hour doesn't even come close. Companies are stuck giving up that lower role to folks that are not going to stay, either high school kids or transitionary types that have no thoughts or desire to move up the chain. The part time focus and two tiered wage structure are also career killers and now there's a distinct leadership void as companies look to the future.

The answer isn't simple but if you look to the above mentioned companies there's some good insights on how ESOP (versus private equity) can be a part of the solution.

Another company to look to in this light is Costco…..still remember Jim Senegal telling the Wall Street crowd that he really didn't care if they liked his labor metrics, buy the stock based on results and let Costco run the company as they see fit. If you only care about myopically focusing on a single metric and can't see the subsequent benefits that an engaged and passionate workforce brings, then Costco doesn't really need/want your money…Great leadership has a way of cutting to the real stuff.


 

I was both sarcastic and critical yesterday of Walmart's decision to have its Sam's Club division use Instacart to make deliveries, since this is the same company used by rival Aldi.

One MNB reader pointed out another problem with the move:

I'm sure Walmart thinks it makes perfect sense to use the same delivery service for Sam's Club that is being used by Costco for its stores. Yep, makes total sense.

Under the column heading 'What were they thinking'?

Agreed.

And, from another reader:

KC I totally agree with you about the dangers of outsourcing delivery to Instacart. What are all these companies going to do when 1 large company buys it? It's just a matter of time, imo.  Especially a competitor. Then it's back to square one for them, where you don't want to be.

Industry Drumbeat
In this fast-paced, interactive and provocative presentation, MNB's Kevin Coupe challenges audiences to see the fast-evolving retail world through a radical new technological, demographic, competitive and cultural prism. These issues all combine to create an environment in which traditional thinking, fundamental execution, and just-good-enough strategies and tactics likely pave the path to irrelevance; Coupe lays out a road map for the future that focuses on differential advantages and disruptive mindsets, using real-world examples that can be adopted and executed by enterprising and innovative leaders.

Constantly updated to reflect the hand crafted news stories covered and commented upon daily by MorningNewsBeat, and seasoned with an irreverent sense of humor and disdain for sacred cows honed over 30 years of writing and reporting about the best retailers and retail strategies, "RETAIL 2020/WTF" will get your meeting attendees not just thinking, but asking the serious questions about business and consumers that serious times demand. See a sample at left…



Here's what Lori Stillman, Executive Vice President - Analytics, Insights and Intelligence, Advantage Solutions, has to say about a recent appearance:

"Kevin joined us as a moderator and facilitator for a two-day client executive event we hosted. His role in the success of the event went far beyond his time presenting and sharing his great wisdom and content. From the moment our planning process began and we selected Kevin as a key part of our program, he dove in and worked with our team to review session topics, ideate on programming and help ensure our overall event delivered on the goals we had established. His quick wit, deep industry knowledge and ability to synthesize conversations into key take-aways enabled us to hit a home run!"

And, from Joe Jurich, CTO of DUMAC Business Systems:

"Kevin recently participated in and spoke at our Annual User Conference.  Our group consisted of independent retailers, wholesalers, and software vendors – a pretty broad group to challenge in a single talk.  While his energy, humor, and movie analogies kept the audience engaged, his ability to challenge them to think differently about how they go to market is what really captured them!  Based on dinner conversations afterward, he appeared to have left everyone thinking of at least one new approach to their strategy!"

Want to make your next event unique, engaging and entertaining? Contact Kevin at kc@morningnewsbeat.com , or call him now at 203-253-0291.
In Monday Night Football, the Atlanta Falcons defeated the New York Giants 23-20.
PWS 54