Join the MNB Community.
Get a Wake Up Call each morning...
Email:
Explore the MNB Archives
From The MNB Archives
Thursday, November 08, 2018
This commentary is available as both text and video; enjoy both or either ... they are similar, but not exactly the same. To see past FaceTime commentaries, go to the MNB Channel on YouTube.

Hi, Kevin Coupe here, and this is FaceTime with the Content Guy.

I recently had the chance to spend time in Boston for a conference. Stayed at a very nice hotel - Loew's, which, as it happens, used to be Boston Police Headquarters on Berkeley Street, just a couple of blocks from the corner of Boylston, which is where Spenser has his office in the series of novels by Robert B. Parker. (I'm a geek about this stuff. Sue me.)

Boston is just a few hours drive from where I live in Connecticut, so I just drove up - it was a lot easier and more convenient than taking the train or a plane. All good. But when I went to get the car out of the lot and the valet went to get it, it took, 20, 30 minutes for the car to be brought around. That seemed pretty inefficient for a hotel that ordinarily is extremely efficient, but when the car finally made it to the front door, I found out why.

I drive a Mustang convertible, you see. One with a manual transmission. And the guy they first sent didn't realize it, and didn't know how to drive a stick. So they had to find somebody on staff who did.

I did a little checking on the internet, and it seems that in 2006, just a dozen years ago, 47 percent of cars were available with a manual transmission. Last year, that was down to 20 percent. In fact, last year just two percent of cars sold had a manual transmission.

I'm a little torn about what the right thing to do here is … does a hotel really have a responsibility to make sure that the guys who drive the guests' cars are able to drive a stick, even if just two percent of those guests - at most - are likely to have such a car? I'd argue yes … and that at the very least, they ought to make a notation on the claim ticket, just so they know that for Coupe's Mustang, they need to get Harry. Or Joe. Or Mary. Or whoever it is that knows how to drive a manual transmission. (It'll probably be Mary. In my family, other than me, only my wife and daughter can drive the Mustang. Not my sons.)

This also strikes me as a good metaphor for so much of business. At what point does a consumer base get so small that a business no longer needs to worry about serving it, or having the products those customers want? It probably depends on how profitable and regular those customers happen to be … which is yet another argument for having - and using - as much data on customers as you can assemble.

I'm still thinking about it … and did, for much of my drive home. With the top down. Because it was a beautiful day.

That's what is on my mind this morning, and, as always, I want to hear what is on your mind.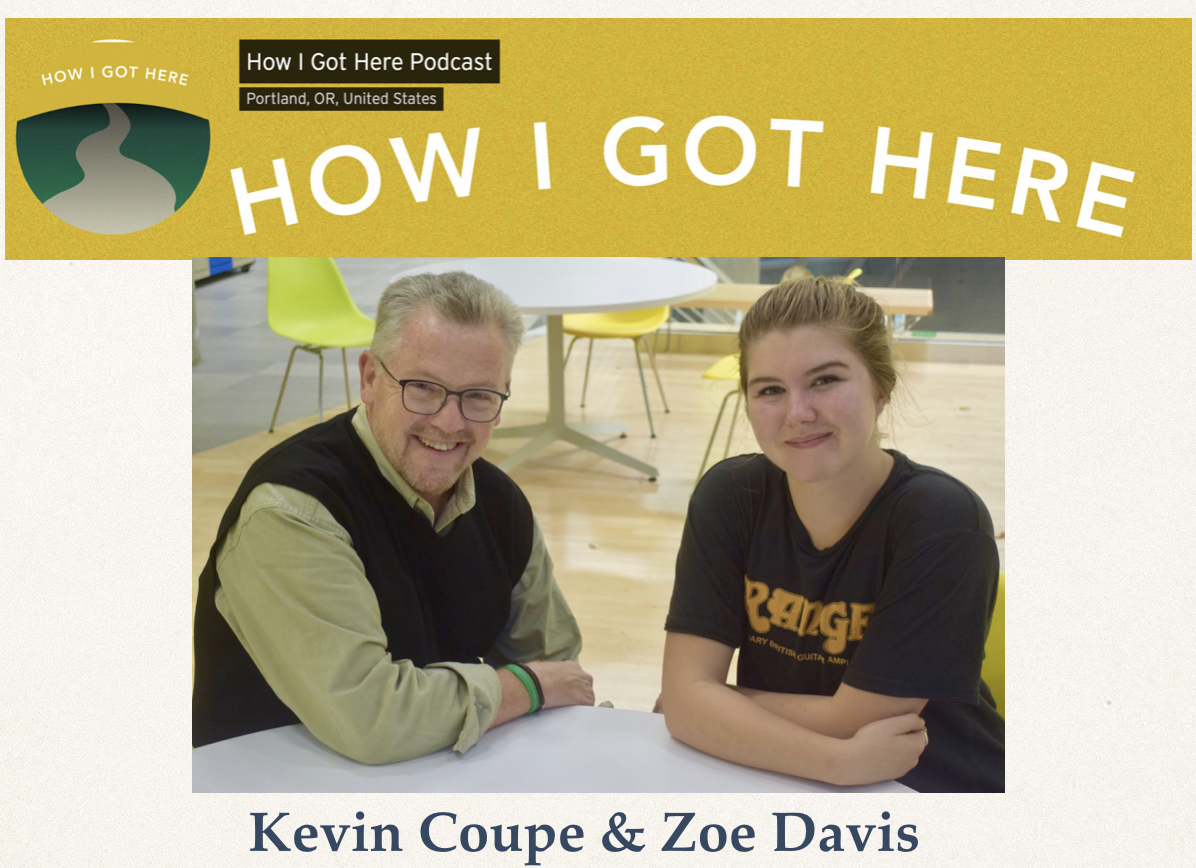 by Kevin Coupe

I am thrilled today to turn this space over to Zoe Davis, a member of Portland State University's class of 2020, a talented young woman who is adding to her considerable resume with a new PSU-sponsored podcast called "How I Got Here," which you can click on at left.

Zoe, who is pursuing a Business Marketing degree, wears a lot of hats at PSU. She is the Marketing Promotions Coordinator at PSU's Center for Retail Leadership, as well as president of The Crave Network, described as "a bridge that connects the worlds of business and academia by linking students with food, beverage, and consumer packaged goods industry leaders and resources to create lasting relationships and an environment of shared learning and mentorship."

And now, she's doing a podcast, which continues the goal of building bridges that connect PSU, the student body, and the local business community. That is an extremely valuable role, and a critical mission for any school.

I was happy to be Zoe's first interview subject on the podcast (though mine is the second segment to be posted). Like so many of the students I've encountered in my time at PSU, she's smart, she's ambitious, and she's going to make someone a terrific employee one of these days. It is a matter of some pride that I get the opportunity to open the industry's eyes to her here on MNB.

In fact, I've asked her to take over The Millennial Mind column that we used to post here with some regularity, and she's agreed. So we all have that to look forward to.

Enjoy the podcast.



Reuters reports that Ahold Delhaize plans to "roll out small, automated warehouses to speed order picking and cut delivery times … as it revamps its ecommerce business in response to rising competition in a fast-growing sector."

Essentially, the story says, the move will "allow it to automate order collection at mini 'robot supermarkets' attached to the stores of its U.S. chains like Stop & Shop." The approach is said to be a shift from the company's previous strategy of using manual labor at large distribution centers, or some combination of human beings and robotics for order picking.

The new warehouses are being developed in partnership with Takeoff, which also recently went into business with Albertsons to automate the picking process.

The story notes that Ahold Delhaize-owned Peapod, which provides e-commerce services for the company's US-based chains, will be able to use the new facilities to improve its offerings: "Peapod has only offered next-day delivery so far. The partnership with Takeoff will enable the group to offer same-day delivery, or click-and-collect, initially to customers living near a pilot warehouse at a Shop & Stop in Connecticut."

Reuters writes that "the warehouses serve as condensed supermarkets that can supply several stores with click-and-collect orders. They cost about $3 million to build, which Takeoff says is less than the cost of a typical store revamp."

KC's View: This is smart and emblematic of what businesses have to do - they need to find ways to be as flexible as possible, to create a variety of solutions that be adapted to different competitive situations. One-size-fits-all approaches almost never work anymore. Whether it is Albertsons, Ahold Delhaize or Sedano's, we're seeing a variety of companies looking for ways to adapt to the new hyper-competitive environment.

The Washington Post reports that Amazon has released its first "Holiday of Play" print catalog, an effort to step into gap created when Toys U Us went out of business, and engage "in yet another bricks-and-mortar strategy to snag its share of the holiday toy sales."

The catalog "features 70 pages of delighted, cozily clad kids surrounded by toys, and will soon be mailed to millions of customers this month. It showcases the breadth of holiday toy inventory, including classics such as action figures, board games and Barbies, as well as high-end items such as Bose audio gear and PlayStations."

One interesting innovation: "You won't find any prices on its pages; shoppers have to go online to find out how much the products actually cost. Instead, a scan of a QR code places the item in the shopper's online cart, taking them from page to purchase in seconds."

KC's View: Amazon has always been about being relevant to the customer, and it is engaged in an ongoing effort to find ways to resonate with the shopper in ways that will continue to make it a customers' first, often best place to shop. That's what this is - an experiment to see what customers will respond to, and how its ecosystem can be effectively reshaped. It is all about not accepting the boundaries that others would draw around your business.

The Financial Times has a long and fascinating story about how the Mafia has integrated itself into the food chain - far beyond Vito Corleone's investment in the olive oil business.

Here's how FT frames the story:

"Siphoning off farm subsidies does not carry the same dubious 'glamour' as the racketeering or drug running usually associated with the Mafia. But it has become a highly lucrative income stream for Italy's organised-crime syndicates. Their forays into farming do not end there: in recent years, they have infiltrated the entire food chain, according to a Rome-based think-tank, the Observatory of Crime in Agriculture and the Food Chain … Taking advantage of the decade-long economic crisis in Italy, the Mafia has bought up cheap farmland, livestock, markets and restaurants, laundering its money through what is one of the country's leading industries."

Perhaps not surprisingly, the Mafia has found food counterfeiting to be lucrative: "Counterfeited organic food is the most profitable area. In one operation, Italian gangs were found importing wheat from Romania and labelling it as organic, which commands a price three to four times higher. Knock-offs of prestigious Italian products such as mozzarella di bufala campana and Parmigiano-Reggiano cheese have increasingly entered the market."

The food business, FT writes, "now accounts for 15 per cent of total estimated Mafia turnover" … and that includes every link in the food chain, from farm to retail, and extending into global exports.

You can read the entire story here.
…with brief, occasional, italicized and sometimes gratuitous commentary…

• Grocery delivery company Instacart said yesterday that its Instacart Pickup offering, a click-and-collect service, has gone national and now will be available "in nearly 200 stores across 25 key markets," at stores that include "Aldi, Cub Foods, Food Lion, Price Chopper, Publix, Schnucks, Smart & Final, Sprouts, Tops Friendly Markets and Wegmans."

Many of these companies compete with each other, and clearly have made the decision - at least on a short-term basis - that at least in this area, they neither need nor want to differentiate themselves from each other.


Amazon has struck a deal with door hardware snd smart lock company Schlage to develop a new integrated solution that allows "customers to lock their door while away from home via the Amazon Key app when paired to the Amazon Cloud Cam. Customers will receive real-time notifications, live streams, and recorded clips to control and monitor guest access and optional in-home delivery without having to be there."

The announcement says that "Amazon Key gives you the freedom to manage access to your home when you're not there. Simply create a guest profile on the Amazon Key App to schedule always, recurring or temporary access for the people you trust. Your guests can conveniently come and go using a secure keypad code and you'll be notified anytime your door is locked or unlocked. Plus, with the included Amazon Cloud Cam, you can use two-way talk to check in with whoever is entering your home, just like you're there, and watch motion clips later in the Key App."

Be clear - this is all about creating technologies that will allow Amazon to have greater access to its shoppers' lives, which will give it greater access to their wallets.


Reuters reports that Amazon "wants to hire thousands of seasonal delivery drivers to supplement services provided by the U.S. Post Office, United Parcel Service, FedEx Corp. and its own delivery partners … The move comes as the online retailer is also recruiting new delivery service partners, or DSPs, to help reduce delivery costs that more than tripled to $21.7 billion between 2013 and 2017.

"Amazon and its DSP owners are competing for workers in the tightest U.S. labor market in decades. UPS and FedEx combined plan to hire more than 150,000 temporary holiday workers. Along with some Amazon DSPs, they are offering bonuses for attendance, safety and customer service."

…with brief, occasional, italicized and sometimes gratuitous commentary…

• The Addison County Independent has a story about what's called the "Farmacy Project," described as a program that contracts "with local, emerging farms for fresh fruit and veggies that will be distributed, free of charge, to a select group of patients culled from two Porter Medical Center practices — Addison Family Medicine and Pediatric Primary Care in Middlebury — along with the Mountain Health Center in Bristol … Participants will be given a variety of support services to make sure they get maximum benefit from the fresh produce, aimed at turning the tide on health woes ranging from hypertension to diabetes."

These support services include nutrition counseling as well as advice about cooking and menu preparation.

Yet another example of going beyond traditional approaches and being a resource for consumers, not just a source of product.

Corporate Drumbeat
"It's a bad time to be in the business of selling groceries, and the headlines are as bleak as you'd expect: "The Retail Apocalypse Is Coming for Grocery Stores" ... "Grocery Retail 'Bloodbath' Is Here" ... Conversely, it is a great time — arguably the best time ever — to buy groceries."
- New York Magazine/Grub Street


At Samuel J.Associates, we have a response to this assessment:

Bull.

We think it is a great time to be selling groceries, whether you are a retailer or a supplier. That's because a more educated and demanding consumer, no matter the demographic, will reward businesses that are innovative, disruptive, and in touch with what people need, even if they don't know they need it.

And, we know this: Those businesses require, and are fueled by, great people.

People who don't just get the job done, but who set the tone in an organization, establish cultural and business priorities, who build teams, and who are able to not just adapt to competitive realities, but see the future and thrive in it.

And yes, ignore dire warnings about a "retail apocalypse" and see opportunities.

At Samuel J. Associates, we have a winning record of connecting great talent and innovative businesses ... as well as innovative talent with great businesses. We exceed your expectations so that you can do the same thing for your customers.

No bull.

Click here to find out more.

• D-I-Y retailer Loew's has hired Seemantini Godbole, currently senior vice president, digital and marketing technology at Target, to be its new CIO. Godbole previously held executive positions at Sabre Holdings and online agency Travelocity.


• Delivery company Instacart said that it has hired Varouj Chitilian, a director of engineering at Google, to be its first VP of engineering, and Dave Sobota, who worked in corporate development at Google, to be its first VP of corporate development.

TechCrunch writes that "in both cases, the hires underscore how Instacart continues to ramp up its executive team both to continue expanding its footprint in North America — Instacart says that its service now works with 15,000 stores and 70,000 'shoppers' in 4,000 cities and is accessible by 70 percent of U.S. customers — as well as to build more services to serve areas where it is already active."

Content Guy's Note: Stories in this section are, in my estimation, important and relevant to business. However, they are relegated to this slot because some MNB readers have made clear that they prefer a politics-free MNB; I can't do that because sometimes the news calls out for coverage and commentary, but at least I can make it easy for folks to skip it if they so desire.

• Bloomberg has a story about how tariffs imposed by the Trump administration are having an enormous impact on the lobster business.

"If you want to understand the modern global economy, the implications of climate change, and the unintended consequences of President Trump's trade wars, then you ought to consider the lobster … As Trump has rewritten America's economic relationships, some of the country's most prized exports - Kentucky bourbon, Harley-Davidson motorcycles, Midwestern soybeans - have become retaliatory targets for China and the European Union. For its part, Beijing began imposing a 25 percent tariff on a long list of imports from the U.S., including live lobsters, on July 6."

"The blow," Bloomberg writes, "is significant for Maine, the country's top producer and exporter. The state's lobstermen had found a lucrative market in China, where consumer demand has grown exponentially in recent years. In 2017, U.S. exports of live lobsters to China were worth $128.5 million, up from a third of that in 2015."

Ironically, one of the approaches being considered by Main lobster companies is opening business divisions in Canada, which then would be able to sell lobster to places like China without being subject to tariffs.

You can read the entire story here.


• Reuters has a story pointing out that this week's midterm elections continued to move the cannabis business further along the acceptability continuum.

Tuesday, the story notes, saw "the passage of ballot initiatives in several states approving marijuana use. Michigan became the 10th state to approve recreational use of marijuana, while Missouri and Utah passed measures to legalize medical use of the drug. A measure to approve recreational marijuana use in North Dakota failed, however. The drug remains illegal under U.S. federal law."

As a result, a number of companies invested in the cannabis business aw their shares rise significantly.

Reuters goes on to report that "two senators, Colorado Republican Cory Gardner and Massachusetts Democrat Elizabeth Warren, have sponsored a bill that would leave determining the legal status of marijuana to states, thereby shielding cannabis companies from federal prosecution.

"Also, two narrower bills regarding marijuana could be viable, especially as the Democratic Party takes control of the House of Representatives, according to analysts at Cowen & Co. The Safe Act would permit banks to provide services to cannabis companies in compliance with state law. The Veterans Equal Access Act would allow doctors in the Department of Veterans Affairs to authorize medical cannabis for patients in states where such use is legal."

Regarding the state of the Amazon-Whole Foods relationship, one MNB reader wrote:

When I go to my local Whole Foods now I see the huge transformation that Amazon has had on this once very cool market chain.

Well known national natural/organic brands that pioneered the industry and small start ups/local brands have been discarded for 5 and 6 retail shelf facings of a single 365 item.

Very uninspiring merchandising has radicalized Whole Foods and dumbed it down.

Amazon "deals" cannot replace the carnage they have wrought to hundreds of brands that have been pushed aside (or duplicated in the 365 brand), in this rush for greed.

The quality of 365 products are erratic, at best. I'll be looking to shop at my local markets more as they hopefully pick up on Whole Foods's merchandising demise and begin to offer the variety that inspired the natural and organic industry.



One Walmart employee believes he knows why there seems to be a consumer preference for online shopping with his company, as opposed to Amazon:

It's also because we have a MUCH stronger QC team than Amazon Fresh does. Something they neglected at their interception…

I know this being I was a compliance Manager for Amazon Fresh for several years…



Responding to our story about how Dollar Shave Club now is making its products available in vending machines, MNB reader Paul Schlossberg wrote:

This vending deployment is interesting. Maybe it is the new way to do pop-up stores for "smaller" categories and the brands in those competitive sets.



MNB reader Dave D'Arezzo had some thoughts about Shake Shack's ambitions:

It's become a joke in our family that while we love the Shake Shack burger, every time we go they mess up our order.

The last two visits to Shake Shack in West Houston they have had major POS issues. Last month I watched an irate customer that had ordered online for pick-up, reacting to the news that their system had crashed and they had lost all their order details. They called me up to the counter with their electronic pager and confessed to me that they needed my paper receipt to recreate our order. Even then the details of the product (a few wanted items left off) were not executed properly.

To their credit, they gave us some free ice cream to make up for the problems we experienced.

Net, net get your basic systems working before you complicate it further. Consumers can be unforgiving and very public (media), broadcasting to yelp, et al your shortcomings; I did.



Regarding the social media calls from some to boycott Jimmy Buffett because of his support for Democrats in the midterm elections - and my comment that "the only question Buffett has to answer is whether it is his own damn fault … and if, at his stage of life, he cares" - one MNB reader wrote:

Who knows? The Chairman of the Board sang for both JFK and Ronald Reagan. In both instances, it was claimed that there was a woman to blame. Give Jimmy time. After all, Sailors changed from warm beer and bread to Cheeseburgers. Maybe, Jimmy has time to sing both ways.

My guess is that the Parrot Heads will flock to the amphitheaters next summer with booze in the blender and enjoy the music that helps them hang on without a second thought …

Industry Drumbeat
In this fast-paced, interactive and provocative presentation, MNB's Kevin Coupe challenges audiences to see the fast-evolving retail world through a radical new technological, demographic, competitive and cultural prism. These issues all combine to create an environment in which traditional thinking, fundamental execution, and just-good-enough strategies and tactics likely pave the path to irrelevance; Coupe lays out a road map for the future that focuses on differential advantages and disruptive mindsets, using real-world examples that can be adopted and executed by enterprising and innovative leaders.

Constantly updated to reflect the hand crafted news stories covered and commented upon daily by MorningNewsBeat, and seasoned with an irreverent sense of humor and disdain for sacred cows honed over 30 years of writing and reporting about the best retailers and retail strategies, "RETAIL 2020/WTF" will get your meeting attendees not just thinking, but asking the serious questions about business and consumers that serious times demand. See a sample at left…



Here's what Lori Stillman, Executive Vice President - Analytics, Insights and Intelligence, Advantage Solutions, has to say about a recent appearance:

"Kevin joined us as a moderator and facilitator for a two-day client executive event we hosted. His role in the success of the event went far beyond his time presenting and sharing his great wisdom and content. From the moment our planning process began and we selected Kevin as a key part of our program, he dove in and worked with our team to review session topics, ideate on programming and help ensure our overall event delivered on the goals we had established. His quick wit, deep industry knowledge and ability to synthesize conversations into key take-aways enabled us to hit a home run!"

And, from Joe Jurich, CTO of DUMAC Business Systems:

"Kevin recently participated in and spoke at our Annual User Conference.  Our group consisted of independent retailers, wholesalers, and software vendors – a pretty broad group to challenge in a single talk.  While his energy, humor, and movie analogies kept the audience engaged, his ability to challenge them to think differently about how they go to market is what really captured them!  Based on dinner conversations afterward, he appeared to have left everyone thinking of at least one new approach to their strategy!"

Want to make your next event unique, engaging and entertaining? Contact Kevin at kc@morningnewsbeat.com , or call him now at 203-253-0291.
PWS 54