Join the MNB Community.
Get a Wake Up Call each morning...
Email:
Explore the MNB Archives
From The MNB Archives
Thursday, November 15, 2018
This commentary is available as both text and video; enjoy both or either ... they are similar, but not exactly the same. To see past FaceTime commentaries, go to the MNB Channel on YouTube.

Hi, Kevin Coupe here, and this is FaceTime with the Content Guy.

We talk here on MNB often about the advantages of having a business model in which employees have skin in the game. Whether it is through direct ownership of the company or some sort of profit sharing plan of the sort that usually only senior executives get, I've always felt that this is one way to bridge the gap between labor and management and even put to rest much of the debate about minimum and living wages.

Now, I've been made aware of another fascinating construct that seems to have as its goal an even higher purpose.

The company is Organically Grown Company, which is using trust law "to structure its operational and funding model to support purpose-based entrepreneurship, ownership and succession … Previously employee- and grower-owned, OGC is making a bold move to buy back all the shares from its stockholders and transfer them to the Sustainable Food and Agriculture Perpetual Purpose Trust. The Trust, created by the company, will eventually hold 100 percent of the ownership rights and will ensure that the company delivers positive economic, social and environmental impact and maintains its independence into perpetuity, never to be sold."
Organically Grown says that this new structure will allow it to "focus 100 percent on its founding purpose: to deliver a positive impact on people and planet through its products and services." Those are considerable - it says it moved "more than 100 million pounds of fresh fruit and vegetables across the Pacific Northwest region" last year alone.

It also says that the new structure will eliminate "the pressure to maximize short-term quarterly profits and exit-value for shareholders … Instead, OGC will maximize 'purpose' by creating long-term returns to mission-aligned evergreen investors and sharing the balance of profits with their stakeholders, including farmers, coworkers, customers and community."

As important as it is for employees to feel like stakeholders in a business, I think it is just as important for companies to be perceived by consumers as having an authentic purpose; I really do believe it gives companies a leg up with a percentage of shoppers.

By the way, you can define "purpose" a lot of ways … but I think the sustainability of brands such as Newman's Own and Ben & Jerry's prove what I'm saying. Recent efforts by the Land O'Lakes cooperative are taking this same approach, focusing on how important women farmers are to the brand.

And that's certainly what OGC seems to be doing - putting purpose above profit, and then establishing an organizational structure to support that radical notion.

I like it.

That's what is on my minds this morning. As always, I want to hear what is on your mind.
by Kevin Coupe

Just wanted to take advantage of the moment to bring your attention to a growing Food Marketing program at Siena College, in Loudonville, New York, a half-dozen miles north of Albany.

I was invited to drive up there last week to talk to a 9 am class taught by Dr. Russell Zwanka, who has parlayed a long career in food retailing into a teaching career that brings real-world insights and experience into the classroom. I've known Russell for years, so I was thrilled for the opportunity; I know that his students are always well-prepared and interested (and they read MNB!). Even at 9 am.

I think a good time was had by all, and I was impressed by the students' mindset and enthusiasm ... and I was interested to hear that Russell has big plans for the food marketing side of the business school, hoping to turn into a great resource for the industry as well as a source for future leaders on both the retail and supplier sides. I'm glad to give those plans a little publicity here.

It was somewhat Eye-Opening to me, on the drive home, to think about all the campuses I've visited over the years to talk to students. You can add Siena College to a list that includes Cornell University, Western Michigan University, USC, Michigan State, the University of Florida, St. Joseph's University, and, of course, my home away from home - Portland State University in Oregon, where I'm privileged to be a member of the adjunct faculty. (For some reason, despite the fact that I've made numerous offers, I've never been able to get the school from which I graduated - Loyola Marymount University - to let me come teach a class. C'est la vie)

I mention this because, as I've done before, I highly recommend the experience to you. If there's a school near you, go there. Volunteer. Speak. Even more important, listen. Spending time on campus with students is energizing in so many ways ... and yes, Eye-Opening.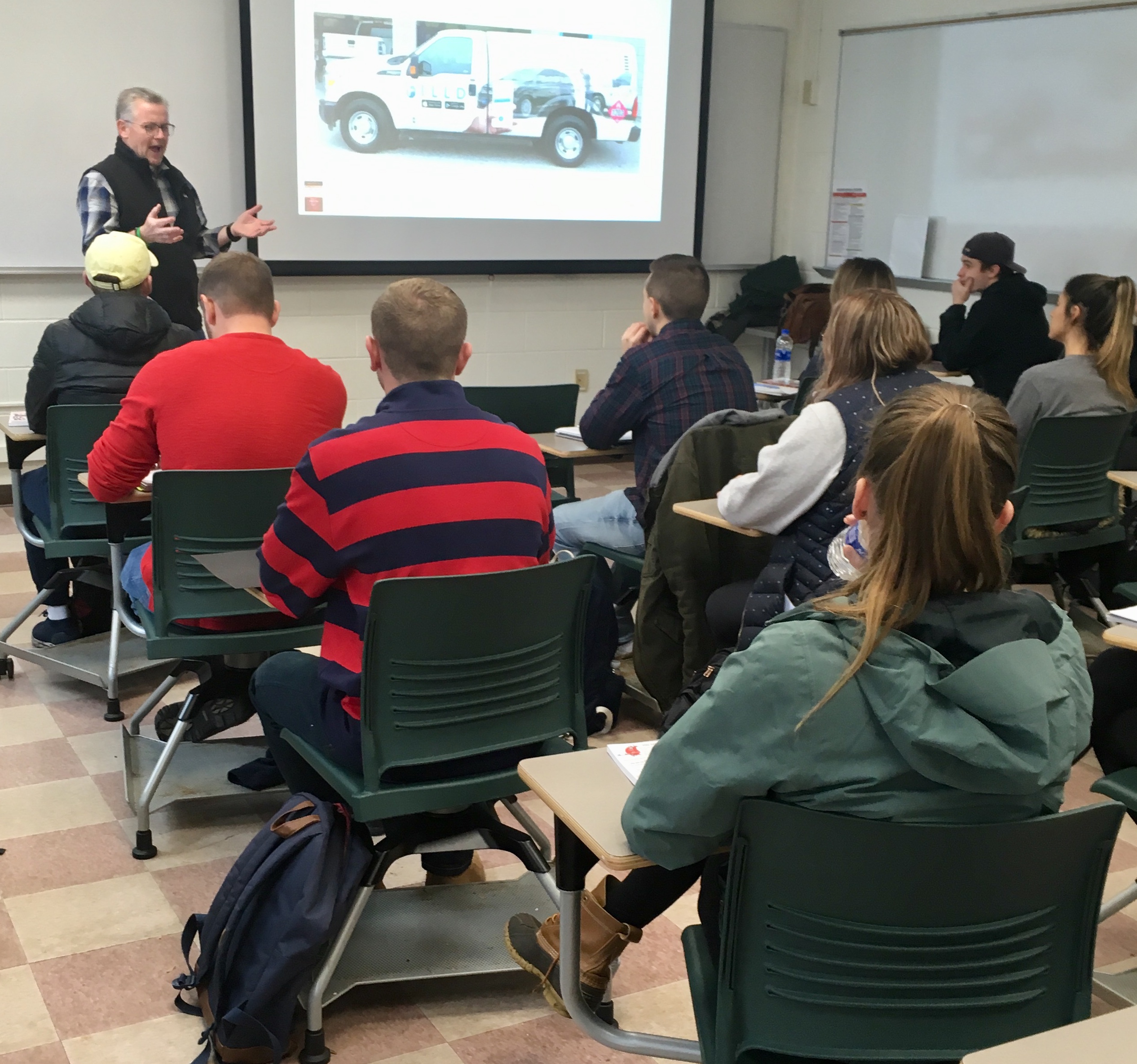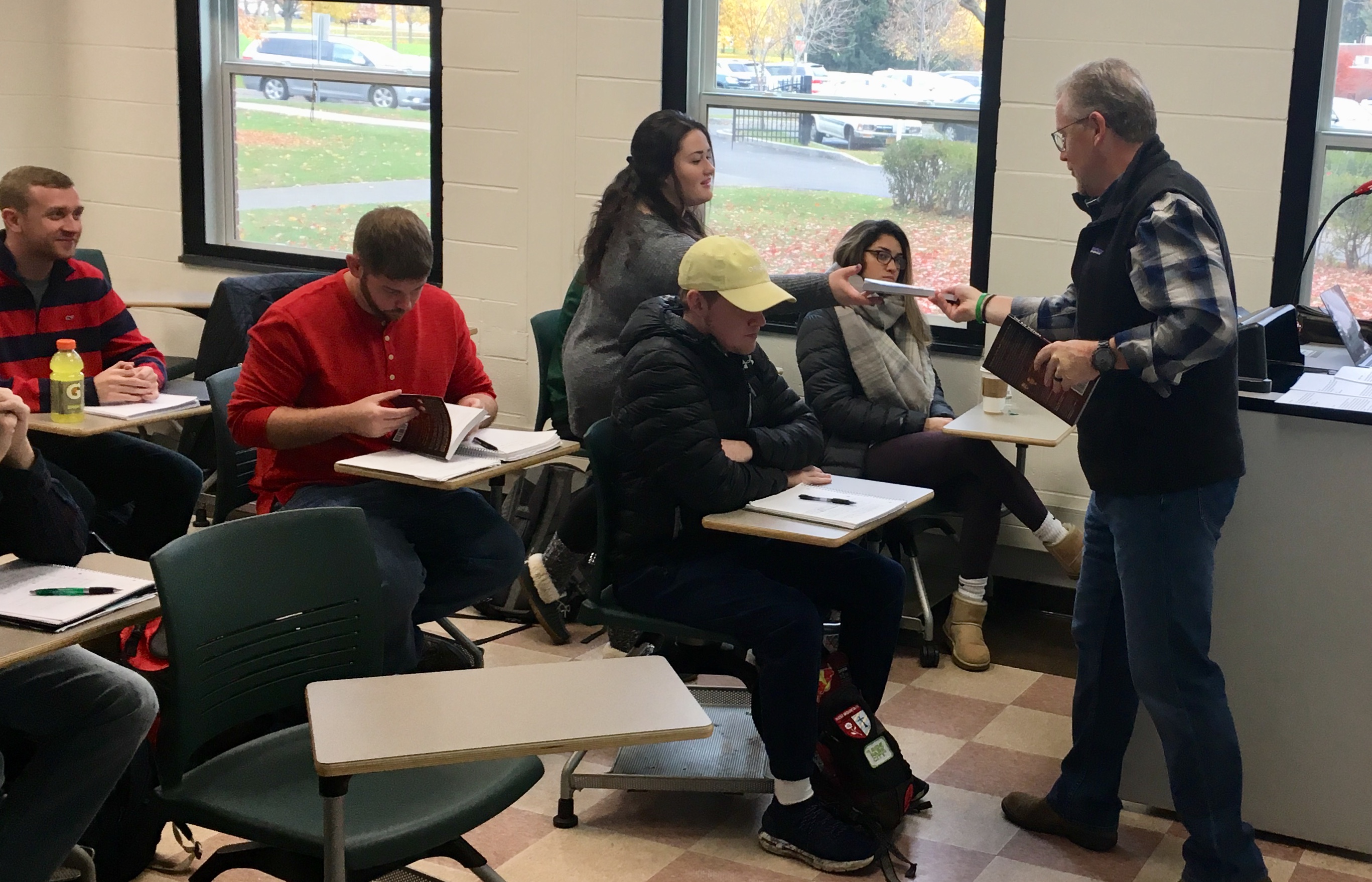 CBS News in Austin, Texas, reports that "H-E-B has quietly launched a brand-new technology called "H-E-B Go" in 7 stores around Austin … You must first download the H-E-B Go app, then walk around with your phone and scan your items and bag as you go … The app keeps a running total of what you've picked out so far which is nice for shoppers looking to stay on a budget.

"When it's time to leave, you completely skip the line and scan the QR code on a kiosk and walk right out the door. It should only take 10-15 seconds. After the QR code is scanned, it automatically charges the card that you put on file with the app and provides an electronic receipt as well."

H-E-B plans to expand the usage of the technology next year.

KC's View: The key to this initiative - and every one like it - is making the shopping experience as frictionless as possible … removing pain points whenever possible, and heightening the experience in a way that makes the bricks-and-mortar store a relevant and resonant alternative to online.

If you do these things, you've got a shot at survival. If you don't … well, you'd better start planning that sale/retirement.

Now that Amazon has formally announced that its second North American headquarters (HQ2) will in fact be split between two of the finalists - New York's Long Island City, just across the East River from Manhattan in the borough of Queens, and Arlington, Virginia, in the Crystal City neighborhood, adjacent to National Airport and just across the Potomac River from Washington, DC - there continues to be backlash against the decision and its implications.

The Washington Post writes:

"A big gap in the size of incentives promised by New York and Virginia also stirred concern in the Empire State — and quiet satisfaction in the Old Dominion — that Richmond had cut a better deal than Albany. In the largest single subsidy offered by each state, New York offered tax credits equal to $48,000 per new job, while Virginia agreed to workforce cash grants of $22,000 per job.

"The incentives packages also worried affordable housing activists that too little was promised to deal with the potential effect on housing costs of an influx of tens of thousands of new employees with an average salary of more than $150,000 a year."

The Post also writes that "the prospect of granting hundreds of millions of dollars of subsidies to a company led by the world's richest man — Amazon CEO and founder Jeffrey P. Bezos — also drew condemnation in some quarters. (Bezos owns The Washington Post.)

"Two New York lawmakers representing constituents in Long Island City, where one of the two new Amazon headquarters will be located, have pledged to oppose the deal."

The New York Times writes:

"The anger is real: More than 100 people gathered Wednesday at a protest near the proposed site of Amazon's new offices, where the company has promised to employ more than 25,000 people in exchange for tax credits, direct state grants and city tax incentives."

The Times notes that just-re-elected New York Senator Kirsten Gillibrand - a potential contender for the 2020 Democratic presidential nomination - pout out a Tweet saying, "While I'm glad that Amazon recognizes that Queens is a great place to do business, I'm concerned about the lack of community input and the incentives that Amazon received in order to convince them to bring these jobs to New York. One of the wealthiest companies in history should not be receiving financial assistance from the taxpayers while too many New York families struggle to make ends meet."

The Amazon announcement even brought together strange political alliances, as Tucker Carlson of Fox News found himself agreeing with Democratic Representative-elect Alexandria Ocasio-Cortez.

"Amazon is a billion-dollar company," she wrote on Twitter. "The idea that it will receive hundreds of millions of dollars in tax breaks at a time when our subway is crumbling and our communities need MORE investment, not less, is extremely concerning to residents here … "Displacement is not community development. Investing in luxury condos is not the same thing as investing in people and families. Shuffling working class people out of a community does not improve their quality of life."

While Carlson said he hated to admit it, he said he agreed with her: "That's the only time I've ever agreed with Alexandria Ocasio-Cortez, but it's hard to argue with the internal logic of her point," Carlson said on his nightly program. "The richest man in the world just got $2 billion in taxpayer subsidies? How does that work?"

Seeking Alpha refers to the decision as "a rare Amazon misstep," and writes:

"The main risk to Amazon was the prospect of antitrust action against it, though I didn't see antitrust action likely in the near future.

"Amazon's recent hike in its minimum wage for American workers was a savvy step to ward that off.

"But the way Amazon has handled its second headquarters saga has squandered some of the good will from the pay raise."

And here's another intriguing passage from the Post story (which is ironic considering Bezos' personal ownership of the Post):

"One provision in Virginia's package is not financial at all. Virginia agreed to give Amazon at least two days notice if the media or the public filed a Freedom of Information Act request about the agreement. This would 'allow the Company to seek a protective order or other appropriate remedy'."

KC's View: It shows you where my priorities are that this last piece is the one that really outrages me.

It seems, more than I might've expected, that maybe this debate has really just begun. I'm not sure that local communities will be able to stop these developments, but I certainly hope that Amazon steps up to address their concerns. There are so many ways that Amazon can be transformational … beyond the ways in which it already has transformed the world.

I hope it steps up.

Reuters< reports that Ford, Walmart and delivery service Postmates "will collaborate to design a service for delivering groceries and other goods to Walmart customers that could someday use autonomous vehicles."

Some context:

"The project is the latest to grow out of Ford's broader effort to develop businesses that could use automated delivery vehicles. Ford was working with San Francisco-based Postmates already to develop delivery services that could employ automated vehicles.

"The Walmart pilot, which will take place in the Miami area, initially will use human-driven vehicles operated to simulate how a self-driving vehicle would behave, Ford said. Ford has said it expects to launch commercial production of automated vehicles by 2021."

KC's View: It is really important for companies to find new partnerships that can break new ground and illuminate new corners of opportunity. This is an example.

Bloomberg reports that upscale department store Bloomingdale's is getting into the appliance business, "adding high-end LG televisions, washers, stoves and other items to its website and flagship Manhattan location on 59th Street. The company says the products complement its existing offerings, which draws shoppers on the hunt for designer apparel and accessories."

The selection will be in synch with the retailer's upscale reputation: "Signature series products from LG Electronics … include a $7,000 refrigerator with an opaque door that turns transparent to the touch, so the owner can view what's inside. There's also a washer-dryer (price tag $3,200) that automatically measures laundry's dirtiness and distributes the appropriate amount of detergent."

The Bloomberg story notes that "the company said the move is unrelated to the bankruptcy of Sears Holdings Corp., which for decades was the U.S. leader for sales of home appliances. Even so, Sears, which filed for protection from creditors last month, is potentially leaving about $14 billion in sales up for grabs. Bloomingdale's follows retailers such as Best Buy Inc. and J.C. Penney Co. that have also increased their appliance offerings as Sears's outlook has deteriorated."

Siegel+Gale is out with its annual list of the world's "simplest brands," defined as those that "consistently deliver on their brand promise with simple, clear, intuitive experiences," and limited assortment stores Aldi and Lidl and ranked second and fourth, respectively.

Netflix got the number one designation, with Google ranked third.

Rounding out the rest of the top 10 are Carrefour, McDonald's, Trivago, Spotify, Uniqlo, and Subway.

The study also surveyed more than 15,000 people across nine countries, and concluded that "55 percent of people are willing to pay more for simpler experiences … 64 percent of people are more likely to recommend a brand that delivers simple experiences … (and) companies that fail to provide simple experiences leave an estimated share of $98 billion on the table."''

Howard Belk, co-CEO and chief creative officer, Siegel+Gale, says that he believes that "our study reaffirms an increasing demand for transparent, direct, simple experiences that make peoples' lives easier. Once again the data proves that simplicity pays."

KC's View: There is a lesson here, though I'm not sure it is to emulate Aldi and Lidl. (Though this certainly speaks to this format's ability to break through the clutter, and the danger it poses to traditional and often mediocre stores.)

The businesses cited, I think, are very good at telling a clear-cut, compelling narrative about their existence … to me, it is not about the simplicity of the brand as much as it is about the easy-to-understand brand value narrative.

• Digital Trends has a story about how Amazon has put together a team of 10,000 employees responsible for developing its Alexa smart speaker platform.

That's right. Ten thousand people.

"Just as remarkable," the story says, "is the speed at which the team has grown, doubling in size in the space of only 12 months as Amazon ramps up efforts to increase Alexa's smarts and design better speakers.

"In the last year, Amazon has launched a number of new Echo speakers, as well as the Echo Auto device that puts the digital assistant inside cars. It also recently unveiled the AmazonBasics Microwave that lets Alexa take care of your cooking (Echo speaker required)."

During the upcoming end-of-year holiday season, the story says, "Amazon is expecting to see sales of its smart speakers go through the roof. According to the Journal, the company has already sold more than 45 million Echo devices globally since the first one landed in 2014, giving it just over 50 percent of the smart-speaker market." In fact, the "Alexa-powered Echo smart speaker was the shopping site's biggest-selling item during the 2017 holiday season."
Corporate Drumbeat
"It's a bad time to be in the business of selling groceries, and the headlines are as bleak as you'd expect: "The Retail Apocalypse Is Coming for Grocery Stores" ... "Grocery Retail 'Bloodbath' Is Here" ... Conversely, it is a great time — arguably the best time ever — to buy groceries."
- New York Magazine/Grub Street


At Samuel J.Associates, we have a response to this assessment:

Bull.

We think it is a great time to be selling groceries, whether you are a retailer or a supplier. That's because a more educated and demanding consumer, no matter the demographic, will reward businesses that are innovative, disruptive, and in touch with what people need, even if they don't know they need it.

And, we know this: Those businesses require, and are fueled by, great people.

People who don't just get the job done, but who set the tone in an organization, establish cultural and business priorities, who build teams, and who are able to not just adapt to competitive realities, but see the future and thrive in it.

And yes, ignore dire warnings about a "retail apocalypse" and see opportunities.

At Samuel J. Associates, we have a winning record of connecting great talent and innovative businesses ... as well as innovative talent with great businesses. We exceed your expectations so that you can do the same thing for your customers.

No bull.

Click here to find out more.

…with brief, occasional, italicized and sometimes gratuitous commentary…

• Fox Business has an interview with Ahold Delhaize CEO Frans Muller in which he says that the company has "partnered with a number of universities and scientists to better understand forecast machine learning and create better algorithms to help customers shop faster and at a lower cost."

In addition, Muller mentioned the company's decision (reported here last week) to roll out small, automated warehouses attached to some of its Stop & Shop stores that will allow it to automate order collection, which are being developed in partnership with a tech company called Takeoff (which also is working with Albertsons).

"In addition to robots," Fox Business writes, "Stop & Shops will also roll out 'frictionless checkouts' so customers can use their mobile app to scan items as they're shopping, without having to wait in line."


• Reuters reports that "the U.S. Postal Service lost almost $4 billion in 2018 even as package deliveries rose."

The story notes that "USPS reported operating revenue of $70.6 billion for fiscal year 2018, which ended on Sept. 30, as sales at its shipping and packages business rose 10 percent … Package delivery, especially for major customer Amazon, has become a key part of USPS's business, but has not been enough to offset the sharp decline in first-class letters caused by the internet and email."

The Reuters story says that the new results could give "US President Donald Trump ammunition against Amazon.com Inc, which he claims pays too little for the agency's services.

"Trump, without presenting evidence, has accused the world's largest online retailer repeatedly over the past year of taking advantage of USPS by not paying enough for deliveries to make the service profitable."

The Trump attacks on Amazon have little to do with USPS results and everything to do with Jeff Bezos' personal ownership of the Washington Post.


• USA Today reports on how Drinkworks, a joint venture between Keurig and Anheuser-Busch, this week debuted its first product - the Drinkworks Home Bar: "Similar to the Keurig Coffee Maker, the Drinkworks Home Bar uses pods to make cocktails, beer and mixers.

"The machine costs $299, with each pod costing $3.99 individually or $15.99 for four. There are currently 24 drinks available – including Mojitos, Long Island Iced Teas and Moscow Mules – with 'many more to come,' according to the company."

And humanity teeters on the verge of losing yet another skill - making a decent drink. That talent now will go the way of tying a bow tie and driving a car with a manual transmission. The end of western civilization, I call it.

We had a story the other day about turkey specials that Whole Food is offering to Amazon Prime members, leading MNB reader Lisa Malmarowski, of the Outpost Natural Foods Cooperative, to write:

Hmmm - we have local source verified organic turkey for $3.89/lb. FRESH antibiotic free local source verified, all natural for $2.49/lb. And are offering a deal with purchase on all natural, antibiotic free local turkey for $1.69/lb.

And folks don't have to pay for a Prime membership.

We've worked hard to be competitive with our 4 stores in the market, to Whole Foods 2 stores, and all the other competition.

Guess we'll just quietly go about doing what we do, in our niche, so the big guys can just carry on… nothing to see here folks.

For the record, if I had a choice between Whole Foods and a local coop like Outpost, IU'd choose the latter. No question.

My point in the story was just to point out how Amazon is trying to leverage Whole Foods.



Responding to our story about how some rental car companies are trying to alleviate pain points in the experience, MNB reader Harmonie O'Loughlin wrote:

Hertz offered to drive us to the terminal because we are new parents with lots of baby gear.  We were significantly impressed and thankful because it made our travels that much smoother and easier.  I am sure that will help with our loyalty to them.  The trap is if we decide to ask for the service the next time and they decline.  Then we would be pretty ticked off.  Policies will certainly protect against under delivering.

From another reader:

While the "convenience of getting on the road" after a flight definitely favors Uber / Lyft, the rental car companies have another anchor around their neck that few like to acknowledge.
 
Locally imposed fees put on rental cars has long been a way for communities to bring in additional income. I rent at least 50 times / year and pay the same midsize daily rate every time, but end up with dramatically different bills. For example, I rent a car in Bentonville airport and I pay 35% in fees above the daily rate, an additional $16.89 in local surcharges / taxes, per day.  At LAX that same additional surcharge is nearly $20/day, however renting off airport eliminates these fees. For example, a recent rental off-airport in Tampa was $5.18 / day (14%).  . There are many examples of how the local community tax decisions, all designed to generate business traveler income, are forcing the consideration of the ride sharing options. The San Francisco $20 "ride the tram" fee (to the car rental facility) discourages car rental/s.
 
And, if that's not enough to insult those using rental cars, renters get the right to pay a refueling premium fee which is well above the locally posted fuel prices.
 
The rental car companies, which contribute jobs in addition to certain tax receipts for these communities, would be better served to speak up more to local decision makers about these imposed fees.  Charging yet another premium fee on top of their already heavily taxed structure, isn't the answer to competing with Uber / Lyft.



Responding to another story, one MNB reader wrote:

I'm not certain what's transformational about Walmart's interest in hiring military veterans or military spouses.  Walmart has long had interest in hiring veterans because of their strong work ethic, ability to follow rules (execute) and that their health insurance is largely taken care of by US Gov't.  Walmart stores are often close to Military installations.  This has been true since before their 2013 Welcome Home Commitment was announced by Bill Simon, himself a Navy veteran.
 
If anything, it seems to me Walmart has executed this now 5 year old initiative slowly at a time when they could have become the gold standard.



MNB the other day took note of an ABC News report that a New Hampshire judge has ordered Amazon "to hand over recordings taken by an Echo device in the Farmington, New Hampshire, home where Christine Sullivan lived with her boyfriend. Sullivan was found murdered in the backyard of the home on Jan. 29, 2017, along with Jenna Pellegrini, who was staying at the home … Police seized an Amazon Echo from the home, and, while it is "unclear whether there is any audio evidence on the device," the court "found probable cause that the speaker could have recorded 'evidence of crimes committed against Ms. Sullivan, including the attack and possible removal of the body from the kitchen'."

One MNB reader responded:

This is precisely what scares me about these devices. No, not the ability to not cover up a murder… But when and what is that thing listening / hearing?
 
Could your in home political speech be captured, transmitted to a government listener and held against you? Could someone hack into the thing and listen to your private conversations? "Hey honey, what's our bank password again?"



Lots of reaction to our HQ2 stories.

MNB reader Glenn Cantor wrote:

Long Island City, NY?  Has anyone making this selection ever tried to get to Long Island City.  While it is certainly noble to build a major company headquarters in one of New York's urban, inner city neighborhoods, there is no existing infrastructure and the roads are already clogged.  Unless they are planning to drop people in by drones, this is an impractical location.

MNB reader Lori Stillman wrote:

I tend to agree with your perspective that the leak was not without AMZN's knowledge and provided an early read on how they needed to prepare for the PR challenges that will follow.  The split decision makes sense for the number of reasons you mention and will still create some interesting opportunities as work force demands pressure housing, schools, etc.  For Crystal City, the market lost thousands of military offices in the years following 9/11 as a result of government decisions to dissipate their workforce away from Crystal City.  There are hundreds of thousands of vacant commercial space, with regional and metro train stations all connected underground.  I suspect the impact here will be less than other cites, which resulted on this space making the top cut.  The commute between DC and NY, however, will be a bigger challenge.  The failing Amtrak system can barely manage the load on this route as it is, much less see daily commuters traverse between the two cities.  The silver lining, however, is desired residential real estate locations will likely benefit.  We're literally a two block walk from the commuter station and the unsolicited realtor calls have already begun.

From MNB reader David Spawn:

Your ignorance of neighborhood revitalization in the NYC area is showing…
 
That said, if a big chain store can get tax incentives to build a store, why shouldn't Amazon get them to revitalize a neighborhood? I'm not nuts about the process, but I can't blame Amazon for looking for the best deal that makes sense.
 
Long Island City is not in need of revitalization (from Amazon or any other corporate behemoth).  Since we moved here 4 years ago, we have watched 10 different apartment towers get topped off in LIC (with 5,000 apartment units), in addition to multiple new businesses and industries (fashion apparel firms have been leasing in the area for the past 5 years at least in search of cheaper rents, following the move by TV production studios) taking advantage of its proximity to Manhattan –
 
https://licpost.com/long-island-city-had-more-housing-units-built-in-2017-than-any-other-nyc-neighborhood-with-biggest-pipeline-of-units-to-come
 
https://ny.curbed.com/maps/long-island-city-development-boom-construction-map
 
If Amazon really was just getting a leveled playing field in the incentives game to "revitalize a neighborhood," there were plenty of opportunities on the list of submittals that wouldn't have included these 2 prosperous & growing submarkets.  It seems you are making a false comparison.
 
PS - My guess is that Crystal City also does not need revitalization.

You're right that I am not intimately familiar with Long Island City. (I spent more time when I was young in my mom's Queens neighborhood, Elmhurst, which is five long miles to the east.) It certainly is my impression that Long Island City is pretty diverse, with both high-end development and some areas that could be improved.

In the words of the New York Times, while there are "wine bars and a cycling studio along the riverfront in Long Island City, among gleaming high-rise apartment buildings with views of Midtown Manhattan," there are parts of "the census tract that will house Amazon's new headquarters" that qualify as an "opportunity zone … eligible for tax credits meant to spur investment in low-income communities."

From another reader:

You think Amazon wants to play fair? I think the whole getting all the cities "data" and thought process' on where they want to go in the next 20-30-50 years was a genius play in order to win their new HQ (and then they do 2 of them)…

And another:

Actually, many of us are happy they did not pick Texas. For example, cost-of-living in Austin has tripled in the last 10 years due to the influx of companies coming from high cost states like California and New York. These companies are getting tax breaks but the we the taxpayer ends up footing the bill!!

And still another:

Man Kev, tough day for you. How to reconcile your unfazable man crush on Amazon with all your lefty East Coast friends?  How would you feel if Walmart pulled this ridiculous stunt?

Good question about Walmart. I think I'd have the same attitude … for years, I've been critical of NYC's efforts to keep it out. I like to think I have an open mind.

BTW … I have a more righty East Coast friends than lefty East Coast friends. Just FYI.



Finally, I had an Eye-Opener the other day that referenced a New York Times story about how, "starting next term, Congress is going to have something of a new look, not just because of the striking diversity of race and gender in the House, but because of the new attitude toward image and self-definition that goes with that."

Going away, to some degree, will be the blue and gray suits, white shirts and ties worn by the men who have dominated Capitol Hill, as well as the conservative dresses and pantsuits worn by women elected to the US Senate and House of Representatives.

The Times made the point that the new diversity of elected representatives means that wardrobes are changing, at least in part because newly elected women - whether it be the Native American/LGBTQ/former MMA fighter elected in Kanas, or the Minnesota Democrat who is not just a Somali-American but also the first women to wear a hijab in the House - will be wearing clothing and accessories that reflect their cultures and personalities, and not the traditions and legacies of the past. The Times wrote that "the move away from the pantsuit, the fake femininity, the pearls, the sprayed-into-submission-bob, may seem like a small thing, given how much else is at stake. To even see it as meaningful in any way may seem ridiculously frivolous … But in these choices is the beginning of different kind of declaration of independence."

And I commented, in part:

I don't think there is anything frivolous about it. In fact, it makes me proud, as an American, to see that the fashion quilt is so much more colorful and complicated and diverse than ever … to see that blue and gray suits will be less in evidence in the coming years. I don't care what side of the aisle they sit on; I think we are better off when we are represented by people who look like all of us.

I think the same goes for business. It wasn't that long ago, for example, that Starbucks didn't allow its baristas to have visible tattoos. It changed, and relaxed its policies, understanding that the company as a whole would be better off if it reflected the diverse personalities of its staffers rather than trying deny them.

I think this acceptance, and even embrace, of the panoply of the American culture is critical to business success.

One MNB reader responded:

I can hardly wait for the replies you will be receiving regarding the dress code changes you are about to receive from your readers. They will make for a lot of interesting views.

Interestingly, this was the only email I received about this story and my comments. Which I hope means that people finally are getting it.
Jacob deGrom, who pitched for New York Mets team that finished the season eight games under .500 and only had a record of 10-9, yesterday won his first Cy Young Award - for a National League-leading 1.70 ERA, and a string of 29 consecutive starts in which he allowed earned runs or less (a streak he brings into the 2019 season).

ESPN writes that "deGrom received 29 first-place votes and 207 points in voting announced Wednesday by the Baseball Writers' Association of America. Washington's Max Scherzer got the other first-place vote and finished second while seeking a third straight Cy Young and fourth overall."

The story also notes that "despite his effectiveness on the mound, deGrom was frequently victimized by a lack of offensive production from his teammates. Pitching for a Mets club that finished eight games under .500 and ranked 12th in the NL in scoring, he received the worst run support in baseball (3.5 runs per game) … His 10 victories are the fewest ever by a Cy Young winner in a non-strike-shortened season, eclipsing the previous mark held by Felix Hernandez, who went 13-12 during his 2010 campaign."

KC's View: I'm thrilled with the deGrom win, and hope this persuades the Mets ownership to give him a long-term contract. (They probably won't. They'll probably trade him to the Yankees for an Edsel and a second-hand washing machine.)

It is about three months until pitchers and catchers report. Hope springs eternal.

Industry Drumbeat
In this fast-paced, interactive and provocative presentation, MNB's Kevin Coupe challenges audiences to see the fast-evolving retail world through a radical new technological, demographic, competitive and cultural prism. These issues all combine to create an environment in which traditional thinking, fundamental execution, and just-good-enough strategies and tactics likely pave the path to irrelevance; Coupe lays out a road map for the future that focuses on differential advantages and disruptive mindsets, using real-world examples that can be adopted and executed by enterprising and innovative leaders.

Constantly updated to reflect the hand crafted news stories covered and commented upon daily by MorningNewsBeat, and seasoned with an irreverent sense of humor and disdain for sacred cows honed over 30 years of writing and reporting about the best retailers and retail strategies, "RETAIL 2020/WTF" will get your meeting attendees not just thinking, but asking the serious questions about business and consumers that serious times demand. See a sample at left…



Here's what Lori Stillman, Executive Vice President - Analytics, Insights and Intelligence, Advantage Solutions, has to say about a recent appearance:

"Kevin joined us as a moderator and facilitator for a two-day client executive event we hosted. His role in the success of the event went far beyond his time presenting and sharing his great wisdom and content. From the moment our planning process began and we selected Kevin as a key part of our program, he dove in and worked with our team to review session topics, ideate on programming and help ensure our overall event delivered on the goals we had established. His quick wit, deep industry knowledge and ability to synthesize conversations into key take-aways enabled us to hit a home run!"

And, from Joe Jurich, CTO of DUMAC Business Systems:

"Kevin recently participated in and spoke at our Annual User Conference.  Our group consisted of independent retailers, wholesalers, and software vendors – a pretty broad group to challenge in a single talk.  While his energy, humor, and movie analogies kept the audience engaged, his ability to challenge them to think differently about how they go to market is what really captured them!  Based on dinner conversations afterward, he appeared to have left everyone thinking of at least one new approach to their strategy!"

Want to make your next event unique, engaging and entertaining? Contact Kevin at kc@morningnewsbeat.com , or call him now at 203-253-0291.
PWS 53