Join the MNB Community.
Get a Wake Up Call each morning...
Email:
Explore the MNB Archives
From The MNB Archives
Tuesday, December 11, 2018
by Michael Sansolo

It's amazing to think that the best defense against the onslaught of electronic commerce might be the most obvious asset out there: employees.

Last week my wife and I trudged into the local mall to select a gift for a teen-age girl on our list—a trip I would have begged out of gladly if I were given an option. It was Eye-Opening instead. We went into one of those classic mall shops geared to supply teen-age girls with the endless array of things that they supposedly "need."

What made the trip so special was what happened next. We found an item and brought it to the cashier who smiled and told us that we could get a second item for 60% off the regular price. Needless to say, we started looking for that second item. (Well, my wife started looking. I rolled my eyes.)

Actually, I first complimented the young cashier on her engaging manner and her ability to up-sell a customer. She thanked me and asked if I would mention that to her manager, which I did. Frankly I should have gotten the young woman's name because I know plenty of retailers who would want to hire her in a minute.

Engaged employees should and are never undervalued and in today's environment they are increasingly becoming essential.

The NACS/Coca-Cola Retailing Research Council recently completed a study on the importance of building employee engagement and although it was geared to convenience operators it has merit for any type of business, retail or not. The study gauges the impact of highly engaged staffers and examines the simple steps necessary to build that engagement.

You can download the study here.

The premise is simple: engaged staffers produce higher sales, profits and customer loyalty. What's more, those same engaged staffers have far lower turnover rates, so the power of engagement is a win in multiple ways.

The steps to build that engagement are both simple and highly complex. It basically comes down to improved training of store level managers so they learn to interact, listen to and communicate with staff better than ever. That's not so easy, but when the benefits are so clear and important it's the task that simply needs to get done.

One of the great strengths of Amazon is how the site guides every purchaser to additional items no matter what you are buying. That creates impulse purchases, bigger shopping baskets and, no doubt, higher profits.

Yet, a young cashier in a nondescript mall shop got my wife and I to do the very same thing with just a smile and a well-timed suggestion.

Sounds like a powerful formula to me. And an Eye-Opener.


Michael Sansolo can be reached via email at msansolo@morningnewsbeat.com . His book, "THE BIG PICTURE: Essential Business Lessons From The Movies," co-authored with Kevin Coupe, is available on Amazon by clicking here. And, his book "Business Rules!" is available from Amazon by clicking here.

The Austin Business Journal reports that Amazon-owned Whole Foods still seems enthusiastic about its 365 by Whole Foods concept, which fist was launched by the company two and half years ago as a way of addressing concerns that the grocer's "whole paycheck" image was distancing it from younger consumers. The 365 format, the company hoped, would have greater appeal by being less expensive, with more technology, and a hipper vibe.

Two new 365 stores are scheduled to open this week in the Atlanta market - one in Buckhead and the other in Decatur. "Soon the grocer will have 12 of its '365' locations open," the story says, with another one planned "near downtown Austin where Whole Foods is based. Another was expected in San Francisco soon, but that city's planning commission seems to be putting the brakes on the project due to concerns of a housing shortage and the impact on mom-and-pop businesses."

The story also suggests that the 365 format could be ripe for testing of the Amazon Go checkout-free technology in a larger format store; currently, there are just seven Amazon Go convenience-sized stores, with an eighth begging built.

Here's how the Business Journal frames the speculation:

"Each (365) store employs about 100 people, but the headcount at 365 stores and even traditional Whole Foods Markets could be curtailed as its parent company, Amazon.com Inc., investigates ways to streamline brick-and-mortar retail. Much of it has to do with 'checkout-free' technology — something Amazon is keeping at arm's length from Whole Foods.

"Amazon has insisted it has no plans to integrate checkout-free technology at Whole Foods since acquiring the high-end grocer for $13.7 billion last year. That may be because the technology isn't there yet. High ceilings and plentiful products are troublesome for scanners.

"So for now, Amazon is simply conditioning Whole Foods customers to shop with their smartphones — which is the basis of app-based Amazon Go technology — by offering discounts to Prime members who scan their phones at checkout."

Indeed, there have been reports that Amazon is testing the use of checkout-free technology in a larger and different formats.

KC's View: For the record, I've been predicting almost from the time that the the first Amazon Go store opened to the public that outfitting the 365 stores with the checkout-free technology seemed like a natural extension. The 365 stores are pretty much all self-service, and so would be a lot more friendly to the technology than traditional Whole Foods stores.

I've never been a big fan of the 365 format. They may have been designed to be less expensive, with more technology, and a hipper vibe, I've always though they failed on all three counts - they don't effectively communicate a value proposition, and use of technology strikes me as cursory, and "hip" would be the last word I'd use to describe them. But … the 365 format actually predates the sale of Whole Foods to Amazon, and I've also argued that adapting checkout-free technology to the format would instantly make the stores cool.

If expansion of the 365 format has been slower than expected, that may be because new ownership/leadership made it desirable to consider new and greater options. I suspect that Amazon could just be warming up.

I also think we'll see the checkout-free technology used in c-stores that are built inside or adjacent to traditional Whole Foods stores. They have all these locations, and it makes sense to utilize some of them to push the envelope on what's possible.

Besides, that's what Amazon does. They push the envelope. On pretty much everything. And they don't fear making mistakes.

Bloomberg reports that a number of retailers hope that the use of payment apps, similar to those implemented by Starbucks and Walmart, will help them "escape the clutches of the credit-card companies, which this year will levy more than $90 billion in swipe fees on an industry already struggling to navigate the shift online."

Here's how the story frames the issue:

"While shoppers have largely shunned mobile payments offered by third-party providers like Apple Inc., retailers are trying to persuade customers to embrace the technology by dangling discounts and other perks. Several chains, including Walmart Inc., Starbucks Corp. and Kohl's Corp., have had some success by baking the apps into their loyalty programs - and more than half of companies surveyed recently by the National Retail Federation said they've implemented 'branded digital wallets' or are considering it.

"Besides cutting out the credit-card companies, in-house payment systems enable retailers to collect more data on their customers."

And here's how it works:

"Retailers are increasingly bypassing Visa and Mastercard by tapping into the Automated Clearing House network, which was set up by U.S. banks more than 40 years ago to replace checks and send money electronically between bank accounts around the country. Consumers and businesses now send nearly $50 trillion each year over the network, compared with the roughly $15 trillion sent over Visa's and Mastercard's networks … In other cases, retailers still rely on Visa and Mastercard's networks but find ways to minimize the swipe fees. Starbucks's mobile app encourages users to load funds onto a prepaid gift card. That means Starbucks only has to pay swipe fees when users send the funds to the card, not each time they buy a cup of coffee. The payment app now represents 14 percent of the coffee chain's transactions."

KC's View: If feasible, it always makes sense to circumvent the banks and create more direct and frictionless paths between the shopper and the store. I wouldn't suggest copying it, but I think it cold be argued that the Starbucks cards is the best example of the form and maybe that company's greatest asset.

TechCrunch reports that Walmart is working with Japanese retailer Rakuten and has opened its first e-commerce store in Japan.

According to the story, the Walmart Rakuten Ichiba Store hopes "to help Walmart grab a slice of Japan's e-commerce market, which is estimated to be worth 16.5 trillion yen ($148 billion) per year.

"The store, which sits on Rakuten Ichiba — Japan's largest e-commerce store — will cover 1,200 'U.S. branded' products that include clothing, outdoor items and kids toys. Walmart will fulfill orders in the U.S. and they will be sent by air to Japan where Rakuten will use its e-commerce smarts to deliver them. There's no word on how long the process will take, but it will include shipping cost, duties and taxes in the final price."

However, Walmart long has had problems cracking the code on Japanese retailing - there long have been rumors, denied by Walmart, that it wants to sell its Seiyu business there - and this is seen as a way of taking a different approach.

TechCrunch writes that "partnering with Rakuten, the $10 billion e-commerce giant that also covers financial services, travel, mobile and more, is a smart way to take a bite out of Japan's online market with risk or exposure. Though it does have its limits. Amazon, Walmart's big domestic rival, is taking on Rakuten directly, by contrast, and seeing some success albeit at a high cost of investment."

The Chicago Tribune this morning reports that as a result of a changed payment structure to its independent contract "shoppers," delivery service Instacart is facing boycotts from some of those contractors and calls for some sort of union organization because of what some call exploitive and unfair treatment.

Here's how the Tribune frames the issues:

"Instacart, which boasts a community of 70,000 shoppers across the U.S. and Canada, has attracted $1.6 billion in funding since its founding in 2012 as investors anticipate a surge in consumers ordering their groceries online. Its CEO recently said an initial public offering is 'on the horizon.'

"But the San Francisco-based company for years has angered some shoppers who say numerous tweaks to the payment model have resulted in pay cuts, prompting them to boycott and attempt to organize the loose network of independent contractors.

"Instacart has acknowledged the frustrations and over the last six months has 'deepened our commitment to improving the experience' of shoppers by 'carefully and deliberately testing every new feature with shopper focus groups in cities of all sizes to gather their feedback along the way,' the company said in a statement.

"But the company's shoppers are pushing back against a recent change to the payment model … Since the new system rolled out in the Chicago market Nov. 5, some local shoppers have been boycotting low-paying orders, in hopes that if enough workers decline to take them the company will be forced to pay more. Leaders of the resistance are preparing form letters for shoppers to send to their state attorneys general and members of Congress asking them to take a deeper look at the potential exploitation of independent contractors, who lack labor protections like minimum wage thresholds and unionization rights."

Instacart says there has been "no meaningful impact" on its service.

You can read the details here.

KC's View: It is a fascinating story, and certainly points to changes in labor law that may be made necessary by the evolving "gig economy." Transportation-centric services like Instacart, Uber and Lyft are showing a lot of growth, and, as the Tribune writes, "The labor strife that has accompanied the rise of online gig platforms has prompted some scholars to advocate for a new category of 'independent worker' that would get some protections currently reserved for traditional employees, such as the right to unionize and collectively bargain, though such proposals have not moved forward formally."

I'm not sure that we'll see any labor law changes in the near-term, but maybe down the road.

I do think that retailers using the Instacart platform - often because it is seen as an easy solution to the e-commerce challenge that doesn't require the same emotional and financial commitment of other options - ought to be concerned about the fact that workers see Instacart as abusive … because those attitudes could find their way into how their customers are serviced. If things go bad because of a disgruntled worker, nobody's going to blame Instacart - they're going to blame the retailer that enabled the system.

Keep in mind - this is all about Instacart getting a big number in an IPO. This is not about providing superior service to a retailer's customers. And retailers hoping that using Instacart as an e-commerce solution would allow them to be a little bit pregnant may find in the end that they - and their customers - end up being screwed.

Inventiva reports that "Walgreens has entered into a strategic partnership with beauty-in-a-box startup Birchbox, which will involve building Birchbox experiences inside Walgreens' stores so customers can shop and try new brands … The Walgreens deal will help Birchbox reach new customers by allowing it to establish an expanded brick-and-mortar presence."

The story notes that "the deal also sees Walgreens acquiring a minority equity interest in Birchbox … Despite having become a brand name in the space it helped to define – subscription box startups – Birchbox has been facing competition from Ipsy, Glossybox, Sephora and Allure Magazine. Even Target and Amazon do their own beauty boxes now." The Walgreen deal is seen as giving it a stronger foundation on which to grow.

The story points out that "this rollout will begin in 11 stores across major U.S. cities. Six stores in Chicago, L.A., NYC, and Minneapolis will launch Birchbox experiences this December, followed by five stores in Chicago, Dallas, L.A. and Miami in early 2019. At pilot stores, Birchbox will also offer subscriptions to its monthly delivery service of samples, and a 'Build Your Own Birchbox' experience like it has at its own flagship stores in New York and Paris."

KC's View: This is the drugstore equivalent of when a grocery store makes a deal with a meal kit company … it expands the palette of offerings, establishes a level of expertise, and creates something cool that could attract new shoppers. Smart move, I think.

The Wall Street Journal reports that one of the proposals made by a task force charged by the Trump administration with analyzing the US Postal Service's economic problems is to sell access to citizens' mailboxes to private companies.

This actually is a big deal, and technically at odds with current law.

As the Journal explains, "It is illegal for anyone except a Postal Service mail carrier to deliver to a mailbox, a restriction established in 1934 to crack down on attempts to avoid paying postage. Such limited access protects customers from theft and preserves their privacy … Technically, even dropping a card in your neighbor's mailbox is a federal crime. Commercial shippers instead walk up to a customer's door, sometimes leaving a package on a porch or outside a locked apartment building.

"The report notes that revenue could be raised by retaining the mailbox monopoly but allowing regulated access, for a fee, to certified private companies. These 'franchisees' would be granted access to the mailbox for the delivery of mail and small parcels, according to the report."

KC's View: I've been pretty skeptical about this task force, largely because I've felt that the low-hanging fruit (changing onerous pension reporting requirements unique to the USPS) was pretty obvious and that the motivations behind its creation (Donald Trump's disenchantment with Jeff Bezos, who owns Amazon, seen as a USPS-abuser, and the Washington Post,m which has been aggressive in its coverage of his administration) was questionable.

But I actually think this is a pretty good idea. It always sort of annoys me that the USPS technically owns my mailbox, even though I paid for it and it sits on my property. But if allowing the USPS to make a little money by leasing out access to FedEx and UPS is what is necessary to sustain a national mail system, then I'm good with that.

• The New York Times has an interesting story about potential problems when Amazon opens one half of its HQ2 in Long Island City, in the borough of Queens, and hires 25,000 people to work there.

The issue is toilets.

The Times writes, "It might seem mundane, but what happens in the bathroom matters: New York, for all its modern conveniences, sits atop a century-old sewage system used by more people than ever before. Every time someone flushes, washes their hands or takes a shower, all that household wastewater (and worse) flows down into 7,500 miles of sewer pipes. Most of these pipes also do double duty, collecting rainwater runoff from rooftops as well as streets.

"When these sewer pipes get clogged by humans — flushing baby wipes anyone? — or simply overloaded with rainwater, it becomes everyone's problem. The 'combined sewer overflows' are discharged directly into nearby rivers, bays and creeks instead of going to wastewater treatment plants. Raw sewage also backs up in homes, creating a stomach-turning mess."

Residents of the area say that such backups already happen. The city says that the pipes under Long Island City actually are in pretty good shape, and should be able to handle the influx of outflow.

And, in fact, "A 2012 city rule requires new developments to take measures to retain significant amounts of rainwater on site, such as using green roofs and porous pavements. As a result, city officials said, Amazon's new headquarters would be an improvement over older buildings — and could actually end up reducing rainwater runoff in the sewage system."


• GeekWire reports that while "Amazon Books was the tech giant's first take on brick-and-mortar retail," there have been reports that "Amazon has abandoned several bookstore projects recently, though the company insists it remains on the hunt for new locations.

"Reports and permit records indicate that Amazon has not followed through on plans to build bookstores in at least three locations in Georgia, Colorado and Idaho. Amazon's website lists 18 bookstore locations, but none in those three states."

Amazon, however, says that it is not backing of its Amazon Books concept: "After three years of operating Amazon Books, we remain excited about all of our stores. In September and October we opened our 17th and 18th Amazon Books location in Pacific Palisades and Marina del Rey, CA, and we continue to look for new locations to bring Amazon Books."

Corporate Drumbeat
"It's a bad time to be in the business of selling groceries, and the headlines are as bleak as you'd expect: "The Retail Apocalypse Is Coming for Grocery Stores" ... "Grocery Retail 'Bloodbath' Is Here" ... Conversely, it is a great time — arguably the best time ever — to buy groceries."
- New York Magazine/Grub Street


At Samuel J.Associates, we have a response to this assessment:

Bull.

We think it is a great time to be selling groceries, whether you are a retailer or a supplier. That's because a more educated and demanding consumer, no matter the demographic, will reward businesses that are innovative, disruptive, and in touch with what people need, even if they don't know they need it.

And, we know this: Those businesses require, and are fueled by, great people.

People who don't just get the job done, but who set the tone in an organization, establish cultural and business priorities, who build teams, and who are able to not just adapt to competitive realities, but see the future and thrive in it.

And yes, ignore dire warnings about a "retail apocalypse" and see opportunities.

At Samuel J. Associates, we have a winning record of connecting great talent and innovative businesses ... as well as innovative talent with great businesses. We exceed your expectations so that you can do the same thing for your customers.

No bull.

Click here to find out more.

• Business Insider reports that "Walmart is testing a burger-flipping robot.

"Flippy, a robot developed by Miso Robotics to act as a kitchen assistant, is now being tested in Walmart's Bentonville, Arkansas, headquarters … the robot could begin taking over some repetitive tasks in Walmart delis' kitchens if the test goes well. Flippy is intended to act as an autonomous arm, moving chicken tenders and mozzarella sticks into the correct fryer, evenly cooking them, and then removing the basket of fried food from the hot oil."

Flippy reportedly can grill 150 burger patties an hour, and costs between $60,000 and $100,000.

• The Seattle Times reports that "Costco, in the midst of developing its own poultry processing plant to go with an already substantial company-owned beef supply operation, has set out new standards and monitoring requirements for antibiotic use in animal agriculture, making it one of the largest food retailers to take on the issue … Costco's move, cheered by an environmental group that drafted a shareholder proposal urging the Issaquah-based warehouse club retailer in this direction, comes as meat producers, following Food and Drug Administration guidelines, are adjusting their practices to limit antibiotic use to when it's most needed."

According to its website, "Costco's policy limits use of antibiotics to 'therapeutic use,' meaning 'the prevention, control, and treatment of disease and not, for example, for purposes of growth promotion or feed efficiency.' That had been a common practice in the past. It also requires antibiotic use to be under supervision of a veterinarian.

"The company's standards – which will become 'mandatory and monitored' no later than December 2020 – hew closely to FDA's guidelines released in 2012. Despite those guidelines being nonbinding, they're becoming typical practice for much of the beef industry as producers confront the problem of antimicrobial resistance, said Dr. Andy Allen, a veterinarian at Washington State University."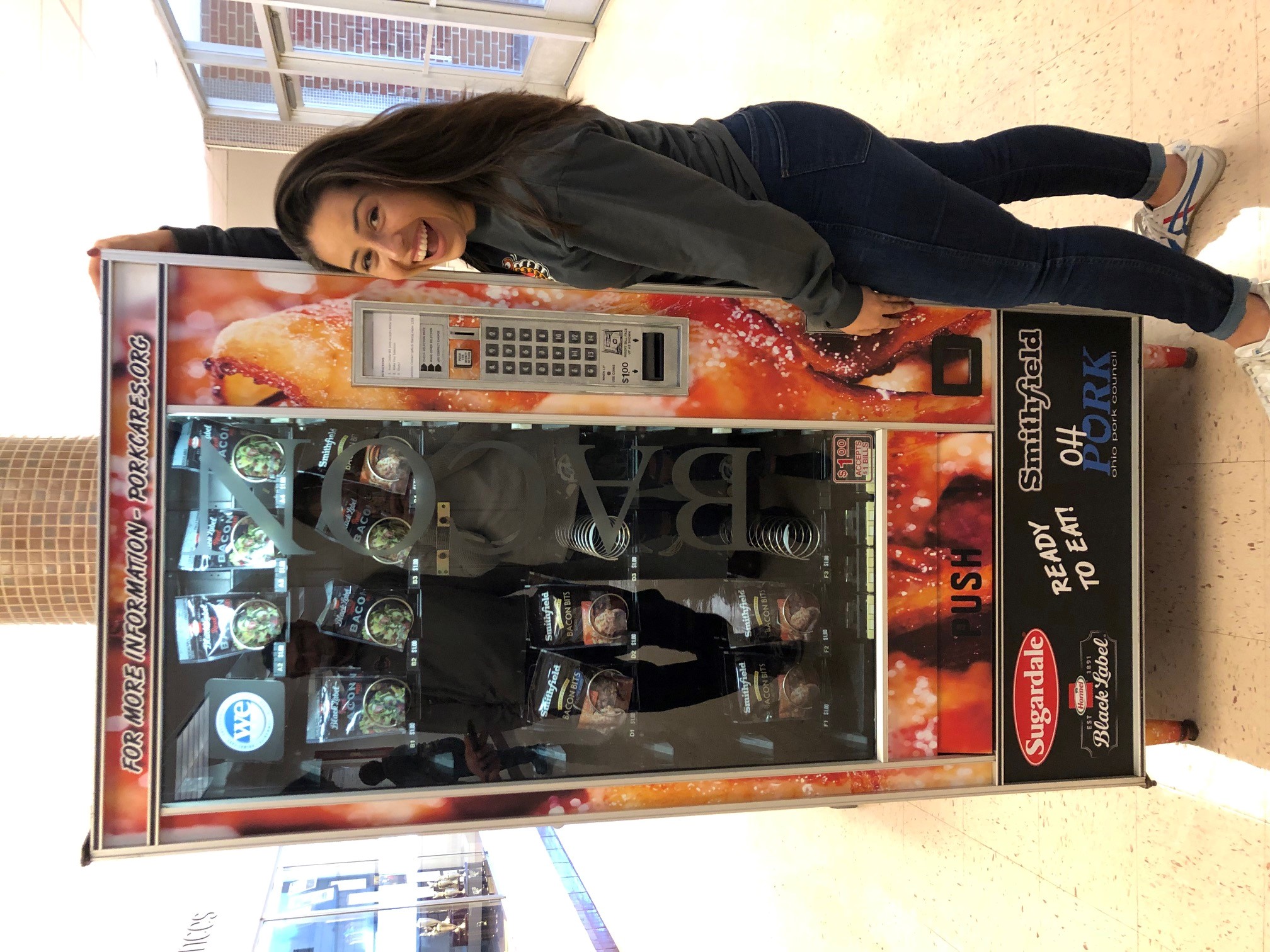 Last week, we reported here about how Ohio State University has a new benefit for students and staffers - a bacon vending machine, selling bacon that is cooked, shelf-stable, and, we suggested, probably perfect when cramming for exams.

The vending machine is sponsored by the Ohio Pork Council, and sells bacon donated by companies such as Smithfield, Hormel and Sugardale. Each bacon strip costs a buck, with proceeds being donated to the university's meat science program, which also is servicing the machine.

MNB reader Sandi Cotter responded to the story:

I reached out to my daughter Maria, an OSU Ph.D. student in food science, after I saw your note about the new vending machine at OSU.  She was on her way to see it since it was all the talk in the food science department.  She sent the attached photo and said I could share it with you.

I especially love the "porkcares.org" website address on the machine.  Great stuff!



Regarding the recent decision by the Portland City Council to pass an ordinance "that will drastically reduce single-use plastics across the city," by restricting the use of plastic serviceware like straws, stirrers, utensils, and condiment packaging, one MNB reader wrote:

Seems as though crowds like to follow each other when it comes to the next thing that is in vogue for saving the planet, this time, straws.

Alternatives to straws might be paper (chop down a tree), metal (buy one for $1 and reuse, forget about the gases released during smelting), or perhaps new sippy lids (uh oh, more plastic, maybe the same as a straw).

As I read about mandates regarding the use of straws and plastic bags I'm intrigued that no one has brought up what might be the most disposable single one-use plastic item – K-Cups. Is it because some folks are selective as to what they'll give up to save the planet?
 
Are the crowds saying, "I'll join in saving the planet, but leave my coffee fix alone buster!"

Change often - usually - comes in small increments, and in fits and starts.

As for me, I don't use straws or K-Cups.



On another subject, got the following email from MNB reader Janis Raye:

Your story about how the Stop & Shop folks wanted you to moderate their panel discussion because you were a good critic reminds me of a story I remember about the wonderful Feargal Quinn, back in his Superquinn days. He told me that when he held customer focus groups about the stores, the first thing he would say is (I'm paraphrasing, of course, but you'll get the gist), "I don't want to hear your positive comments — I know you like the store. I only want to hear your criticism. That's what will help us improve." I often think about that when considering customer feedback. It's great to hear that customers love your product or store, but if you're committed to getting better, you have to be not just willing to hear the criticism, you have to encourage it.



Regarding the new store that Publix has opened on a college campus, MNB reader Bob McGehee wrote:

I bet they have a ramen noodle section unequaled in the entire grocery world.

Good bet.



We continue to get email about the "Baby, It's Cold Outside" controversy.

One MNB reader wrote:

At the cost of prolonging the discussion, I wanted to take a moment to point out the difference between the Rudolph song and "Baby."  The Rudolph song, like Dr. Seuss' 'Sneetches,' provides a moral lesson—that differences can be valuable, and that any difference is superficial and unrelated to one's worth.  "Rudolph, the Red-Nosed Reindeer" provides a positive lesson, it does not promote bullying.

As to "Baby, It's Cold Outside," this was always about talking a woman into staying at a man's place following an evening together, although historically, it was probably allowed that it did not mean they would engage in sex.  Though were you to ask any male of the period (in the company of other males only), I imagine you might well hear that the assumption is that the guy in the song 'gets lucky,' or whatever the equivalent of the day was.  This is a man coercing a woman ostensibly using safety (it's late, it's snowing, the roads are terrible) to stay when she initially states an intention to leave.  That she stays after all might be because of that additional drink she accepts mid-song.

Argue if you wish, but the lesson of the song is that you can continue to argue with a woman after she says 'no,' and that plying her with alcohol may help.  In the context of 70-odd years ago, it was a social dating 'game' that both knew the rules to - in popular culture, a woman might play 'hard to get' or some such, and it is likely that the song is meant to illustrate that.  While I'm certain the song was not created to promote date rape, I'm not sure I'd be comfortable letting my children hear the song without giving them the context and how it differs from current 'acceptable' behavior.

From another MNB reader:

You had a couple of readers advocating that the radio stations should just play the song and those who didn't like it could just change the station. Did they forget that radio stations are businesses? It doesn't make sense to do something that is going to actively drive customers away from you to your competition. I would think that there are significantly more people that would change the station because a song they find offensive was played, than those that would change the station because a song they are not offended by was not played. Smart business move by the Radio Stations that are not playing the controversial song.

From another reader:

Think it's worth pointing out that several (many) people feel that if a listener doesn't want to hear Baby It's Cold Outside, they should just change the station. That's the whole point. This is just pragmatic business. As a radio station owner, I DON'T WANT YOU TO CHANGE THE STATION. I lose money when people tune out, so if I think people will change the station when I play a particular song, I just won't play the song.

Another example, if I owned a radio station playing Christmas music, I wouldn't play "Dominick the Donkey" because I'd be afraid people would change the station rather than listen to it.

In fact, I'd be concerned people would deliberately drive off a cliff rather than listen to it.



Finally, responding to my argument yesterday that retailers need to be thinking about loyalty programs that can compete effectively with Amazon Prime, one MNB reader wrote:

While "imitation may be the sincerest form of flattery," merely duplicating Amazon's prime program is a loser for retailers. While Amazon offers an unlimited assortment of products across unlimited categories, i.e. a reason to shop frequently, this is not the case with Lululemon. In their case, consumers might shop for athletic wear only several times/yr, and are looking for innovation and variety when they do. What retailers need to do is understand in a rapidly disrupting environment they need to innovate in their categories by understanding shopper requirements and building solutions that drive three imperatives, loyalty, frequency and basket load. IMHO, copying Prime, just ain't the solution.

I certainly did not mean to suggest that people should copy Amazon Prime … just that to compete with Prime, companies need to collect and track data and act on it, and find ways to treat best customers as if they actually are best customers.
Industry Drumbeat
In this fast-paced, interactive and provocative presentation, MNB's Kevin Coupe challenges audiences to see the fast-evolving retail world through a radical new technological, demographic, competitive and cultural prism. These issues all combine to create an environment in which traditional thinking, fundamental execution, and just-good-enough strategies and tactics likely pave the path to irrelevance; Coupe lays out a road map for the future that focuses on differential advantages and disruptive mindsets, using real-world examples that can be adopted and executed by enterprising and innovative leaders.

Constantly updated to reflect the hand crafted news stories covered and commented upon daily by MorningNewsBeat, and seasoned with an irreverent sense of humor and disdain for sacred cows honed over 30 years of writing and reporting about the best retailers and retail strategies, "RETAIL 2020/WTF" will get your meeting attendees not just thinking, but asking the serious questions about business and consumers that serious times demand. See a sample at left…



Here's what Lori Stillman, Executive Vice President - Analytics, Insights and Intelligence, Advantage Solutions, has to say about a recent appearance:

"Kevin joined us as a moderator and facilitator for a two-day client executive event we hosted. His role in the success of the event went far beyond his time presenting and sharing his great wisdom and content. From the moment our planning process began and we selected Kevin as a key part of our program, he dove in and worked with our team to review session topics, ideate on programming and help ensure our overall event delivered on the goals we had established. His quick wit, deep industry knowledge and ability to synthesize conversations into key take-aways enabled us to hit a home run!"

And, from Joe Jurich, CTO of DUMAC Business Systems:

"Kevin recently participated in and spoke at our Annual User Conference.  Our group consisted of independent retailers, wholesalers, and software vendors – a pretty broad group to challenge in a single talk.  While his energy, humor, and movie analogies kept the audience engaged, his ability to challenge them to think differently about how they go to market is what really captured them!  Based on dinner conversations afterward, he appeared to have left everyone thinking of at least one new approach to their strategy!"

Want to make your next event unique, engaging and entertaining? Contact Kevin at kc@morningnewsbeat.com , or call him now at 203-253-0291.
In Monday Night Football, the Seattle Seahawks defeated the Minnesota Vikings 21-7.

PWS 53