Join the MNB Community.
Get a Wake Up Call each morning...
Email:
Explore the MNB Archives
From The MNB Archives
Thursday, December 13, 2018
This commentary is available as both text and video; enjoy both or either ... they are similar, but not exactly the same. To see past FaceTime commentaries, go to the MNB Channel on YouTube.

Hi, this is FaceTime with the Content Guy, and I'm Kevin Coupe … and today, I'm going to indulge in a bit of an Andy Rooney rant.

(To younger members of the MNB community who may not know who Andy Rooney is … please keep it to yourself and just look it up online. Knowing that a large percentage of the MNB audience never has heard or seen Andy Rooney just makes me feel old.)

I'm recording this while standing in the parking lot of the Whole Foods that is just around the corner from my home in Connecticut. I can't tell you how many times I walk through this lot and pass the spaces reserved for people with electric cards or hybrids - offering them plus that can be used to charge up their cards - and the cars that are parked there not only aren't plugged in, but aren't even electric or hybrid cars.

If you drive a hybrid, that may be okay, since you do have a gas engine to keep you on the road. But if you have an all-electric car, you may need that juice to get home, but no, it may not be available because somebody decided not to play by the rules.

It isn't just the spaces reserved for electric cars and hybrids. There is a line of spaces in this same lot reserved for people driving fuel efficient cars … and more often than not, the cars parked there are anything but. There's also a line of spaces reserved for cars in which more than one person is riding … and I see single people get out and into them all the time.

I mean, really?

Would these same people park in a handicapped spot if they weren't? Or park in a space for pregnant people if they weren't? Or drive in the carpool lane if by themselves? Or make a right turn on red even if there were a "no turn on red" sign?

Maybe they would … but that's the problem with the world these days … or at least one of them.

I'm not always a rule follower, but it seems to me that these rules are in place to make the world better place. They maintain order, and civility, and suggest a world in which people's best instincts take precedence, not their baser, selfish instincts.

I'm sure I'm going to get emails from people who will say, "If I'm going to shop at Whole Foods and pay those prices, I'll park any damn place I want." Since Whole Foods seems to have neither a carrot nor a stick to enforce these rules, I guess they can.

But that doesn't make them right. In my book, it makes them flat wrong.

Andy Rooney once wrote, "Happiness depends more on how life strikes you than on what happens." That's how this strikes me … it makes me happy to tell you what's on my mind this morning … and, as always, I want to hear what is on your mind.
by Kevin Coupe

NBC News has a story that illustrates the power of information, and how shortcomings in how it is used can compound a person's heartbreak and alienate an existing or potential customer.

The facts of the case are deeply personal - they concern Gillian Brockell, an opinion video editor for the Washington Post, who recently wrote an open letter to technology companies pointing out that she has been targeted with motherhood ads even after discovering that her baby would be stillborn.

Brockell concedes that she bears some responsibility here: "I know you knew I was pregnant … It's my fault, I just couldn't resist the hashtags - #30weekspregnant, #babybump. And, stupid me!, I even clicked once or twice on the maternity-wear ads Facebook served up."

But, she writes, "didn't you also see me googling 'is this braxton hicks?' and 'baby not moving'? Did you not see the three days of silence, uncommon for a high-frequency user like me? And then the announcement with keywords like 'heartbroken' and 'problem' and 'stillborn' and the two-hundred teardrop emoticons from my friends? Is that not something you could track?"

Her point is that technology companies seem willing to track some things - like the stuff that will make them money because they can sell ads against them - but not others. When Brockell tried to opt out of certain ad categories, the companies misinterpreted her preferences and just sent her ads for other stuff.

NBC writes that "at a time when the public is questioning tech companies' hyper-specific ad targeting, Brockell's letter highlights the damaging emotional effects this practice can have when tech companies fail to adjust their targeting to new information about someone's altered life situation."

My heart breaks for Brockell; the pain of losing children during pregnancy is something that never really goes away. And I think her point is an excellent one - how come companies seem really, really good at tracking certain kinds of behavior, but seem completely tone deaf about other kinds?

That said, these companies are designed to make money - even if that means, in some cases, exploiting the actions, emotions and thoughts of their users, even to invasive levels. I'm not sure that we can or should expect any more of them.

And, truth be told, this is what happens when we post our personal and intimate information online for all the world to see and to which pretty much anyone can react.

Brockell gets this. She accepts her role in this scenario, and is simply challenging companies to do better … to have their Eyes Open to the worlds their users occupy.

We talk here a lot about the importance of collecting, tracking and acting upon consumer data as a way of operating more customer-centric businesses … but, we should always remember that such approaches require acting with responsibility.

Amazon yesterday announced a new version of its checkout-free Amazon Go format - a 450 square foot unit that is about one-quarter the size of the other Amazon Go stores that it has opened. (Picture below.)

The first of the new, smaller breed has been opened on the 6th floor of the Macy's building in Seattle, at 300 Pine Street, which now is being leased by Amazon for office space. It is only open to Amazon employees and their guests.

Gianna Puerini, vice president of Amazon Go, tells Reuters that "the tiny format could serve office lobbies, communal floors inside tall buildings and perhaps a hospital."

"We wanted something from a design perspective that would fit nicely into open spaces," she says. "You can bring it in pieces and assemble it on site."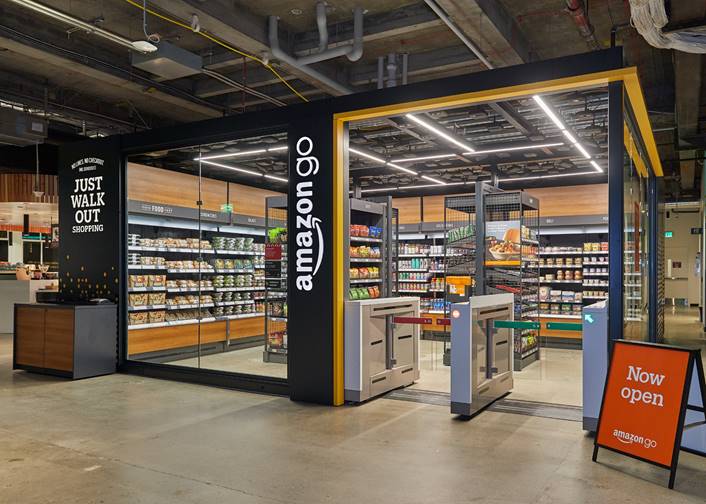 KC's View: Amazon founder-CEO Jeff Bezos has famously said that he wants Amazon Prime to be such a distinctive and attractive service that it would be irresponsible for people not to be members. As it rolls out various versions of Amazon Go - this likely is just one of many on the drawing board, which can be placed in a wide variety of locations and venues - keep in mind that they require Amazon Prime memberships to get shop there.

This is not an initiative taking place in a vacuum. It is all part of an integrated and strategic whole, part of a puzzle that is being put together with nuanced foresight, and insight. That's what you're competing with if you happen to be in a customer-centric business not named Amazon.

The Washington Post reports that the US Congress has overwhelmingly passed an $867 billion farm bill that "allocates billions of dollars in subsidies to American farmers, legalizes hemp, bolsters farmers markets and rejects stricter limits on food stamps pushed by House Republicans."

The bill's bipartisan support - the US House of Representatives approved it 386-47, while the Senate voted for it 87-13 - was prompted, the Post writes, "in part by pressure from farmers battered by President Trump's trade war with China … Congressional negotiators said they faced demands to complete the bill from farmers and ranchers who have seen steep declines in commodities prices as a result of the trade dispute with China."

President Trump is expected to sign the bill shortly.

Peter Larkin, president/CEO of the National Grocers Association (NGA), released a statement saying that the "legislation addresses important issues for independent grocers, including the protection against harmful processing fees and the increased investment in the Food Insecurity Nutrition Incentive (FINI) program. We were especially pleased to see the Farm Bill contain NGA offered language that would direct significantly more FINI funding to independent supermarkets."

And Hannah Walker, senior director, technology and nutrition policy at the Food Marketing Institute (FMI), said that the bill "leverages technology to better serve every customer shopping in our members' grocery stores. It drives modernization in the electronic benefit transfer (EBT) systems, while protecting retailers from unfair and predatory interchange and processing fees."

Digital Trends writes about how Uber Eats, which delivers meals from a variety of venues to homes and workplaces, "is looking at ways of encouraging customers located in a specific area to order from the same restaurant so that a single driver can deliver multiple meals in one journey."

The service is called Uber Eats Pool, and here's how it works, according to Digital Trends:

"Uber Eats charges a restaurant a small fee for priority placement on the home screen of the Uber Eats app. The featured restaurant maintains its prominent position for a limited period of time, possibly just a few minutes if the restaurant reaches its limit for orders. It can't stay up for long because customers who order early won't want to be kept waiting. In this way, the restaurant can expect a flurry of activity as its business features on the app and orders rush in.

"The featured restaurant only shows for customers in a particular part of the city, giving the driver a better chance of delivering all of the meals before any of them turn stone cold. Importantly, to incentivize customers, a discount on the order is offered. There's also a countdown clock that shows exactly how long they have left to order before the discount disappears, a mechanism that could certainly persuade (or pressure?) someone with a rumbling tummy to hit the order button more quickly."

The story says that the system is being tested in India, with no word on when it might come to the US.

KC's View: There is a reason that Uber Eats is seen as the jewel of the company's operations, and this illustrates how the company is trying to simultaneously manipulate and satisfy customer behavior.
CNBC reports that car rental company Hertz has made a deal with biometric security company Clear to allow people "to use fingerprint scanners and facial recognition technology instead of showing a physical ID."

To this point, Clear's service has been largely available just in airports and at some stadiums around the country.

According to the story, "The Fast Lanes – the first use of biometrics by a major car rental firm – will be rolled out across more than 40 U.S. locations in 2019 … The fast lanes are available for use by Hertz Gold Plus Rewards program members, as well as CLEAR members who opt to upgrade."

Hertz says that "the system will cut down on the time taken to collect a rental car by at least 75 percent, with the potential to get drivers through the exit gate and on the road in 30 seconds or less."

KC's View: I'm a big fan of Clear … I've been a user pretty much sine it launched, stayed with it through the bankruptcy, and now find that it is a terrific option when I get to the airport and TSA Pre-Check lines seem increasingly long.

If they want to streamline the car rental process, I'm good with that. And I find myself wondering if Clear could create an alliance with one of the companies trying to develop checkout-free technologies and apply its technology to the shopping experience.

The Wall Street Journal has an excellent piece about how "a consumer backlash against disposable plastic plus new government mandates and bans in places such as zoos and department stores have the world's biggest bottled-water makers scrambling to find alternatives."

This is a turn of events working against the trends of the recent past - bottled water sales are up, largely driven by single-serve plastic bottles.

But, "images of bottles overflowing landfills and threatening sea life have soured consumers. Plastic drink bottles are the third most common type of item found washed up on shorelines - behind cigarette butts and food wrappers - according to the Ocean Conservancy, a nonprofit."

As companies, institutions and governments of various sizes start banning plastic bottles, it means that the companies that have been depending on them for much of their growth have to find a way to make a better bottle.

Which isn't easy. And you can read all about it here.

In an effort to expand and diversify its portfolio, Procter & Gamble yesterday acquired Walker & Company Brands, described as a five-year old startup "making health and beauty products for people of color." The brands for which is known include Bevel, a men's shaving brand, and Form, a women's hair care brand.

Terms of the deal were not disclosed. Founder/CEO Tristan Walker, who used to run business development for Foursquare, will remain with the company, which will relocated from Palo Alto, California, to Atlanta, Georgia, as part of the deal.

The New York Times has an interview with Walker in this coming Sunday's "Corner Office" column, in which he talks about his impetus for starting the company and how consumer product companies are different from technology companies:

"I don't think there's much difference. Instead of selling bits, I'm selling physical products. The need here was really the fact that I could not shave. Why are there no products that really understood the fact that I have curly hair? The shaving products that exist cut the hair beneath my skin, and that hair grows into my skin, leading to some irritation issues. That's just a really simple insight.

"I've also been frustrated for years about having to walk down what's called an 'ethnic beauty aisle,' which is always next to the beauty aisle. There's not a great assortment of products. The products are usually dirty. There's a photo on it of some 65-year-old bald black dude in a towel drinking a Cognac, petting a tiger, and it's absolutely ridiculous.

"People of color spend more money on this stuff than anyone else. So I said, 'I'm going to respect those things before anybody else does, and really create a long-term view around celebrating this beautiful community and culture'."

KC's View: That's what innovation looks like.

The question that I think more companies need to ask themselves is why they need to acquire this kind of insight as opposed to growing it organically.

Corporate Drumbeat
"It's a bad time to be in the business of selling groceries, and the headlines are as bleak as you'd expect: "The Retail Apocalypse Is Coming for Grocery Stores" ... "Grocery Retail 'Bloodbath' Is Here" ... Conversely, it is a great time — arguably the best time ever — to buy groceries."
- New York Magazine/Grub Street


At Samuel J.Associates, we have a response to this assessment:

Bull.

We think it is a great time to be selling groceries, whether you are a retailer or a supplier. That's because a more educated and demanding consumer, no matter the demographic, will reward businesses that are innovative, disruptive, and in touch with what people need, even if they don't know they need it.

And, we know this: Those businesses require, and are fueled by, great people.

People who don't just get the job done, but who set the tone in an organization, establish cultural and business priorities, who build teams, and who are able to not just adapt to competitive realities, but see the future and thrive in it.

And yes, ignore dire warnings about a "retail apocalypse" and see opportunities.

At Samuel J. Associates, we have a winning record of connecting great talent and innovative businesses ... as well as innovative talent with great businesses. We exceed your expectations so that you can do the same thing for your customers.

No bull.

Click here to find out more.

• The Wall Street Journal reports that "Walmart and Express Scripts yesterday announced that they have extended have extended their network agreement to provide access to Walmart's prescription services for Express Scripts clients' covered members.

"The three-year agreement will help both insured and uninsured customers save money on prescription drugs, the companies said Wednesday.

"Walmart also will participate in Express Scripts's pharmacy-savings program called InsideRx, which provides discounts, on average of 40%, to uninsured Americans using brand-name prescription drugs."

• CNBC reports that "Amazon is teaming up with Omron Healthcare, which makes blood pressure monitors, as it looks for new ways to bring its voice technology into health care … Omron's blood pressure monitor, which sells on Amazon's marketplace among other channels, can now integrate with the Amazon Alexa voice assistant to help people better manage their disease."

The move, CNBC writes, "comes as Amazon makes a deeper push into health and wellness in many parts of the company … Amazon has an Alexa team staffed with more than a dozen people focused on applications ranging from maternity care to chronic disease."

• No question that Amazon has dominated much of the business news cycle in recent weeks with its announcement that, after a very public year of analysis, inspections, and, of course, the proffering of various incentives, it would split its second North American headquarters - dubbed HQ2 - between Long Island City in New York and Northern Virginia.

So it was interesting to see the following story this morning in the Wall Street Journal:

"Apple Inc. plans to invest $1 billion building a new corporate campus in Austin, Texas, that could eventually create 15,000 jobs, the company said Thursday, as the iPhone maker seeks to make good on its promises to strengthen its contributions to the American economy.

"The Cupertino, Calif.-based technology giant said it would establish new offices in three cities - Seattle, San Diego and Culver City, Calif. - where it would add more than 1,000 employees in each place. Over the next three years, Apple said it would add hundreds of jobs in cities including New York, Boston and Portland, Ore.

"Apple's new campus in Austin, where the company already has two large offices, will initially hire 5,000 workers. That total could triple in future years, Apple said."

No muss, no fuss. Not as much money being spent, but also just a different way of doing things.

Industry Drumbeat
In this fast-paced, interactive and provocative presentation, MNB's Kevin Coupe challenges audiences to see the fast-evolving retail world through a radical new technological, demographic, competitive and cultural prism. These issues all combine to create an environment in which traditional thinking, fundamental execution, and just-good-enough strategies and tactics likely pave the path to irrelevance; Coupe lays out a road map for the future that focuses on differential advantages and disruptive mindsets, using real-world examples that can be adopted and executed by enterprising and innovative leaders.

Constantly updated to reflect the hand crafted news stories covered and commented upon daily by MorningNewsBeat, and seasoned with an irreverent sense of humor and disdain for sacred cows honed over 30 years of writing and reporting about the best retailers and retail strategies, "RETAIL 2020/WTF" will get your meeting attendees not just thinking, but asking the serious questions about business and consumers that serious times demand. See a sample at left…



Here's what Lori Stillman, Executive Vice President - Analytics, Insights and Intelligence, Advantage Solutions, has to say about a recent appearance:

"Kevin joined us as a moderator and facilitator for a two-day client executive event we hosted. His role in the success of the event went far beyond his time presenting and sharing his great wisdom and content. From the moment our planning process began and we selected Kevin as a key part of our program, he dove in and worked with our team to review session topics, ideate on programming and help ensure our overall event delivered on the goals we had established. His quick wit, deep industry knowledge and ability to synthesize conversations into key take-aways enabled us to hit a home run!"

And, from Joe Jurich, CTO of DUMAC Business Systems:

"Kevin recently participated in and spoke at our Annual User Conference.  Our group consisted of independent retailers, wholesalers, and software vendors – a pretty broad group to challenge in a single talk.  While his energy, humor, and movie analogies kept the audience engaged, his ability to challenge them to think differently about how they go to market is what really captured them!  Based on dinner conversations afterward, he appeared to have left everyone thinking of at least one new approach to their strategy!"

Want to make your next event unique, engaging and entertaining? Contact Kevin at kc@morningnewsbeat.com , or call him now at 203-253-0291.
Yesterday, MNB took note of a Bloomberg report on a new Federal Reserve study saying that Millennials, "long presumed to have less interest in the nonstop consumption of goods that underpins the American economy, might not be that different after all." In fact, the study says, their spending habits are pretty much the same as previous generations. That's the good news.

The bad news? They have less money to spend at this point in their lives.

Prompting one MNB reader to write:

The Bloomberg study findings are interesting if only because it refutes hypotheses that were perhaps built on studying one group too much and missing the larger picture. Here is what I mean.

We have heard how educational debt is dramatically different than in previous generations and is crippling the spending power of those that carry this debt. This has disproportionately fallen on Millennials causing them to delay larger purchases such as housing. Then the group waits to start a family as they are either in school or trying to figure out how to afford a place to live that they would feel comfortable raising kids. I don't feel it is a big jump from there to conclude that changes in life stage timing and economic status explain most of the variances in behavior that are not explained by technology that impacts the general population.

What I have noticed is that the way research has changed and how the Millennials respond to being asked to give feedback is very different from previous generations. I frequently find answers that are more aspirational than realistic.

Perhaps that is the real difference, a generation that grew up branding themselves on social media for the world to see. Internet trolls simply do not have the same effect on behavior as the kids on the block that know you weren't on a tropical vacation because you were in the ball field with them dropping the pop fly despite the picture you doctored and posted online.



We referenced yesterday a Bloomberg report that Amazon-owned Whole Foods "ranked worst in a study of five major U.S. grocery chains for chemicals it uses in packaging at its popular hot-food bar. In response, the company said it has removed all the coated paper products in question and has started a search for new biodegradable packaging."

One MNB reader responded:

Wow, I think the Whole Foods brand could suffer from this in a big way. I would always have thought that they would be on the front line of ensuring the safety of food due to the promise that they are better than average. It turns out they were far from average in the wrong direction.



And finally, regarding a report that Walmart is testing a burger-flipping robot that may have applications in its various foodservice operations, one MNB reader wrote:

I sure hope the risk of salmonella doesn't get out of control when Flippy doesn't wash its hands after every use.

I'm sure that it has an automatic cleaning function. Just as I'm sure that, in the event of a water landing, it has been designed to serve as a flotation device.
PWS 52