Join the MNB Community.
Get a Wake Up Call each morning...
Email:
Explore the MNB Archives
From The MNB Archives
Wednesday, January 09, 2019
Content Guy's Note: The goal of "The Innovation Conversation" is to explore some facet of the fast-changing, technology-driven retail landscape and how it affects businesses and consumers. It is, we think, fertile territory ... and one that Tom Furphy - a former Amazon executive, the originator of Amazon Fresh, and currently CEO and Managing Director of Consumer Equity Partners (CEP), a venture capital and venture development firm in Seattle, WA, that works with many top retailers and manufacturers - is uniquely positioned to address.

This week, we talk about new challenges to Amazon, privacy issues affecting Facebook and other online companies, and the next big thing…

And now, the Conversation continues…

KC: I've been fascinated to read a lot of the post-holidays Amazon coverage, because it seems to be all over the map - Amazon continues to blow everybody away, though grocery continues to be a problem in part because of stronger competition, so it plans to do more with its Whole Foods business, expanding it geographically so it can tighten its grip on consumers' e-commerce preferences.

In some ways, the coverage seems to suggest a company for which things are not going as right as in the past, but to me, it suggests that Amazon is simply facing inevitable realities as it grows and other companies do what they need to do to compete.  I do think its rumored plans to build on its Whole Foods business make a ton of sense, because if Amazon is good at something, it is being aware of its differential advantages and knowing how to exploit them.

I think I wrote last week that these could be dangerous times for Amazon because things inevitably are going to get tougher and more challenging … that's life.  But the opportunities only are going to get greater, too, I suspect, and the challenge for everybody in the space is finding the "wow!" innovation that changes the game.  And I wouldn't bet against Amazon.

Tom Furphy: Happy New Year! We could write an entire book on this.

Amazon has gotten large enough, its experiments wide enough and initiatives so advanced that more of the experimentation is happening in view of the customer. I would estimate that somewhere over 90% of Amazon's experimentation happens inside the company, away from the customer's view. As they become larger, the 10% that customers can see become larger bets, higher profile and more plentiful. Amazon is comfortable with that.

I won't say that it will always be smooth sailing and that Amazon will be immune to failure and to competitive losses. They fail all the time. And they are as vulnerable as anyone. They will continue to make many mistakes, and some will be costly. Along the way they will bring some "wow" innovations to market. And they'll keep raising the bar so that today's wow is tomorrow's table stakes.

However, I would also warn that most of the growing pains that we see publicly are not necessarily signs of weakness or vulnerability – certainly not any more than Amazon has traditionally had weaknesses and vulnerability. I don't think anyone in the industry – competitors, suppliers or pundits – should take any joy or solace in these public struggles. It's all part of innovation and growth. It's how they're wired.

The Whole Foods expansion seems consistent with Amazon's general growth strategy. They like to experiment and iterate on a small scale, which they did initially in just a few markets, then expand sequentially once the various service elements are proven. We're a year-and-a-half post the acquisition. That seems like a good timeline to reach this upcoming expansion. And expansion supports Amazon's overall strategy to solve all of their customers' shopping needs, with Grocery being a key pain point and large share of wallet.

Finally, I also agree that Amazon's competitive set in the Grocery category is getting better. Grocery delivery or pickup is available in almost all reasonably sized markets in the US. The work that Walmart, Kroger, Target and others are doing is admirable. As retailers get better at serving customers on their own or with partners, it will put increasing pressure on Amazon to be better. And vice versa. In the end, that's a win for everyone.

KC: I'm curious to what degree you think that Facebook's various problems - all of them related at their core for caring far more about profits and capitalizing on user information that it does about use privacy concerns - are likely to have an impact on how consumers see all technology companies.  Is it inevitable - or at least likely - that if consumers learn not to trust Facebook, they'll be more inclined not to trust Google and Apple and Amazon and so forth…?  And how should these companies build their cultures and structure their internal DNAs to have the right priorities and, at the same time, the right approach to transparency?

TF: Yes, I do think it's a risk that Facebook's privacy issues will impact consumer trust in other technology companies. I think that there is a pervasive concern that companies may exploit user data or be vulnerable to attacks or other misuse of the data. And it's justified.

However, I also believe that most of these other companies take security and privacy very seriously. They understand how critical it is to success. They teach it to their employees and partners from the beginning and they embed it in all they do. It's their lifeblood.

The synergy between data and utility is powerful. As long as the data is kept secure and used to the clear benefit of the customer, I think you will continue to see services get more personalized and provide more utility to users. When companies understand that, protect the data, and are allowed to push the envelope on capabilities, wonderful things can happen.

That's not to say that there are not risks out there and that all companies can be trusted. Companies must earn and maintain that trust over time. New companies should be viewed with some level of skepticism, have their policies challenged initially and then prove their credibility over time by keeping data secure and appropriately using the data in expanding ways to their customers' benefit.

KC: Since this is the first Innovation Conversation of the new year, let me ask you this - what do you think will be the driving theme behind the next big consumer-centric technological innovation?  I'm not asking for a specific prediction about a specific product … but rather what you think will be the big problem that will be addressed by a big solution?

TF: I think we're going to see the biggest consumer-centric innovations occur in health care. We know that some of the highest search volumes on Google are related to medical conditions. People want to take care of themselves without the cost and convenience burden of the traditional office visit. At the same time, connectivity to the human to measure health and wellness indicators is getting quite advanced via IoT devices, wearables, online engagement, AI and machine learning. This is the perfect match between human need and market capability. And it's going to feed on itself in 2019 and beyond.

There is a massive opportunity for retailers and brands to participate in this movement. As consumers evaluate and manage conditions with trusted online experts, retailers can provide access to prescriptions and products to support care. Retailers can be wellness advisors, nutritionists, chefs and product experts. The data that will be generated from these platforms, while being kept safe, can be used by retailers to further personalize and improve their service to shoppers. And manufacturers can use the data to develop new products and formulations to meet patient/shopper needs.

It's a massive industry that is ripe for disruption. I think we'll see large strides forward in 2019.

The Conversation will continue…

by Kevin Coupe

Eataly has opened its sixth location in Las Vegas, a 40,000 square foot store in the MGM Park hotel that veers away from the pattern it established in its earlier versions in New York, Chicago, Boston and Los Angeles … a move, I think, that speaks well of management's willingness to break the mold a bit.

Rather than put a strong focus on the marketplace aspect of the business, which has featured high-end, imported Italian packaged groceries, the las Vegas Eataly instead puts almost all the focus on foodservice … which makes sense since the vast majority of its shoppers who are going to eat there or bring the meals and wines back to their rooms but don't have any place to cook.

As you can see in the pictures below, the Las Vegas Eataly features a half-dozen counters featuring pastas, pizzas and a variety of other prepared meals, as well as three bars and a "chef's table" designed to offer a more educational entertainment experience. Sure, there are groceries available - 5,000 items, more or less - and a strong wine department.

But mostly, this is an Italian restaurant/upscale food court on steroids … and I think it works, especially because unlike some other versions, the Las Vegas layout gives it room to breathe. (I've always felt like New York and Boston feel like 20 pounds of sugar crammed into a 10-pound bag. Chicago is my favorite, mostly because it is roomier. But this is just one guy's opinion, and I know retailers who disagree with me.)

It will be interesting to see if the Las Vegas experience influences future Eataly outposts, or whether, to borrow a phrase, what happens in Vegas stays in Vegas.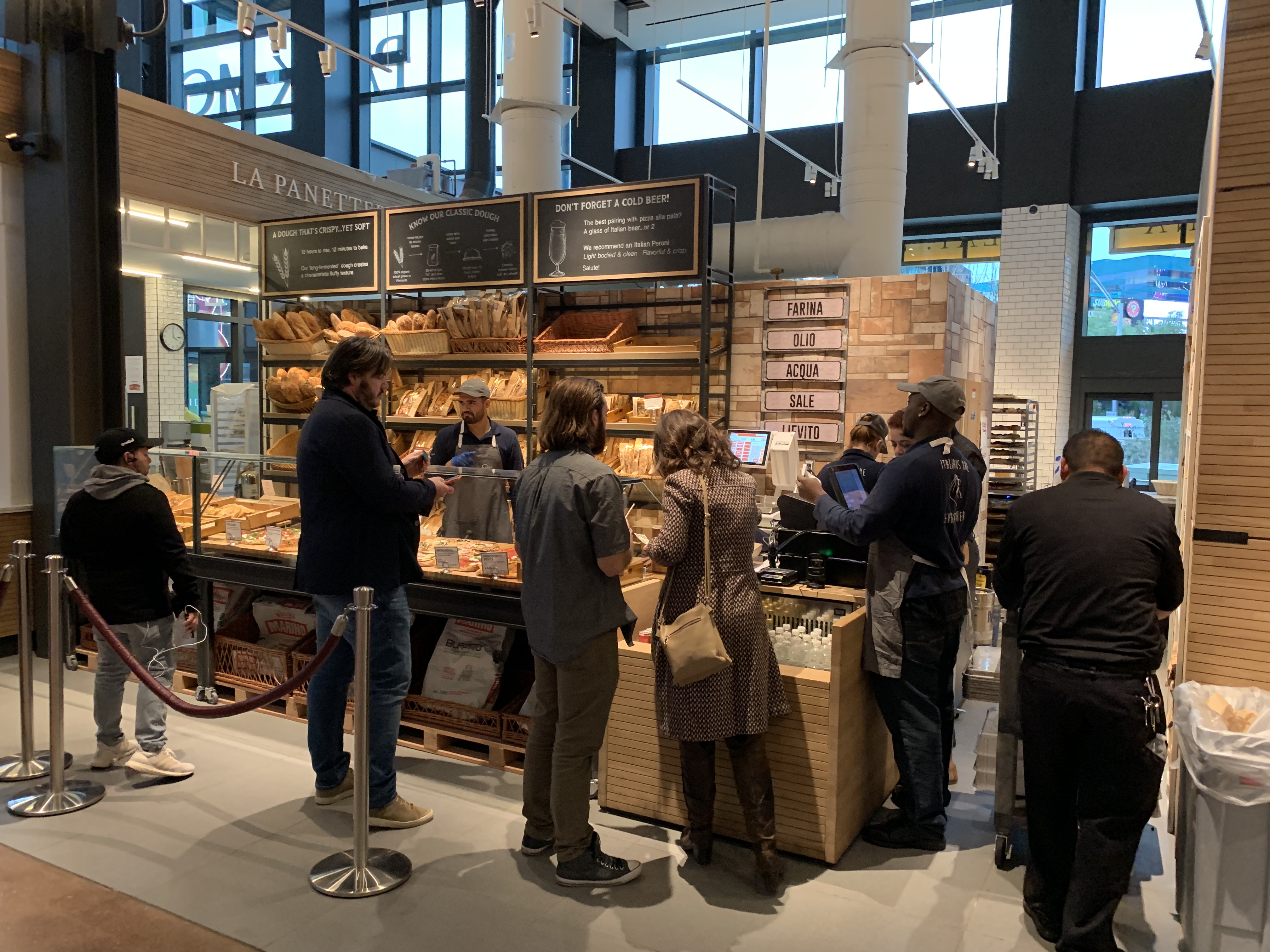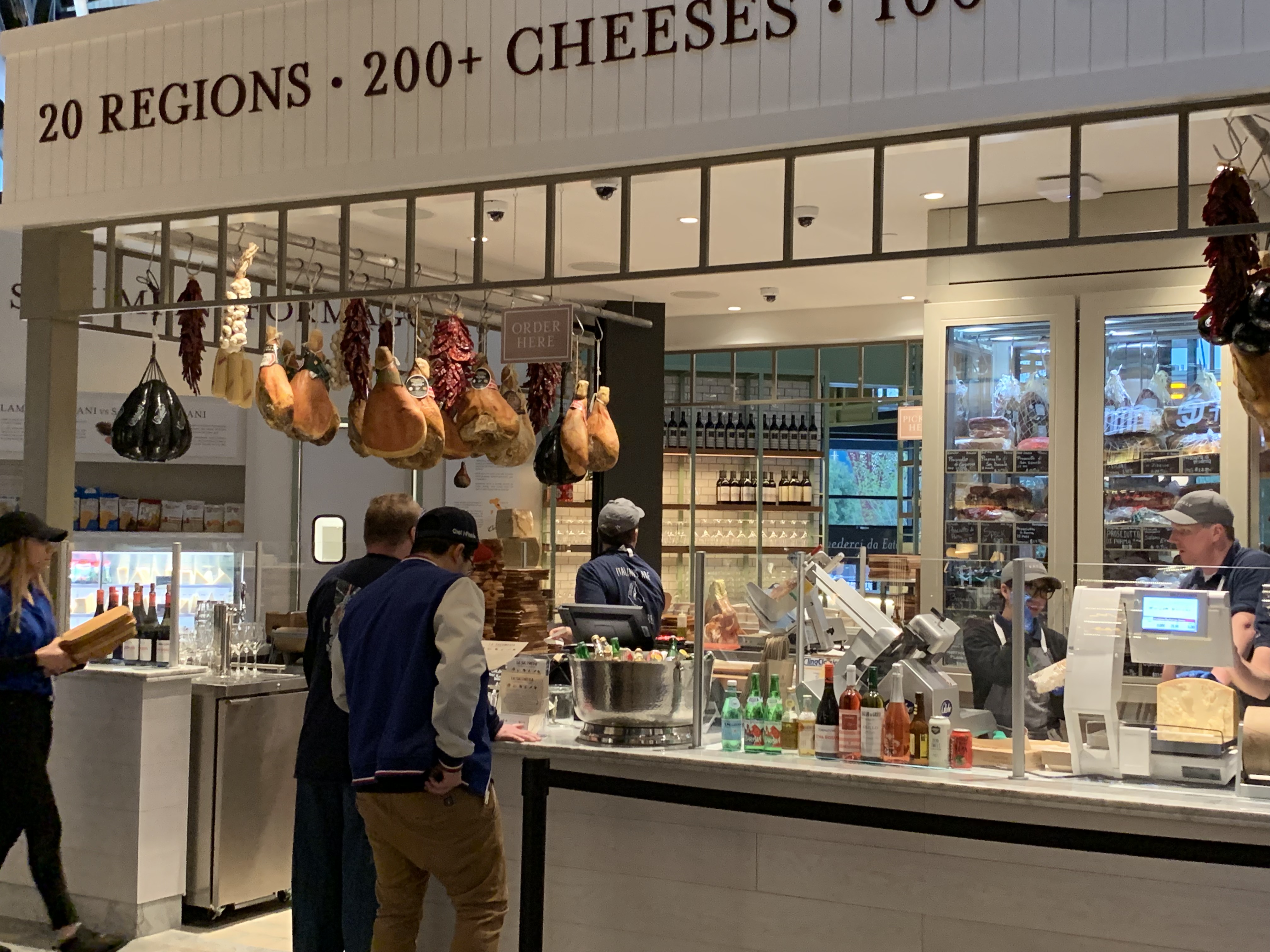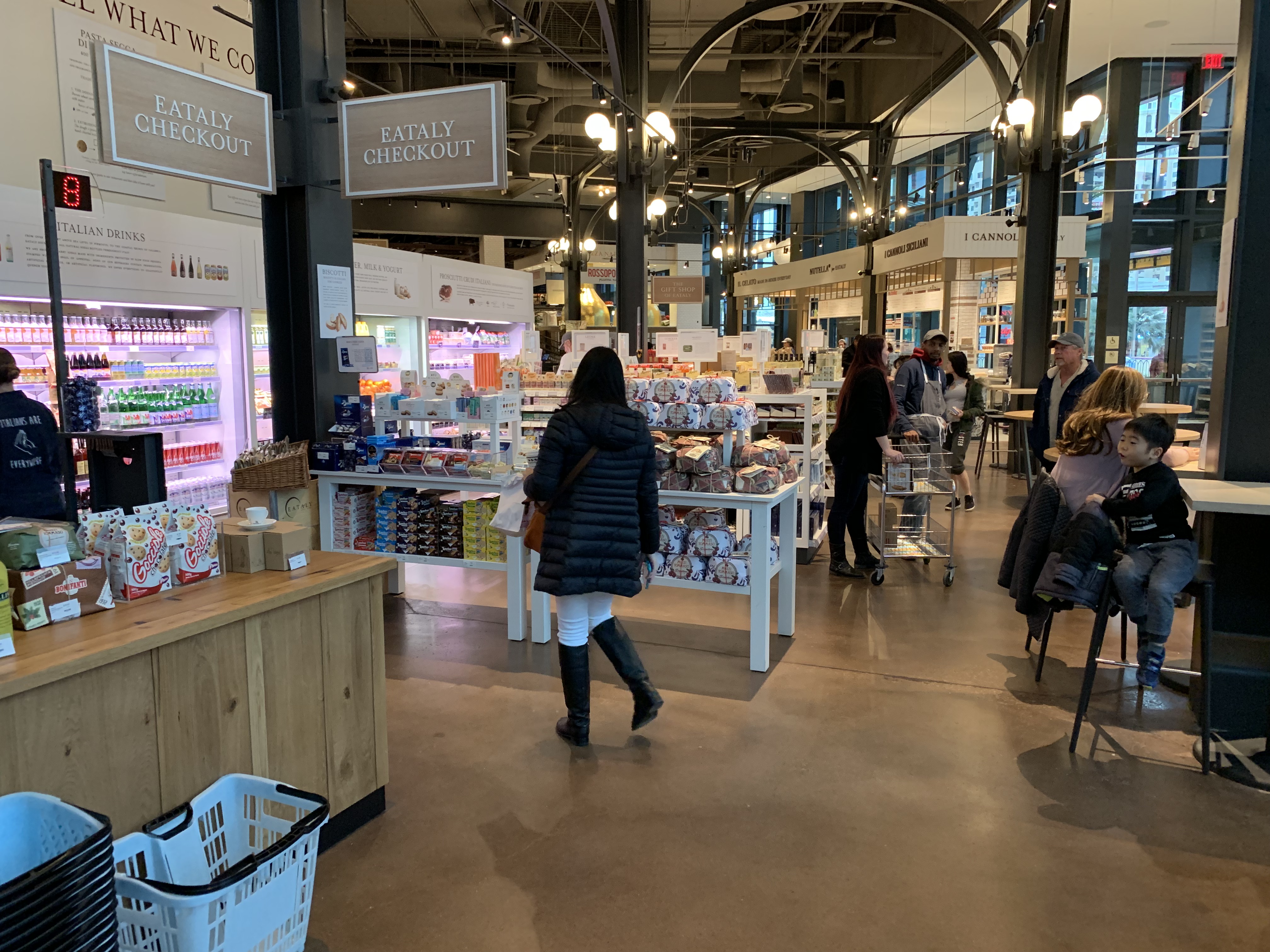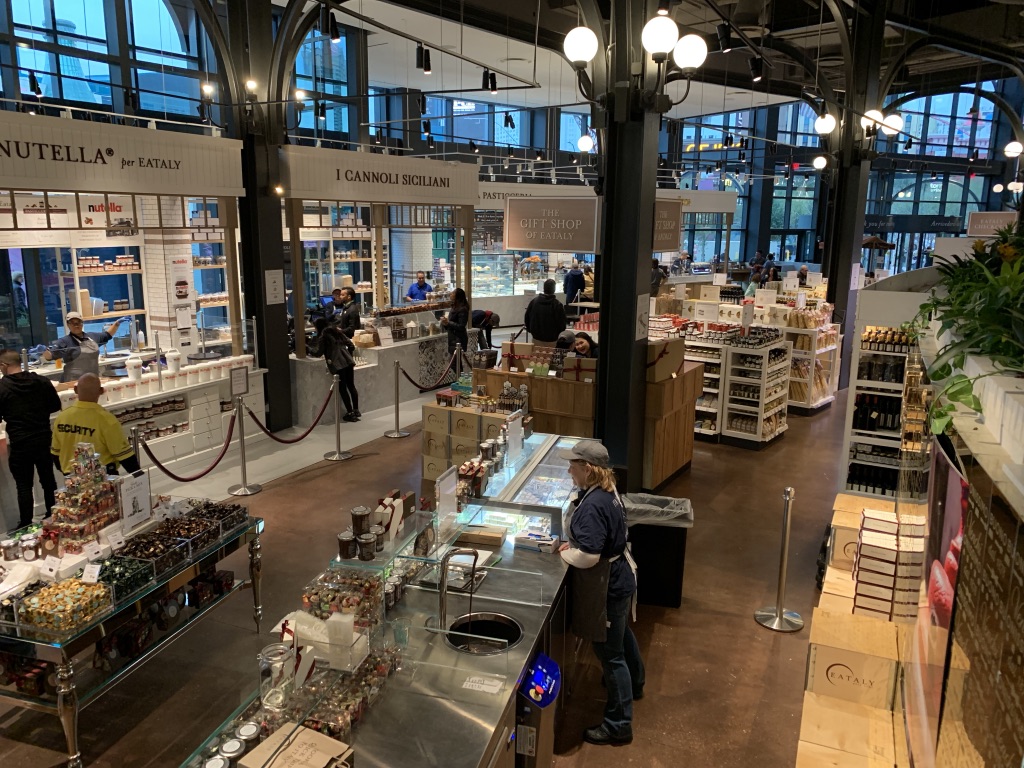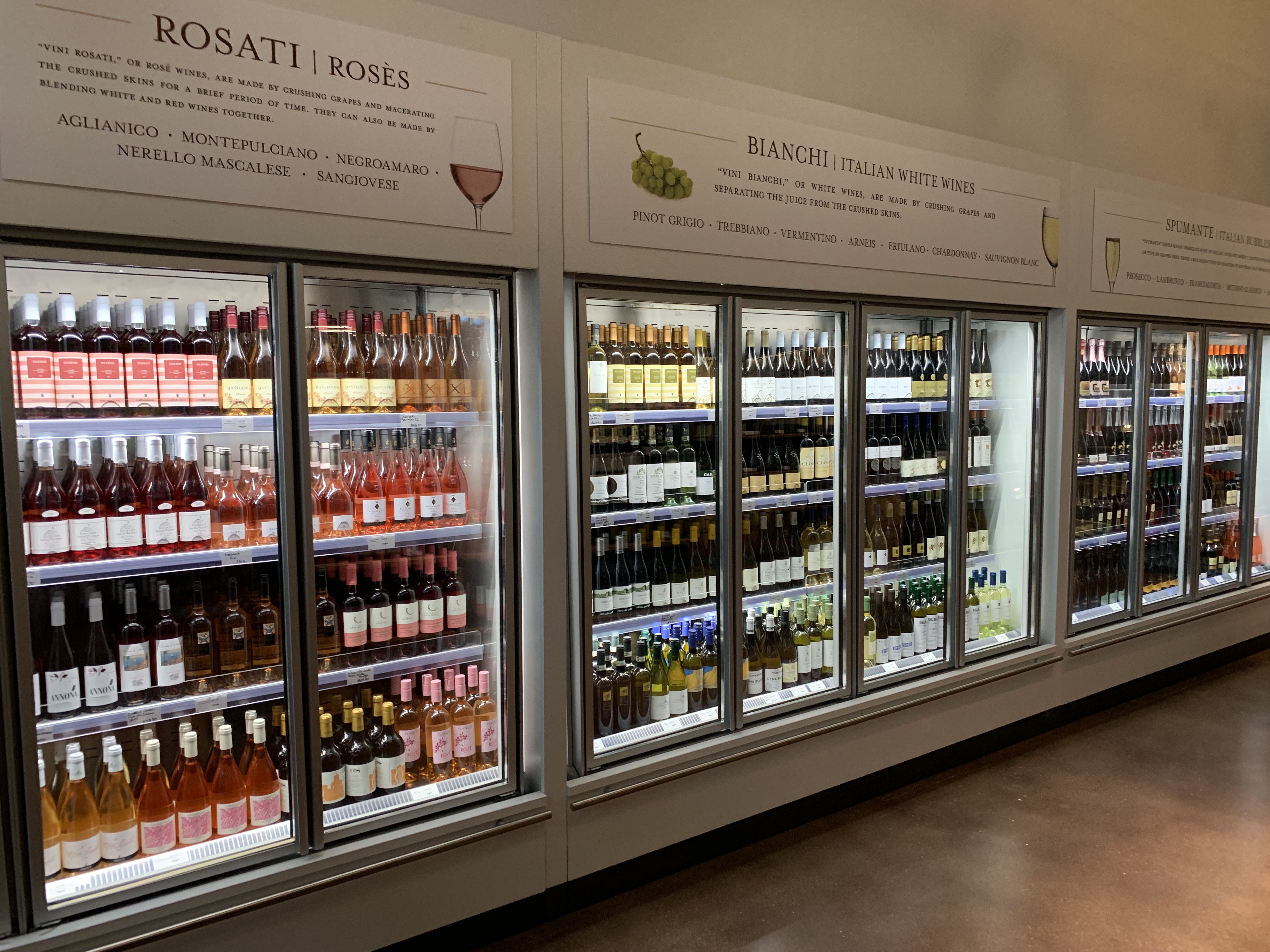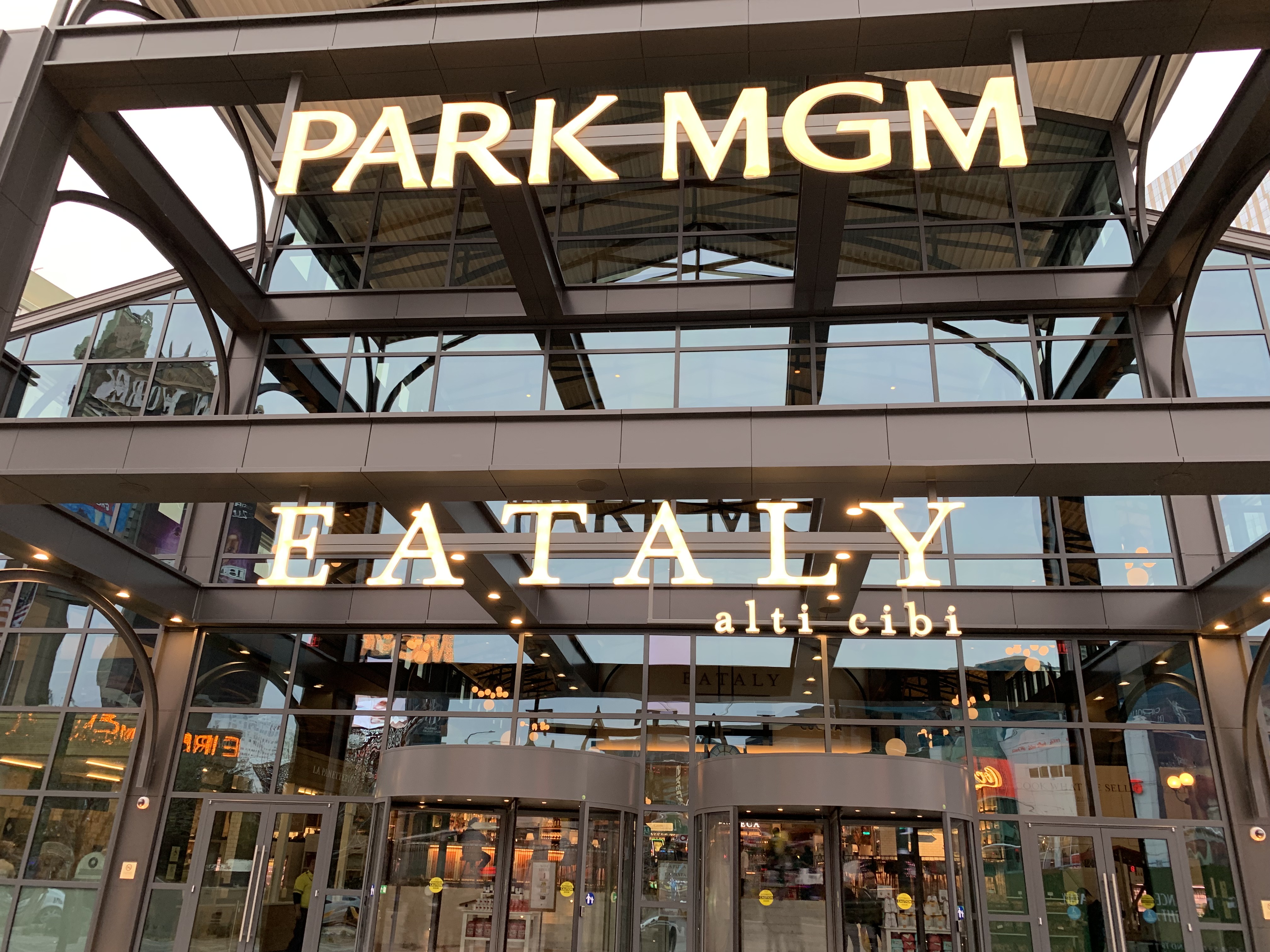 CNBC reports that Walmart is expanding its testing of autonomous vehicles to deliver groceries, working now with Udelv on a pilot program in Surprise, Arizona. The story notes that "Walmart has already announced other pilot programs with self-driving car companies, including Ford and Alphabet's Waymo."

Walmart has been rapidly expanding its e-commerce business, and, the story notes, "plans to end this fiscal year with an online grocery delivery option in roughly 100 metropolitan areas, reaching more than 40 percent of U.S. households. For 2019, it plans to add that to another 800 stores."

KC's View: I saw a presentation at CES this week in which a Toyota executive said that his company was transforming from being a traditional car and truck company into being a "mobility company," saying that we eventually will get to the point it will be less about getting people to things than getting things to people … which is why the notion of autonomous cars is so powerful. It'll take a long time to get there, I suspect, but there is little question that this is where things are going.

Seafood Source reports that Stew Leonard's has been hit with a lawsuit over seafood that it sold that was not what it said it was.

Last month, the New York State Attorney General's office issued a report saying that seafood mislabeling is "rampant" across the state, and accused five chains - Food Bazaar, Foodtown, Stew Leonard's, Uncle Giuseppe's, and Western Beef - of mislabeling more than half their seafood.

According to the Seafood Source story, "Shelby Franklin, a New York consumer, is suing Norwalk, Connecticut-based Stew Leonard's over its allegedly mislabeled wild sockeye salmon and red snapper.

"The class action complaint, filed in U.S. District Court for the Eastern District of New York, alleges that Stew Leonard's 'routinely took advantage of consumers' preferences for certain fish species and characteristics by labeling and passing off low-demand, less healthy, and less environmentally-friendly fish as more desirable, healthier, and more sustainable varieties of fish … In making the false, misleading, and deceptive representations and omissions described herein, defendant knew and intended that consumers would pay a premium for products labeled as red snapper and sockeye salmon over other, less desirable, fish products."

In a prepared statement when the original AG report was issued, Stew Leonard Jr. said that "two years ago, Stew Leonard's started importing what we believed to be red snapper. It had a red hue and it was snapper. Until today, my family and I had no idea that an imported snapper couldn't be called a 'red snapper,' as only domestic snapper is permitted to be called 'red snapper' … We immediately changed our signage and our labels once we were alerted to this issue earlier today by the New York Attorney General's Office. We have 25 different species of fish on our fish bars at Stew Leonard's and this is the first time anything like this has ever happened."

Stew Leonard's has not commented on the lawsuit.

KC's View: I'm assuming that in addition to changing the signs, Stew Leonard's and the other companies also changed their seafood providers. Because to have kept the same providers - which were really responsible for the fraud - would've been unwise, to say the least.

In the end, retailers have to remember, customers always are going to hold them culpable when these kinds of things happen. There's really no such thing as plausible deniability in these cases … as a shopper, I expect the retailer to know and to protect my interests. (For the record, I've bought plenty of seafood - especially a lot of salmon - from Stew's over the years. I'm disappointed in the AG study, but it would never occur to me to sue anybody … and I won't be joining any class action suit. That's just not who I am.)

I would remind everyone what Mike Spindler, CEO of the Fulton Fish Market, told MNB back when the AG report was issued - that "the seafood industry is purposefully opaque, which is how companies with big time efforts around authenticity and sustainability (Kroger, Whole Foods) get  fooled." That's the reason that Fulton Fish Market defines itself as "an information Tech company that STARTS with the information.  Anything that is on our consumer site is EXACTLY what it purports to be."

That's critical. Food companies can't just be food companies. They have to be information companies, and technology companies. That's the price of doing business - transparency that represents the customer's best interests.

The Dallas Morning News has an interview with Jim Sud, Whole Foods' executive vice president of growth and business development, in which he says that he believes that the retailer's "whole paycheck" reputation is fading as a result of Amazon's ownership and efforts to reduce prices. "Whole Foods prices have been reduced twice and another round of price cuts are coming, Sud said."

According to the story, "Sud said he always thought it was an unfair rap because high quality products sold at Whole Foods conform with such things as animal welfare and seafood sustainability certifications. Stores also exposed shoppers to new items and they loaded up their carts, he said."

Sud also said in the interview that "Whole Foods couldn't invest in data and technology … Post-Amazon, efforts were made to have one system in all stores replace several different ones cobbled together from its fast pace of acquiring regional competitors … Now its stores have a loyalty program linked to an Amazon Prime credit card and phone apps. Electronic tags are being added to store shelves." And, he said, "Amazon has reinvigorated Whole Foods' customer service focus. 'Pre-merger when we were under financial pressure, we had dropped that ball,' he said."

KC's View: I haven't noticed it so much in my local Whole Foods, but I know plenty of people around the country who feel that while prices may be a bit lower, Whole Foods has lost something off its fastball since being bought by Amazon. And while there are discounts to be had, I'm very careful about what I buy at Whole Foods, and if I were Sud, I wouldn't get complacent about the whole price thing.

Bloomberg reports that even as Sears Holdings prepares for a possible liquidation, its chairman, Eddie Lampert, will get one more shot at preventing that scenario and keeping at least some of it in business.

According to the story, Lampert "must put up $120 million by Wednesday to get a chance to take part in an auction against other bidders, Ray Schrock, Sears's lead attorney, said at a court hearing Tuesday. Of that amount, $17.9 million is non-refundable, he said … Lampert will be able to use debt he controls toward the purchase, a process known as credit bidding, Schrock said. But the company will reserve the right to review that offer and compare it to others. Bankruptcy Judge Robert Drain said that means Lampert's use of a credit bid has not been pre-approved. The billionaire's $4.4 billion offer for selected stores, rejected last week, was funded partly by the conversion of debt to equity."

Sears Holdings - which operates both Sears and Kmart stores - declared bankruptcy with $11.34 billion in debt. Lampert has argued that to allow it to collapse completely would be allow 68,000 jobs to vanish, though he's also made the case that his largesse should be rewarded with protection from future lawsuits filed by disgruntled creditors.

KC's View: This seems more like death by a thousand cuts than a plan with any sort of real possibility of success. Even if Lampert succeeds in keeping Sears from liquidation, his incompetence as a retailer - proven throughout his ownership of the company - almost certainly will continue to doom it to certain death … for all practical purposes, it already is obsolete.

The Wall Street Journal reports that activist investor group Starboard Value is pushing Dollar Tree, in which it holds a small ownership stake, to sell its Family Dollar stores - the same stores that it acquired for $9 billion four years ago after a battle with Dollar General.

The story notes that while Dollar Tree has tried to invest in the Family Dollar stores, sales at the units have suffered because of "poor product selection and unhappy workers," which have created a sense of neglect.

Meanwhile, it appears that Dollar General's losing to Dollar Tree in the battle to buy Family Dollar may have been the best thing that could've happened to it. Already the nation's biggest dollar store chain, Dollar General has used the money it didn't spend in the acquisition to make other investments, including the opening of thousands of new stores around the country.

The antitrust issues that were partly to blame for Dollar General not winning the acquisition battle four years ago are likely to prevent it from buying any part of Family Dollar, the Journal writes, which means that private equity seems like the most likely path if Dollar Tree bows to the investor pressure.

Axios reports that "Amazon is quietly piloting a program to let brands like Maybelline and Folgers pay to send free samples to consumers — all based on what the retail giant already knows they're likely to buy.

"Why it matters: Turning free samples into new targeted ads plays to Amazon's strength as a trusted delivery service of everyday goods, something Americans already expect from the company. Amazon is betting the sample strategy is something its biggest competitors — Google and Facebook — can't match."

The story says that "samples of new products are sent to customers selected using machine learning based on Amazon's data about consumer habits, according to recent job postings and details listed on its site … Analysts predict that offering consumers samples of products in the convenience of their homes also opens up opportunities for Amazon to sell more packaged goods and products."

KC's View: Amazon may be able to turn sampling into an advantage, but it isn't like this is an advantage not available to traditional retailers. In fact, sampling is a great way to market product - if something smells good and looks good and tastes good, the odds are a lot better that people will buy it. The problem has been that rather than use sampling as a key tool to sell, retailers instead have seen as a tool to get money out of manufacturers … if they don't get paid, they don;'t sample. I'd think that just selling more product, creating a more compelling store experience, and staying in business would be enough, but maybe that's just me.

Corporate Drumbeat
"It's a bad time to be in the business of selling groceries, and the headlines are as bleak as you'd expect: "The Retail Apocalypse Is Coming for Grocery Stores" ... "Grocery Retail 'Bloodbath' Is Here" ... Conversely, it is a great time — arguably the best time ever — to buy groceries."
- New York Magazine/Grub Street


At Samuel J.Associates, we have a response to this assessment:

Bull.

We think it is a great time to be selling groceries, whether you are a retailer or a supplier. That's because a more educated and demanding consumer, no matter the demographic, will reward businesses that are innovative, disruptive, and in touch with what people need, even if they don't know they need it.

And, we know this: Those businesses require, and are fueled by, great people.

People who don't just get the job done, but who set the tone in an organization, establish cultural and business priorities, who build teams, and who are able to not just adapt to competitive realities, but see the future and thrive in it.

And yes, ignore dire warnings about a "retail apocalypse" and see opportunities.

At Samuel J. Associates, we have a winning record of connecting great talent and innovative businesses ... as well as innovative talent with great businesses. We exceed your expectations so that you can do the same thing for your customers.

No bull.

Click here to find out more.

The CBC reports that Canadian drug store chain Shoppers Drug Mart has launched an online platform for selling medicinal marijuana, though for the moment it only will be available to people living in Ontario.

According to the story, "Patients will be required to take a medical document similar to a prescription to an Ontario pharmacy to begin the process.

"Specialized advisers will then contact patients, review their medical history and provide support with online registration and product selection.

"Shoppers Drug Mart says it has signed supply agreements with 10 licensed producers of dried cannabis and cannabis oil and will provide products and medical accessories."

KC's View: I recommend to you a piece in The New Yorker by Malcolm Gladwell entitled, "Is Marijuana as Safe as We Think?" - I found the piece to be thought-provoking, as so many of his stories are.

• The New York Business Journal reports that Wegmans has begun the process of hiring as many as 500 people, 150 of them full-timers, for the new 74,000 square foot store it plans to open in Brooklyn, New York this fall.

It will be Wegmans' first New York City store. The story notes that "Wegmans now operates 98 stores in six states (46 in New York) and has more than 48,000 employees. The Brooklyn opening is just one of three new locations set to debut in 2019."


• White Castle announced that it has started selling "the next generation Impossible Burger" - which contains no gluten, no cholesterol, and no meat - in select Las Vegas area restaurants, and will roll out the product at all of its 377 restaurants nationwide in coming months.

Impossible Burger COO David Lee said that "White Castle is Impossible Foods' largest customer so far."

• In The Netherlands, Ahold Delhaize announced the hiring of Farhan Siddiqi, formerly Chief Digital Officer at McDonald's, to be its new Chief Digital Officer.


• Raley's announced the promotion of Laura Croff, its senior director of Human Resources, to the role of Vice President of People.

If Walmart can use all sorts of cars from various movies and Tv shows to promote its click-and-collect service, as we noted here yesterday, then global retailer Spar can use Pierce Brosnan - best known for having portrayed James Bond in four movies - to promote its private label products.

Of course, as you can see from the video at left, Brosnan actually has been plugging Spar products for years.

Enjoy.
Industry Drumbeat
In this fast-paced, interactive and provocative presentation, MNB's Kevin Coupe challenges audiences to see the fast-evolving retail world through a radical new technological, demographic, competitive and cultural prism. These issues all combine to create an environment in which traditional thinking, fundamental execution, and just-good-enough strategies and tactics likely pave the path to irrelevance; Coupe lays out a road map for the future that focuses on differential advantages and disruptive mindsets, using real-world examples that can be adopted and executed by enterprising and innovative leaders.

Constantly updated to reflect the hand crafted news stories covered and commented upon daily by MorningNewsBeat, and seasoned with an irreverent sense of humor and disdain for sacred cows honed over 30 years of writing and reporting about the best retailers and retail strategies, "RETAIL 2020/WTF" will get your meeting attendees not just thinking, but asking the serious questions about business and consumers that serious times demand. See a sample at left…



Here's what Lori Stillman, Executive Vice President - Analytics, Insights and Intelligence, Advantage Solutions, has to say about a recent appearance:

"Kevin joined us as a moderator and facilitator for a two-day client executive event we hosted. His role in the success of the event went far beyond his time presenting and sharing his great wisdom and content. From the moment our planning process began and we selected Kevin as a key part of our program, he dove in and worked with our team to review session topics, ideate on programming and help ensure our overall event delivered on the goals we had established. His quick wit, deep industry knowledge and ability to synthesize conversations into key take-aways enabled us to hit a home run!"

And, from Joe Jurich, CTO of DUMAC Business Systems:

"Kevin recently participated in and spoke at our Annual User Conference.  Our group consisted of independent retailers, wholesalers, and software vendors – a pretty broad group to challenge in a single talk.  While his energy, humor, and movie analogies kept the audience engaged, his ability to challenge them to think differently about how they go to market is what really captured them!  Based on dinner conversations afterward, he appeared to have left everyone thinking of at least one new approach to their strategy!"

Want to make your next event unique, engaging and entertaining? Contact Kevin at kc@morningnewsbeat.com , or call him now at 203-253-0291.
Yesterday's MNB took note of Walmart's new ad campaign promoting its click-and-collect service, featuring a number of cars made famous in movies and on television - among them the Batmobile, the customized ambulance from Ghostbusters, and the DeLorean from Back to the Future - all racing to Walmart to pick up orders than had been placed online.

I commented that my only problem with the commercial - and this definitely falls into the category of nitpicking - was the cars that were left out:

Where was James Bond's Aston Martin? Burt Reynolds' Trans Am from Smokey and the Bandit? The Love Bug? Any vehicle from any Mad Max movie? A Tucker? The Ford Thunderbird from Thelma and Louise? Any Mini from The Italian Job? The truck from "The Beverly Hillbillies?" Chitty Chitty Bang Bang? The Gran Torino from The Big Lebowski? And, of course, the best movie car of all time, the 1968 Mustang from Bullitt? (I could go on … I would've loved to see a dark green 1968 Dodge Dart GTS, but almost nobody else would've gotten or even cared about that reference. Extra credit to anyone in the MNB community who does.)

One of the reasons I love this job is that I got a bunch of emails responding to that extra credit challenge.

From MNB reader George Denman:

One like that was modified for Mannix on his show.

Bingo.

From another MNB reader:

Mannix! Shouldn't every red blooded car enthusiast know this?

I think so.

From another reader:

Loved this commercial, Kevin, and my wife and I both agreed it was specifically aimed at our Gen X hearts. But I definitely second your call for the Bullitt Mustang and that 1968 Dodge Dart GTS, of course, driven by Joe Mannix!

It brought back memories for MNB reader Mike Eardley:

Mannix's Dart 340 GTS convertible, I had a 69 Barracuda, sister car but no convertible!

Joe Mannix actually drove Barracuda convertibles in seasons four, five and six. The Dart was in seasons two and three. For most of season one, he drove a customized Oldsmobile Toronado. (Olds never made a soft top for the general public.)

MNB reader John A. Conroy wrote:

The car from Mannix would have been a nice touch for those of us who love detective shows. But let's not forget the Grand Torino from Starsky and Hutch, Rockford's Firebird, Cannon's Lincoln Continental (maybe only memorable because it seemed to take him forever to get out), or Magnum's Ferrari.
 
The car most notably missing for me is the 1966 Lincoln Continental….aka the Animal House Deathmobile.

Hey, how about the Mustang from "Spenser: For Hire?"

MNB reader Brian Bollom wrote:

I believe this car was from the tv series Mannix.  Other cars left out that popped into my head, Eleanor from Gone in Sixty Seconds, General Lee from the "Dukes of Hazzard" (probably excluded for certain reasons but a famous car none the less),  the van from Cheech and Chong Up in Smoke, Milner's Deuce Coupe from American Graffiti, Toretto's charger from The Fast and the Furious, the list does go on and on.

Fun, huh?

MNB reader Brian Blank wrote:



Tough crowd.

And, finally, from another MNB reader:

First, thanks for sharing as I didn't see the Golden Globes. Yes, you are definitely nitpicking! The commercial is clever, funny and certainly get the point across. I also think the selection of cars was ideal cross section for young to older shoppers.  It's a great spot!

You do know that I was just having some fun, right? I actually really liked the commercial … I just like any excuse for bringing up "Mannix".

PWS 51