Join the MNB Community.
Get a Wake Up Call each morning...
Email:
Explore the MNB Archives
From The MNB Archives
Friday, January 11, 2019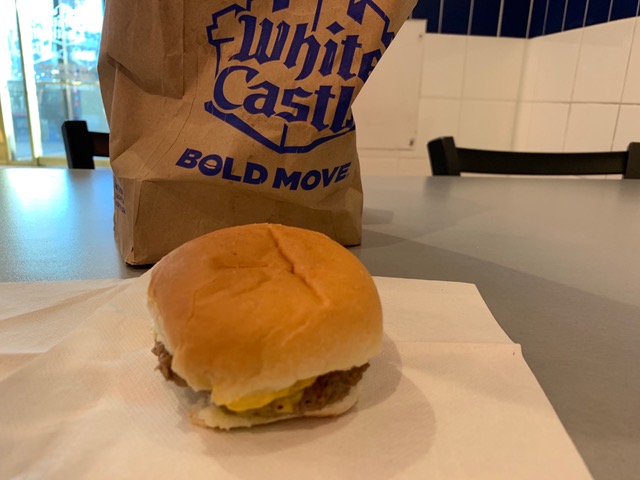 by Kevin Coupe


Earlier this week, we reported on how White Castle has started selling "the next generation Impossible Burger" - which contains no gluten, no cholesterol, is made from soy and potato protein and contains no meat - in select Las Vegas area restaurants, with plans to roll out the product at all of its 377 restaurants nationwide in coming months.

Impossible Burger COO David Lee maintains that "White Castle is Impossible Foods' largest customer so far."

Well, to be honest, I'm not sure that White Castle is doing Impossible Burger any favors.

Since I was in Las Vegas this week for the Consumer Electronics Show (CES), I decided to see for myself if this is a product worth eating. It took a certain amount of personal fortitude and commitment to do this, since my last White Castle experience was unfortunate, which is the polite way to describe it. (Ask Sansolo. He was with me.)

I've had an Impossible Burger, and I liked it. However, to be fair, I had it at the Irving Street Kitchen in Portland, Oregon, where I'm pretty sure they could make anything taste good … so that wasn't necessarily a good measure of what White Castle would do with the same concept.

But I was game.

I went to White Castle. Ordered one. (Though amazingly, there was not one sign in the place advertising its existence and availability. I had to ask.)

And I can tell you that while the burger may not have had any meat, it gave be the same crappy feeling in my stomach about 10 minutes after eating it. I'll spare you the details.

Some things never change.

Not only isn't this thing a burger replacement, but it isn't even passable as a veggie burger.

Like I said, I'm not sure that White Castle is doing the Impossible Burger folks any favors.

I should've gone to In-n-Out, which is about a half-mile to the south

Customer data expert dunnhumby, is out with its second annual Retailer Preference Index (RPI), which it says "surveyed 7,000 U.S. households to determine which of the top 56 largest grocery retailers have the strongest combination of financial performance and consumer emotional sentiment."

According to the results, Trader Joe's was again the top-rated grocery retailer.

The grocery retailers with the highest overall consumer preference index scores are: 1) Trader Joe's, 2) Costco Wholesale, 3) Amazon, 4) H-E-B, 5) Wegmans Food Markets, 6) Market Basket, 7) Sam's Club, 8) Sprouts Farmers Markets, 9) WinCo Foods, 10) Walmart, 11) Aldi, 12) Peapod, 13) The Fresh Market.

Here's the dunnhumby analysis of what earned Trader Joe's the top spot for the second year in a row:

"Trader Joe's is a prime example of a retailer making trade-offs to deliver superior Value … With its small format, lack of digital shopping and limited national brand offering, the retailer focuses on speed of in-store shopping and having a rich Private Brand offering.

'This bricks-and-mortar only, private brand approach minimizes costs and keep prices low, allowing them to reinvest in customer service, product quality and in-store experience.

"This strategy sacrifices reaching customers through a growing digital channel and breadth of assortment, and therefore losing on one-stop shop-ability and convenience. However, this loss is also their gain since it allows them to deliver what matters most to their customers."

And, dunnhumby makes the following broader observation:

Retailers that ramp up investment in digital must be cautious not to take their eye off the retail basics. Some retailers have achieved an excellent digital customer experience, but their financial performance has not benefited, while others with a focus on digital manage to thrive. Retailers missing any of the following are not maximizing the impact of digital investment: large scale, great price perception and a category DNA leaning toward center store items and non-grocery products.

KC's View: I'm willing to accept the dunnhumby analysis, though I'm not quite buying its conclusions … mostly because I'm always skeptical about "nation's best grocery store" studies.

They're just not fair, since not everybody has access to the same stores, and supermarkets can be so different in style and purpose - with entirely differentiated customer bases - that comparing them is kind of silly.

I mean, I'm not sure that Wegmans and WinCo belong on the same list - they operate in different parts of the country, have vastly different strategies and tactics, and appeal to entirely different people.

I also think it is a mistake to limit such studies only to "large" companies, since it often is smaller, independent stores that foster the strongest consumer emotional sentiments.

Is Trader Joe's a terrific store? Sure. For what it is. But would I feel a stronger emotional connection to it than to a Dorothy Lane Market or a Lunds & Byerlys or a Metropolitan Market or a Westborn Market or a bunch of other grocers I could name, if I could shop at any or all of them?

I think not.

Reuters reports that hedge funder Eddie Lampert, the chairman of bankrupt and close-to-oblivion Sears Holdings, has "submitted a revised takeover bid of more than $5 billion for the company," up from his previous bid of $4.4 billion, which was rejected by the company in favor of liquidation.

The story says that "his new bid, made through an affiliate of his hedge fund ESL Investments Inc, assumes more than $600 million in liabilities, including taxes, vendor bills and other expenses Sears has incurred since filing for bankruptcy protection last October … Sears will consider Lampert's offer against a possible liquidation during a Jan. 14 bankruptcy auction."

A number of Sears creditors seem to believe that liquidation actually affords them a better chance to recoup some of the money Sears owes them; they also think that additional monies can be gotten back through legal actions against Lampert over deals. Lampert has tried to get the courts to immunize him from legal actions as part of any takeover bid.

Reuters writes that "to finance the new offer, ESL has received debt commitment letters from lenders for a new asset-backed loan.
ESL and hedge fund Cyrus Capital Partners LP, which was a creditor of Sears before its bankruptcy, will also provide debt financing, including a new real estate loan, according to the filing."

KC's View: This is why I'm not a banker. (Well, one of the reasons. Another might be that I hate math. And suits and ties.) But I cannot fathom why anyone would lend Lampert more than about 12 cents for him to put into Sears at this point. Almost nothing he has done has worked, and the company is in demonstrably worse shape now than when he bought it.

USA Today writes that there seems to be no question these days - cannabis "is coming to a kitchen near you."

According to the story, "Chefs across the country say cannabis-infused food and drinks are the top two dining trends they expect to see unfold in 2019, although we're not talking about food that will get you 'high' – these are products made with CBD, a non-psychoactive compound extracted from cannabis plants that enthusiasts say offers health benefits while tempting the palate."

The conclusion is based on a survey of chefs conducted for the National Restaurant Association, in which "77 percent said CBD drinks are the No. 1 trend they see for 2019, followed by CBD foods."

The story notes that "the Food and Drug Administration says anyone making specific health claims about hemp-derived CBD products must first submit them for review, and it says marijuana-derived CBD products remain illegal at the federal level, no matter whether they're legal in states … And while there's relatively little peer-reviewed research available on CBD's health benefits, its fans say it can help treat insomnia, anxiety, pain and seizures. Others say it provides mild relaxation without intoxication."

KC's View: And in related news, a group of chefs has gotten together to create a new brand of CBD-infused foods, using the name "Spicoli Select,:" and the slogan, "We give you some tasty waves, a cool buzz, and you'll be fine."

All right, all right, all right.

The Wall Street Journal reports that drug store chain Walgreens "is testing a technology that embeds cameras, sensors and digital screens in the cooler doors in its stores, a new network of 'smart' displays that marketers can use to target ads for specific types of shoppers."

According to the story, "The refrigerator and freezer doors act as a digital merchandising platform that depicts the food and drinks inside in their best light, but also as an in-store billboard that can serve ads to consumers who approach, based on variables such as the approximate age the technology believes they are, their gender and the weather … This new technology could provide brick-and-mortar stores with a marketplace similar to online advertising. Ice cream brands could duke it out to get the most prominent placement when it is 97 degrees outside; an older man could see ads for different products than a younger woman."

The Journal writes that "the system is provided by Chicago-based Cooler Screens Inc., the brainchild of Arsen Avakian, the startup's co-founder and chief executive and the former CEO of Argo Tea Inc. The idea was born in part out of his frustration spending hours in store cooler aisles trying to figure out how to promote Argo's bottled ice teas, he said."

The test is taking place in one Chicago store, with plans to expand it to San Francisco, New York, and Seattle.

KC's View: This sort of sounds similar to some of the innovations that were referred to in the Kroger-Microsoft deal announced this week … which just means that there is a broader shift taking place toward making physical stores more relevant to their shoppers.

Technology that helps consumers connect with brands, and brands connect with sponsors, is a positive development, as long as it doesn't become intrusive and abusive.

I can imagine, though, that a lot of these doors in a crowded store could create a level level of clutter … and could turn consumers off. Retailers have to be careful about that.

Last week, MNB reported on the passing at age 87 of Herb Kelleher, who co-founded Southwest Airlines and in many ways disrupted the value propositions offered by traditional airlines through a combination of uncommon common sense, a deep connection to employees, a commitment to customer service, and even a taste for the meaningful theatrical

Which made this story from the Hartford Courant even more resonant:

"As security screeners at airports around the country face their first missed paycheck, one airline at Bradley International Airport in Windsor Locks sent a sign of solidarity on Wednesday to their Transportation Security Administration workers struggling during the government shutdown.

"Southwest Airlines treated TSA workers to a lunch and dinner of chili dogs — a TSA employee favorite at Bradley — as well as other items made by Southwest employees and donated by local stores and restaurants."

Customer service agent Tarsha Moore explained it this way to the Courant: "Just watching the news, and I work with these great men and women every day, it just fell on my heart to do something … So, why not, on my day off, I could come in and do hot dogs and chili dogs."

According to the story, "Stop & Shop donated a large sheet cake decorated with yellow and blue roses. Bear's Smokehouse stepped up with cornbread. Skyline Restaurant in Windsor Locks pitched in with pasta and marinara sauce. Poquonock Giant Grinder in Windsor Locks supplied the grinders, and Aqui Me Quedo Restaurant in Hartford, the Spanish rice and beans."

KC's View: Soul and heart amid the insanity. Gives one hope … and suggests that Herb Kelleher's influence has not shuffled off this mortal coil.

The Washington Post reports that a new study from the Center for Talent Innovation concludes that "nearly three-quarters of executives pick proteges who look just like them."

The study says that "71 percent of those who identified as sponsors said their protege was the same race or gender as their own."

What's interesting is that this in some ways is a consequence of the #MeToo movement, which "has led to the ouster of powerful men, the revelation of long-secret bad behavior and the emergence of an empowering social movement." At the same time, the story says, "the movement has struck fear in the hearts of some professional men, leading them to avoid close relationships with or distance themselves from women at work in a way that could hinder their female colleagues' careers."

Often, that means not giving them a chance at opportunities that could advance their careers.

The Post writes that "the new research 'reinforces what we've known on a gut level for years,' said Julia Taylor Kennedy, senior vice president at the Center for Talent Innovation. 'People transfer power to others who make them feel comfortable.'

"Even though many companies are trying to improve diversity, she said, 'our unconscious biases draw us to people like ourselves'."

KC's View: This isn't at all surprising. People - mostly white men - have chosen to pass on power and money and influence to people who look like them for time immemorial. And somehow, it isn't a shock - though disappointing - that many people would use a time of supposed consciousness-raising to withdraw into their cultural cocoons.

I find that this quote - "'People transfer power to others who make them feel comfortable" - actually dhow us the way. Real leaders understand that one of the things required to move forward is to embrace that which makes us feel uncomfortable … because this is how we learn and move things forward.

National Public Radio reports that the US currently is suffering from a 900,000 cubic yard cheese glut, "the largest in U.S. history."

How did this happen, you may ask.

"While Americans consumed nearly 37 pounds per capita in 2017," NPR says, "it was not enough to reduce the country's 1.4 billion-pound cheese surplus … Over the past 10 years, milk production has increased by 13 percent because of high prices. But what dairy farmers failed to realize was that Americans are drinking less milk. According to data from the USDA, Americans drank just 149 pounds of milk per capita in 2017, down from 247 pounds in 1975.

"Suppliers turn that extra milk into cheese because it is less perishable and stays fresh for longer periods. But Americans are turning their noses up at those processed cheese slices and string cheese — varieties that are a main driver of the U.S. cheese market — in favor of more refined options."

To this point, NPR points out, trade disputes with China and Mexico, as well as new tariffs, haven't exacerbated the problem.

KC's View: Not a huge story, but I couldn't pass it up since it gave me the excuse to say "cut the cheese" in the headline.

What can I say? I like to amuse myself.

Corporate Drumbeat
"It's a bad time to be in the business of selling groceries, and the headlines are as bleak as you'd expect: "The Retail Apocalypse Is Coming for Grocery Stores" ... "Grocery Retail 'Bloodbath' Is Here" ... Conversely, it is a great time — arguably the best time ever — to buy groceries."
- New York Magazine/Grub Street


At Samuel J.Associates, we have a response to this assessment:

Bull.

We think it is a great time to be selling groceries, whether you are a retailer or a supplier. That's because a more educated and demanding consumer, no matter the demographic, will reward businesses that are innovative, disruptive, and in touch with what people need, even if they don't know they need it.

And, we know this: Those businesses require, and are fueled by, great people.

People who don't just get the job done, but who set the tone in an organization, establish cultural and business priorities, who build teams, and who are able to not just adapt to competitive realities, but see the future and thrive in it.

And yes, ignore dire warnings about a "retail apocalypse" and see opportunities.

At Samuel J. Associates, we have a winning record of connecting great talent and innovative businesses ... as well as innovative talent with great businesses. We exceed your expectations so that you can do the same thing for your customers.

No bull.

Click here to find out more.

The Associated Press reports that a regional court in Munich, Germany, has ruled that Amazon must stop taking orders via its Dash buttons - wireless-enabled gadgets that allow shoppers to simply press them in order to place replenishment orders - because they violate that nation's e-commerce rules.

The court said that because Amazon has the right "to change aspects of the order, such as price, delivery cost and even product brand," the Dash buttons are illegal.

…with brief, occasional, italicized and sometimes gratuitous commentary…

• The Motley Fool writes about how Amazon is "expanding its fleet of cargo planes to 50, potentially taking billions of dollars in business from FedEx and UPS, as it assumes more responsibility for its own deliveries," not to mention positioning it "as a future carrier rival."

However, the big loser could be the US Postal Service (USPS).

"The USPS is seen as bearing most of the burden for Amazon's sales, handling 62% of its package shipments, followed by 21% by UPS and 8% by FedEx," the story says. "Another 9% is delivered by regional carriers. But as delivery rates rise across the board, the cost to Amazon is not insignificant and it makes sense it will want to internalize more of the delivery process.

"Morgan Stanley estimates Amazon saves $2 to $4 per package when it uses its own fleet, or some $2 billion annually. That's about 10% of what Amazon spent on shipping in 2017. The USPS raised its rates last October, a move that will cost the e-tailer $1 billion in 2019, and that's on the basis of the postal service handling just 40% to 50% of Amazon's deliveries. With FedEx and UPS both raising their rates by an average of 4.9%, the costs to Amazon will be substantial."


• The Wall Street Journal reports that Amazon has launched an ad-supported, streaming video channel branded as IMDb Freedive, which the story says "offers a collection of TV shows and movies on IMDb's website or through Amazon Fire TV devices without having to purchase a subscription."

Amazon has owned IMDb - the Internet Movie Database - since 1998. The story notes that "Amazon has been a player in streaming video for years through its Prime Video service, which started as a perk for subscribers of the online retailer's annual Prime shipping service and has emerged as a challenger to Netflix."

• Albertsons said this week that it has sold five distribution centers for $660 million, and has reached a deal with the new owners to lease them back.

The company has not identified the specific locations, but the deal is similar to a lease-back deal it did last year that raised close to $300 million.

Albertsons has been on a mission to reduce its debt, and selling off real estate obligations has been part of its strategy.


• Ahold Delhaize-owned Giant Food Stores said that it will open its first Giant Heirloom Market, in the Graduate Hospital neighborhood of Philadelphia, on January 25.

The company describes Heirloom as "a new store concept, format, and assortment specially curated for urban neighborhoods … The new store will blend modern innovation and community focus, while delivering the quality expected by Giant, to bring great food to its neighbors. The 9,500 square foot store in Graduate Hospital will offer an inspiring selection of high-quality, fresh, local, seasonal and flavor-focused foods, everyday essentials and organic private brand Nature's Promise."

Got the following email from an MNB reader:

enjoyed Michael Sansolo's article today on retail front-line workers, and the WaPo column he linked to.  Having worked retail for many years back in the day, I could relate to much of what was said.  I'm also a constant consumer, so I also relate to the customer side of things.  I'm very much an omnichannel shopper, going on line or to the mall as it suits my needs or situation.  Online is great if you know what you are looking for, but if I am looking for inspiration, it's bricks-and-mortar, baby!  (But to be sure, if inspiration comes at a high price, I'm not above standing in the middle of a store scanning a price tag with the Amazon app and saving $20+.)

This Christmas shopping season, I found most stores staffed with friendlier sales people than in recent years…but not necessarily better.  I actually had to tell one young man that I needed separate gift boxes for the man's sweater and the woman's jacket.  Even more headache inducing:  I took advantage of the 'ship for free to the store' while shopping on Macy's website for bargains that did not add up to the free shipping minimum.  Great!  What a deal!  Well, the order shipped in two packages—one went to the Macy's women's and home, the other went to the Macy's men's/kids/furniture at the other end of the mall.  Both of which had a line, of course.  Isn't it amazing how a positive experience can be punched in the gut by stupidity?  Now, in fairness to Macy's, I will mention the young woman who helped me get a correct size sweater to my mother after Christmas—she was a joy and was fully empowered to make it a splendid experience, which she did.  Sadly, I won't have a need to buy women's separates until next Christmas, and I probably can't just drag her down the mall to the men's location!

From an other reader:

KC says it all the time, and I'm paraphrasing, that "unless companies treat their associates as assets and not liabilities, they will never succeed."

I have to agree 100 percent! Full disclosure … I am on the front lines of a major NE supermarket chain.

And from another:

I 100% agree with you Michael.  "People make—or break—the experience. "
We've shifted from being weekly Whole Foods' shoppers to Sprouts for this very reason.



Responding to our story about changes in the meat business, MNB reader Chuck Kosel wrote:

As a long time industry vet both in store operations and now on the other side of the desk on the sales side for a manufacturer, I have watched the meat department change dramatically in the past 20 years.

Gourmet meat departments and specialty counters are no longer just an option for an operator but a necessity in today's grocery store environment.  The consumer is demanding a better cut, quality and more traceability.

Personally for the past 5 years I have purchased all my beef and pork from local farmers that I personally sourced and both live within 3-5 minutes from my home.  I can actually watch my future meals as they roam the pasture and feast on a natural diet as I take my daily walks along the country road.

I realize I am bit spoiled but the educated consumer has choices today they never had before.  The local farmers markets are selling and taking orders that used to be owned by grocery chains.



Regarding my piece about Eataly Las Vegas, MNB reader Kelly Dean Wiseman wrote:

I notice in your photos quite a few stations staffed by workers with no customers.

Probably early in the morning, but still: you have to wonder about the profitability of so many small stations staffed at all hours. Sure, it looks pretty, but in the long run, how does this kind of staffing affect the bottom line?

I guess we'll wait and see…

I think it was more about my timing than Eataly's appeal.



About my coverage of CES, one MNB reader Paul Schlossberg wrote:

Especially enjoyed the bread vending machine.

In the food industry, there is always evolutionary progress.  A stream of adaptations and (positive) advances from the past.

At the Paris Vending Show in 2008, there were two bread vending machines at the show … And, I distinctly recall, in 1997 and 1998, seeing freshly-made bread stocked in (traditional) vending machines at free-standing locations in Belgium. The machines were usually in the ex-urbs, away from center cities or towns. 

At that time, I was frequently in Belgium for a client assignment. After inquiring about these placements, my clients told me that fresh bread was very important on an everyday basis. Having the vending machines so conveniently situated made it easy for people to buy it without going to the supermarket or a bakery.



On another subject, from MNB reader Diane Letson:

I know you were being humorous about the craft beer industry being impacted by the shutdown, and trust me as an IPA lover I'm traumatized as well, but you're going to most likely receive some negative comments about making light of food safety especially after the Romaine lettuce issue. 
 
The nonprofit I work for, Feeding America, takes food safety very seriously because often the population we serve – low-income children, adults, and seniors – may have compromised immune systems.  And, the majority of the food that our national food bank network distributes is donated.  We are handling, transporting, and distributing food that has been deemed a bit "less than" and won't be displayed for sale in grocery stores or is aging inventory in a manufacturer's system that is pulled for donation.   Just one person getting sick through our system would jeopardize our entire network of 200 food bank members and 60,000 charitable agencies providing food for millions in need. 
 
When I'm tossing and turning at night about work, food safety or lack of it is one of the issues that keeps me up at night when I think of our extensive feeding network and feeding my own family.



Finally, regarding the Jeff Bezos divorce story that I wan yesterday, one MNB reader wrote:

Are you going to comment on the fact that he is dating a "friend" who was in his families social circle??? Heard that he tweeted his statement because NY papers were going to go to market about his new girlfriend. It seems there is more to the story but very sad for the kids to have to watch this play out in the papers.

Actually, it wasn't the New York papers. It was the National Enquirer. Which isn't a paper, in the sense of being journalism, at all.

Maybe I didn't make this clear enough yesterday. My only professional interest in this story is how it affects Amazon and Bezos' other business interests, especially the Washington Post. Other than that, his personal life is really none of my business … I know there will be ample coverage and interest because of people's prurient interests, not to mention the fact that we're all captivated at some level by other people's pain and suffering, especially when the other person is the world's richest man.

People make good decisions and bad decisions, and their choices define their lives, creating both pleasure and pain. Not really my business, except when it affects his businesses, which affect me.

I'm not incurious. Just making a decision here.

Industry Drumbeat
In this fast-paced, interactive and provocative presentation, MNB's Kevin Coupe challenges audiences to see the fast-evolving retail world through a radical new technological, demographic, competitive and cultural prism. These issues all combine to create an environment in which traditional thinking, fundamental execution, and just-good-enough strategies and tactics likely pave the path to irrelevance; Coupe lays out a road map for the future that focuses on differential advantages and disruptive mindsets, using real-world examples that can be adopted and executed by enterprising and innovative leaders.

Constantly updated to reflect the hand crafted news stories covered and commented upon daily by MorningNewsBeat, and seasoned with an irreverent sense of humor and disdain for sacred cows honed over 30 years of writing and reporting about the best retailers and retail strategies, "RETAIL 2020/WTF" will get your meeting attendees not just thinking, but asking the serious questions about business and consumers that serious times demand. See a sample at left…



Here's what Lori Stillman, Executive Vice President - Analytics, Insights and Intelligence, Advantage Solutions, has to say about a recent appearance:

"Kevin joined us as a moderator and facilitator for a two-day client executive event we hosted. His role in the success of the event went far beyond his time presenting and sharing his great wisdom and content. From the moment our planning process began and we selected Kevin as a key part of our program, he dove in and worked with our team to review session topics, ideate on programming and help ensure our overall event delivered on the goals we had established. His quick wit, deep industry knowledge and ability to synthesize conversations into key take-aways enabled us to hit a home run!"

And, from Joe Jurich, CTO of DUMAC Business Systems:

"Kevin recently participated in and spoke at our Annual User Conference.  Our group consisted of independent retailers, wholesalers, and software vendors – a pretty broad group to challenge in a single talk.  While his energy, humor, and movie analogies kept the audience engaged, his ability to challenge them to think differently about how they go to market is what really captured them!  Based on dinner conversations afterward, he appeared to have left everyone thinking of at least one new approach to their strategy!"

Want to make your next event unique, engaging and entertaining? Contact Kevin at kc@morningnewsbeat.com , or call him now at 203-253-0291.
Amazon Prime Video has debuted a terrific new three-part documentary series, "It Stars With Wine," that travels to Uruguay, Argentina and California's Mendocino County to profile winemakers, chefs and the cultures that have produced these areas' unique approach to food and wine.

One thing I can pretty much guarantee you is that in addition to making you hungry, "It Starts With Wine" will have you wondering how to score an invitation to hang with the people it visits. In Uruguay, the filmmakers visit chef and restaurateur Francis Mallmann and winemaker Alberto Antonini, at that country's Bodega Garzon winery. As they tell us about their passions and beliefs, we see them cooking with fire - all sorts of fire - on an open beach and eating grilled fish with local Albariño (one of my favorite wines) and grilled steak with Tanna (which is a wine about which I know almost nothing, though I plan to change that).

In the second episode, we're introduced to Laura Catena, who works as a doctor in the US in addition to her winemaking duties in Argentina - she compares the careful care she takes of her patients with the way she feels about the soil in her vineyard. In her part of Argentina, the Adrianna Vineyards are at a high altitude and produces "single parcel wine" vintages and styles that come from a small piece of land. And she's joined for the piece by Deborah de Corral, a chef and musician who makes a meal of food that only comes from the land where they are standing. Remarkable.

And finally, the third episode takes us to California for a passionate - and persuasive - discussion of biodynamic farming and viticulture, conducted by Joseph Brinkley, vineyard director at Bonterra Organic Vineyards, and chef Garrett Sathre - as they surf and cook and drink wine and eat what look like the best fish tacos and hamburgers ever made.

While the title of the series is "It Starts With Wine," the argument really is that it all starts with terroir - a deep respect for the earth and the bounty it can provide us as long as we take care of it, nurture it, and believe in both its fragility and robustness.

Good stuff.



That's it for this week. Have a great weekend, and I'll see you Monday.

Sláinte!!
PWS 53