Join the MNB Community.
Get a Wake Up Call each morning...
Email:
Explore the MNB Archives
From The MNB Archives
Monday, January 14, 2019
by Kevin Coupe

At last week's Consumer Electronics Show (CES) in Las Vegas, I had the opportunity to host a podcast that is part of GMDC's ongoing Retail Tomorrow initiative, which also has created a series of "immersion" conferences - in Silicon Valley, Toronto, Seattle and New York, with upcoming events scheduled for Los Angeles and Boston - at which people can do a deep dive into not just best practices, but next practices.

Our podcast at CES - the first in a new series that will run throughout 2019 - was designed to not just consider some of the themes and products on display at CES, but the larger issue of how retail and brands think about innovation and develop cultures that embrace disruption.

Our guests include:

• Morri Chowaiki, Head of Sales and Retail for Daymond John at The Shark Group.

• Seraj Bharwani, Chief Strategy Officer at AcuityAds.

• Tom Furphy, CEO and Managing Partner at Consumer Equity Partners.

• Benjamin Winters, Vice President, Marketing Services & Automation at Ideoclick.

The podcast is available below, as well as on iTunes and Google Play.

I hope you find it as fascinating as I did. Enjoy.

Amazon-owned Whole Foods reportedly has decided to end its experiment with the "365 by Whole Foods" format, which was designed to offer lower prices, use more technology, and appeal more to younger customers.

Yahoo Finance says that an internal memo from Whole Foods CEO John Mackey says that the dozen 365 stores currently operating will remain in business, but that no new stores will open.

"As we have been consistently lowering prices in our core Whole Foods Market stores over the past year, the price distinction between the two brands has become less relevant," Mackey said in the memo. "As the company continues to focus on lowering prices over time, we believe that the price gap will further diminish … Learnings and innovations from 365 have been incorporated into Whole Foods Market and the company will continue to innovate and experiment."

The story notes that "Amazon has been rolling out discounts and weekly deals for Prime members who shop at Whole Foods stores. But in August, 40% of more than 2,000 Whole Food shoppers surveyed by Yahoo Finance said they believe the prices of products in stores aren't really lower." At the same time, "The discontinuation of the 365 stores comes at a time when Whole Foods is planning a national expansion. With support from Amazon, Whole Foods is looking to open more stores in locations with more than 45,000 square feet and eyeing sites that used to host retailers like Sears.

"Meanwhile, Amazon has expanded its own smaller-format grocery store footprint with Amazon Go. With a cashierless checkout experience, Amazon Go has grown to nine locations in the U.S. this past year."

KC's View: Pretty much from the beginning, I argued that the 365 format didn't achieve any of the goals that Whole Foods set out for it … it seemed more cosmetic than tangible, and not nearly enough to make a real difference in how the company was perceived. Some of the locations were better than others, but in general, what I saw was disappointing.

I thought when Amazon bought Whole Foods that it was possible that it would inject needed energy and vitality into the format. When Amazon opened Amazon Go, I thought that maybe they'd try to test out the checkout-free technology in a 365 store.

But in the end, I suppose, the 365 format was just a distraction … and Amazon seems to have bigger fish to fry.

The US Supreme Court has agreed to hear a case that pits the Food Marketing Institute (FMI) against the Argus Leader, a Gannett-owned South Dakota newspaper that has argued that it - and, by extension, its readers - have a right to know how much federal food stamp money goes to the nation's retailers.

The Argus Leader sued to get the information, denied to it by the federal government, back in 2011; FMI argued that to make that information public would be to give away proprietary competitive information that could hurt its member retailers.

The Argus Leader won its case last year in the , the Eighth Circuit Court of Appeals, but FMI successfully persuaded the Supreme Court to hear a final appeal. The case is Food Marketing Institute v. Argus Leader Media.

Commenting on the Supreme Court decision, FMI president/CEO Leslie Sarasin said, "We are delighted that the U.S. Supreme Court has agreed to hear our appeal in Food Marketing Institute v. Argus Leader Media. It is a critically important case that will clarify the protections from disclosure applicable to confidential business information that private parties submit to the government. We are particularly grateful to the multiple organizations that filed amicus briefs in support of our petition. Such broad support demonstrates how the case's significance extends far beyond the retail grocery industry."

However, the Argus Leader continues to maintain that it "is seeking records of taxpayer payments and not confidential business records," and suggests that "FMI argues that businesses should decide what constitutes confidential information."

KC's View: I'm afraid I part ways with FMI on this. As a taxpayer, I think I'd like to know which retailers are the greatest beneficiaries of the food stamp system … and, quite frankly, I'd kind of like to know what the retailers and their trade association would rather not be a matter of public record.

Nobody would be surprised if Walmart is a major beneficiary. But what if we found out that, say, Whole Foods was? That was would be interesting … and not exactly worth keeping a secret.

I always get twitchy when this kind of transparency is resisted.

Sources tell MNB that it is likely that the acquisition by Emart, South Korea's largest retailer, of Good Food Holdings - which owns Bristol Farms, Lazy Acres Market, and Metropolitan Market - is expected to close soon.

Emart is buying Good Food Holdings, which has been owned by Endeavour Capital, for a reported $275 million. It is Emart's first move into the US.

The deal does not include New Seasons Market, which also is owned by Endeavour but is part of a different fund.

KC's View: These are three of the best independent operators on the west coast, and I'm glad that they're going to have access to the kind of capital that will allow them to continue to grow and excel. I'd certainly prefer this deal to a sale of these companies piecemeal to some entity that doesn't understand them and the kind of special stores they operate.

Business Insider reports on an interview with Kroger CEO Rodney McMullen in which he talked about how Amazon's acquisition of Whole Foods - which he said was long anticipated in his own company - has served to "accelerate" Kroger's commitment to e-commerce.

According to the story, McMullen "added that Kroger was able to 'leverage' Harris Teeter's existing technology and tech team in order to 'accelerate' its own digital position. In 2018, Kroger Co.'s digital sales were a $5 billion business. And the grocer is predicting that that number could nearly double in 2019."

Kroger's ownership of Harris Teeter and ability to leverage that division's expertise "isn't the only move Kroger has made in the battle to gain ground in the ever-shifting retail environment," the story says. "The grocer has also embarked on tech-centric partnership with Microsoft and Ocado, and even launched a number of pilot stores with Walgreens.

"In a move that directly pits Kroger against Amazon's Whole Foods, the grocer is also doubling down on its Simple Truth brand. The organic brand first launched in 2012. Simple Truth products are billed as being free of artificial preservatives, GMOs, and, generally, unnatural ingredients 'you can't pronounce'."

McMullen also said in the interview that he believes that no matter what the competition, Kroger will continue to be a major player: ""It's such a big industry," he said. "Fortunately people will always eat. It's a $1.5 trillion industry, so I think there's plenty of room for a lot of players."

The North Bay Business Journal reports that the California legislature will consider a bill that would ban the issuance of paper receipts by retailers unless consumers ask for them.

The story notes that Assemblyman Phil Ting (D-San Francisco), the bill's sponsor, argues that many businesses already are moving in the direction of e-receipts and away from paper.

But, he said, "a law is needed because many consumers don't realize most paper receipts are coated with chemicals prohibited in baby bottles, can't be recycled and can contaminate other recycled paper because of the chemicals known as Bisphenol-A (BPA) and Bisphenol-S (BPS).
His bill, Assembly Bill 161, would require all businesses to provide proof of purchase receipts electronically starting in 2022 unless a customer asks for a printed copy."

The Journal notes that "it comes days after another first-in-the-nation California law took effect requiring dine-in restaurants to provide straws only at customers' request."

Opponents say that they are "concerned the receipt proposal could be burdensome for small businesses, won't save that much paper and may not be practical in rural areas without internet connections."

KC's View: I'm sure that there will be those who will say that this is an "only in California" story, but this actually sort of makes sense … I'm not sure how much paper and chemicals it'll actually save, but some is better than none, and it seems to be pretty much in synch with where technology and most customers are anyway.

Yahoo Finance reports that Amazon-owned Whole Foods is considering former and closing Sears and Kmart stores as possible locations as it expands its physical footprint in the US.

According to the story, "Last month, for instance, Whole Foods managers visited a site in Utah that used to host a Kmart store. The store shut down in mid-2017 among its parent company's financial woes and has been vacant ever since."

KC's View: It would be retailing malpractice if Whole Foods didn't look at all these available spaces. But that doesn't mean, as some seem to be suggesting, that suddenly there are going to be all these Whole Foods stores in all these locations where Sears and Kmart failed. I suspect that this is a fiction - or, at best, a fantasy - drummed up by real estate people who would like nothing better. But Whole Foods only is going to go into locations that make sense demographically and financially, and a lot of distressed real estate isn't going to make the cut.

The Financial Times reports that there were statistics coming out of the 2018 holiday season in the UK that may be sufficient to make traditional retailers "glum."

For one thing, "one in three goods" were bought online.

Second, "two-thirds of householders visited discounters Lidl or Aldi over the Yuletide run-up, says Kantar Worldpanel research."

According to the story, "The greater challenge for traditional grocers remains the rise of discounters Lidl and Aldi, which have tripled their market share in a decade to nearly 15 per cent, have some 1,600 UK stores between them (four times as many as Waitrose) and are on track to having more than 2,200 by 2025."

KC's View: I love that FT refers to the current state of British retailing by paraphrasing TS Eliot's "The Wasteland," suggesting that January, not April, may in fact be the cruelest month of all - since that's when legacy retailers are able to calculate all the damage done to them by disruptive competition.

It is specifically in the UK … but that doesn't mean it can't happen here. (If you'll forgive the double negative.)

Corporate Drumbeat
"It's a bad time to be in the business of selling groceries, and the headlines are as bleak as you'd expect: "The Retail Apocalypse Is Coming for Grocery Stores" ... "Grocery Retail 'Bloodbath' Is Here" ... Conversely, it is a great time — arguably the best time ever — to buy groceries."
- New York Magazine/Grub Street


At Samuel J.Associates, we have a response to this assessment:

Bull.

We think it is a great time to be selling groceries, whether you are a retailer or a supplier. That's because a more educated and demanding consumer, no matter the demographic, will reward businesses that are innovative, disruptive, and in touch with what people need, even if they don't know they need it.

And, we know this: Those businesses require, and are fueled by, great people.

People who don't just get the job done, but who set the tone in an organization, establish cultural and business priorities, who build teams, and who are able to not just adapt to competitive realities, but see the future and thrive in it.

And yes, ignore dire warnings about a "retail apocalypse" and see opportunities.

At Samuel J. Associates, we have a winning record of connecting great talent and innovative businesses ... as well as innovative talent with great businesses. We exceed your expectations so that you can do the same thing for your customers.

No bull.

Click here to find out more.

• Digiday reports that as Target reported 5.7 percent same-store sales growth for November and December, up from 3.4 percent growth for the same period a year ago, it also said that its click-and-collect service handled 60 percent more items than a year ago during the holiday season.

The story says that "according to the company, digital sales growth of 29 percent in the November-December period was driven entirely by store-fulfilled digital sales."

The Digiday story notes that "store pickup lets legacy retailers like Target repurpose physical stores into fulfillment and delivery hubs. Neil Saunders, managing director of GlobalData Retail, said store pickup reduces the burden of a costly direct-to-consumer delivery business. It's a service large retailers like Home Depot, Walmart and CVS have invested in as well. According to a recent Zebra Technologies poll of retailers, 86 percent of those surveyed felt 'buy online, pickup in store' will soon become the default delivery method for customers."


• The Washington Post reports that Amazon "is planning to use its massive cloud computing service to jump into the streaming market for video game play … The service, which could potentially bring top-notch titles to virtually anyone with a smartphone or streaming device, could make Amazon a major competitor in the space already in play by Microsoft and Google."

According to the story, "While most big-budget video games require users to own a gaming console or a computer to run, Amazon's reported streaming service would live on the tech giant's cloud network, freeing customers to play elaborate, robust games even on their mobile devices, the report said. The service is slated to launch next year."

• Bloomberg reports that this year Walmart plans to hire as many as 2,000 new technology-related employees - including data scientists, software engineers, designers - "to support its efforts both in stores and online." The new hires, who will supplement a technology group that already consists of some 7,500 people, will be spread around nine Walmart offices "from Silicon Valley to Bangalore."

According to the story, "The hiring binge will support Walmart's efforts to expand its online business and embed in-store technology, such as robots that scrub floors and scan shelves. It's part of a bid to wrest market share from rivals such as Amazon … Walmart's recruitment will expand its battle against Amazon to capture the best talent beyond technology hotbeds like Sunnyvale, California -- where both companies have offices -- and into emerging corridors like Northern Virginia, where Walmart has a small, 150-person team in Reston. Amazon recently chose nearby Arlington as one of two homes for its second headquarters."

…with brief, occasional, italicized and sometimes gratuitous commentary…

• The Associated Press reports that "more than four months after Missouri became the first U.S. state to regulate the term 'meat' on product labels, Nebraska's powerful farm groups are pushing for similar protection from veggie burgers, tofu dogs and other items that look and taste like real meat.

"Nebraska lawmakers will consider a bill this year to prevent companies that package and sell food from advertising plant-based, insect-based and lab-grown products as meat. Similar measures are pending in Tennessee, Virginia and Wyoming … The issue strikes a particularly strong chord in Nebraska, one of the nation's top states for livestock production."


• USA Today reports that clothing chain Chico's "has announced a wave of store closures as it tries to better compete amid a retail landscape roiled by the rise of online shopping and fast-changing fashion. The women's clothing seller says it will shutter at least 250 locations over the next three years, across its namesake chain as well as its two other retail brands, White House Black Market and Soma… The company says that it has already made strides to blend its digital and brick-and-mortar experiences, enabling shoppers to buy online and pick up at an actual store, and creating partnerships with Amazon and QVC."

Shelley Broader, Chico's president/CEO, said in a statement that the company's focus "is on implementing those initiatives that drive the greatest levels of growth and profitability of our business."

I noticed this story because Shelley Broader is one my favorite people in retail … plus, this is a good example of how the retail world is changing and how traditional bricks-and-mortar businesses have to adjust. If anyone can do it, Shelley can.

• Target announced a series of personnel moves…

Stephanie Lundquist, its chief human resources officer, has been promoted to the role of president of food and beverage.

Melissa Kremer, Target's senior vice president of human resources, will take over as chief human resources officer.

Katie Boylan, senior vice president of communications, was named chief communications officer.

Rick Gomez, currently chief marketing officer, is Target's new chief marketing and digital officer.

Mike McNamara, Target's chief information officer, has been named to also lead its enterprise data analytics and business intelligence teams.

And Target also announced that Chief Financial Officer Cathy Smith will retire after a successor is named.

Richard A. Coulter, who has been written about here on MNB from time to time, passed away yesterday. He was 84 and the cause was cardiac arrest - which is ironic, since to the people who loved him, his was an enormous heart that never stopped enveloping everyone he touched.
KC's View: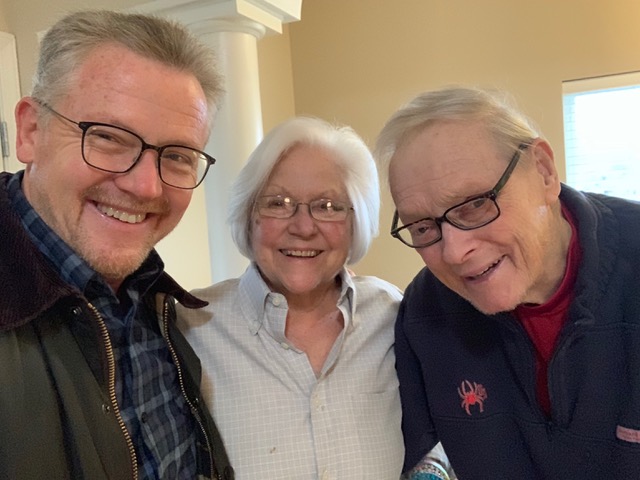 I've mentioned Richard here on MNB because, when I was just a young teenager, he hired me to work in his clothing store - County Boys' and Men's Shop, in the suburbs of New York City.

At County Boys', Richard was an indomitable presence, outfitting young men and their fathers in suits and sports jackets, jeans and khakis, shirts and sweaters - always focusing on high levels of customer service and affordable prices that kept generations of families returning. Richard also employed many of his customers' kids, teaching them about business as well as larger lessons about life. I was one of them, and I worked at the stores to pay my way through high school and part of college, and then on weekends when I was a newspaper reporter making under $7,000 a year and needed a second job to pay the bills. He taught me much about business, and much about life.

There is a lot to say about Richard, and I haven't processed it all yet. I've been asked to do a eulogy at his funeral - this was Richard's request, with instructions that I am to make it funny - but the memorial service won't be for a while, and so I have time.

I do want to say one thing here that speaks volumes about Richard (and his wife, Linda). The County Boys' and Men's story did not end well; the stores were not able to keep up with changing customer preferences, and eventually they went bankrupt. There were creditors to whom money was owned, and Richard and Linda made sure that every debt was paid, in full. They even moved to Chicago to run a camp outfitting business, which allowed them to not just pay off all their debts, but also enjoy what ended up being a great adventure.

In the early days on MNB, when FMI had its annual convention in Chicago, I used to host little parties at a place called Bin 36, just mentioning it on the site and hoping people would show up. Somehow, they always did … and so did the Coulters, who enjoyed seeing what that young kid who used to work in their stores had turned into. I remember that Neil and Jane Golub used to come as well, and the Coulters enjoying hanging out with them, sharing retail war stories. And it gave me enormous pleasure to see the confluence of people from different parts of my life.

I saw Richard just a few weeks ago, before Christmas. While he was physically challenged, his spirt was there. And his smile - infectious and boisterous - remained, undimmed. That's how I'll remember him.

Industry Drumbeat
In this fast-paced, interactive and provocative presentation, MNB's Kevin Coupe challenges audiences to see the fast-evolving retail world through a radical new technological, demographic, competitive and cultural prism. These issues all combine to create an environment in which traditional thinking, fundamental execution, and just-good-enough strategies and tactics likely pave the path to irrelevance; Coupe lays out a road map for the future that focuses on differential advantages and disruptive mindsets, using real-world examples that can be adopted and executed by enterprising and innovative leaders.

Constantly updated to reflect the hand crafted news stories covered and commented upon daily by MorningNewsBeat, and seasoned with an irreverent sense of humor and disdain for sacred cows honed over 30 years of writing and reporting about the best retailers and retail strategies, "RETAIL 2020/WTF" will get your meeting attendees not just thinking, but asking the serious questions about business and consumers that serious times demand. See a sample at left…



Here's what Lori Stillman, Executive Vice President - Analytics, Insights and Intelligence, Advantage Solutions, has to say about a recent appearance:

"Kevin joined us as a moderator and facilitator for a two-day client executive event we hosted. His role in the success of the event went far beyond his time presenting and sharing his great wisdom and content. From the moment our planning process began and we selected Kevin as a key part of our program, he dove in and worked with our team to review session topics, ideate on programming and help ensure our overall event delivered on the goals we had established. His quick wit, deep industry knowledge and ability to synthesize conversations into key take-aways enabled us to hit a home run!"

And, from Joe Jurich, CTO of DUMAC Business Systems:

"Kevin recently participated in and spoke at our Annual User Conference.  Our group consisted of independent retailers, wholesalers, and software vendors – a pretty broad group to challenge in a single talk.  While his energy, humor, and movie analogies kept the audience engaged, his ability to challenge them to think differently about how they go to market is what really captured them!  Based on dinner conversations afterward, he appeared to have left everyone thinking of at least one new approach to their strategy!"

Want to make your next event unique, engaging and entertaining? Contact Kevin at kc@morningnewsbeat.com , or call him now at 203-253-0291.
Got the following email from an MNB reader:

Many years ago, after working at Wild Oats and while consulting at Whole Foods, there was zero company culture to manage retails. "Watch costs, but the margin is what it is" was legend. Early core consumers, and employees believed the purity of the mission was enough. Fast forward to the tipping point reached and Amazon knows what Costco knows: sell quality (or organic) at parity with conventional ... and the real tipping point is evident. Eureka moment for WF! Blending of cultures will make WF formidable.



Respond to our story about Starbucks putting containers in some of its Seattle restrooms for people to deposit used hypodermic needles, one MNB reader responded:

Kevin, I'm surprised you are surprised by this. When making your rounds and visiting business you should include a stop by the business restrooms to see what they are dealing with as well as a detailed walk of parking lots and surrounding landscape and evaluate the debris you find. This is a direct result of Starbucks opening its restrooms for anyone and everyone to use! I'm sure after doing this your shock will turn to sadness.

Not good for patrons and employees!

I actually make it a practice to check out retailers' restrooms. But hypodermic needles are not something I've noticed. Sorry.



On another subject, from MNB reader Jerome Schindler:

Retailers seem to be falling over each other to attract on-line grocery ordering.  Can we agree that the "expense" of a Kroger, Walmart etc. employee roaming the store (or warehouse) and assembling the items ordered by on-line customers is far more than the retailer expense associated with shoppers who go to the store and spend their time picking their own selections off the shelf and proceed to check out at the front of the store, often waiting in long lines?  And worse yet, also expecting traditional shoppers to use self checkout?

In my view, the traditional shopper is subsidizing the added cost to serve on-line shoppers.  Adding insult to injury is my local Kroger offering special "clicklist" savings not available to "traditional" shoppers.  In my view, ultimately the retailers who avoid these costly accommodations to online customers and thus don't have to pass such costs to traditional shoppers will win out.  This free service is not really "free".  The costs have to be recovered somewhere.  It is not reasonable to burden traditional in-store shoppers with that expense.  Just my three cents (inflation you know).



I wrote last week about a terrible experience I had at a White Castle eating one of the new meatless Impossible Burgers that it is serving.

MNB reader David Spawn responded:

Sorry to hear about your White Castle experience – it seems that maybe it is the opposite of Irving Street Kitchen's ability to make anything taste good.  (I've only eaten there once and instantly regretted it, even at 3 AM after more happy times).
 
I am not a burger lover by any stretch but I did try the Impossible Burger at a NYC's Bareburger, and have to say that it was really quite eye opening.  Something I even re-ordered, as it is a highly passable veggie burger.
 
Come down to NYC and try it sometime.

I said that I should've gone to a nearby In-N-Out instead and had a real burger, prompting MNB reader Gary Myracle to write:

Right there with you on In & Out burgers—it's my go to place to eat a burger whenever I visit the West Coast or Dallas area. But growing up in St Louis, White Castle was the place to go for a bag of sliders. It was my kids first burger because they are so mushy and soft. Nothing better than 4 or 5 White Castles after a few cold beverages late at night. Not sure I would be a fan of the veggie burger either, but still every visit to the St Louis area always includes a stop at the Porcelain Palace. Just wish In & Out would make it to the Midwest.

And, from another MNB reader:

Kevin, have you considered talking to someone who actually goes to White Castle and that WC might be targeting with the impossible burger? You are admittedly in neither of these categories.

For the record, I am a loyal reader but this really irritated me. In part because I know vegetarians and vegans who really enjoy this option. Other parts because your commentary reads annoying and self-righteous.

This reminds me of a time when I was at a retailer and working with a CM who managed pickles/olives. As part of our normal engagement we would regularly sample products. We would invite other folks to the cutting to provide feedback. When the CM walks into a room and proclaims 'ugh, I hate olives and pickles disgust me'… how do you think the CM responded?! How then do you think everyone else responded?
 
"Some things never change."

"Should've gone somewhere else."

I hope you don't talk like this to your children. That would be a real shame if you SHAMED every attempt at something new or different. Since when does a new experience that doesn't blow you away have to be described as the worst experience of your day? Quite frankly it makes you look like you lack objectivity. Not a good look.

I take your point, but in my defense, I wasn't actually trying to be objective … the whole point of a review is that it is subjective … I was stating my opinion having had the experience, and I'm perfectly willing to air opposing views.

Also, to be clear, I like burgers, and I have no problem with a good veggie burger. While I'm not a big fast food consumer, that's because I don't think it is very good. I love In-N-Out, for example, because I appreciate the quality and the company's defining culture. So I'm not exactly a pickle category manager who hates pickles. I just one who loves a good pickle, and hates it when I have a substandard pickle … and loves the opportunity to try a new pickle.


Finally, responding to my comments about Eataly Las Vegas, MNB reader Tracy Lape wrote:

We spent the new Year's weekend at the MGM Park and were frequent visitors to the Eataly. I would agree with you that it is a Food Court on steroids but oh what a Food Court it is.  Everything was stellar and so clean despite the crowds.  Aside from the early morning and the very late night, Eataly was packed.  I give it an A Plus for concept, relevance and quality. We were there daily for coffee, a snack or dinner.  Of course we have spent the last week trying to recover from the food coma it put us in.

In the National Football League's Divisional Round of playoffs…

Indianapolis Colts 13
Kansas City Chiefs 31

Dallas Cowboys 22
Los Angeles Rams 30

Los Angeles Chargers 28
New England Patriots 41

Philadelphia Eagles 14
New Orleans Saints 20


The NFL Conference Championships are scheduled for next Sunday, with the Patriots traveling to Kansas City to play the Chiefs, and the Rams going to New Orleans to play the Saints … with the winners of those two games to meet on Sunday, February 3, in the Super Bowl.

PWS 54