Join the MNB Community.
Get a Wake Up Call each morning...
Email:
Explore the MNB Archives
From The MNB Archives
Tuesday, March 26, 2019
by Michael Sansolo

The past is prologue to the future except when it isn't. And when that happens it requires us to reorient our thinking to new realities, which, to be truthful, is especially challenging.

Well, here's one big reason to feel challenged: today's young adults are nothing like previous generations and that creates enormous challenges for customer facing industries whether you run stores or sell products.

Conventional wisdom was that today's young adults - you know, those dreaded millennials - would grow up and just like their parents would get jobs and cars, start getting married and having kids and would, of course, start shopping just like everyone did before them.

Fat chance!

As the Washington Post

reported last week, millennials really are special, but not just because that's what they heard from their parents. The reality is they are special because they are behaving so differently.

The article lays out important statistics tracking how millennials really are special. Consider just one of those statistics: half of older baby boomers married by age 22. Fast forward a few decades and only 7 percent of those born in 1996 were married by 2018—when they turned 22. (Kevin wrote yesterday about the changing patterns in car ownership, which ties perfectly to this demographic issue linked to technological changes.)

There are some underlying causes of this slow process starting with this: millennials, as a generation, owe a staggering $1.4 trillion in student load debt, which no doubt slows the process of any young person or couple trying to buy a home or have children. Plus, a huge portion of this generation came of age just as the economy imploded in 2008, which impacted their job prospects, financial situation and outlook in countless ways.

All of this, like it or not, matters to you beyond the reality that you need millennials are essential to your workforce and leadership teams today and into the future. As importantly, we need understand the unusual maturation pattern of this powerful generation and how they are adjusting to "adulating", which includes how they shop, cook and eat.

The simple impact on the food retailing industry will likely be seen in smaller package sizes for smaller households and sustained emphasis on value pricing. It might also require some rethinking of store layouts to emphasize simplicity. (Some more reasons to worry about Aldi and Lidl there, don't you think.)

No doubt the issues will go far deeper in many ways and the challenge to you and your company might be quite profound. In other words, these are demographic realities that you need discuss deeply and hopefully on teams that include millennial members who might help shine a light on the unique challenges posed by their own generation.

Michael Sansolo can be reached via email at msansolo@morningnewsbeat.com . His book, "THE BIG PICTURE: Essential Business Lessons From The Movies," co-authored with Kevin Coupe, is available on Amazon by clicking here. And, his book "Business Rules!" is available from Amazon by clicking here.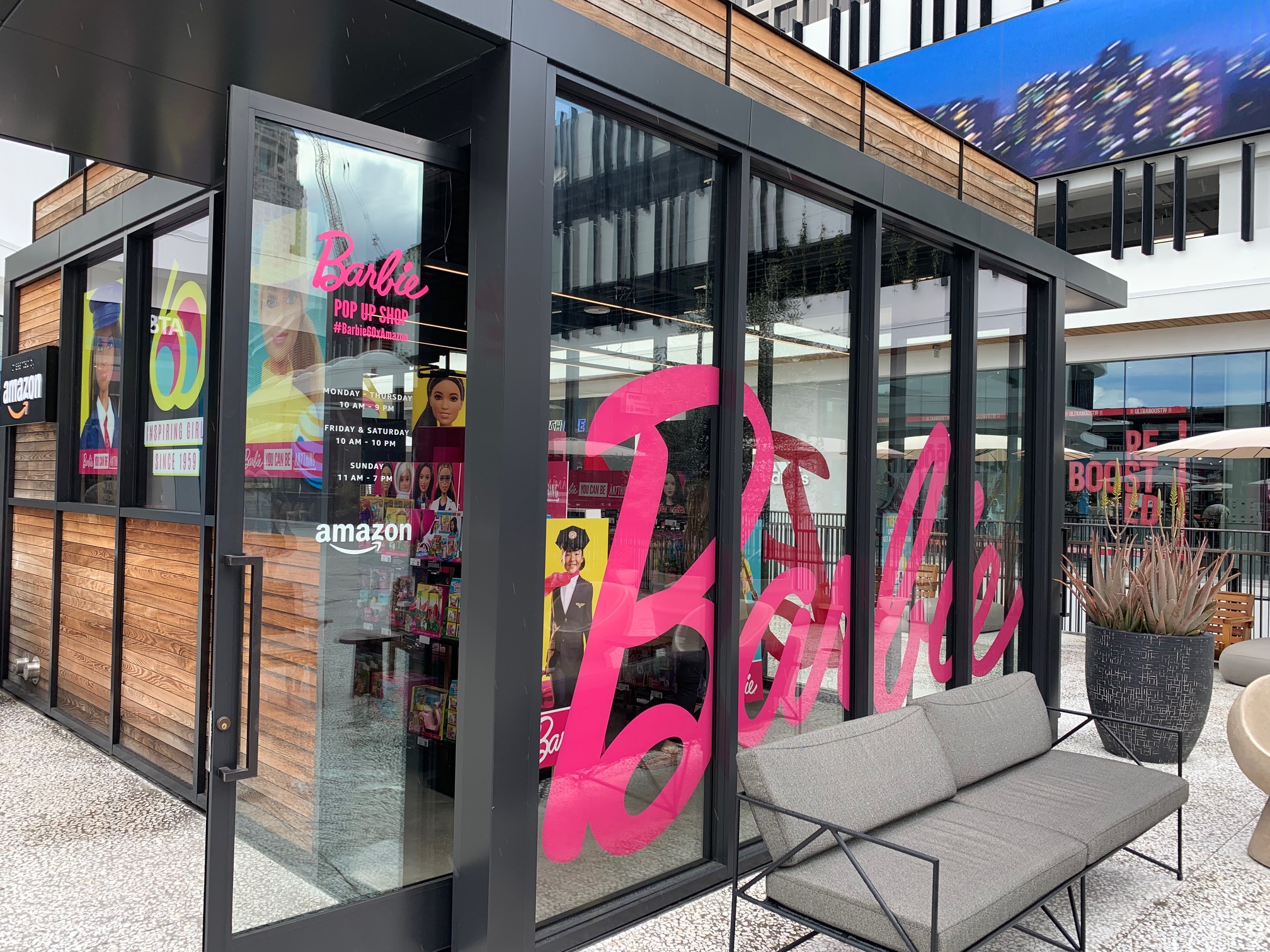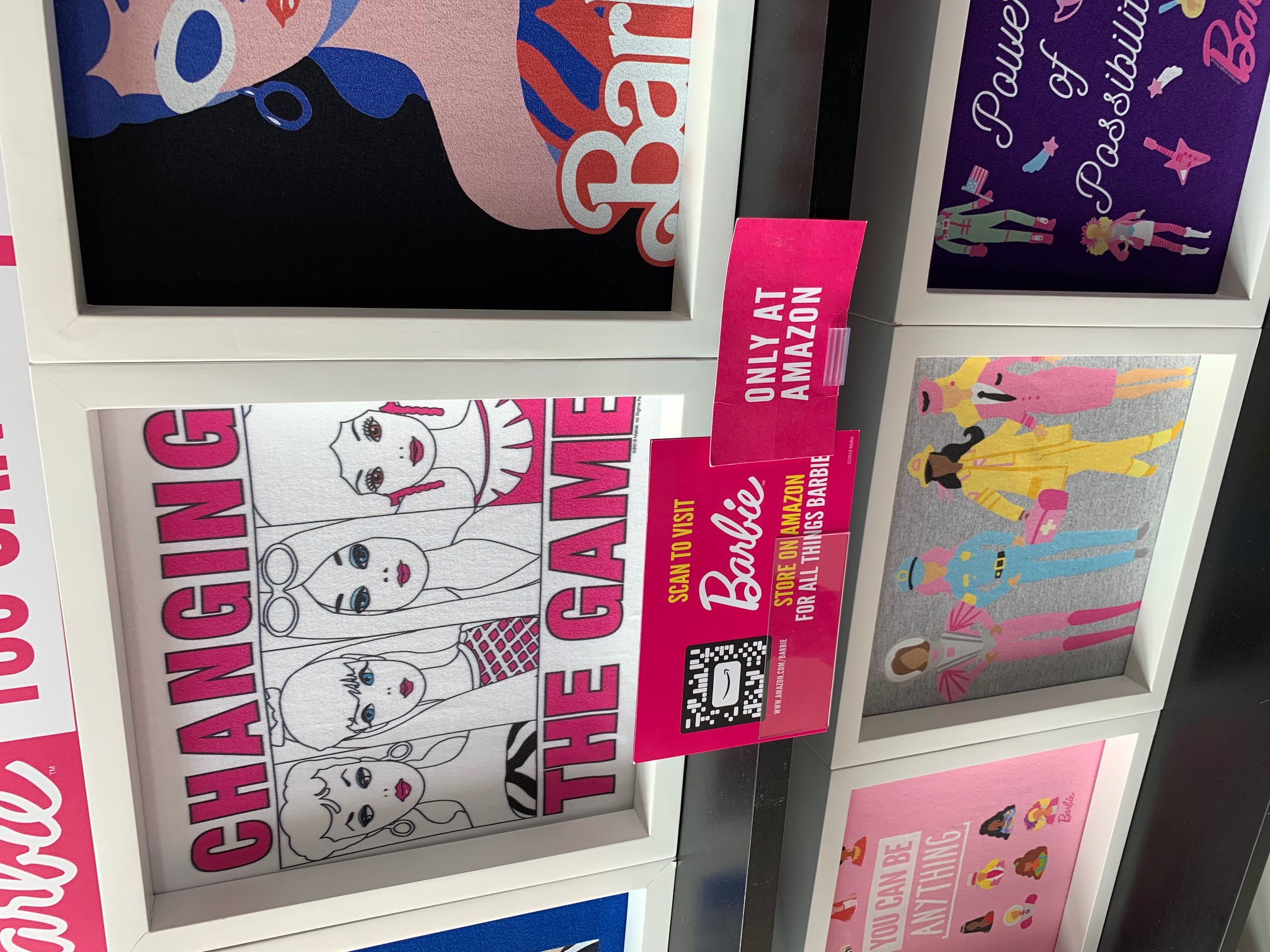 by Kevin Coupe

Amazon may be shutting down 87 pop-up stores around the country, preferring to focus its bricks-and-mortar strategy on its Amazon Books, Amazon Four-Star, and Whole Foods stores, and maybe even the new chain of grocery stores that it is rumored to be ready to open, but that doesn't mean that it is done with pop-up stores forever.

In fact, it has five new ones operating around the country - all of them celebrating Barbie's 60th birthday. (I mentioned to the store's manager that Barbie looked pretty good for 60. He grinned and replied, "Plastic surgery." Which was a pretty good line.)

These "activations" - as they are described by Amazon and Mattel - are designed to offer all measure of Barbie dolls and related merchandise. In some cases, such as t-shirts, the store has QR codes that allow shoppers to instantly go online and order the items via Amazon.

The interesting thing is that the store shown in these pictures, which is located in the Westfield Century City mall in Los Angeles, hasn't always been a Barbie store - at one point, for example, it was themed around exercise merchandise. And it won't be a Barbie store for long … the current "activation" is scheduled to end in early April. (Employees say they don't know what is coming next.)

I was impressed, as it happens, with the degree of enthusiasm for Amazon that the store's employees exhibited. They've worked for the company for less than a year, but they seemed completely on board - helpful, attentive, and animated.

It was, in short, an Eye-Opening experience … and reflective of the kinds of things that Amazon is willing to test as it expands and reshapes its ecosystem.

Pretty impressive.





Axios has a story about a new Pew Research study suggesting that "across the board, a majority of Americans expect that the standard of living will fall by 2050, health care will be less affordable and people will be forced to work into their 70s."

In addition, the survey says that two thirds of Americans believe that country will get more politically divided … 60 percent believe that the United States will be less important in the world … and 73 percent believe the gap between rich and poor will grow.

The survey also concludes that "60% think that a terrorist attack as bad or worse than 9/11 will happen in the next 30 years … 77% worry about whether public schools will be able to provide a quality education to future students … 85% said that by the time they retire they expect to receive no benefits or less benefits from Social Security … (and) 82% said robots and computers will probably or definitely do much of the work performed by humans today."

Pew says that "more than half say that the elderly outnumbering children in the U.S. will be bad for the country, and the majority say that responsibility for their care will fall on family members and older people themselves."

And yet … 56 percent of those surveyed said they were optimistic about the nation's future.

KC's View: It is a little hard to believe that the same people who are so pessimistic about specific things would be overall hopeful about the nation's future.

You can count me among the people who think the fabric of society is pretty much unraveling, and that much of the world, in the words of Raymond Chandler, is "as hollow and empty as the spaces between the stars."

The Washington Post has a story about how the use of autonomous delivery robots on the campus of George Mason University has changed students' eating habits.

"In the two months since the robots arrived at the Fairfax, Va.-based school," the story says, "an extra 1,500 breakfast orders have been delivered autonomously, according to Starship Technologies and Sodexo, a company that manages food services for GMU on contract and works closely with the robots."

This suggests that the vast majority of students who have tended to skip breakfast may be changing their morning routines, eating what is generally considered the most important meal of the day.

According to the story, "The robots make food deliveries all over the 800-acre campus, school officials say. They're frequently seen making the 15-minute trip from campus restaurants to a handful of nearby dorms, as well as to other buildings across campus, where students meet them en route to class."

KC's View: One of the really interesting things about this experiment is that, according to the story, "the robots also provide campus officials with valuable data showing what time students are eating, where that food is coming from and how meal plans are being used."

The school promises that it will not monetize the information, but could use it to be more effective in how it serves some student needs.

I think that's fascinating … just as I find it interesting that the students took to the technology right away - no dithering, no hesitation, no fear.

That would make me think about technology differently, if I were a retailer.

Apple yesterday, as expected, announced the launching of a series of bundled subscription services that are designed to provide content-driven growth for a business in which hardware sales have begun to stagnate, not to mention provide stuff to watch, read and play with on the some 1.4 billion Apple devices currently active.

The services include Apple News +, which will offer subscriptions to hundreds of newspapers and magazines; Apple TV +, which will compete with the likes of Netflix and Amazon with original programming in which the company has invested roughly $1 billion and is doing business with the likes of Steven Spielberg, Reese Witherspoon and Jennifer Aniston; and Apple Arcade, which will be a streaming gaming service.

Apple also unveiled a new, no-fee Apple credit card that will use Apple Pay, and that the company says will not share shopper information with third parties, and that will have a rewards program associated with it.

Axios writes that "this isn't exactly like Amazon Prime, where you pay a big yearly cost in exchange for a huge array of offerings. But it appears to be a step in that direction, with hardcore Apple users now easily able to pay the cost of a subsidized old iPhone in annual subscriptions alone."

The New York Times writes that "Apple is trying to make sure you never leave all those Apple devices you have acquired over the years … But Apple is coming late to the game. Netflix has been making original programming for seven years and will spend at least $10 billion on content this year. Amazon and Hulu have also made tremendous inroads with the industry."

KC's View: It is going to take time for this all to shake out, and it is hard to envision at this point how this is going to dovetail or compete with other offerings; I have to wonder about the degree to which consumers are going to be able to absorb all these various services and figure out the relative costs.

There are elements to the Apple offering that are intriguing. But I cannot shake the feeling that something else is going to have to go, and I'm not sure what … especially since I'm already invested in other, existing content ecosystems.

That may be the real lesson in all this … you cannot afford to give the competition too much of a head start, especially with they're in the business of creating ecosystems designed not just to compete, but to create an enveloping reality from which you don't have to emerge.

A half-dozen members of the 1969 New York Mets - dubbed the "Miracle Mets" because of their unlikely late season run that won them the World Championship - showed up at three Stew Leonard's stores yesterday to sign baseballs, kibitz with fans, and raise money for the Alzheimer's Association.

The six players - Ron Swoboda, Cleon Jones, Ed Kranepool, Art Shamsky, Duffy Dyer and Jim McAndrew - all said they were there at least inn part because of the recent diagnosis of Tom Seaver. the team's franchise pitcher, as having dementia, which caused his retirement from public life; Bud Harrelson, who also was on the team (and later managed the Mets), also has been diagnosed with dementia.

"These memories are treasures for me and when you start hearing about your former teammates, some of them aren't here anymore," Swoboda told the Journal News. "And some of them are here, but their memories are fading because of Alzheimer's and dementia of various sorts. For (Stew Leonard's) to bring us here and to raise money and try to come up with some sort of a solution is incredible work."

KC's View: Wish I'd been around for this … these were my guys, 50 years ago.

It is great symmetry, and a good cause. Good job, Stew.

The Washington Post reports that a Petco customer recently decided to test the retailer's "all leashed pets are welcome" policy.

Said customer decided to bring his 1,600 pound Ankole-Watusi steer, named Oliver, to the store.

According to the story, "Oliver tilted his wide set of horns — measuring nine and a half feet from tip to tip — to the side to avoid hitting the automatic sliding doors."

And then, "when he made it through the second series of doors, the steer was greeted with pure joy from the patrons and employees, including smiles, laughter and a welcome worthy of any other customer or animal of the pet store retailer: 'Welcome to South Texas Petco'."

Petco's CEO, Ron Coughlin, tweeted that "he wished he could have been there," according to the story.

The story notes that "Oliver was already something of a social-media star before he popped up at Petco. His Facebook page, which has more than 40,000 followers as of early Friday, chronicles Oliver's everyday life, such as hanging out with mascots, getting pedicures and napping with his pig friend, Dolly."

KC's View: It wasn't mentioned in the story, but I'm assuming that Oliver didn't leave any unpleasant surprises on the floor, which might've prompted a somewhat different reaction.

Or maybe not. It sounds like the folks at Petco did exactly what they were supposed to do.

Corporate Drumbeat
"It's a bad time to be in the business of selling groceries, and the headlines are as bleak as you'd expect: "The Retail Apocalypse Is Coming for Grocery Stores" ... "Grocery Retail 'Bloodbath' Is Here" ... Conversely, it is a great time — arguably the best time ever — to buy groceries."
- New York Magazine/Grub Street


At Samuel J.Associates, we have a response to this assessment:

Bull.

We think it is a great time to be selling groceries, whether you are a retailer or a supplier. That's because a more educated and demanding consumer, no matter the demographic, will reward businesses that are innovative, disruptive, and in touch with what people need, even if they don't know they need it.

And, we know this: Those businesses require, and are fueled by, great people.

People who don't just get the job done, but who set the tone in an organization, establish cultural and business priorities, who build teams, and who are able to not just adapt to competitive realities, but see the future and thrive in it.

And yes, ignore dire warnings about a "retail apocalypse" and see opportunities.

At Samuel J. Associates, we have a winning record of connecting great talent and innovative businesses ... as well as innovative talent with great businesses. We exceed your expectations so that you can do the same thing for your customers.

No bull.

Click here to find out more.

• The Wall Street Journal reports that McDonald's "is buying Israeli digital startup Dynamic Yield Ltd., in a bid to improve in-store ordering and online marketing at the burger giant … McDonald's will use Dynamic Yield's technology at its drive-through windows, where digital displays will change in real-time based on factors such as weather and what the customer is ordering. During heat waves, for instance, a drive-through display could promote a McDonald's ice-cream cone."

The cost of the deal: more than $300 million.

• The Denver Channel reports that Kroger-owned King Soopers and City Market have "reached a tentative agreement with the UFCW Local 7R union that represents the store's employees after nearly 40 hours of contract negotiations over the weekend." According to the union, "The offer provides industry-leading terms and conditions of employment, including strong wage increases, funding that assures sustainable healthcare through the life of the contract, and the funding needed to sustain retirement benefits."

Union members still have to vote on the deal.


• CNNN reports that the Reimann family, which has a controlling stake in JAB Holdings - owner of brands such as Krispy Kreme, Panera Bread, and Keurig - has admitted that its Nazi ancestors "used slave labor during World War II … A family spokesperson said Albert Reimann Sr., who died in 1954, and Albert Reimann Jr., who died in 1984, used Russian civilian prisoners and French prisoners of war as forced labor in their factories during the war, and that they were anti-Semites and avowed supporters of Adolf Hitler."

The family, "reportedly one of the richest families in Germany, will donate €10 million, or $11 million, to a yet-undisclosed charity after a three-year investigation that it commissioned discovered details of their ancestors' behavior."

Peter Haft, chairman and a managing partner at JAB Holdings, says that "Reimann Senior and Reimann Junior were guilty. The two businessmen have passed away, but they actually belonged in prison … There is nothing to gloss over. These crimes are disgusting."

Got the following email from MNB reader Daniel McQuade about Jetblack, the personal shopping service owned by Walmart, targeted at moms who had to be invited to become members, and currently being tested in New York City, which is said to be a passion of Marc Lore, the head of Walmart's U.S. e-commerce business who jumpstarted Walmart's e-commerce business when he sold it Jet, a startup he launched to compete with Amazon.

When you consider that Marc Lore has a deep dive experience with that market segment/customer archetype with his start up diapers.com and also that Jenny Fleiss (Jetblack's CEO) who co-founded Rent the Runway (which BTW just became a "unicorn"...one of only 14 out of over 130 vc backed unicorns that were founded or co-founded by women) has insights to the that same segment or "soon to be segment". I'll take the experience in the space, along with an army of HI (human intelligence) developing AI predictability that will tie in with the 8 billion voice assistants that will be in use by 2023. I think Walmart learned its lesson by giving Amazon the 5 year head start in e-commerce…they don't want to wake up on January 01, 2023 and see how far behind they are. The future...either you engage, embrace or compete with it...I'd prefer to do all three.

As Roger Bannister stated, to move into the lead means having confidence and fierceness...being a little skeptical or having a little bit fear must play some part in the attack.

No kidding.



On the general subject of e-commerce, MNB reader Richard Lowe wrote:

Had my stepson and wife arrive and tell us how happy they are with Meijer's weekly grocery delivery service by interacting with the web site. Fresh produce is good, though there was a problem with the size of steaks being a little large. They also use Amazon's subscription services for paper goods.

Funny, my wife and I enjoy the adventure out of the house to go shopping, and I enjoy multiple stops though she doesn't. I like the exploring of shopping! Just like visiting a new city or country.

The world is changing!

No kidding.



One MNB reader had a thought about my criticism of Sears owner Eddie Lampert:

You are spot on with lambert. He is out for him and him only. I am sure he has a plan with sears but I will bet it's a plan to satisfy "fast Eddie " and fast Eddie only.

No kidding.



MNB reader John Rand had some thoughts about the two New York Times columns that we quoted yesterday as they talked about the future of the car:

The point of view from the Times columnist, cited in today's column (the concept of never actually owning a car again) seems impossible to imagine.

I have owned cars, rented cars, leased cars. I cannot possibly imagine giving up immediate access to a car unless and until I am also forced to give up my house.

To be clear this could very well happen at some point.  I am, for reasons not entirely clear to me, not getting any younger. Winters bring snow that has to be removed from driveways. Mobility may indeed degrade to where I cannot maintain my garden, climb the stairs in my house, and other doomsday scenarios that may come to pass. We live long, these days, but we do not always prosper.

An awful lot of America, like me, lives in either a small town or a suburb, and there are few things more critical than personal transportation. Uber, Lyft, and such are sparse out here,  the idea that a car subscription service makes economic sense is absurd (I estimate it about triples the actual cost of the car) and the various quick day-rental services are reasonably practical for urban environments but won't work in the 'burbs, never mind more rural areas.

I may be forced to give up my car, but I cannot imagine not having one by choice.

Which leads me to a greater concern.

Convenience is at the heart of so much of the new, disruptive businesses today – on-demand, personalized, all the marketing buzzwords are essentially ways of enhancing or restating convenience. And it always – ALWAYS – comes at a price. A drink in a bar costs way more than one from your own bottle. A burger at home is both cheaper and better than one in a fast-food joint. A meal kit cost between 5 and 8 times per portion what my wife and I can cook up in our own kitchen. Home baked bread is actually quite cheap.

Sometimes the trade-off is worth it – I gave up doing my own oil changes quite some time ago, we buy convenience food from time to time – we are not Luddites. But let's be real – there is a cost to convenience.

The monetary cost is obvious .  But there is a secondary long term cost as well. You become dependent on the packaged product, on the service. You become disintermediated from your own life.

My wife bakes bread from scratch. Not one family in a thousand knows how to do this anymore. We keep a small garden of veggies and herbs. I have shared fresh tomatoes with my younger co-workers who never in their entire lives had tasted a truly fresh tomato. Our parents and grandparents had skills, in the home, in the garage, in the yard, in the kitchen – that are being lost and forgotten.

I walk through a grocery store today and I see 100,000 ways to NOT enjoy food, to NOT cook, to NOT do things for oneself. What about those of us who still want to do these things? Who teaches the next generation, where do we find enough to consumers to WANT to bake, or cook, or garden, so that the ingredients and products needed remain available?

I remain a stubborn old Yankee. I make things for myself. And I like owning my own car, thank you.

Also on the subject of car ownership, from MNB reader Scott Nelson:

You and I are close to the same age.   I purchased an old (2001) Porsche 911 about two years ago I replaced the stereo with a new one with a 5" screen and added a backup camera to the car.  BTW, it is a six speed cabriolet.   I love driving it with the top down from Moorpark CA where we live in Ventura County (agriculture area) to the beach like I did yesterday.  As you know when you drive a car with a manual transmission you are more one with the car.  So fun!

No kidding.

Industry Drumbeat
A NEW PRESENTATION BY KEVIN COUPE

Steve Jobs once said, "Better to be a pirate than join the navy." In today's cutthroat retail environment, that attitude needs to be at the core of every business's strategic, tactical and operational approach - challenging the status quo, doing the unexpected, creating customer-centric business initiatives and then disrupting them internally … appealing to people's hearts and heads and aspirations … acting with piratical verve and always moving forward. In this brand new, lighthearted, illuminating and uniquely pertinent presentation, filled with examples and anecdotes and lessons, MorningNewsBeat's Kevin Coupe brings a passion for storytelling and a unique perspective on business that will entertain and energize audiences.''

Here's what Lori Stillman, Executive Vice President - Analytics, Insights and Intelligence, Advantage Solutions, has to say about a recent appearance:

"Kevin joined us as a moderator and facilitator for a two-day client executive event we hosted. His role in the success of the event went far beyond his time presenting and sharing his great wisdom and content. From the moment our planning process began and we selected Kevin as a key part of our program, he dove in and worked with our team to review session topics, ideate on programming and help ensure our overall event delivered on the goals we had established. His quick wit, deep industry knowledge and ability to synthesize conversations into key take-aways enabled us to hit a home run!"

And, from Joe Jurich, CTO of DUMAC Business Systems:

"Kevin recently participated in and spoke at our Annual User Conference.  Our group consisted of independent retailers, wholesalers, and software vendors – a pretty broad group to challenge in a single talk.  While his energy, humor, and movie analogies kept the audience engaged, his ability to challenge them to think differently about how they go to market is what really captured them!  Based on dinner conversations afterward, he appeared to have left everyone thinking of at least one new approach to their strategy!"

To book Kevin for your upcoming event, click here , or call him at 203-253-0291.
Recorded at the annual South by Southwest (SXSW) festival in Austin, Texas, this Retail Tomorrow podcast offers a deep dive into the promises and challenges inherent in the cannabis industry. While it still is not part of the mainstream retail world, the momentum is there for an inevitable explosion of product, marketing muscle, and profit, especially in the self-care segment.

Taking us inside the business are two cannabis industry experts: Genevieve Gilbreath, co-founder and general partner at Springdale Ventures; and Mary Olivar, managing director at Greenbelt Capital.

Here's where you can check our guests' websites:

Genevieve Gilbreath: https://springdaleventures.com

Mary Olivar: https://greenbeltcapitalinc.com

The Retail Tomorrow Podcast is sponsored by the Global Market Development Center (GMDC), seeking to focus not just on best practices, but next practices. This podcast, as well as past editions, also can be found on the site. In addition, check out more details about GMDC's Retail Tomorrow initiative here.

Pictured below, from left to right:

Mary Olivar, Kevin Coupe, Genevieve Gilbreath

I'll be attending the Home Delivery World 2019 conference and exhibition next week at the Philadelphia Convention Center, and If there are any MNB readers who'd like to get together, I'll be camping out from 1:30-3 pm, on Thursday, April 4, at the Fleat booth, #005 - just inside the main entrance, to the right.

Fleat also is making copies of my book available, and I'm happy to sign them, as well as catch up with members of the MNB community.

Hope to see you there…

PWS 59