Join the MNB Community.
Get a Wake Up Call each morning...
Email:
Explore the MNB Archives
From The MNB Archives
Friday, March 29, 2019
Albertsons announced this morning that Jim Donald is stepping down as president/CEO of the company, to be succeeded by Vivek Sankaran, the CEO of PepsiCo Foods North America and a former partner at McKinsey and Company.

Donald will now become a co-chairman of the board.

In a memo to company employees this morning, Donald wrote:

"When I joined Albertsons Companies in March of 2018, there were two paths in front of me waiting to play out: helping to shepherd the integration of a Rite Aid-Albertsons Companies combination into 2019 and beyond, or helping further lead our already-solid company toward the future in both the four wall and no wall environment and tell our story more broadly. Just over a year later, we know which path the company took, and as I took on the role of overseeing the daily operation of our company, I also made finding my successor a high priority. When you look for a successor, you find someone who embraces your vision and then has the capacity to take it to a whole new level. "

As co-chairman, Donald wrote, "I'll be serving alongside Co-Chairman Len Laufer, who was named to our board of directors last fall, and is a Senior Managing Director and Head of Transformation and Technology for Cerberus Capital Management. Bob Miller, after 58 years in the industry, has been named Chairman Emeritus and will continue to serve as a member of the board of directors."

Laufer, Donald wrote, "leads Cerberus Technology Solutions, a subsidiary of Cerberus that is focused exclusively on leveraging emerging technology, data, and advanced analytics to drive business transformations. Len and his team of senior technologists work closely with Cerberus investment and operating professionals on targeted initiatives aimed at improving systems and generating value from data. I think we can all agree that he will be an invaluable add as Co-Chairman."

Donald concluded: "I'm truly excited to see what our company does next. I've said it to our division presidents, our leadership team, and everyone who will listen that, simply put, the small moves we are making are adding up. The industry may think that we're playing catch up with eCommerce, Drive Up and Go, and third-party agreements, but when we look at the whole picture, we're changing the game for customers in small, simple ways that I'm confident will add up to our being the company that everyone wants to catch up to in the next few years.

"I'm excited about our progress and I look forward to what we'll accomplish."

The Albertsons leadership changes take effect on April 25.

KC's View: One thing I know from conversations I've had is that just like at Jim Donald's previous companies, the people he has led since joining Albertsons are going to miss him - his energy and enthusiasm are both remarkable and, in my experience, unique … the very definition of passionate, committed leadership.

Vivek Sankaran has big shoes to fill.

by Kevin Coupe

There's a really nice consumer-oriented piece in the Wall Street Journal this morning entitled "You Could Be Having More Fun at the Grocery Store," that, I think, also offers lessons to marketers.

The story points out that there is a "difference between fun food shopping and functional food shopping," and that shoppers can exploit the difference to their own advantage.

It suggests that "you will spend less time in grocery stores and improve the quality of your meals if you make in-person trips for things that make you hungry (the fun stuff) - peak produce, excellent meat and sparkling fish, great dairy and bread - and get the rest online or on a separate pantry-stocking trip. When you don't have a million things to get, you'll pick out what truly appeals to you."

It also is important, the column suggests, to "keep a lean but diverse assortment of pantry items, seasonings and perishables on hand. Your cupboards should be pared down, not stockpiled. There's no advantage to having more than one or two types of dried beans in the house. If you have a short, textured pasta plus a long strand, you're covered. It means less to keep track of, fewer items at risk of going stale and more available cabinet space."

Now, this kind of shopping isn't for everyone … especially if you don't have a store or stores near you, or your personal and/or work life don't lend themselves to this approach to shopping.

But … if I were a retailer, I'd certainly thinking about how to make consumers' trips to my store more experiential and fun. I'd be thinking about how to make people hungry when they walk in my store. And I'd be doing my best to make functional shopping more frictionless and just easier … especially by focusing on things like automatic replenishment and e-commerce.

Read the story here, and think to yourself, "Am I helping my shoppers have more fun, and am I a solution to the problem of drudgery?

You can ask yourself, "What can I d better to make their lives better/easier/tastier?"

Your answers could be an Eye-Opener.
Convenience store operator 7-Eleven announced this week the opening of a new Dallas store that it describes as "a lab store and an experiential testing ground, where customers can try and buy the retailer's latest innovations in a revolutionary new store format."

COO/president Chris Tanco says that "this new lab store will serve as a place to test, learn and iterate new platforms and products to see what really resonates with customers and how we can use those learnings to influence future store designs."

One of the big innovations in the new store, according to the company: It is "the first 7-Eleven location to incorporate the Laredo Taco Company taqueria … Laredo Taco Company is famous in South Texas for its handmade tortillas made from scratch in stores every day as well as its popular salsa bar with on-site, daily prepared salsas, guacamole and pico de gallo. Tacos, quesadillas and plate meals include specialties not always seen in quick-serve Tex-Mex restaurants such as carne guisada, barbacoa, picadillo bistec, carnitas and breakfast tacos made with hand-cracked eggs."

The taco bar also has indoor, bar and patio restaurant-style seating.

The store also features made-to-order coffee drinks, cold-pressed juices, smoothies and agua frescas" as well as "novelty beverages on tap such as nitro cold brew, kombucha and organic teas." And it has Scan & Pay technology "that allows customers to skip the checkout line and pay for their (non-age-restricted) purchases on their smartphones."

KC's View: I don't know about you, but when I read the description of the Laredo Taco Company, I immediately got hungry. If the experience lives up to the description, then it seems to me that 7-Eleven may have itself a winner.

It also strikes me that this kind of experience - if it moves beyond the lab phase and the Texas borders - is precisely why food retailers ought to be concerned about convenience stores with the ambition to transcend their roots. A lot of us would go anywhere for a great, mouthwatering taco … the name on the door or the type of format doesn't really matter much.
CNBC reports that Amazon will add 800 new tech jobs to the 6,600 employees it already has in Austin, Texas, hiring them "over a period of several years to fill a 145,000-square-foot space in four floors of a North Austin development called The Domain. The employees will be focused on software and hardware engineering, cloud computing and research science."

The story notes that Austin was on the list of 20 finalists for what Amazon called its HQ2 campus in North America; eventually it chose to split the project between Northern Virginia and New York City, then pulled out of the latter after running into community and legislative resistance. Amazon then said it would expand in a number of other markets rather than finding a single alternative to New York.

CNBC points out that "Austin is quickly solidifying its role as a tech hub. The city already attracts tech types through its annual South by Southwest festival. Apple announced in December that it would invest $1 billion into a new campus in Austin, which will accommodate an initial 5,000 employees. Facebook, Samsung, Dell, Google and other tech companies all have major offices in the Austin area." Plus, Amazon-owned Whole Foods is headquartered there.

KC's View: I truly believe that New York City needed Amazon more than Amazon needed New York City. I haven't spent a lot of time in Austin, but I totally get the attraction for tech companies … and the more companies that go there, the more companies will want to go there.

The Los Angeles Times reports that Walmart is getting into business with actress and entrepreneur Drew Barrymore, together launching Flower Home, described as a "curated, 200-piece collection of home furnishings and decor that will be available through Walmart's family of online sites Walmart.com, Hayneedle.com and jet.com."

The new line is described as being "styled with an easy, breezy, on-trend aesthetic" and a "bohemian vibe" and offering "wallet-friendly prices.

The partnership, according to the Times, is in line with strategic moves by both sides.

Walmart also is in business with "other celebrity labels, including those helmed by blogger Ree Drummond a.k.a. the Pioneer Woman, and HGTV alums, interior designers Robert and Cortney Novogratz as Walmart seeks to expand its assortment of exclusive home furnishings."

And Barrymore, in addition to being an actress and producer, has a fragrance offering, a fashion line, and even a wine label as she expands into being a lifestyle brand.

KC's View: I have no comment on this other than to point out that 50 First Dates, which Barrymore both acted in and produced, is one of the great film metaphors for retailing.

• The Wall Street Journal reports this morning that New York State lawmakers expect "to ban single-use plastic bags in the coming days as they wrap up the state's pending $175 billion budget." However, the story says, "Lawmakers are still negotiating whether a fee on paper bags would accompany the ban, how much the fee would be, where the money would go and whether the state or municipalities would set it. The ban may also include exemptions for low-income people who qualify for public assistance."

Finalization of a ban is expected to happen by next Monday.


• Bed, Bath & Beyond said this week that it plans to lay off some 1250 employees, which is a small fraction of its total worker base of 65,000.

One-third of the layoffs will be at its eponymous stores, and two thirds will be in its Christmas Tree Shops chain.

CNBC writes that "the retailer, which has had seven consecutive quarters of declining same-store sales, has slowed down the pace of newer store openings and said it is evaluating existing leases. Meantime, it is investing in its online capabilities to help fend off stronger e-commerce rivals like Amazon."


• NBC News reports that "department store JCPenney remains in a financial slump and, as a result, is shuttering 27 of its 860 stores in 2019 … Most of the stores are set to close by July 5, the company confirmed, but home and furniture outlet inventory will be sold throughout the summer with final closing dates in the fall." The locations being closed have not yet been publicly identified.

• The Food Marketing Institute (FMI) announced the hiring of Gigi Vita as the vice president of sales for the Safe Quality Food Institute (SQFI). Vita most recently led strategic business development and innovation for the nation's largest dairy cooperative, Dairy Farmers of America (DFA), and before that was president/COO at Fonterra North America.

Got the following email from MNB reader Clay Dockery about the Spike Lee-directed video about Jackie Robinson that we had yesterday:

I enjoyed seeing that commercial / film.  I don't know if you know this, but Jackie Robinson was in the CPG industry after retiring from baseball.  William Black, the owner of Chock Full O' Nuts coffee, hired Jackie Robinson as Vice President of Personnel.

I did know that. But it always is worth pointing out.



Regarding the new Ahold Delhaize investment in AI, one MNB reader - who happens to be an employee at Albertsons-owned Shaw's, wrote:

It seems like Ahold-Delhaize is playing chess while Albertsons is playing checkers … Shaw's is a very small part of the company, but it's getting worse by the day morale wise, with labor cutting seeming to be a focus.

And, regarding Albertsons' decision to trim back the store presence of Plated, the meal kit business it acquired, an MNB reader wrote:

Seems to me this was a bad fit for Albertsons, they tried selling them at the Prudential Star Market in Boston without much success, and we never heard much about it at store level at Shaws.

Corporate Drumbeat
"It's a bad time to be in the business of selling groceries, and the headlines are as bleak as you'd expect: "The Retail Apocalypse Is Coming for Grocery Stores" ... "Grocery Retail 'Bloodbath' Is Here" ... Conversely, it is a great time — arguably the best time ever — to buy groceries."
- New York Magazine/Grub Street


At Samuel J.Associates, we have a response to this assessment:

Bull.

We think it is a great time to be selling groceries, whether you are a retailer or a supplier. That's because a more educated and demanding consumer, no matter the demographic, will reward businesses that are innovative, disruptive, and in touch with what people need, even if they don't know they need it.

And, we know this: Those businesses require, and are fueled by, great people.

People who don't just get the job done, but who set the tone in an organization, establish cultural and business priorities, who build teams, and who are able to not just adapt to competitive realities, but see the future and thrive in it.

And yes, ignore dire warnings about a "retail apocalypse" and see opportunities.

At Samuel J. Associates, we have a winning record of connecting great talent and innovative businesses ... as well as innovative talent with great businesses. We exceed your expectations so that you can do the same thing for your customers.

No bull.

Click here to find out more.

Recorded at the annual South by Southwest (SXSW) festival in Austin, Texas, this Retail Tomorrow podcast offers a deep dive into the promises and challenges inherent in the cannabis industry. While it still is not part of the mainstream retail world, the momentum is there for an inevitable explosion of product, marketing muscle, and profit, especially in the self-care segment.

Taking us inside the business are two cannabis industry experts: Genevieve Gilbreath, co-founder and general partner at Springdale Ventures; and Mary Olivar, managing director at Greenbelt Capital.

Here's where you can check our guests' websites:

Genevieve Gilbreath: https://springdaleventures.com

Mary Olivar: https://greenbeltcapitalinc.com

The Retail Tomorrow Podcast is sponsored by the Global Market Development Center (GMDC), seeking to focus not just on best practices, but next practices. This podcast, as well as past editions, also can be found on the site. In addition, check out more details about GMDC's Retail Tomorrow initiative here.

Pictured below, from left to right: Mary Olivar, Kevin Coupe, Genevieve Gilbreath

I'll be attending the Home Delivery World 2019 conference and exhibition next week at the Philadelphia Convention Center, and If there are any MNB readers who'd like to get together, I'll be camping out from 1:30-3 pm, on Thursday, April 4, at the Fleat booth, #005 - just inside the main entrance, to the right.

Fleat also is making copies of my book available, and I'm happy to sign them, as well as catch up with members of the MNB community.

Hope to see you there…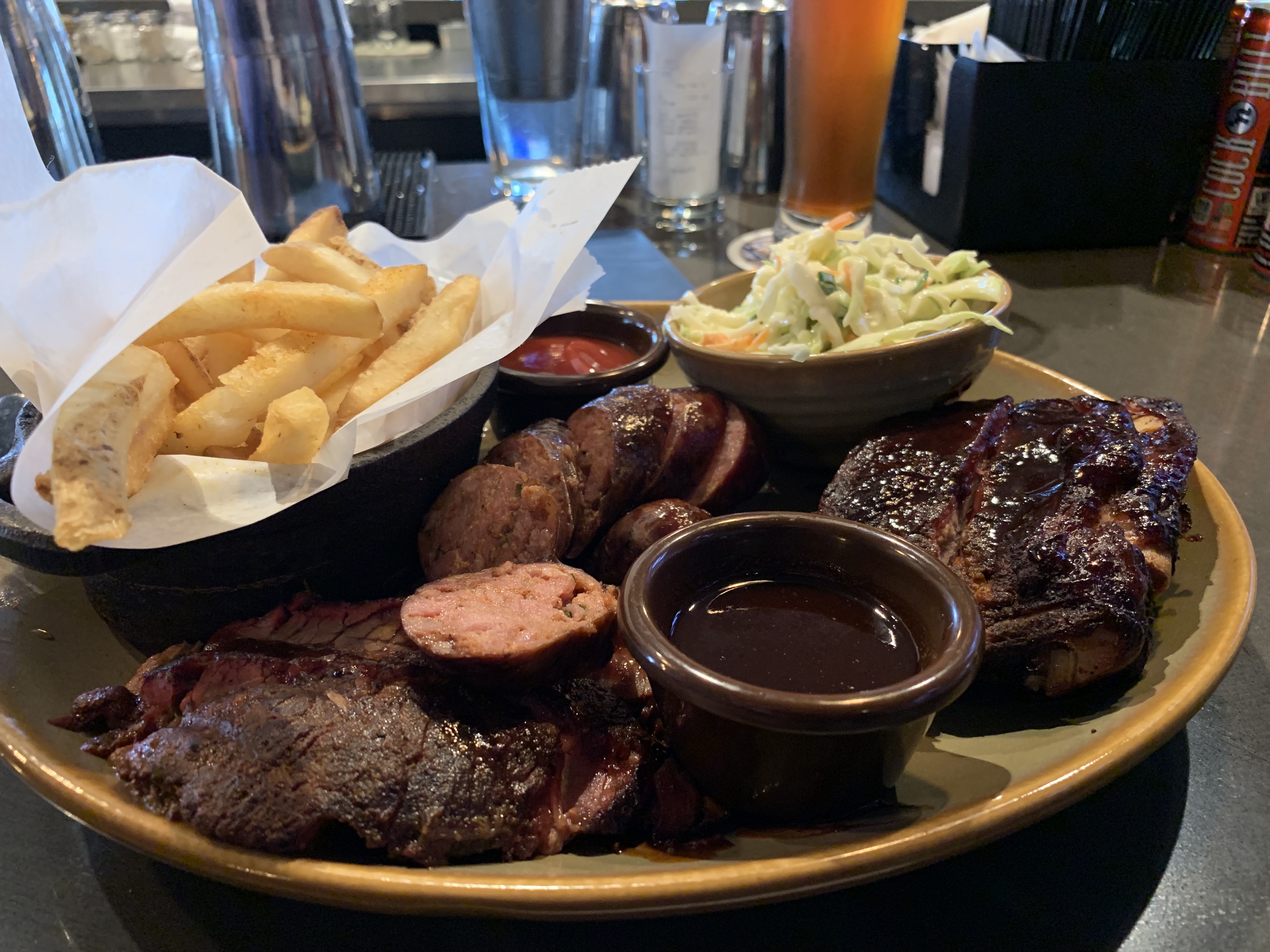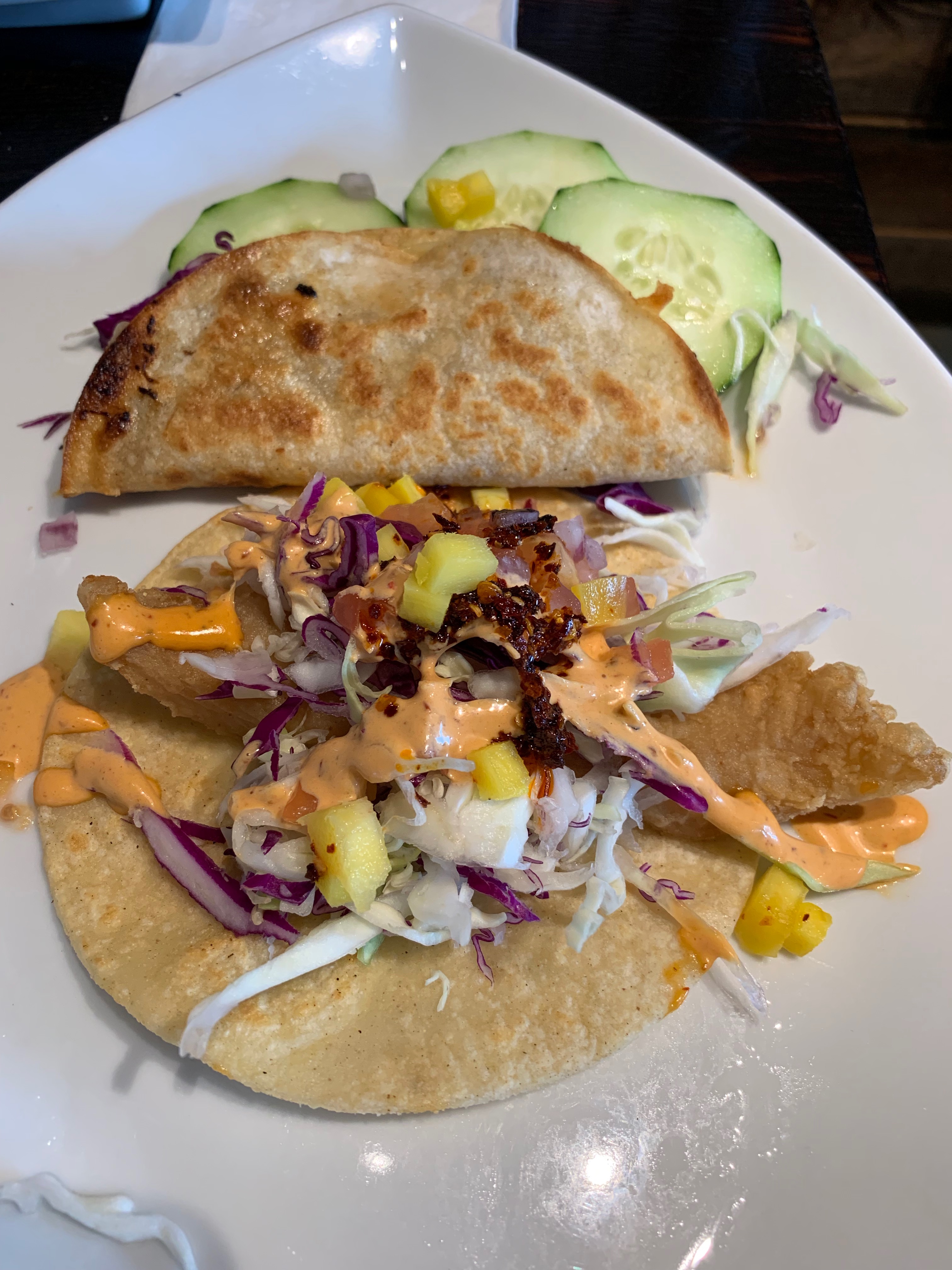 There have been a number of weeks recently during which I haven't had much time to get off the beaten path, leaving me unable to make any recommendations in this space.

This week, I have an almost embarrassment of riches.

First of all, the food …

During past trips to Kansas City, I've done my best to find time to visit Arthur Bryant's, which features some of the best barbecue available anywhere. But while there this week, because of time constraints, proximity and several recommendations, I instead found myself at Q39, which is a lot newer to the market but, by my reckoning, no less accomplished.

Because it was my first time, I decided to splurge on the Judge's Plate: spare ribs, sliced brisket, and sausage, all of which was melt-in-your-mouth delicious, accompanied by a tangy sauce that, had there been any left, I would've been happy to inhale with a straw. And, they served it all with an apple cole slaw that was maybe the best cole slaw I've ever eaten.

It was so good that the next day, I went back for lunch, because I wanted to have some slice burnt ends … which were equally delicious.

In both cases, I washed down the food with a fantastic Brew 39 amber, which is an exclusive collaboration between the restaurant and the local Martin City Brewing Company.

Hate to say it, but I may have found a new KC favorite.



Last weekend, while in Los Angeles, I had an entirely different culinary experience - a friend an I decided to enjoy a late lunch at Coni'Seafood, which is a Mexican restaurant in Inglewood that serves seafood almost exclusively.

It was a simple meal - we split a plate of smoked marlin tacos w/ onion & tomato, (marlin, which I've never had before, tasted and looked like pulled pork - it was amazing) and a plate of Tacos de Pescado Empanizado, which consisted of lightly buttered fried fish served with cabbage, tomato, onion, dressing & chile. All washed down with an icy cold Modelo … and it all left us completely understanding while the late legendary food critic Jonathan Gold gave it an unreserved rave.

What can I tell you. Life is good.



One other note from the culinary front … I went to the Lock City Tap Room in Stamford, Connecticut, last night to meet some friends, and I had the most extraordinary beer - the Subliminal Verses Volume 1 - Breakfast Stout, which is, if I understand correctly, brewed with Pancakes, Cocoa Nibs, Sumatra Coffee, and Maple Syrup. I have no idea if they were pulling my leg on the ingredients, but the stout was so delicious that I was in no mood to argue.

The only problem - I was drinking the last of it, and they're apparently not making any more for the foreseeable future. However, there is potential good news 0- they say their next stout will be made with Oreos.

Be still my heart.



I also have a movie to recommend to you this week - Triple Frontier, which is on Netflix, is directed and co-written by JC Chandor of Margin Call and All is Lost, co-written by Mark Boal (The Hurt Locker, Zero Dark Thirty), and starring a great cast - Ben Affleck, Oscar Isaac, Charlie Hunnam, Garrett Hedlund, and Pedro Pascal.

The plot is simple. Five former members of the US Special Forces, finding themselves frustrated and unhappy after leaving the service, decide to steal millions of dollars from a South American drug lord. Needless to say, it doesn't go as planned … and I found Triple Frontier to be a taut and exciting piece of work. It isn't particularly ambitious, but the work of an A-list group gives the movie a kind of Wages of Fear vibe that I really liked.



That's it for this week. Have a great weekend, and I'll see you Monday.

Sláinte!!
Industry Drumbeat
A NEW PRESENTATION BY KEVIN COUPE

Steve Jobs once said, "Better to be a pirate than join the navy." In today's cutthroat retail environment, that attitude needs to be at the core of every business's strategic, tactical and operational approach - challenging the status quo, doing the unexpected, creating customer-centric business initiatives and then disrupting them internally … appealing to people's hearts and heads and aspirations … acting with piratical verve and always moving forward. In this brand new, lighthearted, illuminating and uniquely pertinent presentation, filled with examples and anecdotes and lessons, MorningNewsBeat's Kevin Coupe brings a passion for storytelling and a unique perspective on business that will entertain and energize audiences.''

Here's what Lori Stillman, Executive Vice President - Analytics, Insights and Intelligence, Advantage Solutions, has to say about a recent appearance:

"Kevin joined us as a moderator and facilitator for a two-day client executive event we hosted. His role in the success of the event went far beyond his time presenting and sharing his great wisdom and content. From the moment our planning process began and we selected Kevin as a key part of our program, he dove in and worked with our team to review session topics, ideate on programming and help ensure our overall event delivered on the goals we had established. His quick wit, deep industry knowledge and ability to synthesize conversations into key take-aways enabled us to hit a home run!"

And, from Joe Jurich, CTO of DUMAC Business Systems:

"Kevin recently participated in and spoke at our Annual User Conference.  Our group consisted of independent retailers, wholesalers, and software vendors – a pretty broad group to challenge in a single talk.  While his energy, humor, and movie analogies kept the audience engaged, his ability to challenge them to think differently about how they go to market is what really captured them!  Based on dinner conversations afterward, he appeared to have left everyone thinking of at least one new approach to their strategy!"

To book Kevin for your upcoming event, click here , or call him at 203-253-0291.
PWS 59