Join the MNB Community.
Get a Wake Up Call each morning...
Email:
Explore the MNB Archives
From The MNB Archives
Tuesday, April 02, 2019
by Michael Sansolo

If there is single demographic group that truly merits more attention it would come down to a single word: Mom.

In countless ways, mothers should always be the target market as they actually control a staggeringly large portion of consumer spending on pretty much everything. And despite the fact we all either are, live with, know or simply have a mother, they remain a highly misunderstood market segment. And that's a big problem.

Last week at the annually wonderful Food Marketing Conference held by Western Michigan University, we heard from Lauren Fitzgerald, a partner in something called The Mom Complex. Her comments were eye opening in countless ways.

For example, if your mother was anything like mine, we know they lie. (No, my face never did get stuck in the weird pose I made for my sister and I don't think the refrigerator actually ate some of my Halloween candy yearly.) But Fitzgerald's point was far more significant in terms of those falsehoods coming from moms.

She explained that in focus groups, moms frequently project the image they believe the group wants from them rather than reality. For example, everyone talks about all the high ideals they have for their family, home and life, when, as Fitzgerald says, most moms privately admit their greatest triumph would be using the bathroom with some degree of privacy.

When it comes to meal time, standard research finds that mom want their kids eating healthier meals, but in reality they simply want to serve foods that the kids will eat so they don't waste time and money on dishes that end up untouched.Fitzgerald's harshest comments came for the way industries (the food industry included) market to moms. Far too many ads are geared, in her opinion, to the 1950s era mom, whose life revolved around homemaking. Today's mom, she said, simply wants to be treated as a human, yet much of marketing seems to portray an ideal that moms today don't or can't achieve. (One specific pet peeve of hers is how ads feature moms in cardigans; a fashion choice Fitzgerald says smacks of phoniness. Fitzgerald is urging a #nocardigans movement on Twitter!)

The good news is that Fitzgerald and her group believe the bar is set so low for marketing to moms that simple steps could improve the situation dramatically. She urges companies to ditch focus groups in favor of spending time with moms to get a sense for how complex and overwhelming their lives are. Marketers need understand the many doubts moms have in their abilities and must learn how to help answer those doubts with products and information that make life easier.

It was interesting that later in the WMU conference I was fortunate to interview SAP's CEO Bill McDermott on stage. At one point, McDermott talked about the difference of diversity and inclusion. The former, he said, is important for countless reasons, but simply having people of diverse backgrounds in the room guarantees nothing.

Companies need to practice inclusion to actually hear and understand the many different points of view of different demographics and especially those moms. This is, of course, not a new insight … just check out this scene from Mr. Mom, featuring the indomitable - and absolutely on-target - Teri Garr.

Michael Sansolo can be reached via email at msansolo@morningnewsbeat.com . His book, "THE BIG PICTURE: Essential Business Lessons From The Movies," co-authored with Kevin Coupe, is available on Amazon by clicking here. And, his book "Business Rules!" is available from Amazon by clicking here.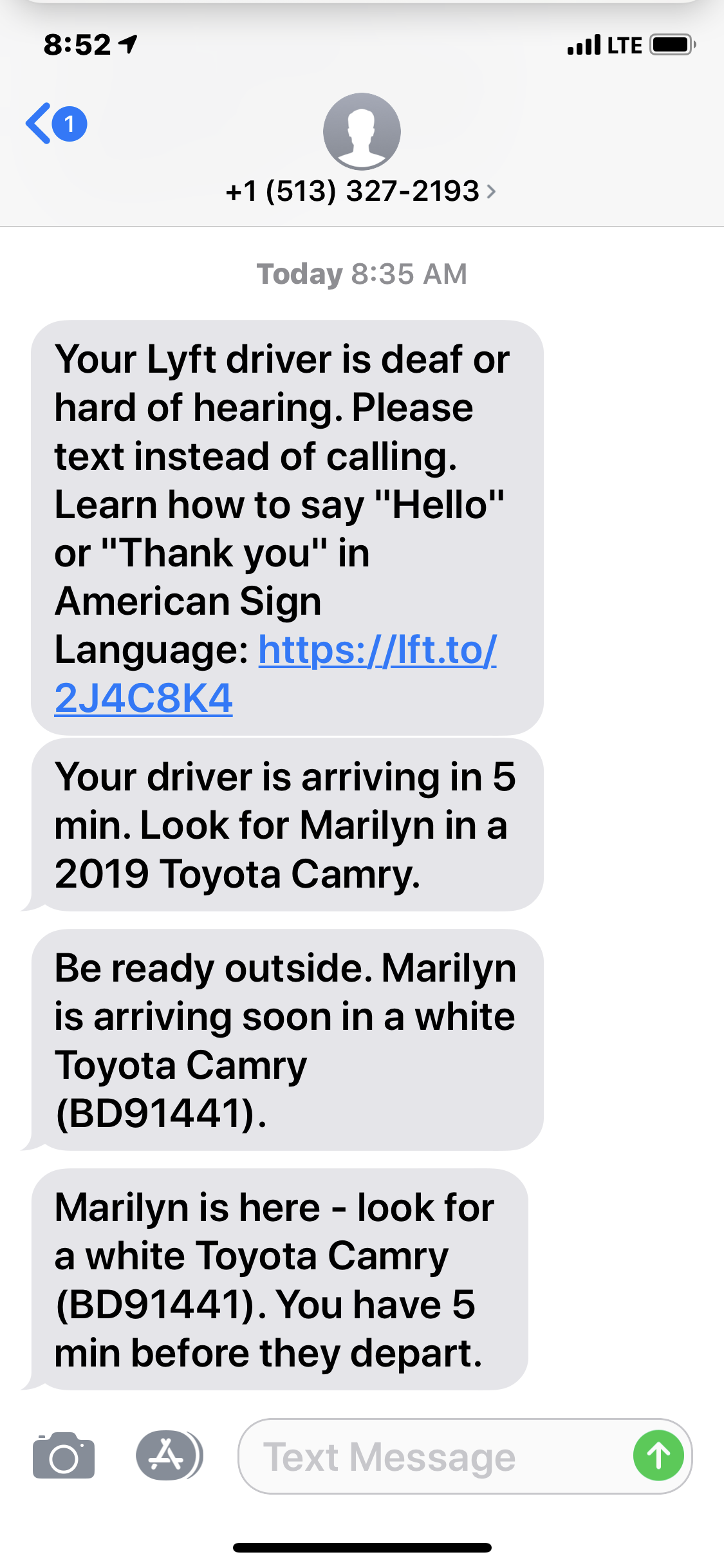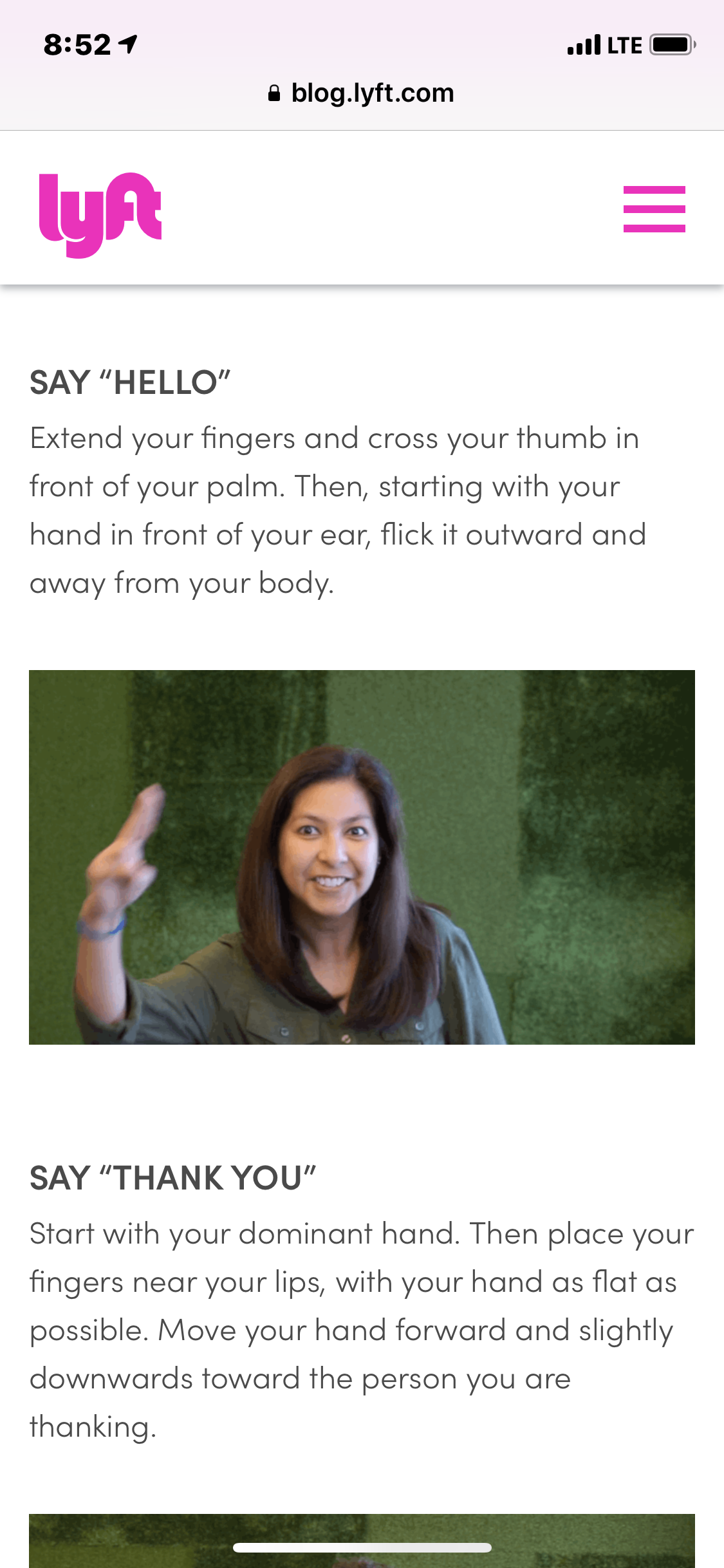 by Kevin Coupe

I had a remarkable experience yesterday. It was a new one for me, though I suppose it is possible that some MNB readers have had precisely the same experience.

I'm in Chicago, at the Food on Demand conference, and yesterday morning I needed to get downtown from the house where I'm staying. So I did what I always do in such situations - I used my Lyft mobile application to request a car.

The app informed me that my Lyft car would be along in a few minutes … and then, seconds later, I got the most extraordinary text, which you can see at left.

I was informed via text that my driver was either deaf or hard of hearing, and provided with a link to the Lyft site where I could quickly learn how to use sign language to say "hello" and "thank you."

Which I did.

The driver showed up, got me downtown, and seemed appreciative that I tried to use sign language to say "hello" and "thank you."

I think this is so cool, and I'm really glad that this driver was sent to pick me up, because it made me feel good about Lyft and the human condition in general.

People spend a lot of time these days worrying about those who are different from them, and wondering why everybody can't be just like them. In this case, Lyft acknowledged the situation, and did a little something to create a bridge and establish a bond, if only for a moment.

We all could learn from such an Eye-Opening approach.
Amazon-owned Whole Foods will cut prices on hundreds of items beginning tomorrow, a move that seems designed to blunt the continued perception that the chain is too-high priced.

The Wall Street Journal reports that "the price cuts affect more than 500 products and include a focus on produce and meat," with prices "reduced by an average of 20 percent on the selected items."

The Journal also reports that under the new cuts, Amazon Prime members will "be able to save more than before at Whole Foods, with double the number of weekly Prime Member deals and deeper discounts."

It notes that the Amazon-Whole Foods connection has had its problems: "Amazon has introduced free, fast Whole Foods delivery in more than 60 markets for Prime members. Some customers have said service suffers from problems such as missing items and poor substitutions that are common to grocery delivery."

This is said to be the third round of price cuts at Whole Foods since Amazon bought the company for nearly $14 billion in 2017. There also was a time a few months ago when reports emerged that Whole Foods actually was increasing some of the prices that it previously had cut.

KC's View: Clearly, Amazon is feeling some heat, with Walmart/Jet and Kroger getting a lot more aggressive and gaining traction against it.

This only makes sense; I'm sure that Amazon has always expected that its competitors would get better. Jeff Bezos is way too smart to think that he'd have the field to himself forever, and in fact his relentless focus on growth, ecosystem building and putting research-and-development ahead of profits and investor satisfaction speaks to his mindset.

I do think that it will be interesting to see how this development affects - if at all - Amazon's plans for a new chain of grocery stores that reportedly will begin rolling out later this year. (Informed speculation is that the first one will open in Woodland Hills, California, where is no dearth of competition. It also is speculated that Amazon could acquire a smallish regional chain somewhere in the US to jump-start its efforts.)

Clearly, running supermarkets is both hard and expensive, and some of the ways in which Amazon has bent the rules (and, seemingly, some of the established laws of physics and economics) to its own will may not work as easily there. I remain a little skeptical about exactly what it may have mind with these stores, and resolute in my belief that if Amazon is going to open new stores, it has to figure which of its secret sauces it will use in them … because just opening me-too stores makes no sense at all.

(It may be that Amazon is paying attention to a Cowen & Co. study quoted in the Washington Post, saying that "curbside grocery pickup will account for $35 billion in sales in the U.S. by 2020 as it is embraced by a greater proportion of consumers." If click-and-collect indeed is the future, then Walmart and Kroger and everybody else in the grocery business have an advantage over Amazon because they have actual curbs. But there also is another line of thinking that says delivery will soon leap-frog click-and-collect, and Amazon certainly has the advantage there. Me, I tend to think that it isn't an either-or proposition … I think there is plenty of room for both, and that customers will use both depending on the day, the circumstance and the particular need state.)

All that said, I am looking forward to going to Whole Foods this weekend to see how the prices on the things I buy there have been impacted. One of the points the Journal makes is that Whole Foods has not been as successful at converting its shoppers to Prime membership as it expected, And I would agree that they've not doing nearly enough to make my Prime membership work for me there. Bezos likes to say that he wants to make Prime so valuable that not being a member is irresponsible … and I don't think they've done nearly enough with it at Whole Foods.

CNBC reports this morning that Walmart and Google have struck a deal that will enable shoppers to order groceries from Walmart via the Google Home voice-activated smart speaker system.

Shoppers will just have to say, "Hey, Google, talk to Walmart" to be able to place items in a Walmart virtual shopping basket.

The CNBC story notes that "the voice commands work on any device with Google Assistant, including Google's Home Hub, Android phones and iPhones … Walmart's announcement ramps up the competition with Amazon, which offers grocery shopping through its Alexa voice assistant. Amazon currently dominates the U.S. smart speaker market, capturing 67 percent of market share in 2018 according to research firm eMarketer."

KC's View: This may be one of the reasons that Amazon-Whole Foods is feeling some heat.

Walmart U.S. senior vice president Tom Ward apparently is hinting that while the system is being launched within the Google ecosystem, it is possible that Walmart will add "others to the mix as time goes on."

Presumably not Alexa.

The Produce Marketing Association (PMA) yesterday announced that it will be collaborating with the National Association of Convenience Stores (NACS) on the "eat brighter!" program that uses Sesame Street characters to promote fruit and vegetable sales.

According to the announcement, "NACS retailer or supplier members can now pay a one-time administrative fee to gain access to royalty-free images for use on fresh fruit and vegetable packaging and marketing materials." NACS has 1,900 retailer and 1,800 supplier members from more than 50 countries.

The "eat brighter!" program, launched about five years ago, reportedly has a proven track record of success: "Research shows that not only is Sesame Street a highly trusted brand with over 6 million viewers each week, it is also a brand that drives consumption of fruits and vegetables. One study showed that children eat 31% more fruits and vegetables when promoted by a Sesame Street character, and suppliers who have utilized the eat brighter! materials report produce sales increased 5.3%."

The Financial Times reports that new figures from data provider Reis, a division of Moody's Analytics, suggests that 9.3 percent of stores in America's shopping malls are vacant, "a 10th more than a year ago."

The story notes that "until recently, the robust US economy has helped the retail property market remain resilient despite the rise of online shopping. Landlords are still demanding 8 per cent higher rents in regional malls than they were five years ago.

"However, thousands of store closures since the turn of the year, and signs that consumer spending is faltering, have made them increasingly concerned about the outlook for malls."

FT writes that "US retailers have set out plans to close 5,480 stores, according to Coresight Research — almost as many as the 5,730 announced in all of 2018."

KC's View: Getting the week's MNB award for stating the obvious is Beau Armstrong, chairman/CEO of based Stratus Properties, who tells FT, "'We don't think [bricks and mortar] retail is going to go away. We just think it's going to evolve into something a little bit different,' adding that he expected sites to be smaller and sell 'things that you just simply can't get from Amazon'."

Gee. Y'think?

MarketWatch reports that Cresco Labs, a Chicago company described as "a multi-state cannabis cultivator, processor, and retailer," is acquiring Origin House, a Canadian marijuana distributor, for $823.5 million (US).

According to the story, "The deal, which Cresco said is the 'largest public company acquisition in the history of the U.S. cannabis industry,' is expected to be completed by the end of June. 'Following the closing of this acquisition, Cresco brands will be in over 725 dispensaries across the country, giving us the largest and most strategic distribution footprint of any cannabis company in the United States,' said Cresco Chief Executive Charlie Bachtell."

KC's View: Expects lots more of these sorts of deals. Lots more.

The Wall Street Journal has a story about while Walgreens Boots Alliance is testing a few tobacco-free stores in the US, the company "has no plans to quit selling cigarettes entirely."

This despite the fact that chief rival CVS got out of the tobacco business years ago, citing its desire to be seen as credible in the healthcare business. (Declining sales probably helped to make the decision a little easier.)

The safety of our patients is very important, but we also have to do what our customers are requiring us to do," says Walgreens Boots Chief Executive Stefano Pessina. "We see that when we don't sell tobacco, we have a lot of [negative] reactions."

The Journal writes that "while it continues to sell cigarettes in the vast majority of its stores, Mr. Pessina said Walgreens is trying to help smokers quit by also making smoking cessation products widely available. Employees are encouraged to direct customers seeking cigarettes to cessation products. The pharmacy chain has also reduced the visibility of tobacco products in some stores."

The story notes that Walgreens has been cited by federal regulators for selling tobacco products to minors: "Outgoing FDA Commissioner Scott Gottlieb called out Walgreens in February for selling tobacco products to minors after the agency conducted undercover checks. About 22% of the more than 6,000 Walgreens stores the FDA inspected sold to minors, the agency said."

KC's View: Seems clear to me that Walgreens is choosing its lane, and it is less healthcare-focused than the one CVS has chosen.

For me, having decided that there is a special circle of hell for tobacco executives and their minions, CVS has made the right choice on a lot of levels - it has an eye on the future, not today's transaction count.

Burger King this week will begin selling a Whopper made with a vegetarian patty manufactured by Impossible Foods, joining fast feeders such as White Castle and Carl's Jr. in the move toward meatless alternatives.

The New York Times writes that "the Impossible Whopper, as it will be known, is the biggest validation - and expansion opportunity - for a young industry that is looking to mimic and replace meat with plant-based alternatives … a national rollout at Burger King's 7,200 locations would dwarf those previous announcements and more than double the total number of locations where Impossible's burgers are available."

The story points out that "the vegetarian burger made by Beyond Meat has been available at over a thousand Carl's Jr. restaurants since January and the company is now moving toward an initial public offering. White Castle has sold a slider version of the Impossible burger in its 380 or so stores since late last year."

KC's View: For me, what seems impossible - or at least unlikely - is the likelihood that this thing is going to taste any good. When I had the White Castle version last year, it made me sick to my stomach … though, to be fair, pretty much everything at White Castle has that effect on my usually cast iron constitution.

It is not like I'm anti-vegetarian burgers. In fact, I had a great one last summer at the Irving Street Kitchen in Portland, Oregon … though, to be fair, pretty much everything at the Irving Street Kitchen tastes great.

Hmmm … I sense a pattern here.

I'm not a Burger King fan, and have pretty much sworn off most fast food, but I'll pledge here and now to make a trip to Burger King in the next week or two to try this thing out.

Corporate Drumbeat
"It's a bad time to be in the business of selling groceries, and the headlines are as bleak as you'd expect: "The Retail Apocalypse Is Coming for Grocery Stores" ... "Grocery Retail 'Bloodbath' Is Here" ... Conversely, it is a great time — arguably the best time ever — to buy groceries."
- New York Magazine/Grub Street


At Samuel J.Associates, we have a response to this assessment:

Bull.

We think it is a great time to be selling groceries, whether you are a retailer or a supplier. That's because a more educated and demanding consumer, no matter the demographic, will reward businesses that are innovative, disruptive, and in touch with what people need, even if they don't know they need it.

And, we know this: Those businesses require, and are fueled by, great people.

People who don't just get the job done, but who set the tone in an organization, establish cultural and business priorities, who build teams, and who are able to not just adapt to competitive realities, but see the future and thrive in it.

And yes, ignore dire warnings about a "retail apocalypse" and see opportunities.

At Samuel J. Associates, we have a winning record of connecting great talent and innovative businesses ... as well as innovative talent with great businesses. We exceed your expectations so that you can do the same thing for your customers.

No bull.

Click here to find out more.

Columnist Frank Bruni of the New York Times - who used to be the paper's restaurant critic, so he knows something about food - has a terrific piece about how people's dining habits tend to evolve as they get older.

An excerpt:

"What you want from restaurants, it turns out, is a proxy for what you want from love and from life. None of these is constant. All reflect the arc that you've traveled, the peace that you have or haven't made. When I was 34, I wanted bling, because it persuaded me that I was special. When I was 44, I wanted blinis, because they made me feel sophisticated. At 54, I just want martinis, because I'm certain of what's in them and of what that potion can do: blunt the day and polish the night.

"I'm in good company, by which I mean that most people who are about my age or older don't have the same relationships with restaurants that they did decades ago. I know because I'm always asking them, and what they say is familiar: They no longer sprint to the next shimmering frontier. They won't suffer stools with no lumbar support. They keep their smartphone flashlights at the ready, in case the same dimness that's such a kindness to wrinkles renders those letters on the menu — when did they get so tiny? — illegible."

You can read the story here.

KC's View: I loved this column, and every friend around my age to whom I sent it agreed - and we all find the trends that Bruni writes about to be highly recognizable. I do like familiarity, even when I'm on the road, and so while I try new foods and restaurants a lot - more than most people, I'd guess, just because of how I live much of my life on the road - I also like to have touchstones in a wide variety of places, comfort locations that serve comfort food.

And I have to wonder if there are some lessons here for retailers.

I'm not suggesting that retailers go for the vanilla, or the lowest common denominator. Far from it. But I do think that some need to think more creatively about how to market to people of a certain age. (Mine.)

• The New York Times this morning has a story about Amazon's "first major distribution center" in New York City, built on a "swampy stretch" on the northwest side of the borough of Staten Island. The facility, at 855,000 square feet the size of more than 14 football fields and with two floors and a mezzanine, actually is 20 percent smaller than the average Amazon warehouse, and is described as "a tightly packed site … stuffed with twice as many robots as human workers and able to handle 50% more inventory than traditional warehouses."

According to the story, "The space is used as efficiently as a New York studio apartment, and for Amazon and other companies looking to duplicate the company's determined push to deliver goods to consumers as fast as possible, that makes its anchor for the lucrative market a likely model for the future of urban e-commerce fulfillment."

The Times notes that "developers are planning more multistory warehouses under 1 million square feet in the Bronx and Brooklyn."

• The Associated Press reports that as expected, Kellogg is selling Keebler cookies and other cookie brands, including Mother's and Famous Amos, to Ferrero, best known for the brand Nutella hazelnut cream.

The price: $1.3 billion, which, the AP notes, is "about $2.6 billion less than it spent on (Keebler) alone 17 years ago."

• The Food Marketing Institute (FMI) announced that it has hired Marjorie DePuy as its new Senior Director for Supply Chain and Sustainability. DePuy was formerly the vice president of industry relations and education with the Healthcare Distribution Alliance, and started her career at the Grocery Manufacturers Association (GMA) where she designed and programmed the "Future of Food" Symposium.

• The United Fresh Produce Association has released a statement urging the Trump administration not to close down the US-Mexican border, a move that United says would have an extremely deleterious impact on the US agriculture industry.

The text of the statement reads as follows:

On March 27, 2019, U.S. Customs and Border Protection (CBP) Commissioner Kevin McAleenan stated that CBP will be reassigning up to 750 CBP officers from ports of entry along the southern border to assist U.S. Border Patrol with the processing of migrant crossings along the border. Because of the large reassignment of CBP officers, importers and exporters should expect to see 'a slowdown in the processing of trade' along the U.S.-Mexico border for an unspecified period. CBP will be forced to close some processing lanes, potentially in the ports of El Paso, Laredo, Tucson and San Diego. In addition, officials at the port in Nogales, AZ have announced closing commercial border traffic on Sundays.

These steps will cause significant harm to growers, wholesale distributors, transportation companies, grocery stores, restaurants and most importantly, U.S. consumers. On behalf of the fresh produce industry and the broad cross-section of members we represent, we urge the Administration to reconsider these steps that would profoundly interrupt our ability to bring fresh, healthy produce to all Americans. If these actions are implemented, the Administration will cause millions in economic losses while increasing costs to consumers across North America.

Fresh fruit and vegetables are the most perishable and sensitive to timely inspection and delivery of any farm products. Disruptions of weeks, days or even hours cut supply chains meaning lost wages and lost revenues. Already, inspection delays are being felt from El Paso to San Diego costing farmers, truck drivers and companies of all sizes. In fact, the San Diego Association of Governments and California Department of Transportation have indicated that even an extra 15 minutes of wait time could generate as much as $1 billion in lost productivity and 134,000 lost in jobs annually.

The solution to our immigration problems is not closing the border or slowing commercial traffic, but for Congress and the Administration to work together on real immigration reform. That is why our association continues to call upon our nation's leaders to get on with sensible reform that ensures a legal workforce for agriculture together with a functional border.


• AgNetWest reports that the US Food and Drug Administration (FDA) has "announced an enforcement discretion policy for certain crops under the requirements of the Produce Safety Rule portion of the Food Safety Modernization Act (FSMA).  FDA indicated in a guidance document that the agency would not be holding entities that are growing, harvesting, packing, or holding either wine grapes, hops, pulse crops, or almonds responsible for meeting the requirements set forth by the Produce Safety Rule."

Industry Drumbeat
A NEW PRESENTATION BY KEVIN COUPE

Steve Jobs once said, "Better to be a pirate than join the navy." In today's cutthroat retail environment, that attitude needs to be at the core of every business's strategic, tactical and operational approach - challenging the status quo, doing the unexpected, creating customer-centric business initiatives and then disrupting them internally … appealing to people's hearts and heads and aspirations … acting with piratical verve and always moving forward. In this brand new, lighthearted, illuminating and uniquely pertinent presentation, filled with examples and anecdotes and lessons, MorningNewsBeat's Kevin Coupe brings a passion for storytelling and a unique perspective on business that will entertain and energize audiences.''

Here's what Lori Stillman, Executive Vice President - Analytics, Insights and Intelligence, Advantage Solutions, has to say about a recent appearance:

"Kevin joined us as a moderator and facilitator for a two-day client executive event we hosted. His role in the success of the event went far beyond his time presenting and sharing his great wisdom and content. From the moment our planning process began and we selected Kevin as a key part of our program, he dove in and worked with our team to review session topics, ideate on programming and help ensure our overall event delivered on the goals we had established. His quick wit, deep industry knowledge and ability to synthesize conversations into key take-aways enabled us to hit a home run!"

And, from Joe Jurich, CTO of DUMAC Business Systems:

"Kevin recently participated in and spoke at our Annual User Conference.  Our group consisted of independent retailers, wholesalers, and software vendors – a pretty broad group to challenge in a single talk.  While his energy, humor, and movie analogies kept the audience engaged, his ability to challenge them to think differently about how they go to market is what really captured them!  Based on dinner conversations afterward, he appeared to have left everyone thinking of at least one new approach to their strategy!"

To book Kevin for your upcoming event, click here , or call him at 203-253-0291.
Yesterday, MNB took note of a Washington Post report that the General Social Survey, described as "one of the longest-running and most highly regarded public opinion research projects in the nation," has just completed a survey saying that America is becoming less happy.

According to the story, "On a scale of 1 to 3, where 1 represents 'not too happy' and 3 means 'very happy,' Americans on average give themselves a 2.18 - a hair above 'pretty happy.' That's a significant decline from the nation's peak happiness, as measured by the survey, of the early 1990s. The change is driven by the number of people who say they're not too happy: 13 percent in 2018 vs. 8 percent in 1990. That's a more than 50 percent increase."

I commented, in part:

I found a bunch of stuff in this survey to be interesting; even though the downward tilt is slight, it seems to make sense because economic well-being and health are so connected to how happy people are. Not surprisingly, people who are well-off financially and relatively healthy remain as happy as one would expect them to be. (Money may not buy happiness, in my experience, but it doesn't hurt.) But there seem to be more people in the country - or at least in this survey - who are economically challenged and/or facing health issues, and that affects their happiness, which shouldn't surprise anyone.

One MNB reader responded:

"Ignorance is bliss."  I will over-simplify this into the fact that technology and social media were not what they are today.  In 1990, we didn't know as much about what we were "missing."  We heard about bad news in our town, city, or state, but not the entire world…at least not 24 hours/day.  We could discuss politics, not argue about them (except for Uncle Ed and my dad...).  If I had a tough day, home was a safe haven for at least a night.  Tough to get away from it now…whatever "it" is…

I'm 51 years old…I like my iPhone to make calls from anywhere it's convenient.  I like Google Maps because a ¼ mile heads up on where to turn is a godsend.  Texting is helpful to get a quick response from my AWOL teenagers…I love to play my music at the gym…outside of that, I'm not a huge fan.

The teens of today are being wired significantly different due to the attachment to the phones.  I kept my over-extended 16-year-old daughter home Saturday night just to "take a breath."  She was inundated with Instagram messages and IMs from friends, "Where are you?", "We're having so much fun at…", "Can you go out later?"  I had to hear about it for the better part of the evening.   I should have taken her phone away (so she didn't get hit with all that), but that's a whole other battle…Sigh…

Rural or city, black or white…it has changed everything, everywhere…Lots of good stuff, but plenty of challenges…

And, from another reader:

Not sure how to make other people happy. But I will say surrounding myself with less negativity such as politics, negative people. Not easy by any stretch, and our society seems to always point out the hurtful, negative, and lots of things are taken out of context. I read and make up my own mind without the biases of talking heads. Just watch the news, if it is controversial it leads. It really seems we want other people to fail, so we feel better about ourselves. That is a sad commentary on us. Remember we are not born negative, it is an acquired trait. This is a very simplistic way to look at it I know, but it is a start. Plus I am blessed with a wife that grounds me, always looks at the glass half full.

Recorded at the annual South by Southwest (SXSW) festival in Austin, Texas, this Retail Tomorrow podcast offers a deep dive into the promises and challenges inherent in the cannabis industry. While it still is not part of the mainstream retail world, the momentum is there for an inevitable explosion of product, marketing muscle, and profit, especially in the self-care segment.

Taking us inside the business are two cannabis industry experts: Genevieve Gilbreath, co-founder and general partner at Springdale Ventures; and Mary Olivar, managing director at Greenbelt Capital.

Here's where you can check our guests' websites:

Genevieve Gilbreath: https://springdaleventures.com

Mary Olivar: https://greenbeltcapitalinc.com

The Retail Tomorrow Podcast is sponsored by the Global Market Development Center (GMDC), seeking to focus not just on best practices, but next practices. This podcast, as well as past editions, also can be found on the site. In addition, check out more details about GMDC's Retail Tomorrow initiative here.

Pictured below, from left to right: Mary Olivar, Kevin Coupe, Genevieve Gilbreath

I'll be attending the Home Delivery World 2019 conference and exhibition this week at the Philadelphia Convention Center, and If there are any MNB readers who'd like to get together, I'll be camping out from 1:30-3 pm, on Thursday, April 4, at the Fleat booth, #005 - just inside the main entrance, to the right.

Fleat also is making copies of my book available, and I'm happy to sign them, as well as catch up with members of the MNB community.

Hope to see you there…
PWS 59