Join the MNB Community.
Get a Wake Up Call each morning...
Email:
Explore the MNB Archives
From The MNB Archives
Wednesday, April 03, 2019
Once again - this is getting to be a habit, albeit one I'm happy to embrace - Tom Furphy and I found ourselves in the same place at the same time, and so we we able to conduct the Innovation Conversation "live" on tape, having an actual conversation on-camera instead of via email.

The location was the Retail Tomorrow Immersion conference - sponsored by GMDC - that was taking place in Los Angeles; more specifically it was at the offices of M-Rad, an architectural design firm where attendees to get a number of different views of what the future may look like and, appropriately enough, how it will be built.

And so, our subject for this conversation - which, as always, has as its goal to explore some facet of the fast-changing, technology-driven retail landscape and how it affects businesses and consumers - is both physical and digital architecture, its role in creating a consumer value proposition, and the chances that marketers take when using influencers to create and expand their markets.

You can see the video at left.

(One note: The sound may be a little dicey, depending on how you are watching and listening to this conversation. That is one of the byproducts of how so much of MNB and these videos is done - we grab opportunities, try to be spontaneous, and are willing to sacrifice a bit of production value in the interest of moving the conversation forward.)
While attending the Retail Tomorrow Immersion in Los Angeles, I found some time to visit the new Gelson's store in Manhattan Beach - for lots of reasons, one of which is because, given the opportunity, why wouldn't one visit Manhattan Beach?

What I found there was a compelling store - I have to say that Gelson's has come a long way in the past few years, building and renovating stores that are both compelling and modern. (You can see some pictures below.)

One of the things that I liked best about the Manhattan Beach store was the seafood/tapas bar that also has a broad selection of beer and wine. It is long and beautiful and on weekends apparently does a lot of business with local residents (who can, if they wish, walk to the store and, after a drink or two or three, walk home).

Best of all, Gelson's makes what I think is a pretty compelling offer 0- if you like, you can pull up a seat at the bar, give the bartender your shopping list, and order food and drink., The bartender, in turn, will get your list to an employee, who will then do all your shopping for you.

Local regulations prevent the store from allowing shoppers to wander the store with a glass of wine or beer in hand, but this strikes me as the next best thing. In fact, it may be the next better thing.

To be fair, it isn't like Gelson's is operating in a vacuum. There is a wonderful Bristol Farms-owned Lazy Acres store less than a mile away in Hermosa Beach (I wrote about it last December here on MNB), and both a Bristol Farms and a Trader Joe's with Manhattan Beach addresses less than two miles away … and that doesn't count the more mainstream supermarkets that are on and around that stretch of Sepulveda Blvd.

I think Gelson's does a nice job, if one that is highly targeted on an upscale shopper who can afford to spend disposable income on fresh food and specialty grocery items. There's nothing wrong with that, though it does, I think, increase the pressure on Gelson's a bit to break outside the margins that perceptions (and history) create.

Good store, though, and one that reflects a company consciousness that has been raised in recent years, resulting in an approach to retailing that is itself raising the bar.

And the great thing is, you can go to that bar, have a drink and get someone to do your grocery shopping.

Sounds like a win-win to me, and an Eye-Opener.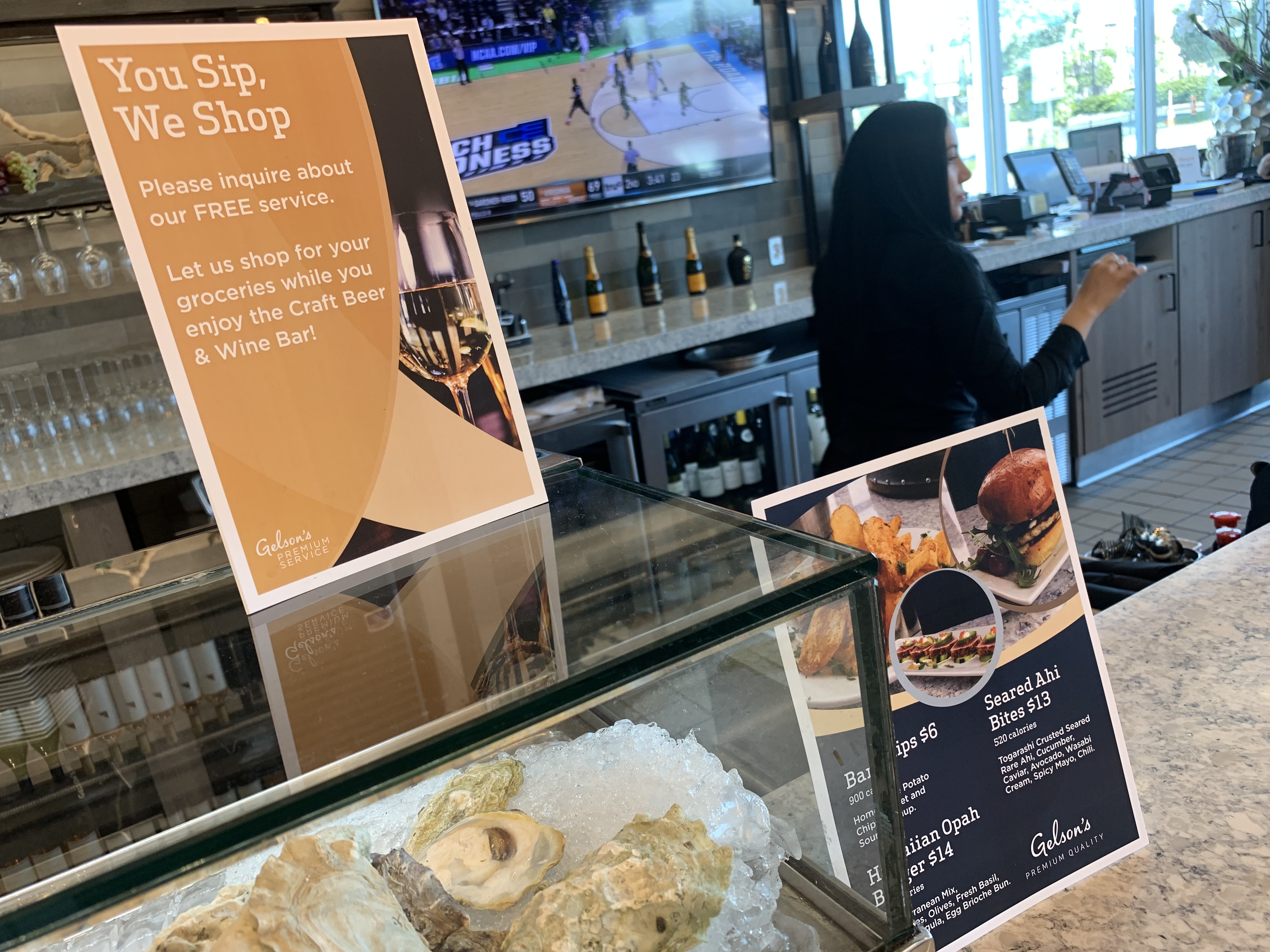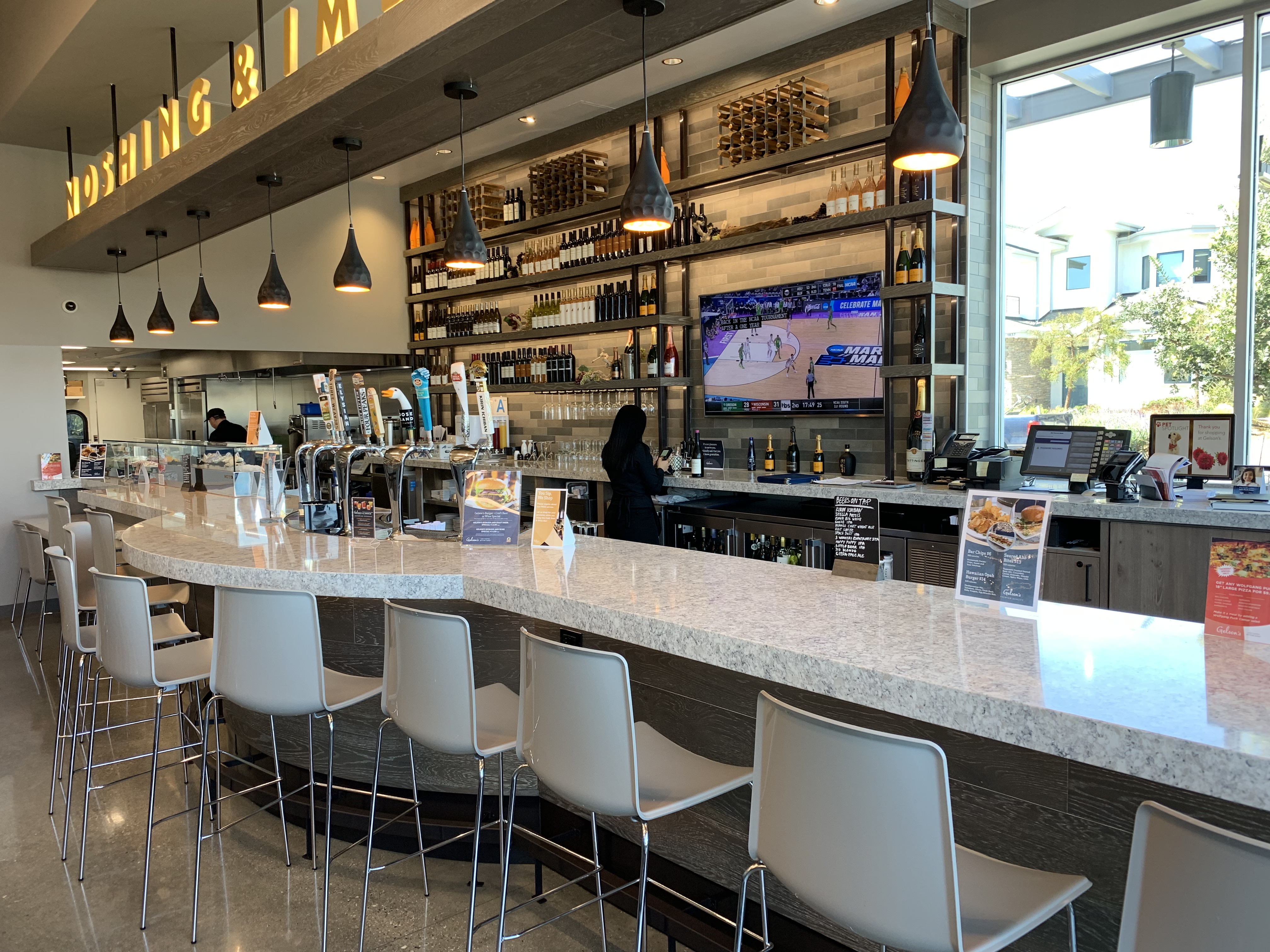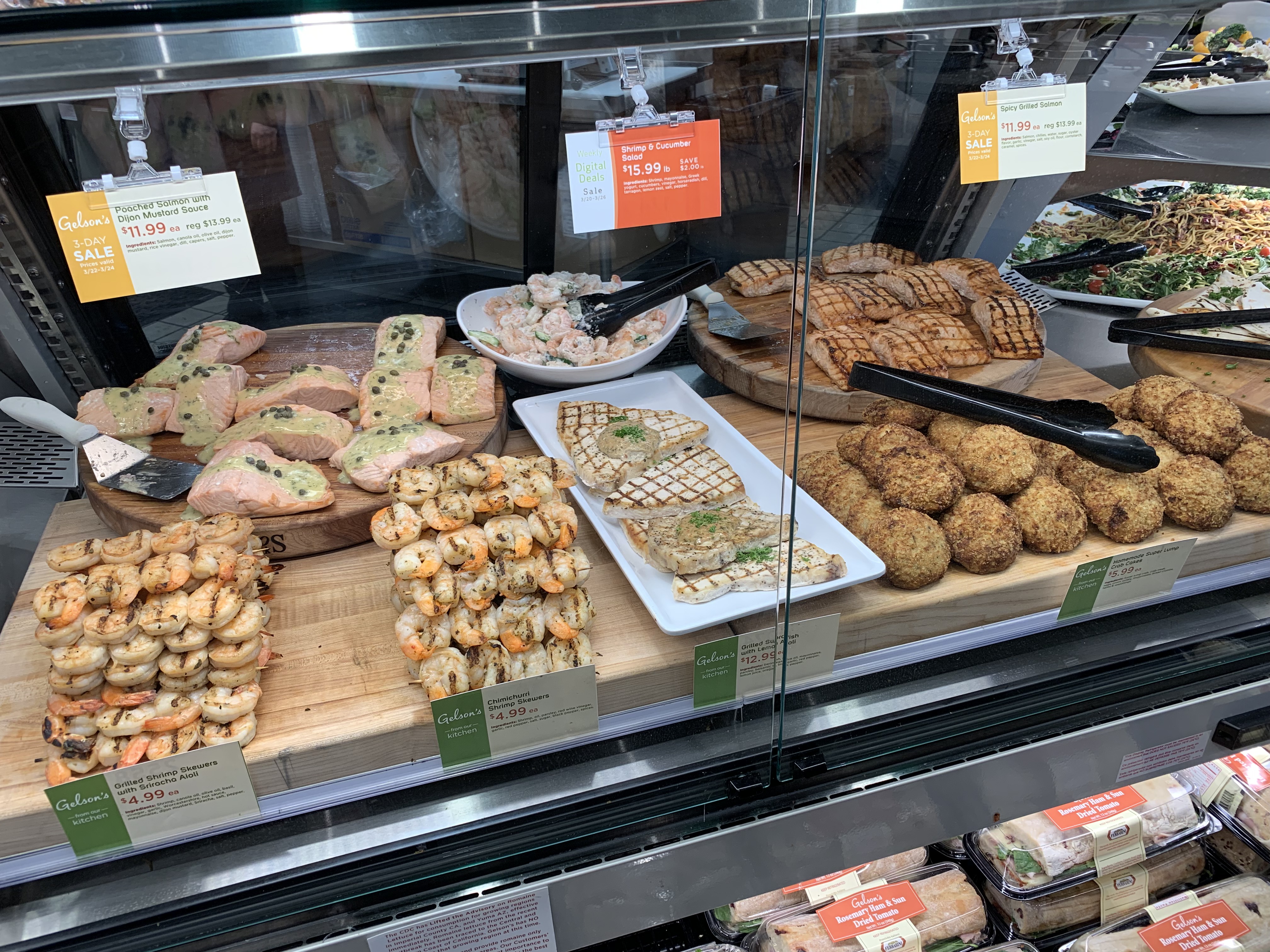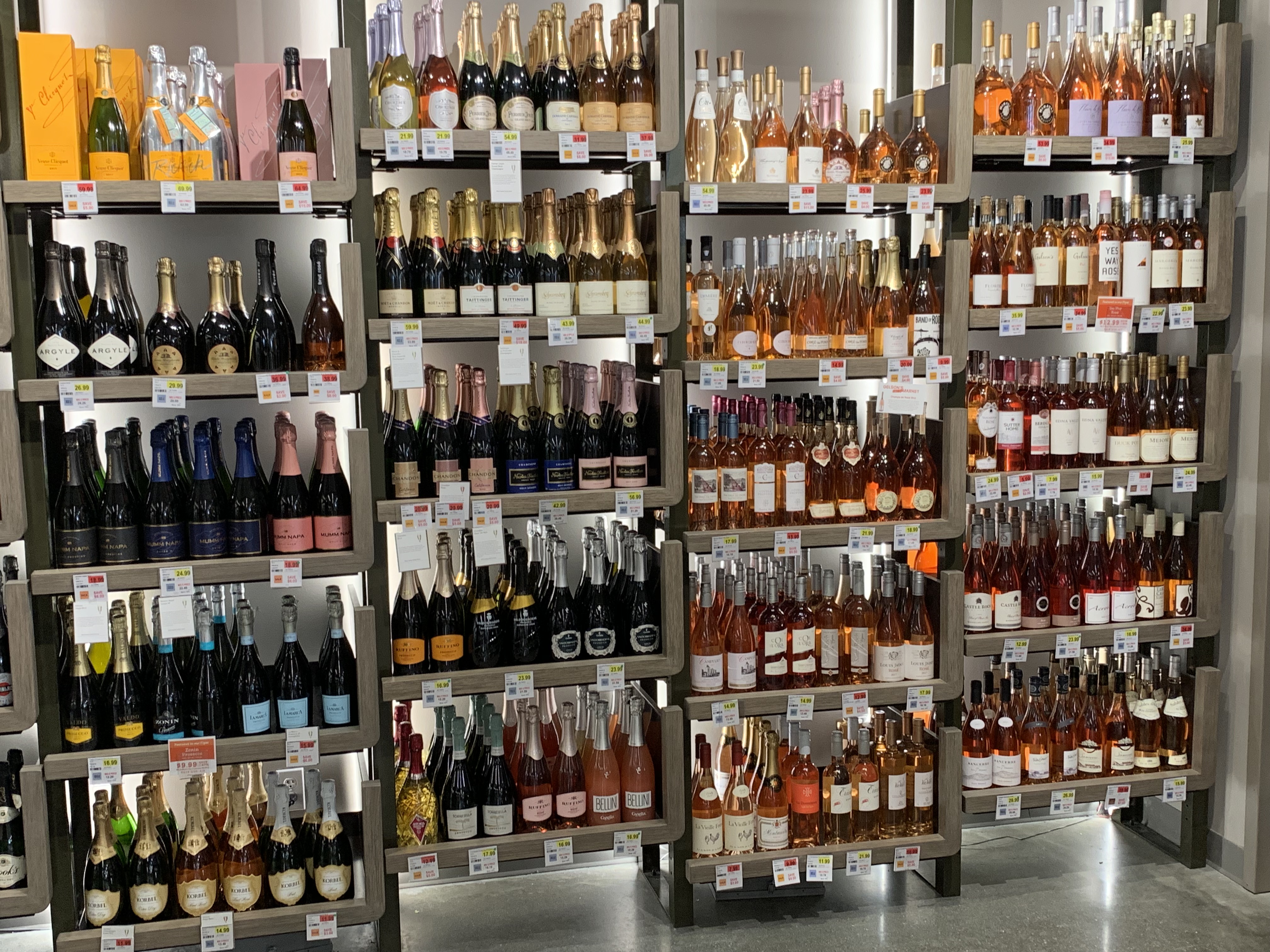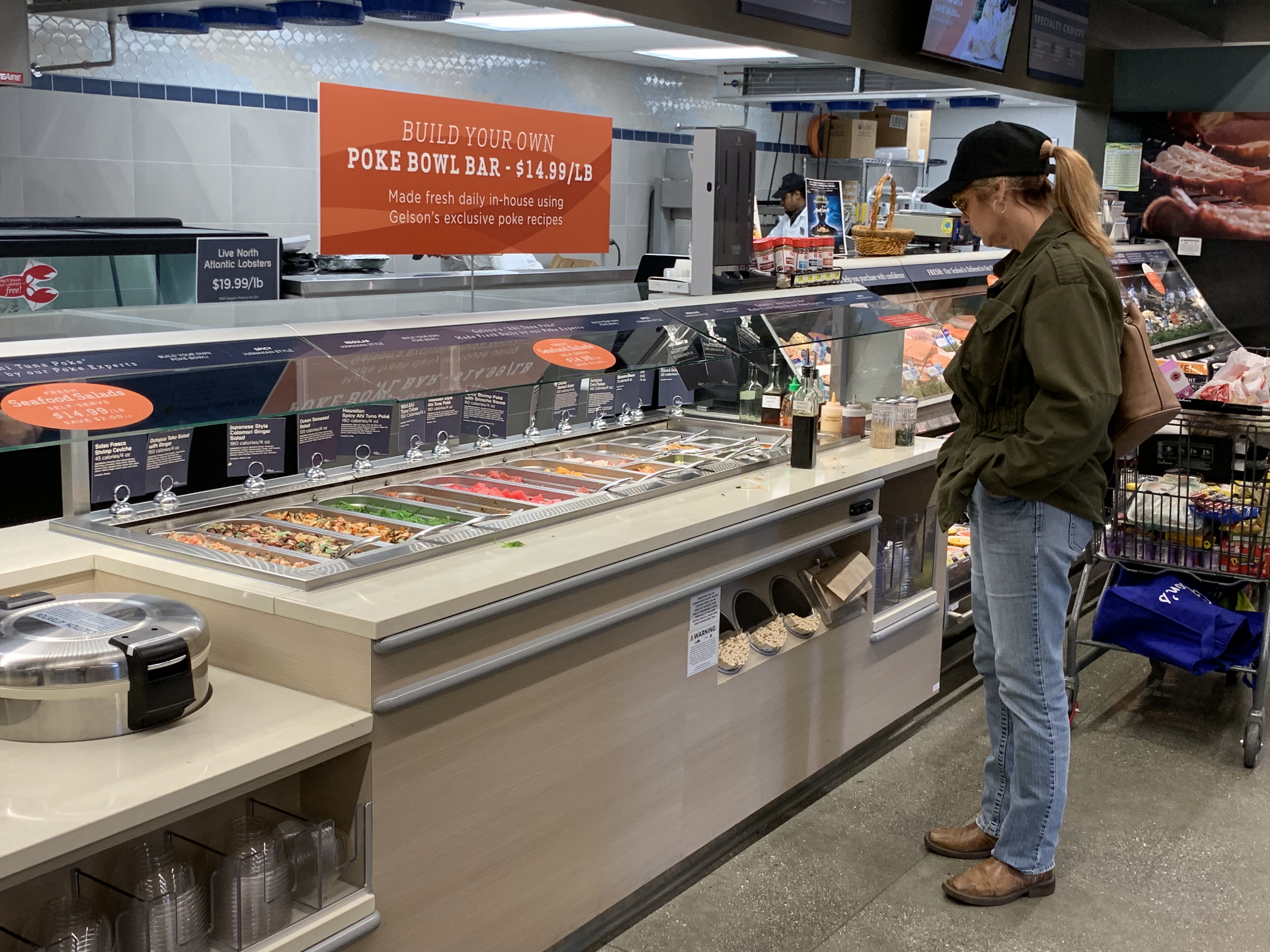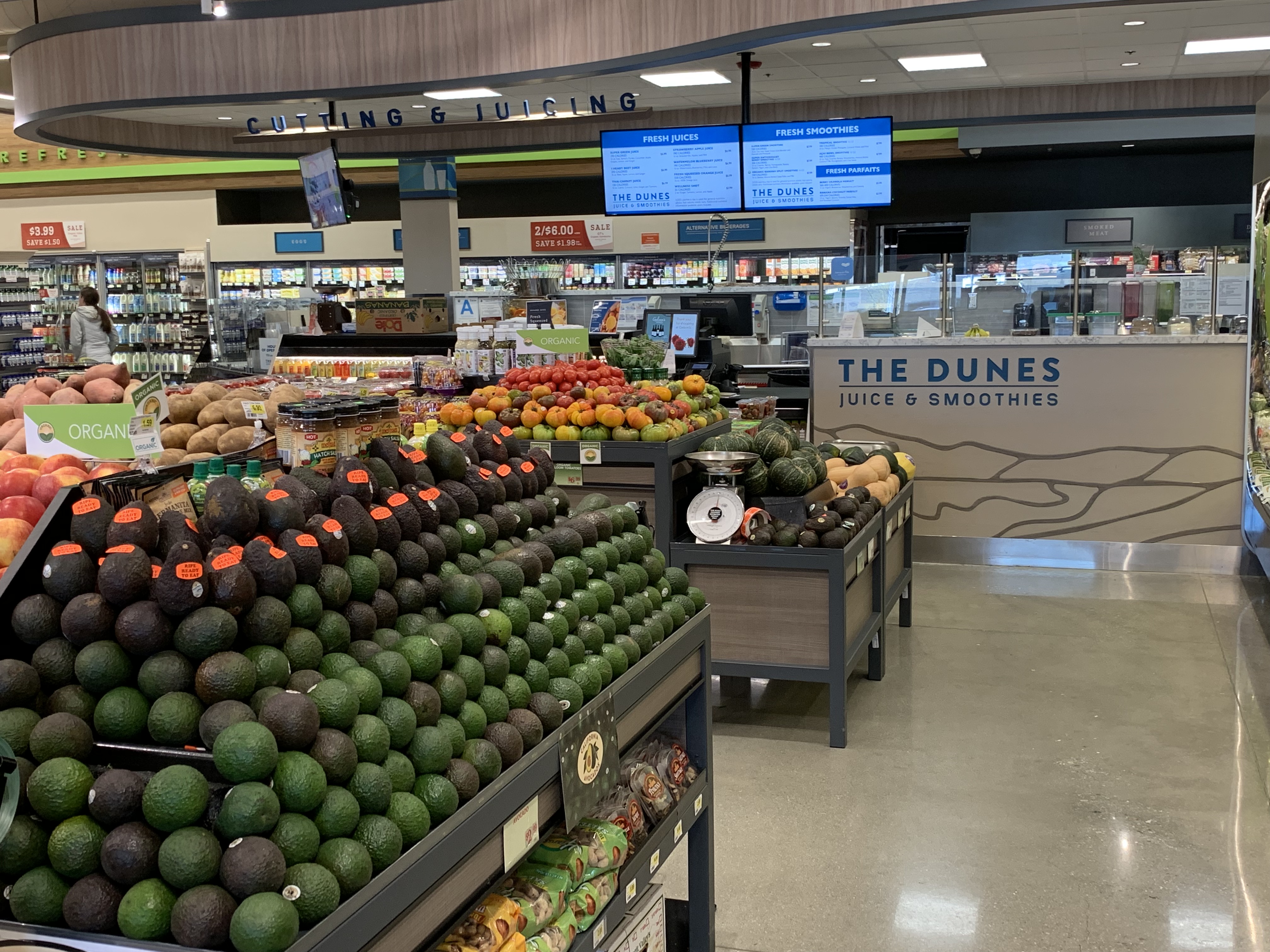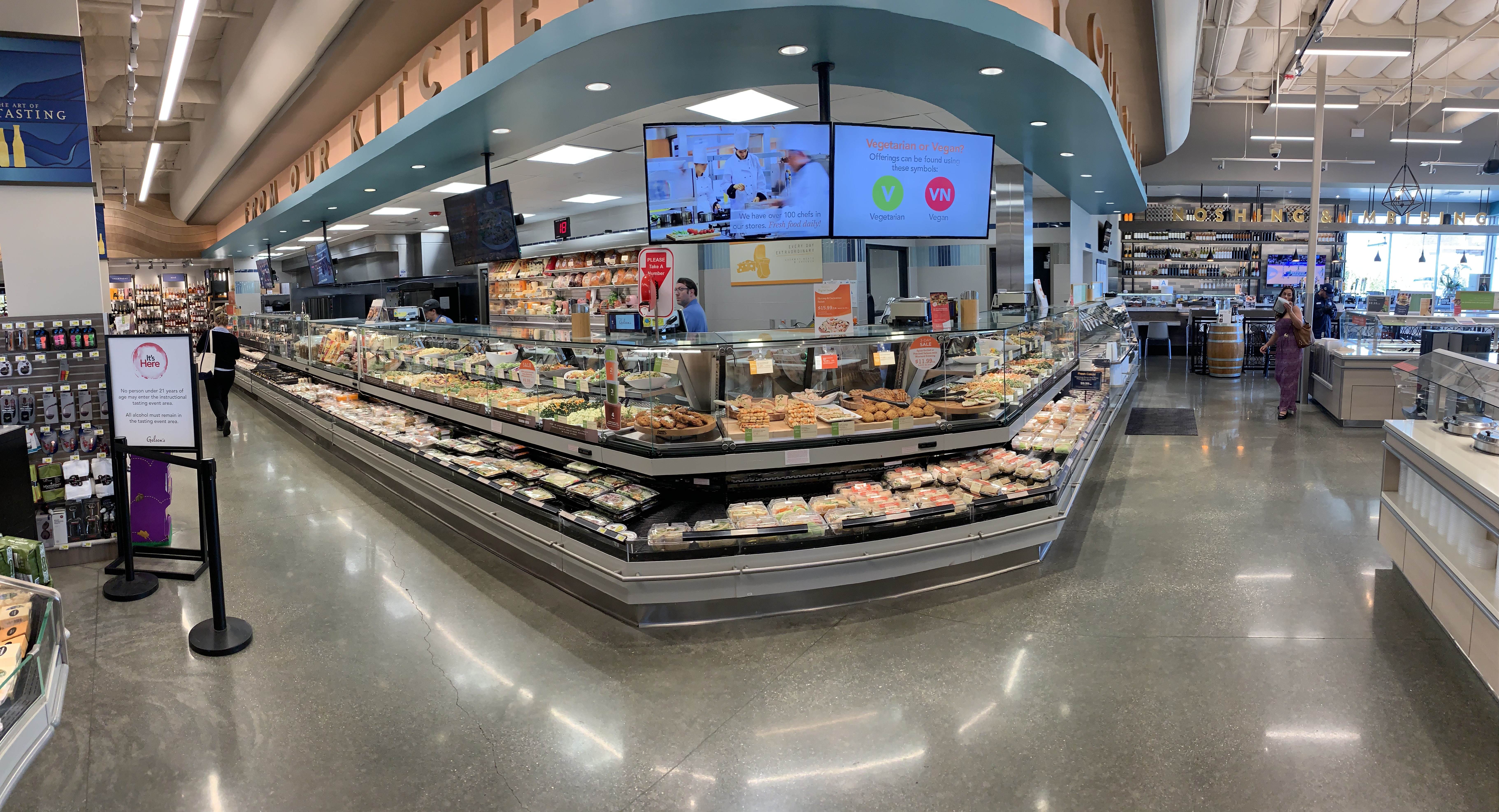 Reuters reports that if the Trump administration follows through with its threat to shut down the US-Mexico border over immigration issues, it could have an enormous impact on what food stores are able to sell, and in turn, what people are able to eat.

According to the story, "From the avocados on avocado toast, to the limes and tequila in margaritas, the United States is heavily reliant on Mexican imports of fruit, vegetables and alcohol to meet consumer demand. Nearly half of all imported U.S. vegetables and 40 percent of imported fruit are grown in Mexico, according to the latest data from the United States Department of Agriculture."

Reuters goes on to say that "in addition to avocados, the majority of imported tomatoes, cucumbers, blackberries and raspberries come from Mexico. While there are other producers of these goods globally, opening those trade channels would take time."

Steve Barnard, president and chief executive of Mission Produce, which is described in the story as "the largest distributor and grower of avocados in the world," tells Reuters that if the border were shut down to commerce, the US would run out of avocados in three weeks. "We would be out of business for a while," he says.

KC's View: Forget the political implications of all this. As far as I'm concerned, we've just crossed the line. We're going to have hoarding, maybe guacamole lines stretching as far can see, with people only allowed to buy guac on specific days, depending on their birth date. From there, it will be inevitable … Fire and brimstone coming down from the skies! Rivers and seas boiling! 40 years of darkness! Earthquakes, volcanoes! The dead rising from the grave! Human sacrifice, dogs and cats living together, mass hysteria!

We had a story the other day about a study saying that more people in America are miserable than ever. Take away access to good guacamole, and you're going to see that index drop off the charts.

Digiday reports that Walgreens Boots Alliance, fighting to stay competitive in a fast-changing retail environment, "is looking to revamp its inventory selection to drive traffic to stores, including partnerships with brands like Kroger and Birchbox, investing in its private label brands, and adding new types of products, like CBD.

"CEO Stefano Pessina told investors Tuesday the company will be aggressively pursuing its partnership strategy, rethinking its retail approach and building out stores as one-stop shops for customers' wellness needs."

Part of the problem for Walgreens is that it is seen as not being as progressive as some of its main competitors: "CVS has effectively become a service provider through its Aetna acquisition; Walmart is expanding its service offerings through in-store clinics; and Amazon has made moves into the pharmacy space through its PillPack acquisition."

Walgreens has made some moves - such as offering a limited assortment of Kroger products in-store, serving as a pickup location for online Kroger orders, and selling Birchbox kits both in-store and online. But these moves have not moved the needle sufficiently on traffic, sales and profits.

KC's View: My sense from reading a bunch of stories about this is that Walgreens' problem may be the lack of a unifying vision - it adopts individual initiatives, but there is no coherent sense of what the company wants to be and how it is going to get there. CVS isn't a perfect company, but at the very least one has to give it a lot of credit for having an unambiguous sense of its own narrative, and a facility for communicating that message.

Walgreens may be a good example of what happens when you don't do those things - you lose momentum, you lose traction, and then you just lose.

Deadline has a story about how Netflix now has 71 percent of the global streaming-video-on-demand (SVOD) market … though it makes the point that newer services are beginning "to gain a bit of traction."

The number comes from the Parrot Analytics 2018 Global Television Demand Report.

Here's the money quote from the story:

"The 71% market share statistic for Netflix derives from Parrot's proprietary 'demand expressions' metric. In 2018, Parrot also found, SVOD platforms have released 319 original series among them, more than the 147 released the prior year. Netflix dominated the originals category, premiering 139 shows and also accounting for nearly two-thirds of the estimated $19.5 billion spent on programming by Netflix, Amazon and Hulu.

KC's View: I think this is a pretty good illustration of the importance of constant, relentless innovation. Netflix started as an online DVD rental company and moved into streaming, always with the belief that it had to compete for people's time with the broadcast and cable networks, not with video rental stores. It was always pushing the envelope on that, even to the point of pretty much getting rid of those red-and-white envelopes in which it shipped DVDs. And then it invested billions in what essentially is private label - some of it superior to, and much of it at least as a good as, the entertainment equivalent of national brands.

I love the quote from Netflix founder/CEO Reed Hastings:

"As an entrepreneur you have to feel like you can jump out of an airplane because you're confident that you'll catch a bird flying by. It's an act of stupidity, and most entrepreneurs go splat because the bird doesn't come by, but a few times it does."

It also seems to me that Netflix is a great example of a company understanding that there is no such thing as an unassailable business model. There are first mover advantages, to be sure, but being a first-mover is an ongoing challenge, not a one-and-done sort of thing.

Good story from Bloomberg about Generation Z, doing a deep dive into the challenges that marketers have in understanding and catering to them.

An excerpt:

"They belong to what this year becomes the biggest generation, 61 million strong in the U.S. alone, roughly between the ages of seven and 22, depending on how you crunch it. They were born after the internet went mainstream; the oldest were about 10 when the iPhone was introduced … They are distinct from the millennials before them … and they don't shop the way their parents do. One estimate is that they already have direct spending power of as much as $143 billion. And most of them are still in school."

Then premise of the story is that marketers never really understood the Millennial generation, and it is critical - at least if they want to be successful - that they not make the same mistakes with Generation Z.

Here's the bottom line on what you need to know:

"Gen Z consumers don't much care about brands. Or labels. Or corporations. They see themselves as entrepreneurial; around half may never work for someone else if they get their way. They're ethnically diverse, socially tolerant, globally connected, environmentally aware."

You can read the entire story here.

TechCrunch has a story about how Pandora is in the process of developing interactive advertising with several vendor partners that will actually allow - even encourage - the listener to talk back to them.

Pandora is hoping is that listeners in a place where they cannot click on a link, like out jogging or in the car, will use the technology to ask for or decline more information about products being advertised.

The story says that "unlike web and mobile ads — which can be measured through things like impressions and clicks — traditional audio ads aren't clickable. That means advertisers don't know for sure how many people who heard the ad later went to seek out more information, or make a purchase.

"Interactive voice ads could change that … Instead of simply airing an advertiser's message, an interactive voice ad could ask the listener if they want to learn more about the product. For example, an ad about a new smartphone could include a verbal call-to-action inviting listeners to learn about its features. The listener would respond out loud to the ad to get more information. Of they could respond negatively to skip the ad."

The belief seems to be that people's comfort level with smart speaker systems such as Amazon's Alexa-powered service, Google Home and Apple's Siri has gotten to the point where this sort of technological advance will be seen as the logical, even welcomed, next step.

KC's View: I think we're seeing a lot of movement in the voice-driven tech segment, illustrated by this story and the one from yesterday about Walmart teaming up with Google to allow for voice ordering of groceries.

It's funny. I recently hosted a series of technology sessions at the National Grocers Association (NGA) convention in San Diego, and the one that seemed to generate the most skepticism from the audience was the one about voice ordering … even though Dan Bourgault of Replenium and I demonstrated on stage how it worked, especially in the replenishment space. Maybe now, with the movement we;'re seeing, some of those folks will have a better understanding of what they're facing, and how they need to either embrace this technology or figure out how to compete against it.

Agnosticism ain't an option.

The Associated Press reports that "U.S. pet owners are increasingly feeding fresh food to their dogs and cats. Some order pre-proportioned meals of meat and vegetables or frozen raw meat online. Others find them in refrigerators at big retailers like Walmart … younger buyers are fueling the trend, choosing pet foods they consider safer and more natural, says consulting firm Mintel."

According to the story, "U.S. sales of fresh pet food in groceries and pet stores jumped 70 percent to more than $546 million between 2015 and 2018, according to Nielsen, a data company. That doesn't include online sales or people making their own fresh pet food. It's still just a fraction of the $25 billion U.S. pet food market."

However, there is a big "but."

The AP also points out that "some veterinarians question the trend. They say established pet food companies … are backed by decades of research, while the verdict is still out on fresh food."

And, "the U.S. Food and Drug Administration says raw pet food has a high risk of bacterial contamination. The agency is also investigating a link between grain-free diets that contain peas, lentils and potatoes and elevated levels of heart disease in dogs."

Corporate Drumbeat
"It's a bad time to be in the business of selling groceries, and the headlines are as bleak as you'd expect: "The Retail Apocalypse Is Coming for Grocery Stores" ... "Grocery Retail 'Bloodbath' Is Here" ... Conversely, it is a great time — arguably the best time ever — to buy groceries."
- New York Magazine/Grub Street


At Samuel J.Associates, we have a response to this assessment:

Bull.

We think it is a great time to be selling groceries, whether you are a retailer or a supplier. That's because a more educated and demanding consumer, no matter the demographic, will reward businesses that are innovative, disruptive, and in touch with what people need, even if they don't know they need it.

And, we know this: Those businesses require, and are fueled by, great people.

People who don't just get the job done, but who set the tone in an organization, establish cultural and business priorities, who build teams, and who are able to not just adapt to competitive realities, but see the future and thrive in it.

And yes, ignore dire warnings about a "retail apocalypse" and see opportunities.

At Samuel J. Associates, we have a winning record of connecting great talent and innovative businesses ... as well as innovative talent with great businesses. We exceed your expectations so that you can do the same thing for your customers.

No bull.

Click here to find out more.

The Associated Press reports that the Massachusetts Food Association has said that it could support a statewide ban on single-use plastic bags that is being considered by lawmakers there if a longer-phase in time than 3-4 months is adopted.

According to the story, "The proposal would prohibit retailers from providing customers with single-use carryout bags at the point of purchase. Stores would be required to make recyclable paper bags available to customers for a charge of 10 cents, and food stores would have the option of making reusable grocery bags available for 10 cents or more."

The trade association seems to feel that a statewide ban is preferable to a patchwork of local regulations that makes it hard on companies operating in a number of communities. But they also seem to feel that taking an approach similar to New York - which recently implemented a ban, but gave retailers a year to get ready for it - makes more sense.

The story notes that "another group, the Retailers Association of Massachusetts, said it 'wholeheartedly' supported the goal of reducing the amount of plastic in the environment and acknowledged the need for a statewide standard, but was skeptical of the approach taken in the bill."

KC's View: I know that there still are people who think this is way overblown, but I would refer them to this passage from the AP story…

The World Wildlife Foundation said Monday that a 26-foot (8-meter) female sperm whale found dead along the Mediterranean Sea in Sardinia had 48.5 pounds (22 kilograms) of plastic in its stomach, including shopping bags, plastic plates and a washing detergent package.

That's disgusting. And we have to face the fact that we humans are responsible for what was in that's whale's stomach, and we can do something about it going forward.

• In Minnesota, the Star Tribune reports that Target Corp. "has announced a sweeping set of goals to reduce its carbon footprint that for the first time puts pressure on its suppliers to do the same … Target will give its suppliers until 2023 to set forth a plan to reduce carbon pollution at their facilities as well as from the energy they purchase to power their operations. The retailer pledged to get such agreements from 80 percent of companies in its supply chain."

The story notes that "the suppliers' goals, like Target Corp.'s, must align with those set by the Science Based Targets initiative. Known by the acronym SBTi, the organization helps companies take steps to support the Paris agreement, whose goal is to keep the rise in annual global temperature below 2 degrees Celsius … Target is one of more than 2,900 businesses, colleges, states and cities that have joined the 'We are Still In' coalition, which was formed within hours of President Donald Trump's announcement almost two years ago to pull America out of the accord."

Target's internal goal has been to "reduce greenhouse gas emissions by 25 percent below 2015 levels by 2025. New goals push that to 30 percent by 2030."


• The Guardian has a story about how Cäcilie Albrecht, who died at age 92 in November 2018 - some four years after the passing of her husband, Theo Albrecht, the co-founder of Aldi - has created a family omnishambles by stipulating in her will that her grandchildren and their mother are to have no role in running the closely-held retail business.

According to the story, "Cäcilie Albrecht, known as the grande dame of the Aldi clan, vented her anger towards the five offspring of her late son, as well as his widow, Babette, accusing them of lavish spending not in keeping with the firm's frugal philosophy, and of siphoning millions from company funds to finance their luxury lifestyles."

Babette Albrecht is the widow of Berthold Albrecht, who died in 2012 and apparently had similar reservations about her ability to run the business in the frugal style established by the family.

The story notes that "concern has been expressed that the feud could endanger the future of the company, which last year made considerable losses in Germany, only making a profit thanks to its foreign operations."


• Albertsons announced yesterday that its Own Brands business is "elevating environmental stewardship and helping consumers live green with the launch of compostable and earth-friendly products in the popular Open Nature brand.

"Coinciding with the beginning of Earth Month, the unveiling of the new eco picnic wares continues a long history of responsible environmental practices and broad selections of better-for-you and sustainable Own Brands products throughout the store."

According to the company, the new products include "a fresh array of compostable items includes an "eco picnic" family of BPA-free plates, bowls, cutlery, straws, cold cups, and hot cups. Each is certified compostable by the Biodegradable Products Institute, which guarantees products are tested and verified according to scientifically based standards. All components are made of plant-based material certified compostable in industrial composting facilities."

• The Wall Street Journal reports this morning that Blue Apron co-founder and CEO Bradley Dickerson has stepped down, and will be succeeded by Linda Kozlowski, Etsy's former chief operating officer.

The New York Times takes note of the March 13 passing of Charles Sanna, who was 101 at the time of his death. Sanna, the Times points out, "developed a way to produce millions of individual packets of powdered coffee creamer for American troops" during the Korean War, and then applied that knowledge to developing a product that consumers would like. The result was what became the Swiss Miss brand, and from there, the development of the whole instant hot cocoa mix market.

We reported yesterday that Burger King will begin selling a Whopper made with a vegetarian patty manufactured by Impossible Foods, joining fast feeders such as White Castle and Carl's Jr. in the move toward meatless alternatives.

I commented:

or me, what seems impossible - or at least unlikely - is the likelihood that this thing is going to taste any good. When I had the White Castle version last year, it made me sick to my stomach … though, to be fair, pretty much everything at White Castle has that effect on my usually cast iron constitution.

It is not like I'm anti-vegetarian burgers. In fact, I had a great one last summer at the Irving Street Kitchen in Portland, Oregon … though, to be fair, pretty much everything at the Irving Street Kitchen tastes great.

Hmmm … I sense a pattern here.

I'm not a Burger King fan, and have pretty much sworn off most fast food, but I'll pledge here and now to make a trip to Burger King in the next week or two to try this thing out.

MNB reader Tim McGuire responded:

I understand your skepticism on veggie burgers but I think you're wrong. A&W Canada has been selling the Beyond Meat burger for about a year now and, even as a lifelong "meatatarian" I'm a huge fan. It became so popular so quickly at A&W that they were out of stock for several weeks. Most people I've talked to can't tell the difference between the Beyond Meat burger and the traditional (also very good) beef burger. High-quality plant-based foods that don't require a taste sacrifice are the easiest way to improve your health and there environment - hopefully more companies will bring more products like this to the market soon!

MNB reader Dan Emerson wrote:

I've had the Impossible Burger at my client's cafeteria and have seen Impossible Meat options pop up in places throughout Boston (Local Fast-Food vegetarian restaurant/food truck Clover in particular does a very good Impossible Meatball platter or sub if you come across one when up this way). I'm not a vegetarian but try to be one when presented with a good option and have really enjoyed all my Impossible Meat-eating experiences. I wonder what White Castle is doing to screw it up?!? I'll be checking out the Impossible Whopper….

MNB reader Carl Jorgensen wrote:

Kudos to you for pledging to try the Burger King Impossible Whopper. Will be interested in your review!

I'm writing to make a prediction about Impossible Foods: They have an ingredient in their burger called heme that makes it "bleed" like real meat. It's a cool idea, and it adds to the realistic meat-analog experience. However, what they are not telling the public, and which will come back to bite them (sorry!), is the fact that the heme ingredient is derived from vat fermentation of GMO microorganisms.

Consumers have made it abundantly clear for years now that they don't want their food to be genetically engineered, even as they have no clear understanding of  what genetic engineering actually is.

Companies defy consumers at their peril. Impossible can choose to continue downplaying the GMO status of their product, or they can choose switch to non-GMO sources of heme. I suggest that they choose the latter if they want their brand to be sustainable long-term, and I suggest that the companies aligning themselves with Impossible Foods take a closer look at this issue, lest it come back to bite them as well.

Just the phrase "heme ingredient is derived from vat fermentation of GMO microorganisms" makes me want to retch.



Got several emails about the new price-cutting initiative at Whole Foods.

MNB reader Brian Burnham wrote:

Kevin, after spending last month in Florida at watching spring training, there was a Whole Foods a few block from the house we rented, we shopped there  around 15 times, and at no time did any cashier ever ask me if I was a Prime Member, which I am, I am not for sure that programs works very well if the front line people are not pushing it.

I've had much the same experience. If I don't bring it up, it doesn't come up.

MNB reader Kelly Dean Wiseman wrote:

It's interesting that Mr. Bezos can get free messaging across the media just because of how big and scary he is to many retailers.

Announcing an across-the-board price cut and the media picks it up, turning it into instant free advertising. No one else seems to get that treatment.

Oh, and if you do go catch some of these amazing deals, watch closely for a few months. The last time they cut prices (and got free media attention) lasted only about a month. Then prices crept up again.

To give credit where credit is due, I think the Wall Street Journal broke the story before Whole Foods wanted to release it.

MNNB reader Steve French (who in this context needs to be identified as a managing partner at NMI) wrote:

With regard to your Whole Foods piece this morning, I'm not convinced that lowering prices is the right thing to do. That's like offering a BOGO promotion on Tiffany jewelry or cash rebates at Bloomingdale's.

Having personally provided 12+ years of continuous strategic marketing counsel, conducting their research and many other activities, NMI likely has the deepest, most longstanding knowledge base of Whole Foods, its shopper and the competitive environment. What we learned time and time again was that price discounts won't increase penetration or market basket size as the core shopper is extremely price insensitive. They don't read the flyers, use coupons, etc. and they certainly won't become Amazon Prime Members. Additionally, after years and years of competitive price matching, they didn't get any change in perception as shoppers didn't even notice – "once Whole Paycheck, always Whole Paycheck."

In other words, it's all about "worth the price" - not the absolute price point.

With all that said, if the strategy is to attract a larger, more mainstream audience, then the strategy is viable. But… we found that the core shopper will defect if it becomes too mainstream, too crowded to shop, no parking spaces, and just not "special" anymore. It's not about "value" to them – it's about the alignment or personal "values" to those of Whole Foods. If they lose their most valuable and profitable shopper (think high margins), then an uptick in more mainstream shoppers (think lower margins) won't be close to making up the difference.



Regarding the increasing vacancy rates at US malls, MNB reader Andy Casey wrote:

Sadly for them, I (and my guess is most others) have yet to find anything I "simply can't get from Amazon".



MNB yesterday took note of a Wall Street Journal story about while Walgreens Boots Alliance is testing a few tobacco-free stores in the US, the company "has no plans to quit selling cigarettes entirely."

This despite the fact that chief rival CVS got out of the tobacco business years ago, citing its desire to be seen as credible in the healthcare business. (Declining sales probably helped to make the decision a little easier.)

The safety of our patients is very important, but we also have to do what our customers are requiring us to do," says Walgreens Boots Chief Executive Stefano Pessina. "We see that when we don't sell tobacco, we have a lot of [negative] reactions."

I commented:

Seems clear to me that Walgreens is choosing its lane, and it is less healthcare-focused than the one CVS has chosen.

For me, having decided that there is a special circle of hell for tobacco executives and their minions, CVS has made the right choice on a lot of levels - it has an eye on the future, not today's transaction count.

One MNB reader responded:

Not long after CVS's decision to stop selling cigarettes, there was a lot of concern in the industry on what would be next.... Candy, Ice Cream, Chips, Cola, etc….

If CVS was going to put on their Healthcare hat, it seems there are a lot of other potential categories they may go after.

I was in a meeting with a CVS executive, and we asked that very question... and received a great response.

It was along the lines of:  CVS will not ban or stop selling products that are fine in moderation... You can have a candy bar and a soda with no lasting impact…

But CVS is going to ban anything that is bad for you from the moment it touches you…

We thought that was very clear and helpful to understand.

Walgreen's is going to have to find out what they stand for - and maybe they already have…



Yesterday I did an Eye-Opener piece about how, after using my Lyft app toi request a car, I was informed via text that my driver was either deaf or hard of hearing, and provided with a link to the Lyft site where I could quickly learn how to use sign language to say "hello" and "thank you."

I commented:

I think this is so cool, and I'm really glad that this driver was sent to pick me up, because it made me feel good about Lyft and the human condition in general.

People spend a lot of time these days worrying about those who are different from them, and wondering why everybody can't be just like them. In this case, Lyft acknowledged the situation, and did a little something to create a bridge and establish a bond, if only for a moment.

MNB reader Jesse Sowell wrote:

Kevin - I probably won't be the only or first person to point this out, but I was struck by the positioning of your note about Lyft, coming right after Michael's piece mentioned the difference between diversity and inclusion. With their texts to you about your driver's hearing challenges, Lyft ensured that your driver would be fully, truly included. And as you often point out, doing right by your people is right for business. Not only does this help Lyft attract the best drivers, it's another reason for me to continue to favor Lyft when I need a ride.

Great story. Thanks for sharing it.

Another MNB reader responded:

Thanks for making the most of a teaching moment for all of your readers by including the visual/directions to say hello and thank you in your post. Your post 'did a little something to create a bridge and establish a bond.' Thanks for the oxytocin boost!

I had to check to see what oxytocin was, and found the following definition:

Oxytocin is normally produced in the hypothalamus and released by the posterior pituitary. It plays a role in social bonding, sexual reproduction, childbirth, and the period after childbirth.

So I guess this was a good thing…?

Industry Drumbeat
A NEW PRESENTATION BY KEVIN COUPE

Steve Jobs once said, "Better to be a pirate than join the navy." In today's cutthroat retail environment, that attitude needs to be at the core of every business's strategic, tactical and operational approach - challenging the status quo, doing the unexpected, creating customer-centric business initiatives and then disrupting them internally … appealing to people's hearts and heads and aspirations … acting with piratical verve and always moving forward. In this brand new, lighthearted, illuminating and uniquely pertinent presentation, filled with examples and anecdotes and lessons, MorningNewsBeat's Kevin Coupe brings a passion for storytelling and a unique perspective on business that will entertain and energize audiences.''

Here's what Lori Stillman, Executive Vice President - Analytics, Insights and Intelligence, Advantage Solutions, has to say about a recent appearance:

"Kevin joined us as a moderator and facilitator for a two-day client executive event we hosted. His role in the success of the event went far beyond his time presenting and sharing his great wisdom and content. From the moment our planning process began and we selected Kevin as a key part of our program, he dove in and worked with our team to review session topics, ideate on programming and help ensure our overall event delivered on the goals we had established. His quick wit, deep industry knowledge and ability to synthesize conversations into key take-aways enabled us to hit a home run!"

And, from Joe Jurich, CTO of DUMAC Business Systems:

"Kevin recently participated in and spoke at our Annual User Conference.  Our group consisted of independent retailers, wholesalers, and software vendors – a pretty broad group to challenge in a single talk.  While his energy, humor, and movie analogies kept the audience engaged, his ability to challenge them to think differently about how they go to market is what really captured them!  Based on dinner conversations afterward, he appeared to have left everyone thinking of at least one new approach to their strategy!"

To book Kevin for your upcoming event, click here , or call him at 203-253-0291.
Recorded at the annual South by Southwest (SXSW) festival in Austin, Texas, this Retail Tomorrow podcast offers a deep dive into the promises and challenges inherent in the cannabis industry. While it still is not part of the mainstream retail world, the momentum is there for an inevitable explosion of product, marketing muscle, and profit, especially in the self-care segment.

Taking us inside the business are two cannabis industry experts: Genevieve Gilbreath, co-founder and general partner at Springdale Ventures; and Mary Olivar, managing director at Greenbelt Capital.

Here's where you can check our guests' websites:

Genevieve Gilbreath: https://springdaleventures.com

Mary Olivar: https://greenbeltcapitalinc.com

The Retail Tomorrow Podcast is sponsored by the Global Market Development Center (GMDC), seeking to focus not just on best practices, but next practices. This podcast, as well as past editions, also can be found on the site. In addition, check out more details about GMDC's Retail Tomorrow initiative here.

Pictured below, from left to right: Mary Olivar, Kevin Coupe, Genevieve Gilbreath

I'll be attending the Home Delivery World 2019 conference and exhibition this week at the Philadelphia Convention Center, and If there are any MNB readers who'd like to get together, I'll be camping out from 1:30-3 pm, tomorrow, April 4, at the Fleat booth, #005 - just inside the main entrance, to the right.

Fleat also is making copies of my book available, and I'm happy to sign them, as well as catch up with members of the MNB community.

Hope to see you there…

PWS 59