Join the MNB Community.
Get a Wake Up Call each morning...
Email:
Explore the MNB Archives
From The MNB Archives
Friday, May 10, 2019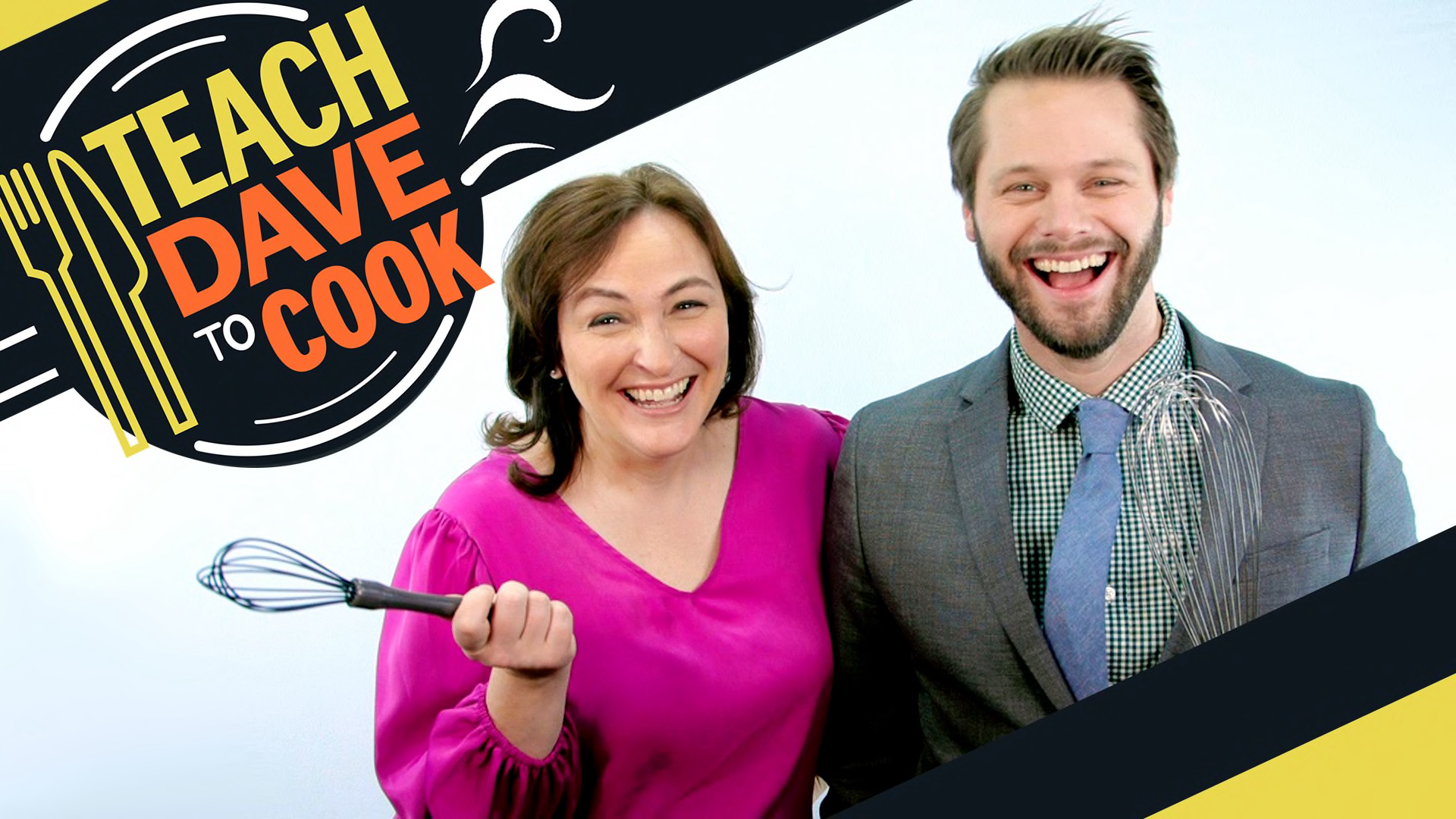 The Washington Post currently is offering a short video series titled "Teach Dave To Cook," in which Mary Beth Albright, who carries the title of "Washington Post Food Host," offers Dave Jorgenson, the "Washington Post Satirist," some basic cooking instructions.

It is, in several ways, a revelation and an Eye-Opener. (You can check it out yourself at left. It also is available, natch, on Amazon Prime Video, which makes sense since Amazon CEO Jeff Bezos owns the Post in a personal investment.)

First, the five short lessons - they run 10 minutes or less apiece - are actually instructive, especially if you don't know how to cook. There is some basic information provided about things like how to cook a steak and why it is important to have one good sharp knife, that more people than we might expect ought to know but don't. (I was jazzed to see that one of the brands featured in the show was California Olive Ranch olive oil, an old MNB sponsor.)

Second, the segment on "how to grocery shop" is the kind of video that every retailer ought to be making and featuring both in-store and on their websites. I think the industry assumes a lot that it shouldn't about shoppers' knowledge, and while I was watching "Teach Dave To Cook," I kept wondering why it fell to the Washington Post, and not some savvy retailer, to make such videos.

The reason, as it happens, is that newspapers that want to stay in business these days have to define themselves and their missions a lot more broadly these days. Which is the third way in which this series is an Eye-Opener, though it may mean more to me than to you.

When I started out in newspapers (for the same chain, Gannett, for which Michael Sansolo was laboring for a different paper just a few miles away, as it happens), there weren't titles or roles like "food host" and "satirist." If there were, I might've stayed in newspapers. No, we had reporters and editors and photographers and yes, even typesetters. (This was so long ago that I wrote my stories on an IBM Selectric typewriter. It was pre-computers.) But no satirists (there were a few columnists) and certainly no food hosts.

I actually think that it is a good thing, in a lot of ways, that some newspapers have been able to redefine their mission and roles in a broader context. A lot of the bleeding that was going on in print journalism has been stanched by the current political climate; papers like the Post and the New York Times are having record years in terms of subscriptions, and building up their sales, all because there is so much happening on which to report. But they're also seeing the opportunity to do other things, to expand their use of technology and to matter in how people live their lives, even to the point of helping them learn how to cook and how to shop.

They are, come to think of it, no longer just a source of product/news. They are a much broader resource for their readers.

And, yup. That's an Eye-Opener, and a lesson worth learning for every business.
The Jacksonville Daily Record has an interview with Hap Stein, CEO of Regency Centers Corp., in which he says that he believes that not only will bricks-and-mortar supermarkets "continue to thrive," but that he is happy that "supermarkets anchor 80% of the company's more than 400 shopping centers across the country."

Stein says that while "the grocery business has always been highly competitive and is evolving at an even more accelerated pace," having a "physical store located close to the customer in the best centers has been and remains the centerpiece of their business model … The bottom line is that our grocery anchors are proven operators that are evolving for their customers and generating significant daily traffic to our centers, including the added convenience of buy online, pick up in store."

The story notes that "Regency's retail properties were 95% leased at the end of the first quarter," which suggests that it has managed to avoid some of the travails being experienced by many malls and shopping centers around the country.

KC's View: The only thing I would add to Stein's comments is that it isn't just about having a "physical store located close to the customer in the best centers," but also having the best physical stores in those centers … you know, the ones that have both value and values, that offer an experience to the shopper, that provide a differentiated shopping trip. The names can vary - in Regency's case, they have retailers like Trader Joe's and Publix, for example, which can make life a lot more pleasant and real estate more valuable.

Internet Retailer is out with its "top 500" report for 2019, concluding not just that Amazon, no surprise, continues to grow, but that some of the companies lowest down on the list actually are growing the fastest. Of course, some of this makes sense simply because they have smaller sales bases and so it is easier to show high percentage growth; but it also suggests that there is a lot of vitality up and down the market, not just at the top.

According to the study, the research shows that the North American retailers "ranked Nos. 401-500 this year grew their collective web revenue by 24.3% in 2018 over 2017, faster than the 20.0% growth of Amazon, and well above the 14.1% year-over-year ecommerce growth in North America.

"The Top 500 as a whole grew their worldwide online sales by 17.6% in 2018, and accounted for 89.8% of U.S. online retail sales in 2018, up nearly three percentage points from 87.0% in 2017. Amazon, by far the leading online retailer in North America, accounted for 22.4% of U.S. ecommerce in 2018, compared to 20.9% a year earlier."

The report goes on: "While some believe Amazon is killing the operators of retail stores, store-grounded retailers are more than holding their own online. The 138 retail chains in the Top 500 grew their online sales by an average of 16.3% in 2018. And some did far better than that, including Walmart Inc., No. 3 in the Top 500, whose web sales increased 38.8% in 2018 and have grown by an average of 26% over the past five years."

Another note from the Internet Retailer study:

"Consumer brand manufacturers in the Top 500 also grew rapidly online, increasing their web sales by 17.9% in 2018. Nike Inc. (No. 34) was among the big winners, growing by 25.0%. But so were the 31 digitally native brands that got their start on the web, though some now also sell through stores. These web-first brands, such as The Honest Co. (No. 135) and Glossier Inc. (No. 404), collectively increased their online sales by 29.5% in 2018, versus 17.4% for the rest of the Top 500."

KC's View: As I keep saying to people who suggest that what we're seeing is a 'retail Armageddon," that's nonsense … it certainly is a revolution, but there is room for a lot of companies - whether online or bricks-and-mortar or both - to survive and thrive if they're willing to challenge orthodoxy, focus on creating experiences, and work to be both resonant and relevant. But you can't put it off, and you can't afford to be complacent. Not ever.

The Washington Post reports that while anti-obesity initiatives have largely focused on urban centers around the world, based on the assumption that urbanization equaled sedentary lifestyles and poor eating habits, new research suggests that the bigger problem may be in rural areas.

This week, the Post writes, "a consortium of researchers released the most comprehensive study to date on regional obesity rates, showing that the global rise in obesity in the past three decades has been driven more by unhealthy weight gain in rural areas than urban ones. The study — a massive collaboration by more than 1,000 researchers, drawing on more than 2,000 studies of 200 countries — found that more than 55 percent of the global increase in body mass index in the past 30 years has come from rural populations. The trend was even sharper in low- and middle-income countries, with more than 80 percent of the worsening BMI driven by rural populations … Researchers say the same trends seen in the cities — increasingly sedentary lifestyles and consumption of unhealthy foods — have penetrated the rural areas more quickly and widely than many assumed … Some countries struggling just a few decades ago with malnutrition now find themselves flooded with highly processed, high-calorie, nutrient-poor foods."

Here's the globesity bottom line: "According to the World Health Organization, obesity has nearly tripled since 1975. In 2016, more than 1.9 billion adults were considered overweight. Of those, over 650 million were obese."

KC's View: Part of the problem that the researchers are seeing is that the solutions put into place in cities - like bike lanes designed to get people exercising on the way to work as opposed to sitting in a car or on mass transit - won't work in rural environments.

The other problem, it seems to me, is that as major CPG companies that make these "highly processed, high-calorie, nutrient-poor foods" see rural and undeveloped nations as a potential source of growth, people living there may see the consumption of those "highly processed, high-calorie, nutrient-poor foods" as being, ironically enough, aspirational.
Many of us in urban and suburban areas see foods that have not been processed - for me, a piece of salmon, maybe some braised spinach or roasted asparagus, a nice thick tomato - as being aspirational and more within reach than ever. But that's not the message being communicated to some folks in rural areas, where people apparently continue to eat poorly, continue to gain weight, continue to endanger their own health, and continue to put stresses on healthcare systems.

And, as one expert points out in the Post story, it is likely only to get worse.
The Washington Post reports that as the Trump administration imposes new tariffs on $200 billion in Chinese products - they took effect at 12:01 am today, even as negotiations seems to take place inn fits and starts - retailers that depend on the sale of items imported from China for the all-important end-of-year holiday selling season are saying they're worried.

And since now is the time that they are locking in orders for merchandise they'd like to sell during the Christmas season, these same retailers are worried about what those products will cost, what they'll be able to charge for them, and whether they need toi cut back on their orders.

"While Trump's threat of escalating tariffs on $200 billion worth of Chinese imports has largely been dismissed by analysts as a negotiating tactic," the Post writes, "retailers say the repeated uncertainty over price increases can be debilitating, particularly as they lock down orders for the crucial holiday season." Now that the tariffs have gone beyond the threat stage, those concerns are likely only to grow.

The story goes on: "The first round of Trump's tariffs, which levied a 10 percent tax on nearly 6,000 types of imported products, went into effect in September. Those tariffs were supposed to rise to 25 percent in January, but Trump has twice pushed forward that date amid trade negotiations with China. The result, retailers say, has been constant uncertainty over if — and when — the cost of goods will suddenly rise.

Retailers said that concern took on a new level of urgency ... when Trump said in a pair of tweets that he would raise tariffs on $200 billion worth of Chinese imports from 10 percent to 25 percent beginning Friday."

KC's View: One of the things that the Post made me think about, in a way that I hadn't before, is how this actually is about more than products. If a store brings in 25 percent less merchandise, say, than it did in past years because of tariff concerns, that also could mean that it will hire fewer people to work the store during the holidays … which then has a domino effect on the economy.

There are a lot of wild cards in this deck, and a lot of gambling going on with people's lives and businesses … not to mention the threat of even more and higher tariffs from the Trump administration.

The Washington Post reports that Sen. Bernie Sanders (I-Vermont) and Rep. Alexandria Ocasio-Cortez (D-New York) have introduced bills in the US Senate and House of Representatives, respectively, that would "cap credit card interest rates at 15 percent, a steep reduction from current levels."

Sanders, who also is running for the 2020 Democratic presidential nomination, tells the Post that "a decade after taxpayers bailed out big banks, the industry is taking advantage of the public by charging exorbitant rates. 'Wall Street today makes tens of billions from people at outrageous interest rates,' he said."

Ocasio-Cortez went on Twitter to say that "there is no reason a person should pay more than 15% interest in the United States … It's a debt trap for working people + it has to end."

According to the Post story, "In addition to a 15 percent federal cap on interest rates for credit cards and other consumer loans, states could establish their own lower limits under the legislation. It would also allow the U.S. Postal Service to get into the banking business, including offering savings and checking accounts.

"The proposal is sure to meet stiff resistance from the banking industry, which brought in $113 billion in interest and fees from credit cards last year, up 35 percent since 2012, according to S&P Global Market Intelligence."

The Post also points out that "Americans have more than $1 trillion in credit card debt, according to the Federal Reserve." In addition, "The median interest rate was 21.36 percent last week, compared with 20.24 percent about a year ago and 12.62 percent about a decade ago."

KC's View: I have mixed emotions about this. I hate the idea of essentially imposing limits on how much companies can make in a free market society, but I don't think there is much question that the banks and credit card companies are exploitive, manipulative, and almost vampiric in their business methods. People have a responsibility for their own behavior, but they're nothing but targets for some of these companies with enormous marketing budgets and little in the way of conscience.

Let's be clear. Nothing is going to happen anytime soon. Not while the GOP controls the US Senate and Trump is in the White House. And both Sanders and Ocasio-Cortez are not exactly figures that bring people and philosophies together.

But … it may not always be that way. And in some ways, you'd think that retailers would at least be intrigued by this proposal … because if people are spending less on credit card interest, they may have more to spend on actual goods and services.

The Boston Globe this morning reports that "Boston Beer Company and Delaware-based Dogfish Head Brewing, the second and thirteenth largest U.S. craft brewers respectively, announced on May 9 that they plan to merge in a deal valued at approximately $300 million … The cash-and-stock transaction, expected to close late in the second quarter, will combine Boston Beer brands including Samuel Adams beer, Angry Orchard hard cider, Truly Hard Seltzer, and Twisted Tea with Dogfish Head's IPA and sour offerings."

The press release suggests that the new company will bring together "more than half a century of Craft brewing expertise, a balanced portfolio of leading beer and 'beyond beer' brands at high end price points, and industry leadership in innovation and quality."

The story notes that "while the coupling of the two operations will give them a leading position in the high-end U.S. beer market and better position them to compete with global beer conglomerates, the brewers will retain their status as an independent craft brewery when merged. To fall into this category, the Brewers Association mandates that 'less than 25 percent of the craft brewery is owned or controlled (or equivalent economic interest) by a beverage alcohol industry member that is not itself a craft brewer'."

…with brief, occasional, italicized and sometimes gratuitous commentary…

• CNBC reports that there seems to be a pretty good rationale behind Amazon's decision to offer one-day shipping as the default for Amazon Prime purchases - the company "is already capable of offering same-day and next-day delivery to 72% of the total U.S. population, including almost all of the households (95% or more) in 16 of the wealthiest and most populated states and Washington, D.C."

This conclusion was reached by RBC Capital Markets, which points out that "the vast delivery network is the result of significant investments over the past four years, a period during which Amazon built out fulfillment centers across the country, nearly tripling its U.S. logistics infrastructure."

To put this in context, the story says that "Amazon has added roughly double the amount of distribution space Home Depot currently owns."


• Stitch Fix, the personal styling service that essentially serves as a way to provide automatic and customized wardrobe replenishment for men, women and children, has announced that it is going to start serving customers in the UK, which will be its first expansion outside the US.

Glossy reports that "in practice, the service will remain largely the same in the U.K. Customers will fill out a profile with all of their preferences, then will be matched with one of Stitch Fix's stylists who will curate a box of clothing from the company's partner brands … To that end, Stitch Fix has hired full teams on both the merchandising and styling sides to man the U.K. service."

If you don't know Stitch Fix, you should - and not just because it'll improve your wardrobe game. (My wife and kids love it.) It'll also open your eyes to new ways of interacting with and creating deep, evolving relationships with your customers … as well as pointing out ways that businesses can disintermediate traditional retailers. Probably worth knowing if you are an actual retailer.


The Seattle Times reports that Washington State investigators have found that "more than 15,000 people bought on Amazon school supplies and jewelry geared toward young children that contained dangerous levels of lead and cadmium in 2017 and 2018." And then, even after Amazon said it had removed those items from its site, the investigators found that they were back, "as well as others that contained the metals at levels well beyond the legal maximum. Both lead and cadmium can cause damage to the nervous system, liver, kidneys and other internal organs, and are especially harmful to children."

Now, "under an agreement announced Thursday by Washington Attorney General Bob Ferguson, Amazon must require third-party sellers of these products to provide certificates proving their safety and compliance with U.S. and Washington consumer-protection statutes. Manufacturers and importers already must have such certification but ordinarily they aren't required to show it to retailers or distributors. Amazon admits no wrongdoing in the agreement," though it will pay the state $700,000, which will be used for "funding for continued investigations into environmental and product safety issues."

Seems to me that Amazon is going to have to spend a lot of time and money as days move forward in tracking and being transparent about where products are made, how they are made, and who is making them. It will be the price of doing business; food safety is part of this, but it also will be part of satisfying the demands of consumers - and special interest groups and even the news media - that want to know these things.

Corporate Drumbeat
"It's a bad time to be in the business of selling groceries, and the headlines are as bleak as you'd expect: "The Retail Apocalypse Is Coming for Grocery Stores" ... "Grocery Retail 'Bloodbath' Is Here" ... Conversely, it is a great time — arguably the best time ever — to buy groceries."
- New York Magazine/Grub Street


At Samuel J.Associates, we have a response to this assessment:

Bull.

We think it is a great time to be selling groceries, whether you are a retailer or a supplier. That's because a more educated and demanding consumer, no matter the demographic, will reward businesses that are innovative, disruptive, and in touch with what people need, even if they don't know they need it.

And, we know this: Those businesses require, and are fueled by, great people.

People who don't just get the job done, but who set the tone in an organization, establish cultural and business priorities, who build teams, and who are able to not just adapt to competitive realities, but see the future and thrive in it.

And yes, ignore dire warnings about a "retail apocalypse" and see opportunities.

At Samuel J. Associates, we have a winning record of connecting great talent and innovative businesses ... as well as innovative talent with great businesses. We exceed your expectations so that you can do the same thing for your customers.

No bull.

Click here to find out more.

…with brief, occasional, italicized and sometimes gratuitous commentary…

• The Spoon reports that Dunkin' - the chain formerly known as Dunkin' Donuts - has announced "a sizable expansion for 50 new locations outside the Northeast, the chain's home region and where it's historically held stores. The expansions will include elements of the chain's next-generation store, which caters to mobile ordering, more modern design, and more espresso drinks."

According to the story, "the new locations are part of an ongoing plan to open 200 to 250 new restaurants each year over the next three years. For this round, the company will head to Texas, Michigan, Southern Kentucky, Minnesota, Wisconsin, North Carolina, Nevada, and Missouri."


• CNBC reports that Sears has introduced a new logo, the design of which it says it "hopes to represent a combination of a home and a heart."

While some on social media say they like it, there are others who say that it looks like the Airbnb logo.

The new logo is designed to go along with its new slogan: "Making moments matter."

A new slogan is nice. A new logo is nice. But maybe new stores that actually are relevant and reflective of the 21st century would be a good thing, too.


• USA Today reports that "amid a global helium shortage, Party City announced Thursday it will shutter 45 stores in 2019." It didn't say where the stores are (it has 870 in the US and Canada), specifically when they will be closed (other than that it will be this year).

The story says that "Party City said it is working to secure a new helium source and a contract, which is subject to final approval, would provide its stores with helium beginning this summer and continuing for several years."

These are the moments that I wish MNB were a podcast, so I could've sucked down some helium and done this story in a funny voice.


• The National Retail Federation (NRF) is predicting that "Americans are expected to spend a record $25 billion on Mother's Day this year for flowers, jewelry, greeting cards and the like," up eight percent from a year ago.

One of the things leading to the higher spending on Mother's Day, the story says, is the fact that almost 22 percent of Americans between the ages of 23 and 37 still live at home with their mothers or both parents - the highest level in two decades.

Apologies to MNB readers who have been missing the "Your Views" section over the past few days. I've been traveling a lot, doing a bunch of speeches … this sometimes means that I'm burning the candle at both ends. Sleep and "Your Views" tend to suffer, but hopefully this compilation will make things right…


I suggested a few days back that I tended to be in favor of rules that would mean unhealthy foods could not be Acquired using food stamps.

MNB reader Bob McGehee responded:

Good idea in theory but unmanageable in practice. 
 
As a 40+ year supermarket veteran, I've seen virtually all forms of abuse of this well-intentioned program that truly does need some oversight.  BUT, absent a UPC specific list provided by some government agency that's updated daily, this will not work.  Expecting a 16 year old cashier with 45 minutes of training to explain these guidelines/decisions equals a lot of arguments and nightmares at the checkout lane. 
 
This will generate a lot of good political fodder but no real solution.

MNB reader Doug Galli chimed in:

As a retailer that accepts SNAP, I'm struggling as to where the American Journal of Preventive Medicine receive their information on retailers more heavily promoting sugary drinks when SNAP benefits are issued. In our 80 plus sites we do not take into consideration at all the timing of the distribution of SNAP benefits when determining our promotional plans.
 
We are much more concerned with the time of the year than the time of the month.

MNB reader Steve Ham wrote:

I think it's an incredible concept, to not only improve dietary choices but also to reduce waste. Fact: convenience stores are not the best choice for cost savings or healthy eating options.

Opinion:  If you're on government assistance, taxpayers have a right to select what is paid for.

Prediction:  the convenience store lobby & any sugary manufacturer will be against this (roll eyes).

Hope: wouldn't it be great if this had bi-partisan support, and also spread to other states?

Wish: would you keep us updated on the progress of this legislation?

Yup.



From an MNB reader about Amazon's decision to make one-day delivery the default offering for Prime:

As a 3rd Party Amazon seller that does mainly FBA (Fulfillment by Amazon) and pays very high fees for the service, I am a bit concerned.  How much is Amazon really going to invest and how much will they increase the FBA fees?  On average, 50% of my sales price to Amazon shoppers goes to Amazon between referral fee (typically a 15% fee from every sale) and FBA fees.  Not to mention the advertising that I pay to Amazon.  If the one-day charges get pushed down to the 3rd party sellers, prices to the consumer will have to increase. I just hope that Amazon keeps its word and invests its own money rather than asking the 3rd party sellers to do so.



Got the following email from MNB reader Peter Wolf about checkout-free stores deciding to take cash:

I believe companies like Amazon are investigating and testing technologies that can automate cash acceptance and change dispensing. Full disclosure - I work for a company that manufactures cash automation solutions. We are seeing this all over the county - companies looking to make cash payment as easy and simple as swiping a card. Store associates don't have to deal with cash and consumers are free to pay as they choose. New cash automation solutions have come along way from the "one bill at a time" vending machine cash processing. This could be the next evolution of payment.



Walmart announced the other day that from now on, shoppers who come into its US stores to buy tobacco products will have to be 21 years old to make those purchases.

I commented:

Kids are stupid. Kids think they're bulletproof. I think this is just fine … in fact, I think they ought to make the minimum age 101, since we know from experience that manufacturers say they don't target young people, and then do everything they can to addict them as young as they can. Shame on them.

One MNB reader responded:

With this logic, then raise the age to enter military and engage in combat, raise the age to vote and raise the age for a drivers license. I am not a tobacco user and have a 19-17-16 but a bit of hypocrisy.



And regarding privacy issues surrounding smart speaker systems like Amazon's Alexa-powered devices, MNB reader Chris Weisert wrote:

I guess it amazes me that these devices/systems that "learn" your interests in order to "better" serve you, surprise some folks when they realize their data is being saved and analyzed. Am I missing something?



On another subject, from an MNB reader:

I feel obligated to chime in on "Last Straw for Coffee Cups" following three of your readers expressing reservations about companies allowing/encouraging customer use of reusable cups. I think that this initiative, and all other reasonable sustainability-minded efforts, need to be championed at every opportunity because of the simple facts that the world's natural resources are finite, as is the space available for landfills, and the capacity of our oceans and their ecosystems to continue functioning in the face of pollution (etc etc) while our human appetites have no limit.  
 
The reason behind two of the comments was hygiene, which is a reasonable concern, but one that need not (and should not) get in the way of these initiatives. We're talking about refilling cups, which involves transferring a liquid via pouring, making the hygiene concern splashback, which baristas are pretty adept at minimizing (they are in the business of pouring liquids, all day, every day) and which isn't about to kill you, anyway. You're encountering comparable other germs and gross things when you touch the outside of that cup that's been handled by other people, interact with the point of sale system, the door handle, the person behind you who doesn't cover their mouth when coughing, and on and on. I am a thermos user myself and even though I wash my thermos every day, coffee stains! So it has a patina, and that doesn't make it infectious.
 
Paper cups, alas, are mostly not recyclable. All of those that are not labeled biodegradable (the vast majority) have a very thin layer of plastic laminated into them that makes them waterproof. Those that are biodegradable are only that way when they are put into the right environment, either a commercial or personal compost process which includes a healthy population of microbes, a regulated temperature, and monitored moisture levels, none of which is present in the landfill most of these items end up in. I see no point in debating which harm is greater, "paper" cups or plastic bottles: we know they both have their issues and at that point, I feel that it's irresponsible to ignore that knowledge. To me the greatest hazard is people choosing to ignore our newfound knowledge of the consequences of our usage of this earth in favor of getting defensive of the convenience items and systems to which we have grown so accustomed. Those on the earth now may not see all of the consequences, but those after us will see more than they deserve.



Regarding our stories about marketing to aging baby boomers, MNB reader Joy Nicholas wrote:

I have been telling my business class for the last 2 years that the most promising small business opportunities are in those that cater to the baby boomer generation.  Many boomers have discretionary incomes, retirement savings, good health (for the most part), have been dealing with aging parents and late launching kids, and are ready to enjoy life to the fullest... I encourage any business to focus on this large population of consumers.  Much success to be had if you find the right hooks.

From another reader:

I've been saying this for years and now that I'm 56, I'm certainly starting to feel it. As someone in marketing, I always been mystified by the endless pursuit of youth by some companies. The real sweet spot is where these needs intersect - but no one is talking much about that. It's much more important to try to pigeonhole someone into a "demographic". As someone who has never identified with being a boomer (although technically I am) nor Gen-X, I'll just keep my head down, keep working, keep traveling and keep spending my money on experiences and ethnic foods like those Millennials, buying newer and better jar openers like those Boomers (LOL) and going AARP for the discounts, and feeling the ennui of those Gen-Xers.



We had a story about how CVS plans to reduce the amount of space in its stores that it devotes to traditional retail and focus more on a variety of healthcare-related services. Prompting one MNB reader to write:

It's good that they are reducing the space dedicated to straight retail, since these items are much higher priced than I could buy the same item at a traditional supermarket.  It's also ridiculous that drugstores doing over 100B a year in sales gouge us on HBC and other grocery items, IMHO.



Regarding our story about Marriott creating an Airbnb-like business, one MNB reader wrote:

But will they take/give points….??

My understanding is that Marriott will, though not all the details have been worked out yet.



Got the following email regarding my obituary and comments about iconic Irish retailer Feargal Quinn:

Wouldn't it be grand if we had the same class and civility that was shown to Feargal Quinn's passing, in our politically charged political environment today. His respect from his competitors and from all those who knew or met him says everything about this wonderful man.

He was of a different time and a different place. I'm not sure such a thing is possible in the US today. Class and civility are one thing … but tolerating the intolerable is something else again.



We took note the other day of a Wall Street Journal report that "America's biggest milk maker is running out of options as milk consumption continues to decline in the U.S. Dean Foods Co.'s sinking sales also have been hurt by big customers such as Walmart Inc. opening their own dairy plants to help guarantee their own supply. The dairy company's sales last year of $7.8 billion were down 38% from a decade ago."

The story points out that milk prices have been falling, even as dairy cows have become more efficient. Which led me to ask "Did they have any udder choice?"

And MNB reader Mike O'Shea to respond:

Did you know that a dry cow is an "Udder Failure"?

Nope. I'm basically a city kid. I like my milk to come out of bottles.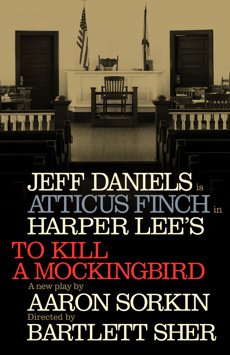 The new Broadway production of "To Kill A Mockingbird," a new play by Aaron Sorkin (The American President, Molly's Game, The Social Network, Steve Jobs, "The West Wing"), is, no surprise, a terrific piece of work. After all, it is at its core a courtroom drama, and Sorkin's first play was "A Few Good Men." And so, "Mockingbird" is a sharply written, well-observed piece of work that seems steeped in the culture and climate of fictional Maycomb, Alabama.

It is a play filled with wonderful performances, especially that of Jeff Daniels as Atticus Finch, the deeply moral Southern lawyer defending a black man accused of rape in a Southern town during the 1930s. Finch is one of the most iconic fictional characters in American fiction, largely because of the performance of Gregory Peck in the 1962 film version which also was based on the original Harper Lee novel.

While "Mockingbird" takes place in the thirties, and deals with a culture in which racism and bigotry is deeply ingrained, it so many ways it seems like a play of our time … there are phrases and attitudes in evidence that would not have seemed out of place during the recent events in Charlottesville, Virginia, and it reminds us that, regrettably, we have not come as fas as a nation and a culture as we'd like to pretend.

Daniels is wonderful in communicating the personal conundrum of a good and decent man who struggles to be respectful and tolerant of people and attitudes that he knows deep in his heart and soul to be wrong, misguided, and sometimes evil. Peck's performance in the film version has a kind of modulated and saintly quality; Daniels and Sorkin give him just a bit of an edge, as if he is constantly on guard against becoming what he despises.

Among the other standouts in the cast are LaTanya Richardson Jackson as Calpurnia, the Finch family housekeeper, who has a larger role here than in past versions. She serves as a kind of conscience of the piece; when Atticus at one point suggests that Maycomb needs more time to grow out of its racism, she retorts: "How much time would Maycomb like?" And Dakin Matthews is terrific as the judge in the case, finding unexpected depths of humor and humanity.

There have been reports that while the producers of "To Kill A Mockingbird" expected it to have a limited run based on Daniels' availability (like "Network," the play based on the 1976 movie, starring Bryan Cranston, which we're seeing in two weeks), they now believe that it could have a long and healthy run on Broadway. I think that's true; there are so many rich roles in this play that I suspect actors will be flocking to play them. I also think the play will tour well, so it may be coming to a city and stage near you.

If you get the opportunity, see it. The original book and play may have been about the thirties and came out of the increased racial consciousness of the sixties, but it ends up that "To Kill A Mockingbird," as interpreted by Aaron Sorkin, Jeff Daniels and their cohorts, is very much a play for and even about 21st century America.

To use a line from another famous play about another time, attention must be paid.



Back Monday. Have a great weekend.

Slàinte!
Industry Drumbeat
A NEW PRESENTATION BY KEVIN COUPE

Steve Jobs once said, "Better to be a pirate than join the navy." In today's cutthroat retail environment, that attitude needs to be at the core of every business's strategic, tactical and operational approach - challenging the status quo, doing the unexpected, creating customer-centric business initiatives and then disrupting them internally … appealing to people's hearts and heads and aspirations … acting with piratical verve and always moving forward. In this brand new, lighthearted, illuminating and uniquely pertinent presentation, filled with examples and anecdotes and lessons, MorningNewsBeat's Kevin Coupe brings a passion for storytelling and a unique perspective on business that will entertain and energize audiences.''

Here's what Lori Stillman, Executive Vice President - Analytics, Insights and Intelligence, Advantage Solutions, has to say about a recent appearance:

"Kevin joined us as a moderator and facilitator for a two-day client executive event we hosted. His role in the success of the event went far beyond his time presenting and sharing his great wisdom and content. From the moment our planning process began and we selected Kevin as a key part of our program, he dove in and worked with our team to review session topics, ideate on programming and help ensure our overall event delivered on the goals we had established. His quick wit, deep industry knowledge and ability to synthesize conversations into key take-aways enabled us to hit a home run!"

And, from Joe Jurich, CTO of DUMAC Business Systems:

"Kevin recently participated in and spoke at our Annual User Conference.  Our group consisted of independent retailers, wholesalers, and software vendors – a pretty broad group to challenge in a single talk.  While his energy, humor, and movie analogies kept the audience engaged, his ability to challenge them to think differently about how they go to market is what really captured them!  Based on dinner conversations afterward, he appeared to have left everyone thinking of at least one new approach to their strategy!"

To book Kevin for your upcoming event, click here , or call him at 203-253-0291.
In this new edition of the Retail Tomorrow Podcast, we discuss the unique partnership between Kroger and Microsoft, developing cutting edge innovations that will take each of them to the next level when it comes to things like digital shelving, video analytics, sensor networks, temperature tags … and beyond. And here's the thing - the innovations that emerge are not proprietary, but will be available to any retailer looking to leap into the future.

This podcast was recorded at GMDC's recent Retail Tomorrow Immersion conference in Los Angeles.

Our guests:

• Kevin Fessenden, Senior Product Manager at Sunrise Technology, which is a Kroger company.

• Chris Dieringer, Senior Director of Industry Solutions for the Retail and CPG Industry at Microsoft.

The host: Kevin Coupe, MorningNewsBeat's "Content Guy."

You can listen to the podcast here, or on iTunes and Google Play.

Pictured, from left to right:

Kevin Coupe, Chris Dieringer, Kevin Fessenden.
PWS 59