Join the MNB Community.
Get a Wake Up Call each morning...
Email:
Explore the MNB Archives
From The MNB Archives
Wednesday, June 26, 2019
by Kevin Coupe

I was reading a piece in Variety the other day that made an observation about Amazon's branding confusion that I hadn't thought about before:

"It's one of the most powerful brands in the world, but for the folks behind Amazon's entertainment offerings, it's been the source of ongoing brand confusion. 'Amazon' is an online retailer founded in 1994 by Jeff Bezos, while 'Amazon Prime' is the subscription service that offers two-day free shipping. 'Amazon Studios' produces original TV shows and films, while 'Amazon Prime Video' is the specific portion of Amazon Prime devoted to streaming TV shows and films — both from Amazon Studios and other sources. (And those shows themselves are deemed 'Amazon Originals.' Confused yet?)"

The Variety piece goes on:

"That brand confusion isn't an issue with Netflix and Hulu, which are purely in the streaming video business. (Apple, which is in multiple businesses like Amazon, hopes to differentiate its upcoming streamer by calling it 'Apple TV Plus' — but it will likely run into similar branding issues.)"

We spend a lot of time here talking about Amazon's ubiquitous nature, of its desire to create an all-enveloping ecosystem, to make it irresponsible to not be a member of Amazon Prime, to touch in some way virtually every part of everyday life. We talk about it and, truth be told, I admire it.

But even Amazon, apparently, can get the branding blues. It may own "the everything store," but "everything" is a lot to wrap your eyes and mind and arms around. It leaves room - not a ton of room, but some - for the competition to be expert at something, not everything, to become a resource for the consumer and not just a source of product.

That's what the independent booksellers business has largely found out … as noted here yesterday, by becoming an anchor of authenticity, rooted in specific shopper knowledge and often specialized product selections, they've managed to be about something, not everything.

It is like Jack Palance's Curly says in City Slickers when asked by Billy Crystal's character what the secret of life is. He holds up one finger and says, simply, "One thing. Just one thing." (You can see the scene here.)

This morning, it is Curly that provides us with the Eye-Opener.
In the UK, the Retail Gazette reports that discounter Aldi plans to expand its new 'Local' format. After the successful opening of one unit in South London, the company says, it now will open another one in the city, as well as convert existing Aldi stores in Archway, Eastcote, Kingston, Kilburn, Tooting and Romford to the new concept.

The 'Local' format stores are about 6,000 square feet in size, and carry about 300 fewer SKUs than a traditional Aldi.

The Retail Gazette writes that "the results of these trials will then be evaluated before deciding whether to roll out the concept and branding permanently … Aldi also stressed that the Local fascia was not a move into convenience retailing."

The story also says that "there are also no plans to introduce the Local format outside of London."

KC's View: Sure. Why not? Aldi, along with Lidl, hasn't done enough to wreck the British supermarket sector. Might as well come up with another way to disrupt things.

Fast Company has the story of Haus, described as a new e-commerce startup that is betting that a growing American enthusiasm for aperitifs can be converted into a thriving online business.

The company is making two bets: that "more and more drinkers, particularly those under 40, want more refined drink choices that also fit within their healthy lifestyles, and 2) It can reach those customers in new ways that upend the traditional alcohol distribution system."

In part, Haus is a response to a certain amount of American ambivalence about the Aperol Spritz, a summer drink made from prosecco, soda, and the eponymous Italian aperitif Aperol; while it is growing in popularity here in the US, it has gotten some criticism for being too sweet, too cloying, and a kind of "saccharine syrup bomb."

(Kate McMahon had an MNB column about the debate that you can read here. She was responding to a New York Times article that described the Aperol Spritz as tasting like "a Capri Sun after soccer practice on a hot day," and she said that for a lot of people, that sounds perfect.)

According to Fast Company, "The big bet Haus is making is that people are interested enough in a certain new type of drink that they would order it online, not mindlessly at the liquor store when preparing for the weekend's festivities … Most of what people drink has been around for decades, if not centuries, and distribution is gate-kept by three big companies: Campari, Diageo, and Pernod. The only way to scale as a spirit brand these days is to get picked up by one of these three."

And so, Haus is building a business model that not only offers a refreshment alternative that it believes compares favorably with more traditional drinks, but also uses a more modern distribution method with which younger drinkers are comfortable.

Fast Company notes that "Haus's first product, called simply 'Citrus+Flowers,' is a white wine-based drink infused with lemon, grapefruit, elderflower, and hibiscus." It costs $35 a bottle … and there reportedly is a waitlist of more than 3,000 people.

KC's View: Just another example of how smart people can come up with a fresh take on an old category and use technology to make it accessible to a new audience.

Amazon announced yesterday "a new partnership to bring computer science and robotics to up to 30 Title 1 Seattle Public Schools as part of the Amazon Future Engineer program. Amazon is providing each of the schools with an Amazon Future Engineer Robotics grant to inspire the next generation of computer scientists, with a focus on students from underrepresented and underserved communities. Each of the schools will receive support to launch FIRST robotics teams, including teacher professional development to learn about robotics, support from Amazon to expand access to computer science education in their school, and a private tour of an Amazon robotics fulfillment center in Kent, Washington."

The announcement says that "the mission of FIRST, curriculum provider for Amazon Future Engineer Robotics grants, is to inspire young people to be science and technology leaders and innovators by engaging them in exciting mentor-based programs that build science, engineering, and technology skills to students in grades K-12."

KC's View: Here's the bottom line from the announcement: "The Bureau of Labor Statistics projects that by 2020 there will be 1.4 million computer-science-related jobs available and only 400,000 computer science graduates with the skills to apply for those jobs … Computer science is the fastest-growing profession within the Science, Technology, Engineering and Math (STEM) field, but only 8% of STEM graduates earn a computer science degree, with a tiny minority from underprivileged backgrounds."

Amazon is doing more than just funding and partnering on educational programs. It is giving itself an inside advantage in attracting and hiring people with the skills to keep it relevant and vital years from now.

Corporate Drumbeat
"We're going to need a bigger boat"
That's the famous line from Jaws.

In a business context, having the right-sized boat means having the right
strategy, tactics, vision, technology, and most importantly, the right people.
At Samuel J. Associates, we know the people who know how to build boats that can last,
that can move in the right direction, and that can change speed and course when necessary
(and even before most people know they should).

We have a winning record of connecting great talent and innovative businesses... as well as
innovative talent with great businesses.

There are sharks in the water. Make sure you have the best boat possible.


Click here to find out more.
Nielsen is out with a study saying that "there's a private-label outbreak, and there's no slowing it down … store brands account for 17% of consumer packaged goods (CPG) dollar sales in physical retail stores. Private-label sales have also increased by $7.9 billion across brick-and-mortar stores in the past three years. But there's much more to the private-label story than just what you see in physical stores.

"From Amazon's new skin care line to Chewy.com's new private-label pet food, retailer branded products are no longer a niche online. CPG private label accounts for 3% of online dollar sales, up from 1.3% two years ago, and some categories - particularly household care and baby products - are caught in the crosshairs."

The report goes on: "Private label has emerged as the new challenger brand in e-commerce. From aluminum foil to disposable diapers, private-label options are generating a significant portion of the overall e-commerce sales within certain categories."

The New Yorker has a piece noting that "there were 1,525 newsstands in New York City at their peak, in the nineteen-fifties, selling morning and evening editions. Today, the city has a little more than three hundred." (And a lot fewer newspapers, too.)

Among them, the story says, are 39 of something called New Stand - they carry snacks, drinks, HBBC items, even consumer electronics. But not a lot of newspapers or magazines.

The world changed, and so the retail format changed with it … and the evolution continues: "The next frontier is inside offices. New Stand plans to open little stalls in workplaces that sell healthy snacks—organic lentil salads, chia balls—along with items like dry shampoo, charcoal toothbrushes, and CBD pain sticks."

You can read more about it here.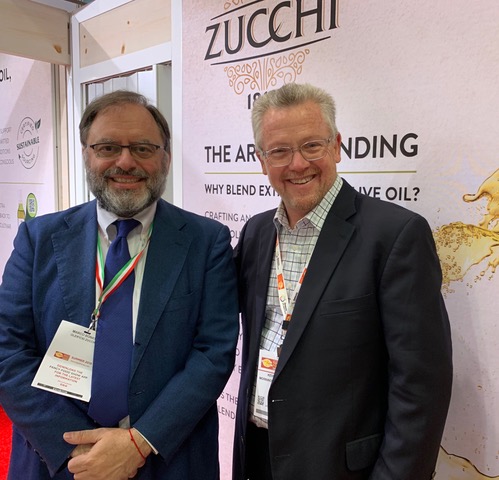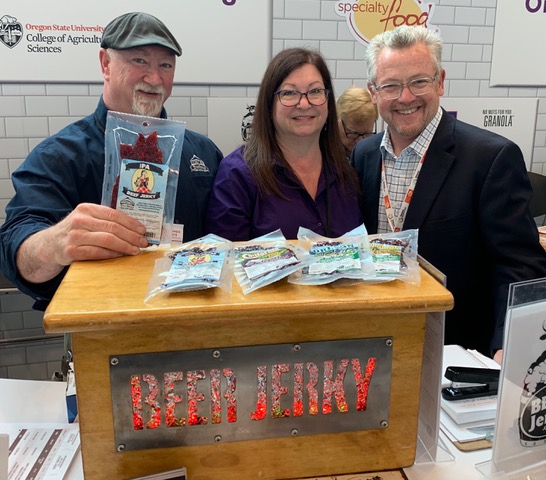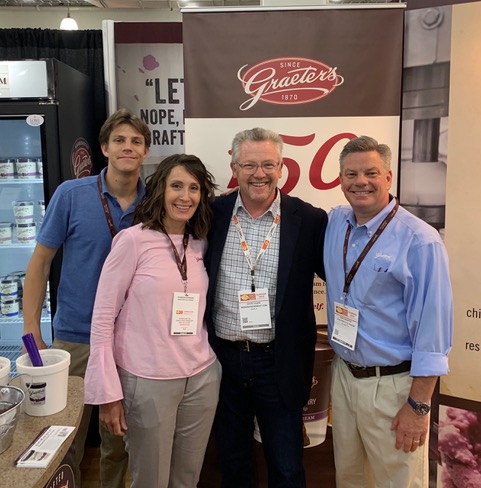 by Kevin Coupe

For the first time in years I had the opportunity to briefly attend the Summer Fancy Food Show, held at the Javits Center in New York City and put on by the Specialty Food Association. Most years, I'm in Oregon when the show takes place, teaching at Portland State University … but for a variety of reasons this year my trip west was delayed, and so I hopped on the train and ventured into Manhattan for a few hours.

Some of the scuttlebutt that I picked up on suggested that there was some disappointment with attendance - fewer retailers wandering the floor, and fewer deals being done. Some of this may be inevitable - both the retailer and manufacturer segments have gone through consolidation.

But I have to say that I enjoyed my quick stroll through the show … because I got to see some old friends of MNB, and because it reminded me of where so much innovation takes place.

Pictures at left, in order…

• It was fun to catch up with the folks at Zucchi - who, I will point out in the interest of full disclosure, are sponsors of MNB - because their philosophy is so much in synch with my priorities. I love the idea that their olive oil bottle shave QR code that allow the user to instantly trace the origins of what they are consuming … I've felt for a long time that this kind of traceability and trackability will be key to retailers and suppliers maintaining their credibility.

• I was glad to meet new friends Glenn and Kay Lohr, who had their BeerJerky.com company at the Incubator Village. I'm not a big beef jerky guy, but their product is amazing...beef jerky that is marinated in beer or wine. It is delicious...and the best thing about it is that I originally tasted it several years ago when Roland Fornataro, one of the students in the summer class I teach at Portland State, brought it in to sample and pitch to some retailers. It was early days, Roland was family to Glenn and Kay, and he was getting his marketing feet wet.

(Longtime readers of MNB may remember the experience - I talked about it on an old FaceTime.)

• It also was fun to hang out for a few minutes with my friends from Graeter's - which has sort of become the unofficial-official ice cream of MorningNewsBeat. As I wrote on social media, Graeter's ice cream is my kryptonite, but when I eat it, I'm a happy Content Guy. (They were amused by a story I told them about how a friend of my kids came by the house recently, joined us for dinner, and then, because he had an enormous case of the munchies - I didn't question why - went through a couple of pints of Graeter's that we had stashed in the freezer and proclaimed himself a fan forever.)

There were, of course, aisles and aisles of specialty foods available for tasting and, for the retailer looking to differentiate itself, acquisition. Which is the larger point, I think.

The most important thing any retailer can do these days is differentiate itself - to create an experience that is unique and compelling and to offer products that are different from those offered b y the retailer across the street, across town, or via the internet.

This isn't easy. It never ends. But as I saw all those specialty foods and tasted just some of them, it reminded me how important it is that food stores actually be in the food business.

It is easy to be in the business of selling boxes and bags and cartons and jars. It is a lot more challenging to celebrate food. But to me, that's where the magic is. That can be the secret sauce. That can be where success can be found. And, even more importantly, tasted.
• CNBC reports that Apple has acquired autonomous vehicle startup Drive.ai. Terms of the deal were not disclosed.

The story says that "the deal confirms Apple's continued interest in self-driving car software, and it will bolster the tech giant's engineering ranks with additional employees who can build autonomous vehicle technology." It also saves Drive.ai from obsolescence - the company, which had "partnered with the city of Arlington, Texas, to offer a shuttle service using self-driving cars," recently "filed a notice with the state of California that it planned to close its business and lay off 90 workers."

• USA Today reports that "Gary Shilling, an economist and financial analyst who is credited with predicting several recessions over the past 40 years, thinks the U.S. is in a relatively mild slump … His view is at odds with the vast majority of economists who expect the economy to grow a solid 2% to 2.5% this year after expanding at about a 3% clip last year and in the first quarter."

According to the story, Shilling says, ""I think we're probably already in a recession but I think it will probably be a run-of-the-mill affair, which means real GDP would decline 1.5% to 2%, not the 3.5% to 4% you had in the very serious recessions."

"In such a tempered slide, he says, 'Stocks probably wouldn't fall' but if they did, they likely would tumble about 22% - similar to other recent recessions. That, he says, would take the Standard and Poor's 500 index about 200 points below it's Christmas Eve nadir of 2,351."


• The Wall Street Journal reports that, as expected, the San Francisco Board of Supervisors has "passed the first blanket ban on e-cigarette sales in the U.S. on Tuesday. The measure, which prohibits the sale, distribution and manufacture of e-cigarettes, will now need to be signed by Mayor London Breed."

The story goes on: "Aimed at combating the rise in teen vaping, the ban would take effect seven months after the mayor signs the ordinance. Under the measure, violators could be subject to a $1,000 fine or other penalties. It would remain in place until the Food and Drug Administration approves the marketing of e-cigarettes. The FDA has given e-cigarette companies, including Juul Labs Inc., until 2022 to submit their products for a health review."


• The New York Times reports that the US Department of Justice has "intervened in a class-action lawsuit that claims some of the biggest American poultry companies, including Tyson Foods and Pilgrim's Pride, conspired to manipulate chicken prices. In a court filing, the Justice Department asked the United States District Court for the Northern District of Illinois to halt the discovery process for six months as it pursues a criminal investigation.

"Price-fixing claims against the chicken producers have been floating around for years, in suits like the one in Illinois, but the government's involvement is a potentially significant escalation because it means criminal charges could follow. The filing itself does not guarantee that the government is going to bring charges, but it does suggest that the government is strongly considering them…"

…is on hiatus for the summer, and will return on Wednesday, September 4.

Responding to our story about JetBlue suing Walmart for trademark infringement over its new Jetblack concierge shopping service, one MNB reader wrote:

Didn't Walmart purchase an on line fulfillment service name Jet? Are they not merely extending the use of the already established Jet franchise that they already purchased. Your observation is correct - it's a long stretch to confuse and airline with an on line supplier.



yesterday, MNB took note of a Wired report that Alphabet's Sidewalk Labs, a sister company to Google, has released detailed plans for its Toronto project, where the city has given the company access to an undeveloped section of the waterfront and, in essence, offered it the opportunity to create the neighborhood of the future.

According to the story, "The four-volume plan highlights ambitious and sometimes flashy innovations from Sidewalk Labs, which has pledged to spend $1.3 billion on the project if it goes forward. The company hopes to construct all the buildings with timber, which it says is better for the environment, and build an underground pneumatic tube system for garbage removal. It wants residents to lean on public transit, walking, and biking rather than personal vehicles, and plans to build streets with autonomous vehicles - perhaps from its sister company, Waymo - in mind."

Wired noted that there is a very Google-like, data-centric sensibility at the core of this development: "Sensors would stud the Quayside development, tracking everything from which street furniture residents use to how quickly they cross the street.

"This data collection is the most controversial part of Sidewalk's plan. The company says the data is essential to building a new kind of urban space, where traffic, pollution, and noise levels are calibrated to keep residents happy … Sidewalk Labs has pledged to create new methods of protecting data collected in public areas, where residents and visitors aren't actively consenting to its collection. It said all information would be depersonalized and disaggregated, to shield identities and sensitive information. It said it would never sell data to third parties. And it promised to create a transparent process through which it might allow others access to its collected data."

I commented:

had the opportunity last year, as part of a Retail Tomorrow immersion conference, to visit the Sidewalk Labs outpost in Toronto, and I was very impressed … I found what they are doing to be fascinating, very much the model of where cities are going, and one of the reasons young people are lured by urban environments - they are about tomorrow.

There need to be safeguards. But the possibilities are endless.

MNB reader Lisa Malmarowski responded:

I agree with you but wow, just wow … I mean, what could go wrong? I'm sure we can trust this. Yeah, completely trustworthy. Sure.

I think I detect a certain cynicism.



We reported yesterday that the US Supreme Court ruled 6-3 that the public does not have the right to know where more than $60 billion in taxpayer money that is part of the Supplemental Nutrition Assistance Program (SNAP) specifically is being spent.

The case was precipitated back in 2011 when the Sioux Falls Argus Leader sued the federal government to obtain, under the Freedom of Information Act (FOIA), data about how much money some 320,000 supermarkets were getting under SNAP, often referred to as food stamps; it was part of reporting projects on food stamp fraud and a look at the nation's food deserts. After the federal government lost the case, the Food Marketing Institute (FMI) stepped in and initiated appeals that eventually went to the Supreme Court. The FMI argument was that the release of the information would cause competitive harm to the supermarkets involved.

I commented:

I have a bias here. I started out a a newspaper reporter, and so I reflexively and instinctively tend to support the journalist position … which I always have in this case. As I've written here before, nobody would be surprised if Walmart is a major beneficiary. But what if we found out that, say, Whole Foods was? That was would be interesting … and not exactly worth keeping a secret … As a taxpayer I believe that I have a right to know where my money is being spent. I get twitchy when transparency is resisted by the federal government.

In this case, however, resistance actually has been futile.

MNB reader Leo Martineau responded:

Oh no Kevin, the Borg have taken over the federal government. Apparently we will be assimilated.

Y'think?

Here's my response.



Finally, the other day we commented on published reports saying that a new poll from YouGov.com says that close to 40 percent of people between the age of 18 and 24 have not used deodorant in the last 12 months, and that close to half of people in that age range have not purchased deodorant in the last 12 months.

Based on a recent experience, I'd suggest that a sizable percentage of them are riding the New York City subway system.

It is, I wrote, an Eye-Opening generational portrait … and at least one company seems to think it has figured out how to get young people to use deodorant. Schmidt's is teaming up with Justin Bieber for a new natural deodorant line called Here + Now.

This wouldn't necessarily be my choice for how to entice young folks, but hey, whatever works … Please.

MNB reader Carol Schnabel responded:

Oh yes, please and soon.  More and more young people in offices and you surely can tell they don't use deodorant.

Oh yuck!!!

Industry Drumbeat
A NEW PRESENTATION BY KEVIN COUPE

Steve Jobs once said, "Better to be a pirate than join the navy." In today's cutthroat retail environment, that attitude needs to be at the core of every business's strategic, tactical and operational approach - challenging the status quo, doing the unexpected, creating customer-centric business initiatives and then disrupting them internally … appealing to people's hearts and heads and aspirations … acting with piratical verve and always moving forward. In this brand new, lighthearted, illuminating and uniquely pertinent presentation, filled with examples and anecdotes and lessons, MorningNewsBeat's Kevin Coupe brings a passion for storytelling and a unique perspective on business that will entertain and energize audiences.''

Here's what Lori Stillman, Executive Vice President - Analytics, Insights and Intelligence, Advantage Solutions, has to say about a recent appearance:

"Kevin joined us as a moderator and facilitator for a two-day client executive event we hosted. His role in the success of the event went far beyond his time presenting and sharing his great wisdom and content. From the moment our planning process began and we selected Kevin as a key part of our program, he dove in and worked with our team to review session topics, ideate on programming and help ensure our overall event delivered on the goals we had established. His quick wit, deep industry knowledge and ability to synthesize conversations into key take-aways enabled us to hit a home run!"

And, from Joe Jurich, CTO of DUMAC Business Systems:

"Kevin recently participated in and spoke at our Annual User Conference.  Our group consisted of independent retailers, wholesalers, and software vendors – a pretty broad group to challenge in a single talk.  While his energy, humor, and movie analogies kept the audience engaged, his ability to challenge them to think differently about how they go to market is what really captured them!  Based on dinner conversations afterward, he appeared to have left everyone thinking of at least one new approach to their strategy!"

To book Kevin for your upcoming event, click here , or call him at 203-253-0291.
In this new episode of the Retail Tomorrow podcast, recorded on the exhibit floor at the annual United Fresh Produce Association show in Chicago and produced by GMDC, we focus on the the opportunities and challenges that the self-care movement creates for companies looking to take advantage of it, how retailers can go beyond their four walls and develop an "outpost marketing" strategy, and the degree to which information can be the most compelling marketing tool.

Our guests:

• Michael Stebner, director of culinary for Sweetgreen, the salad-centric fast casual restaurant chain

• Peter Steinbrick, director of national sales at Melissa's, an importer and distributor of exotic and specialty fruits and vegetables

The host: Kevin Coupe, MorningNewsBeat's "Content Guy."

You can listen to the podcast here, or on iTunes and GooglePlay.

This edition of the Retail Tomorrow podcast is sponsored by Hillphoenix, shaping the future of retail through technology and design innovation.

PWS 59