Join the MNB Community.
Get a Wake Up Call each morning...
Email:
Explore the MNB Archives
Friday, January 17, 2020
by Kevin Coupe

From Fast Company: "If you buy a cup of coffee to go at Babette Café in Berkeley, California, later this month, you might not be able to get it in a disposable cup. The owners have one case of compostable cups left, and aren't planning to buy more. Instead, anyone who doesn't have a reusable mug of their own - and doesn't want to stay in the café - can use an app to borrow a gleaming stainless steel mug from a stack on the counter.

"The café is one of nine locations in the city to pilot Vessel, a system that lets customers check out a free mug, like a library book, and then drop it off at any of the other participating locations, where it will be collected, washed, and returned. Vessel, a startup that also operates in Boulder, Colorado, will soon launch a similar pilot in San Francisco."

The story notes that new laws and rules governing the use of single use items - from bags to straws, plates to cups - are creating business opportunities for companies like Vessel, which isn't making money yet but is ahead of projections when it comes to adoption by cafes.

I have to be honest here. I'm not sure that I'd want to use one of these cafes' reusable cups, simply because I'm not entirely confident about the whole washing thing. But … and maybe this is part of the point … these policies would probably encourage me to bring my own mug to the coffee shop.

I don't do it now. I don't even think about it. But part of what these changing laws and resultant policy changes do is impact how we all think about things. We consider stuff that we never considered before. We develop habits that we never had before. And the result can be less crap out there that fouls a planet that seems increasingly fragile.

It can be an Eye-Opener.

The Washington Business Journal offers a glimpse - just a glimpse, since Amazon isn't talking - about a new retail store it appears to be readying in the nation's capital.

According to the story, "D.C. issued a permit Monday to build out an 8,041-square-foot brick-and-mortar Amazon store at the Liz, the recently delivered mixed-use project at 1701 14th St. NW … The site plan for the D.C. store shows an indoor shopping cart corral, a 'speed lane' to enter the store via a swipe and no obvious cashier lanes, all hallmarks of Amazon Go's sensor-filled shopping experience. There will be racks of retail, a produce area, an alcohol area and an area to pick up prepackaged, precooked food — a proposed menu includes breakfast wraps, waffles, soups, pizza, burritos, chicken wings and rice bowls. But there will be no seats."

At more than eight thousand square feet, the store would be significantly larger than Amazon Go stores, which also feature checkout-free technology. It also is smaller than the new grocery format that Amazon is said to be getting ready to open in Los Angeles and elsewhere.

KC's View: Before he officially launched it, Jeff Bezos considered calling the site "Relentless." (If you go to relentless.com, it actually takes you to Amazon.)

But if he'd known how things were going to end up, he probably would've considered another name: "Ubiquitous."

Axios reports that more than a dozen trade associations have "launched a coalition to help craft federal policy that would 'fundamentally reimagine the U.S. recycling system' … The coalition includes some prominent K Street players and hopes to create 'consistent rules and practices' around what's now a crazy-quilt of recycling systems nationwide."

Among the trade associations involved in the group are the American Beverage Association (ABA), Consumer Brands Association (CBA), Food Marketing Institute (FMI), National Retail Federation (NRF), the Ocean Conservancy, and the Recycling Partnership.

Meghan Stasz, CBA's vice president for packaging and sustainability, tells Axios that "the coalition is planning a series of 'regional roundtables.' The eventual goal is a major policy push in 2021."

"We don't want to start with too narrow of an idea of what the final outcome would be. What we do know is that we want it to be national in scope," she says.

KC's View: If the goal of this coalition is to bring order and common sense to the national recycling patchwork, that is a good idea.

But if it is to play a game of CYA … and spend money fighting localities looking to do something about a growing problem without actually coming up with a solution … well, we're going to have a problem.

The Open Voice Network, a coalition of companies working to develop standards that will bring order to what the founders call the "wild, wild west" of smart speakers and "conversational AI," offered an update this week as it moves closer to the point where technology committees can start getting to work.

After the close of the National Retail Federation (NRF) show in New York City, Jon Stine, who is leading the Network, pulled together a number of supporting organizations and companies at Deloitte's 30 Rockefeller Center offices to give a sense of the initiative's momentum.

Executives from Target, Procter & Gamble, Microsoft, the Food Marketing Institute (FMI), NRF, and Capgemini all offered endorsements of the Network, with a common theme of their presentations the momentum that voice technology is beginning to achieve, and its likely impact on consumer behavior.

Stine made the point that estimates are that there will be eight billion active voice assistants by 2023 - creating an ecosystem that every retailer will want to be able to access; during Alibaba's 2019 Singles Day promotion, there were more than one million orders placed and paid for via voice.

To this point, much of the growth in voice has been dominated by Amazon and Google, but the Network's existence is premised on the fact that other companies must band together in order to keep up - and also to stave off the possibility that standards will be imposed on them by government entities.

The goal, said Amaresh Siva, VP-digital engineering at Target, is to drive literacy for as many companies as possible, and to make the voice experience as ubiquitous as the browser experience.

Some notes from the presentations…

• David Roth, CEO of The Store WPP,m suggested that "the impact of voice is not over-hyped, but under-hyped … the keyboard will end up being just a blip in history." Voice, he said, allows retailer-customer connections to be both transactional and relational.)

• Mark Baum, chief collaboration officer at FMI, called voice a "frictionless, next generation tool that has transformative potential."

• Stephanie Martz, senior vice president and general counsel at NRF, argued that voice will allow retailers to create more :"direct relationships with our customers."

Massimo Volpe, chairman of the Federation of International Retail Associations (FIRA), made the point that in Europe, "people think that (voice) is just a niche … and I'm very worried about that." Volpe said he believed that European retailers will find themselves way behind the wave if they don't take voice technology seriously.

Milan Turk, managing director of Go To Market Innovation at Procter & Gamble, noted, "I have adult kids, and they are super excited that I am working in voice. But they are less so that I am working on standards." But it is standards Turk and other pointed out, that actually will make voice work - and will help voice technology from being an assistant to actually providing assistance.

KC's View:
The feeling here is that the Open Voice Network is onto something … it needs even more resources than it has (and part of this week's event was to continue to drum up financial support), but the notion of leveling the playing field - as much as possible, considering that Amazon and Google have such a head start - strikes me as something that every other retailer and retailing organization ought to get behind.

(Readers of MNB will know the Open Voice Network from an interview that I did with Jon Stine last year, which you can read here.)

There was a lot of brainpower in the room this week - you can see the pictures below center and right - and the meeting left me even more persuaded about the power of this good idea. It also reminded me, as so many things do, of a scene from a Star Trek movie, The Voyage Home, which you can see below left.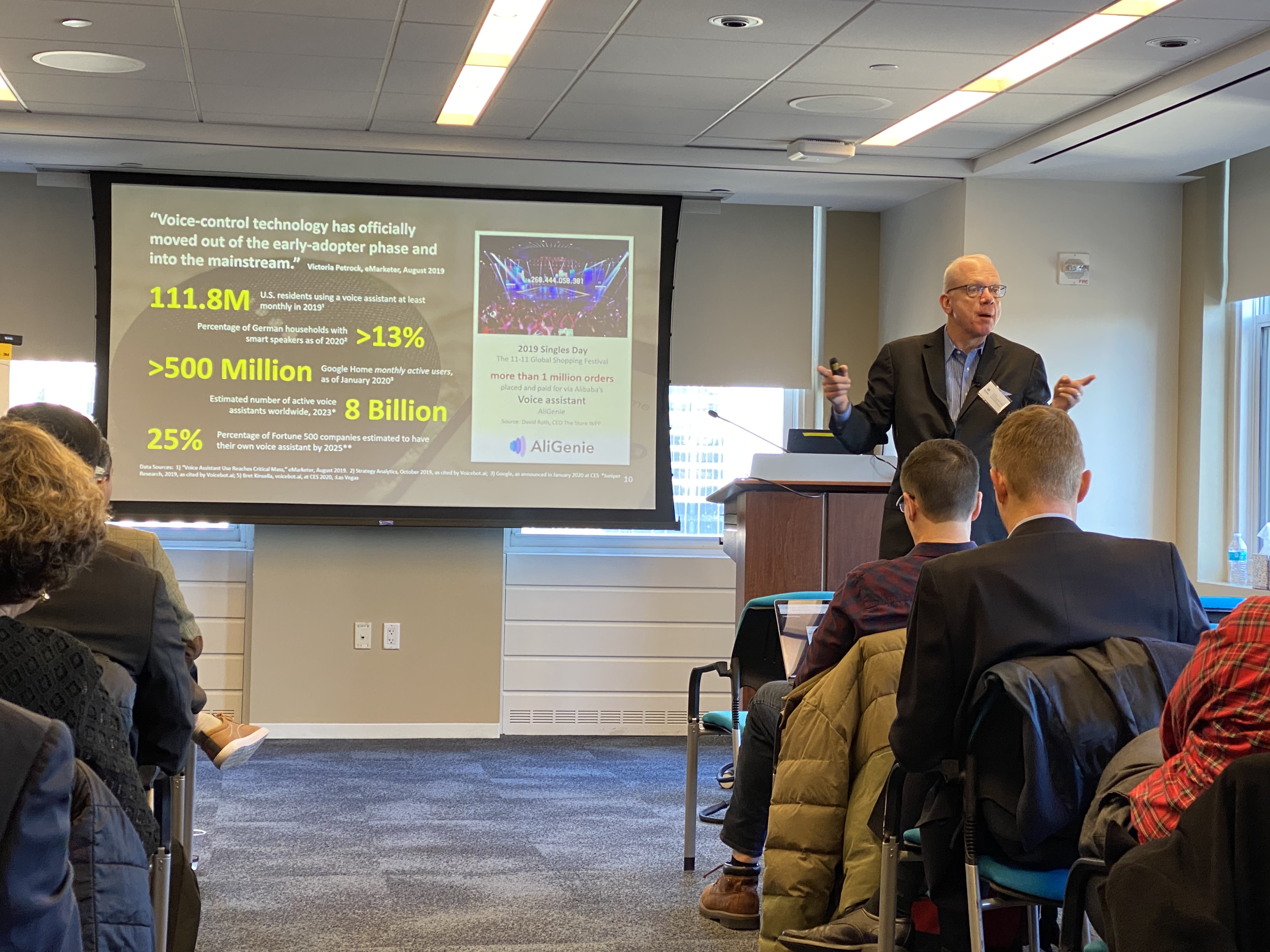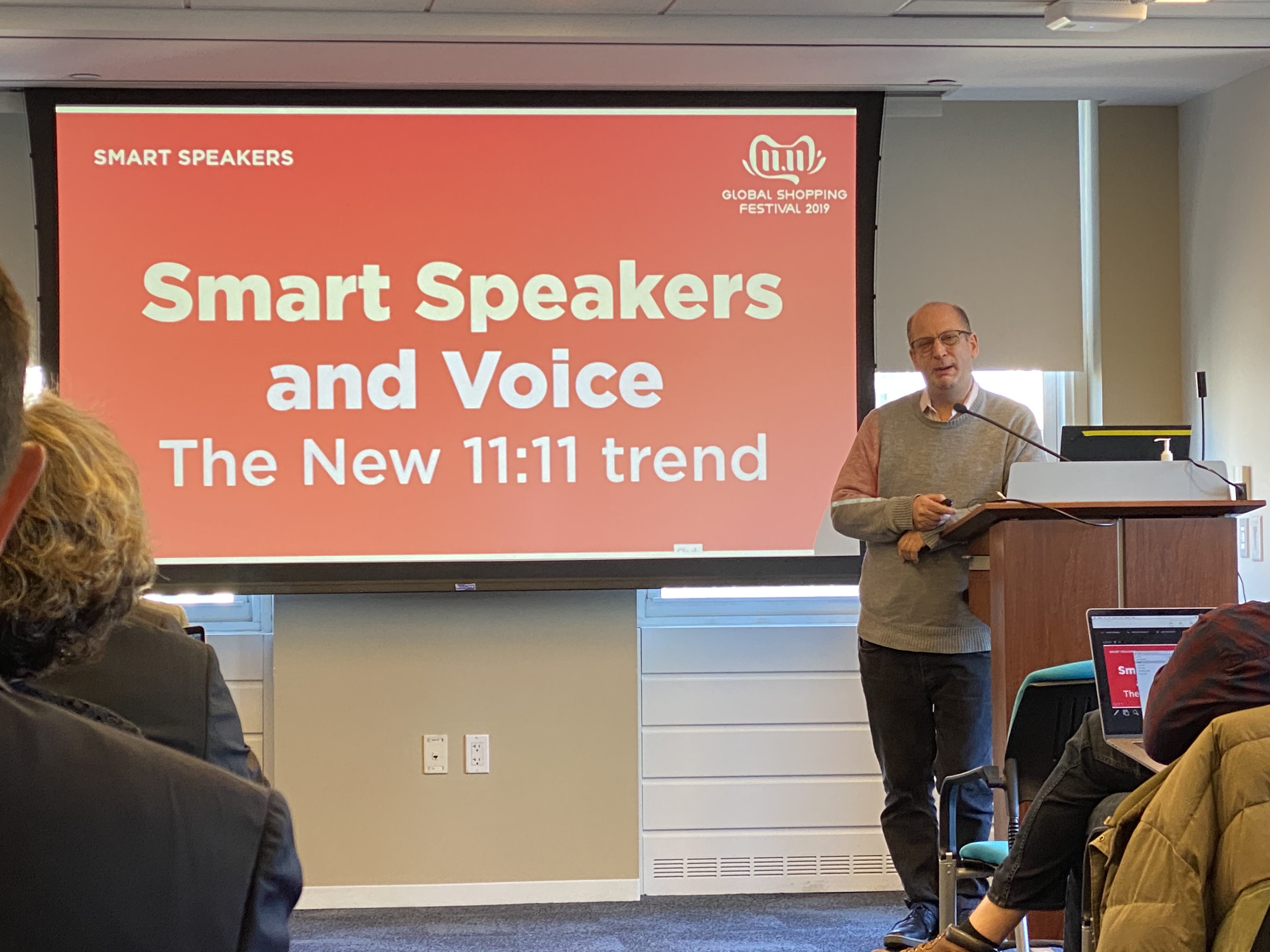 Industry Drumbeat
USA Today reports that Payless Shoe Source, which has been in bankruptcy and closed its last US stores during the summer of 2019, has its eye on a revival.

According to the story, the company "announced in a news release Thursday that it has emerged from Chapter 11 bankruptcy for the second time. The footwear company says it will have a focus on international markets and wants to reinvigorate its largest business unit, Latin America.

"Payless, which is still selling some of its shoes on Amazon.com, says it will also relaunch its U.S. e-commerce site and open some physical stores in the U.S."

KC's View: The CEO, Jared Margolis, is quoted in the story as saying that the company wants to "leverage Payless' existing infrastructure" in a way that will allow it "to be nimble, innovative, and to fast-track our biggest growth opportunity: The United States."

To which I would respond: Wishing won't make it so. There's a reason that you've been in bankruptcy twice, and I'm guessing it isn't because of an exceptional infrastructure, a nimble culture, and a compelling vision of the future.

I think about those things, and I think about Zappos. Not Payless Shoe Source.

Industry Drumbeat


Join us February 23rd-26th for the 2020 Category Management and Shopper Insights Conference in Dallas, Texas! Now in our 15th year, the Conference is an opportunity to gather new insights, share best practices, hear from leading solution providers and build your network.

The Category Management and Shopper Insights Conference is the only conference that's 100% focused on helping you with the knowledge, tools and network to succeed in your role. This year's theme is "Winning the Future of Retail with Technology and Insights." You'll hear from future-focused speakers from Walmart, Google, Pepsico, Walgreens and more.

Register today!
The Motley Fool has a story about how JC Penney, which needed to have a strong holiday season if it is to have much of a chance to survive, didn't - same-store sales for the last nine weeks of 2019 were down 7.5 percent, the company has projected that the past year's same-store sales will be down between seven and eight percent, and it "closed the third quarter with $8.69 billion in assets and $8.69 billion in liabilities."

This, the story suggests, "puts the company in a very tough position, as it lacks the cash needed to make a major transformation … CEO Jill Soltau understands how dire the situation is – and she has some good ideas about how to change things – but she lacks the cash to make meaningful changes."

The story quotes Soltau as saying that "we are beginning to see results – both in our numbers and how we operate as a business – from the early implementation of our Plan for Renewal, which is focused on driving traffic, offering compelling merchandise, providing an engaging experience, fueling growth, and building a results-minded culture … Going forward, I am confident that delivering our strategy, coupled with our ongoing discipline and commitment to improving the foundational elements of our business, will return J.C. Penney to its rightful place in the retail industry."

But Motley Fool isn't impressed: "That sounds nice, but it's not reflective of what's actually happening with the company. You can't win in retail without customers, and J.C. Penney has chased away too many of its customer base to turn things around."

The analysis goes on: "J.C. Penney needs a major reinvention. Soltau has solid ideas as to how to do that, but plans require money, and her chain has essentially none of that. Call it a slow death or a managed shutdown, but there's no future for J.C. Penney. It's hard to picture a deep-pocketed savior stepping up to pay the billions needed to give the company a chance. Barring that, the only question is how long the company will survive."

KC's View: Yikes.

I guess if I were working for JC Penney, my main job would be updating my resume and LinkedIn page.

Corporate Drumbeat

Some search firms are just search firms.
Some search firms are far more
.
Where the grocery industry is concerned,
Samuel J. Associates believes that it is easier to create the future than to predict it
, and is committed to matching companies with talent that can achieve that goal.
If you're looking for a partner that
understands the challenges facing the industry
and knows how to
identify Experts
who can impact your business, whether your needs are C-level or Store Leaders,
Samuel J. Associates
brings industry expertise, accomplishment and deep knowledge to every search it conducts, and
is committed to helping clients build a successful future
.
You can be one of those clients. For more information,
click here
.
…with brief, occasional, italicized and sometimes gratuitous commentary…

• Fortune has a story saying that "Amazon Prime ended 2019 with 112 million U.S. users, according to Consumer Intelligence Research Partners (CIRP). That's up from just over 100 million at the end of 2018 and more than double the 50 million Americans who were using Prime at the end of 2015."

The story says that "the CIRP study says the way people pay for Prime is changing. After Amazon launched a monthly subscription plan in 2016, 21% of Prime subscribers were paying monthly for the service, according to CIRP data. Now, 52% of subscribers opt for the $12.99 per month plan instead of Amazon's annual Prime subscription rate of $119."

If more people are paying for Prime on a monthly basis even though it is the more expensive way to go, that suggests that they don't have the $119 at one time … which means that Prime is become more of a force even among folks who are financially strapped. That sounds important to me.


• From Variety:

"Netflix is keeping its foot pressed firmly on the gas pedal in the streaming-video road race. The streamer will invest around $17.3 billion this year in content on a cash basis, according to a new forecast by Wall Street firm BMO Capital Markets. That's up from around $15.3 billion in 2019," but not as much as the more than $26 billion that it believes it will be spending annually by 2028.

That's the cost of being in business. There are so many streaming services now competing for eyeballs and money, Netflix has to come up with more proprietary content - its version of private label - if it is going to remain viable. There's a good lesson there for every marketer.
• Two trade associations, the National Grocers Association (NGA) and Retailer Owned Food Distributors & Associates (ROFDA), announced yesterday that they are putting their merger plans on hold, citing "unexpected circumstances."

No specific reasons were given, but the two groups said they would revisit the issue in meetings at NGA's show in San Diego next month. Both organizations' boards approved the merger last year.

In a joint statement, NGA President and CEO Greg Ferrara and ROFDA Chairman David Bullard said that "our organizations will continue working closely on programs and initiatives that are beneficial and bring value to our members."


• Starbucks yesterday said that five years after it launched its Community Store Program initiative, it now will "increase its commitment to open 100 Community Stores dedicated to providing economic opportunity in underserved rural and urban communities across the country, an 85 store increase from its 2015 commitment. These stores will focus on hiring locally, creating dedicated space for communities to come together for events and working with diverse contractors for store construction and remodels. The company aspires to complete this goal by 2025."


• From CNN:

"Bose is significantly shrinking the number of retail stores it operates because of the 'dramatic shift' to online shopping, the company said in a statement.

"The maker of high-end electronics said it's closing 119 retail stores worldwide across North America, Europe, Japan and Australia. It will continue to operate about 130 stores throughout China, the United Arab Emirates, India and some Asian countries.

"Mirroring a broader shift in the retail industry, Bose said that it doesn't need brick-and-mortar stores because its customers are buying their products online. In addition selling products online, Bose products are sold by large retailers like Best Buy and Target, and it also has an Amazon storefront."
Another one bites the dust.

Carlos Beltran, the newly minted manager of the New York Mets, who has yet to manage a single game, stepped down yesterday. He was the only player mentioned in Major League Baseball's official report about sign stealing by the Houston Astros - a scandal that already has gotten the Boston Red Sox manager and both the general manager and manager of the Houston Astros to be fired.

The Mets characterized the decision as being mutual.

The Major League Baseball report concluded that the Houston Astros participated in systematic cheating, using technology to steal opposing teams' catchers' signs so that hitters would know what pitch was about to be shown. (It is legal to steal signs the old fashioned way - by eye - but not to use technology.) The MLB report implicated Houston Astros general manager Jeff Luhnow and manager AJ Hinch, suspending them both for one year and fining the team $5 million and taking away several draft picks. The Astros then fired both Luhnow and Hinch.

Beltran was mentioned in the report, but MLB had decided not to take any action against players.

The same report implicated Alex Cora, who was the bench coach for the Astros at the time of the cheating, and who had later been hired to be manager of the Red Sox, who also were being investigated for cheating. After some deliberation - and after a lot of media coverage and pressure - the Red Sox fired Cora (though they called it a mutual decision) without waiting for MLB to rule about his future.

MLB said it had not pressured the Mets to make any moves about Beltran.

KC's View: I got an email yesterday from an MNB user suggesting that MLB may need to bring Pete Rose-style severity to its treatment of these folks, and ban them for life. I wouldn't have gone there, but I think that it is a legitimate position … I do think that MLB has to level fines and suspensions that leave no doubt that it takes this stuff seriously, that it believes, as Robert B. Parker did, that "baseball is the most important thing that doesn't matter."

Industry Drumbeat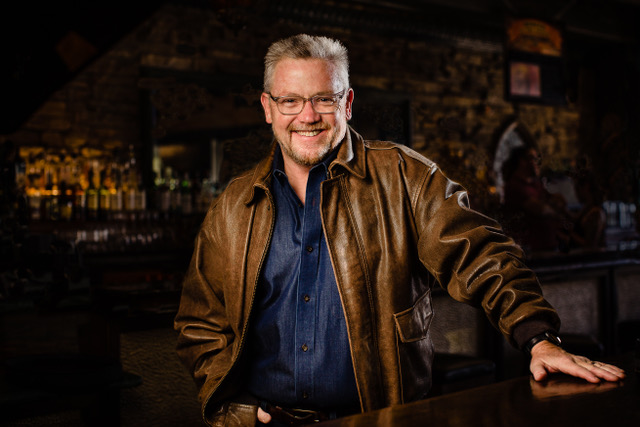 Perfect strategic and tactical vision isn't enough to guarantee business success anymore. Not by a long shot. To have even a chance of creating an enduring and vibrant business model, one has to be able to see not just what is dead ahead, but around corners, past the horizon, into the nooks and crannies of operations and out at the vast expanse of innovation and ideas.

For more than 18 years on MorningNewsBeat.com, and for more than three decades as a writer and speaker, "Content Guy" Kevin Coupe has been entertaining and illuminating audiences by chronicling the most successful customer-facing companies in the world, examining their forward steps and occasional missteps in areas of experiential marketing, technology adoption, customer understanding, and their grasp of cultural influences on business.

In "Why 2020 Vision Isn't Enough," Kevin uses real examples from the worlds of retailing, e-commerce, marketing, entertainment and sports to chart the connection between disruptive innovation and tangible, durable business growth, and sends audiences home with actionable steps they can take in their businesses.

A recent client described Kevin as "a talented and engaging speaker," saying that he kept the audience "focused on his excellent ideas – and his frequent use of humor and personal anecdotes made his topic even more interesting."

To book Kevin for your upcoming event, click here, or call him directly at 203-253-0291.



When I first heard and read about 1917, the new Sam Mendes film, the emphasis was on how it appears to have been filmed in one long shot - there are no cuts, from character to character or place to place, as is common in virtually every other movie. It obviously isn't one long shot, but the trick of the movie is to make it look like one.

It isn't an original idea. Alfred Hitchcock, notably, tried to do it in 1948 with Rope, but the James Stewart movie isn't entirely successful … it always has struck me more like a stunt than a movie.

Which is what I figured 1917 would turn out to be. I have no problem with long tracking shots - Martin Scorsese has used them to great effect in movies like Goodfellas, and Mendes himself used the technique - effectively, I think - in the opening of Spectre, his second James Bond movie. But a whole movie? It had to be more about technique than drama, and therefore would be less than satisfying.

I was, to say the least, wrong.

1917 is an extraordinary piece of moviemaking, in which the technique actually serves the story in an effective way. The setup is simple - it is World War I, and two young British soldiers are given a message to deliver to the front that a general (Colin Firth) hopes will avert a massacre.

From there, because the camera movements create a kind of intimacy with the soldiers, we are with them as they make their trek, we feel their efforts and share with them the horrors of war. This isn't sanitized in any way, and we see the impact of war through the eyes who are fighting it, rather than through the eyes of politicians and military leaders who send others to sacrifice and die.

1917 is at its core a thriller - one cannot help but be on the edge of the seat, because the highly focused approach to the story means that we are not always privy to what is going on outside the frame, which creates both suspense and a sense of dread.

The performances are uniformly strong - George MacKay and Dean-Charles Chapman are the young soldiers who carry the story, with brief but effective appearances by some of the best British actors out there, including Benedict Cumberbatch, Mark Strong, Richard Madden, Andrew Scott, and the aforementioned Firth. But the real kudos need to go to Mendes and his cinematographer, Roger Deakins, who have created a memorable piece of art that also serves as a cautionary and close-up tale about the horrors of war.



That's it for this week … have a great weekend, and I'll see you Monday.

Slàinte!
PWS 59